Going past Vyner Street on the bus every day, I noticed a few signs of activity in a disused building on the corner.  One day there were a few tables and chairs, then people sitting inside, then a paper sign decreeing the name Ombra, then a crowd of people eating and drinking in the mysterious new opening.
At first, I thought it was another east London pop up, but it turns out Ombra is a petite new restaurant serving up authentic Venetian dishes and cicchetti and is very much here for good.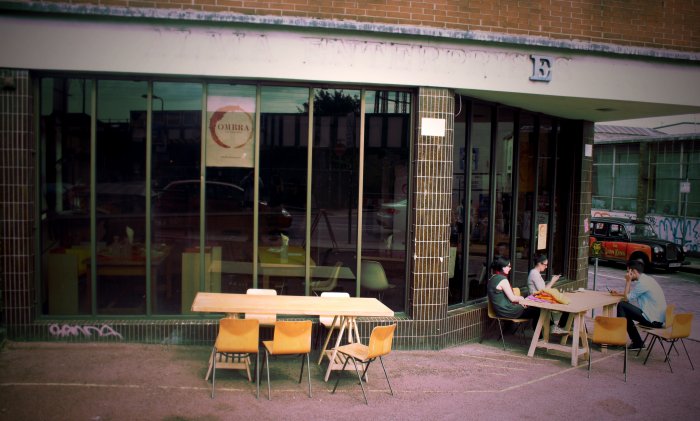 Perched on the side of Regent's Canal in the former Alma Enterprises contemporary art gallery (and before that, possibly a factory), Ombra looks more like an extension of the Vyner Street art spaces than a restaurant.
Inside, Ombra is filled with simple wooden second-hand furniture and glossy hot pink, blue and yellow tables by artist Russell Bamber and features an authentic Italian bar.  It feels like a graphic design studio, but with aperitifs!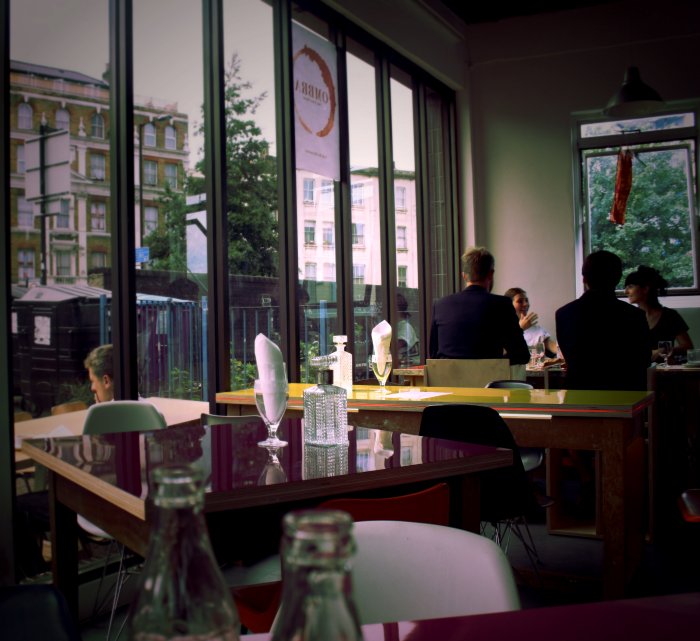 The chalkboard features four or so daily specials and we were immediately tempted by Homemade Spaghetti with Tomato Sauce (£5), washed down with bottles of Diet Coke (£2).  Other traditional Venetian dishes included Burrata Pugliese, Ham and Melon and Broccoli and Potato Salad.
The set-up is informal and typically Italian – a sugar paper place mat with a fork and spoon (who on earth eats pasta with a knife?) were casually slung down before the food came out.  A nice touch was the decorative glass decanters of water and large continental beer glasses filled with napkins.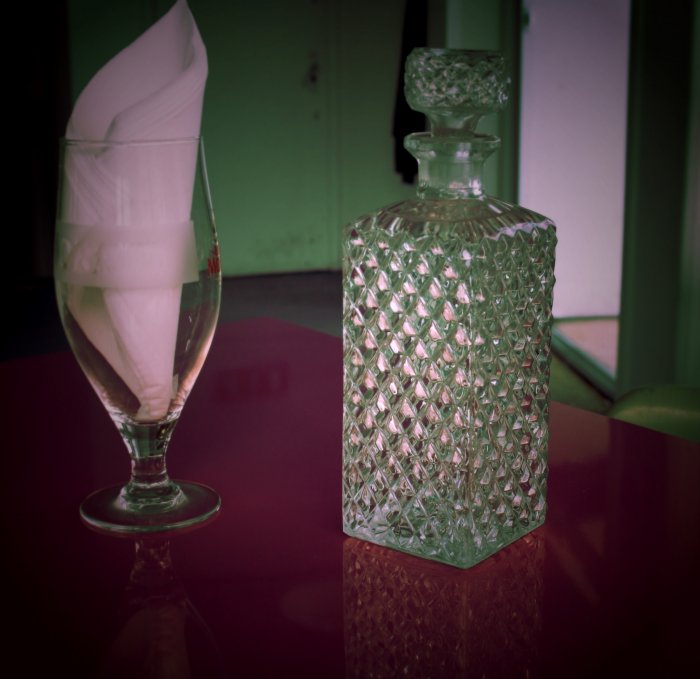 Head Chef and co-founder Andrea Michelon prepared our spaghetti and brought it out himself, greeting us with quick 'buongiorno'.  The spaghetti was cooked al dente and the sauce was made with slow-roasted tomatoes and garnished with fresh basil.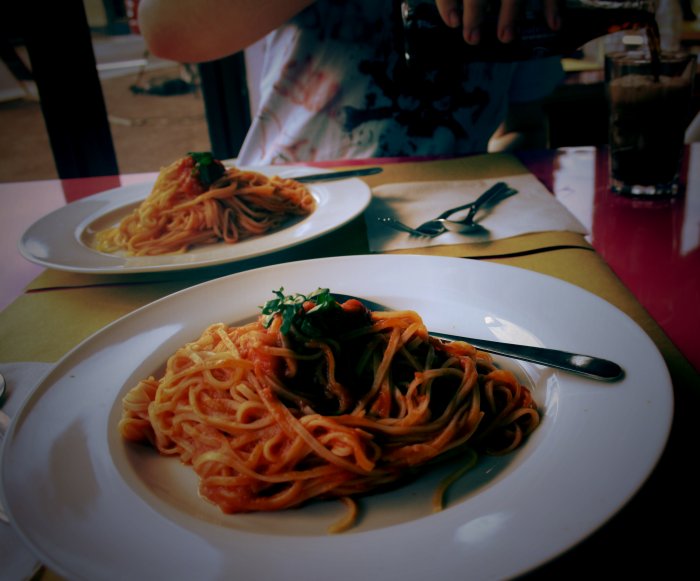 It was subtle and hearty with no acidity and the portion size was generous for a late-lunch.  I couldn't help smothering it in freshly-grated parmesan cheese and every mouthful was a delight.
If you come to Ombra in the evening or just fancy a boozy afternoon, try a traditional Venetian spritz, a fine Italian wine or a digestif at the bar – their selection includes Aperol, Campari and Sailor Jerry's.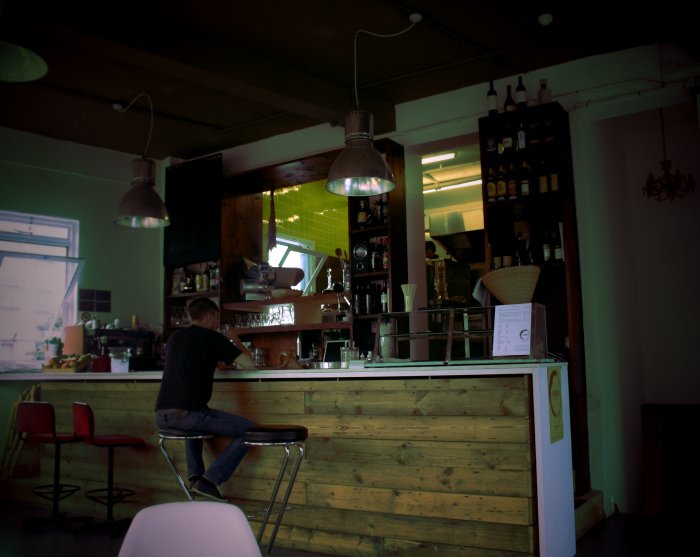 Vegetables are sourced locally while artisan bread comes from the nearby E5 Bakehouse and meat is bought in from The Ginger Pig in Victoria Park.
Our bill came to just £15 for two, including a service charge, which is exceptionally reasonable for the quality and amount of spaghetti.  The menu changes daily, so I'm dying to go back and work my way through the dishes – as research into Venetian cuisine, of course!
Ombra, 1 Vyner Street, London, E2 9DG.
All photos by Cherie City.