Celebrated French chef Yannick Alléno brings a modern touch to traditional Parisian cuisine with the second outpost of his Bistrot Terroir Parisien at the stately Palais Brongniart.
Opened late last year in the Paris Bourse former stock exchange building, the Right Bank restaurant offers reinterpreted classic dishes with a focus on the finest ingredients sourced from producers within Île-de-France – a real 'farm to table' experience.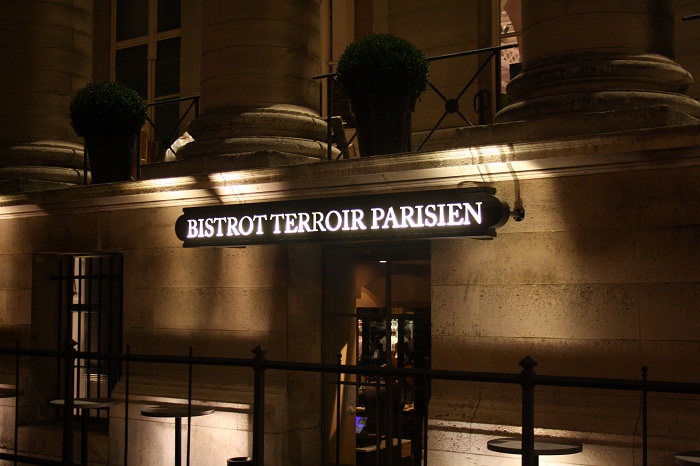 Yannick Alléno made his name in the restaurants of Paris' most exclusive luxury hotels (notably at Le Meurice where he gained his third Michelin star), but Bistrot Terroir Parisien signals a brave new direction and approach to cooking.
His signature haute cuisine can still be enjoyed at the palatial Hôtel Salomon de Rothschild and Cheval Blanc in Courchevel, but at Bistrot Terroir Parisien, it's all about hearty, honest food, cooked with emotion to evokes positive memories.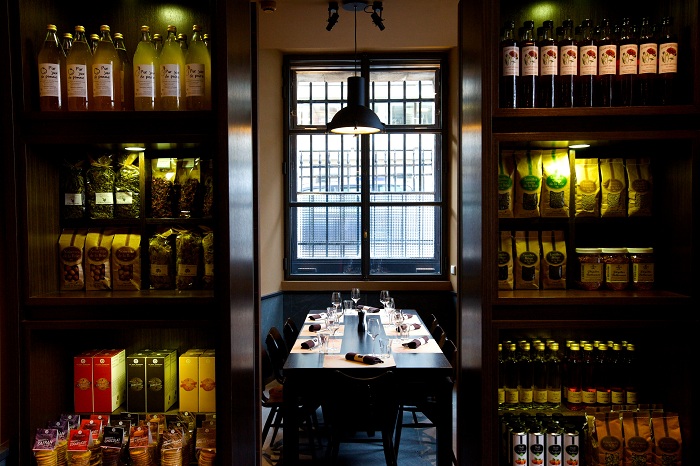 Bistrot Terroir Parisien-Palais Brongniart is informal and lively with a modern yet homely feel.  At the front of the restaurant is a small food market with shelves full of tempting produce such as gourmet biscuits, juices, oils, vinegar, dried herbs and lentils.
Foodies will be delighted by the Rillettes Bar, which offers artisanal charcuterie, cheeses and deli items, plus an apéro bag to take out for a decadent picnic.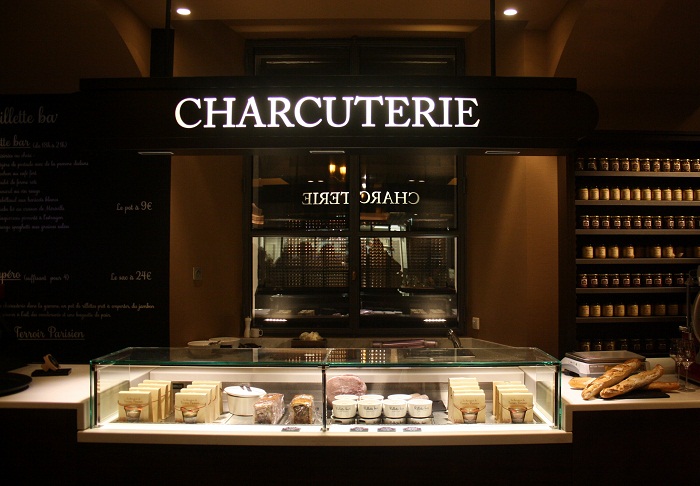 When I visited with my mother, the restaurant was buzzing with a mix of clued-up tourists and an after-work Parisian crowd.  We were greeted warmly and seated at a table close to the central bar with a good view of the open kitchen.
We ordered from the varied menu and then asked our friendly waiter to recommend a light red wine.  We were brought glasses of a  fruity, smooth and very easy to drink Bourgognes and a basket of fresh, crusty  baguette and French butter.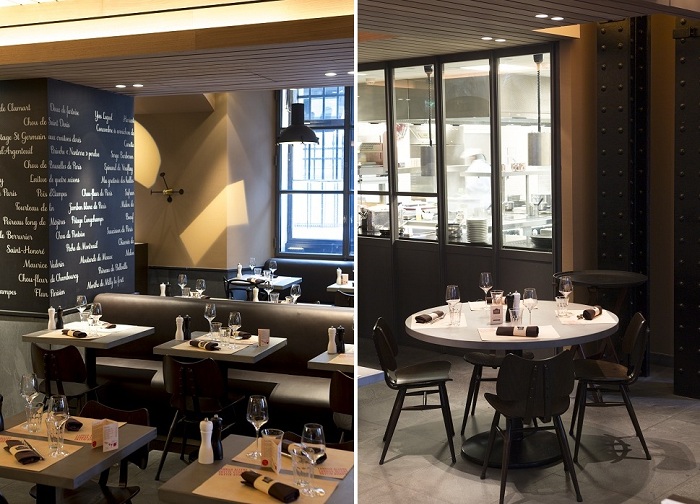 I started with the Poached Langoustines in a Watercress and Herb Jelly (€17).  A generous amount of plump, fresh langoustines were covered in a tangy cream sauce with watercress and lots of aromatic tarragon.  The tasty sauce perfectly complemented the seafood and I couldn't resist mopping it up with a few slices of baguette.
All dishes at Bistrot Terroir Parisien are simply presented on modest china, avoiding the grand flourishes and that you'd expect from a Michelin star chef.  This may be a surprise for die-hard fans of Yannick Alléno, but in the context of the restaurant's philosophy, it makes sense.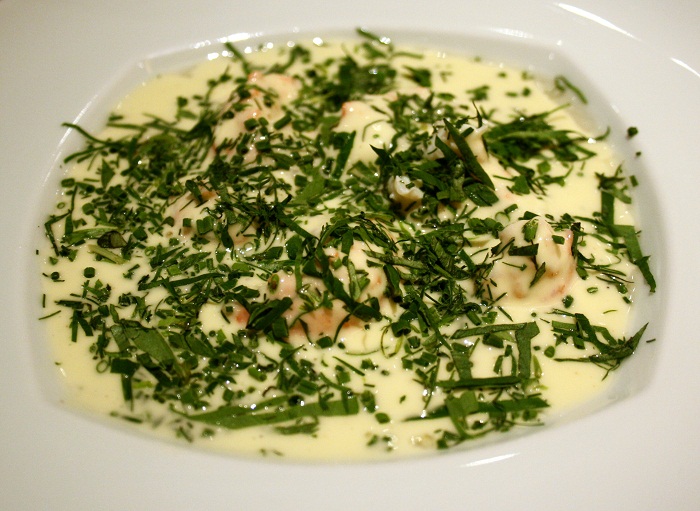 My mum went for a warming Pumpkin Soup with Viltain Farm Fresh Cream (€9).  The simple, classic pumpkin soup was slow-cooked and satisfying, served with a little pot of fresh cream on the side.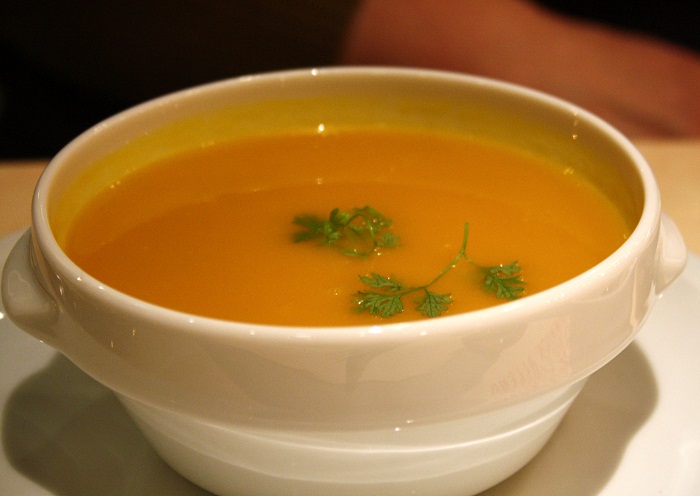 For my main course, it had to be the French classic of Peppered Beef with Home-made French Fries (€26).  This is the kind steak that I always dream of eating in Paris when only a meat fix will do.
The thick, succulent medium-cooked fillet of beef was tender, lean and covered with crush black peppercorns.  It was served with a lightly creamy peppercorn sauce mixed with juices from the meat.  The beef came with a cone of hot, crispy French fries, seasoned with just the right amount of salt.  It was the best steak I've eaten in a long time and every mouthful was a true delight.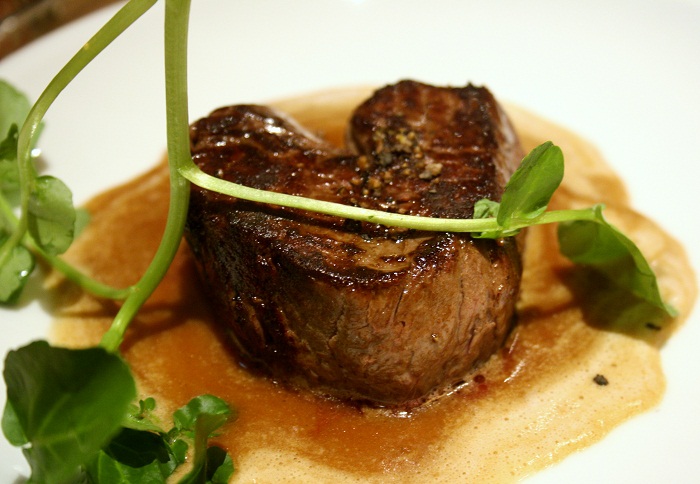 Happily, my mum ordered Petites Endives au Jambon (€19), which I had been tempted to try.  It was a homely, rustic dish with soft, pleasantly bitter oven-grilled chicory and juicy Paris ham smothered in rich béchamel, Gruyère and plenty of ground nutmeg.
The portion size was very generous, particularly for such an indulgent dish, so I was lucky enough to grab a few forkfuls for myself (in exchange for some frites, of course).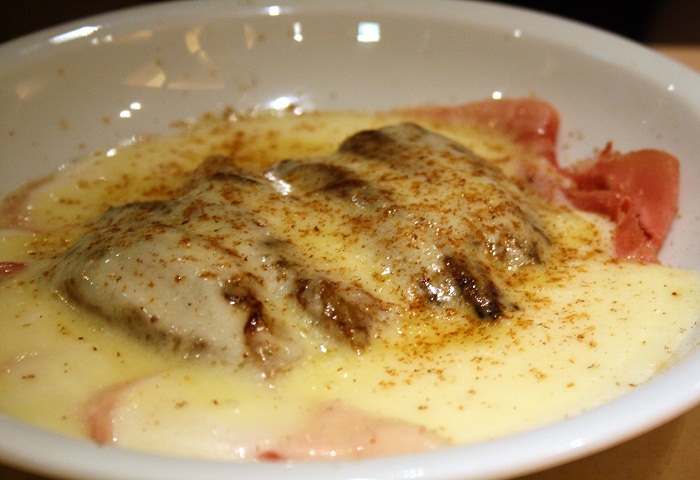 For a light end to the meal, I ordered the delectable Île Flottante with Nemours Caramel (€10).  Usually in Paris I can't resist a decadent fondant au chocolat, but this dessert was just so dreamy, sweet and perfectly sized.
The delicate dome of meringue floated on silky, vanilla-scented crème anglaise and was drizzled with a sticky caramel sauce.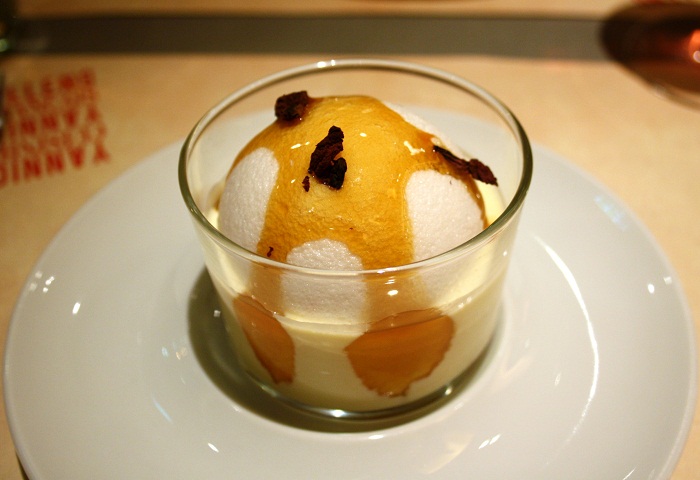 My mum's Nanterre Brioche French Toast with Vanilla Ice Cream (€10) was a much more indulgent, hearty affair.  The enormous wedge of moist, buttery brioche was nicely caramelised on the outside with a crunchy sugar crust.  Vanilla ice cream on a bed of biscuit crumbs had a delicious home-made taste and was the perfect accompaniment.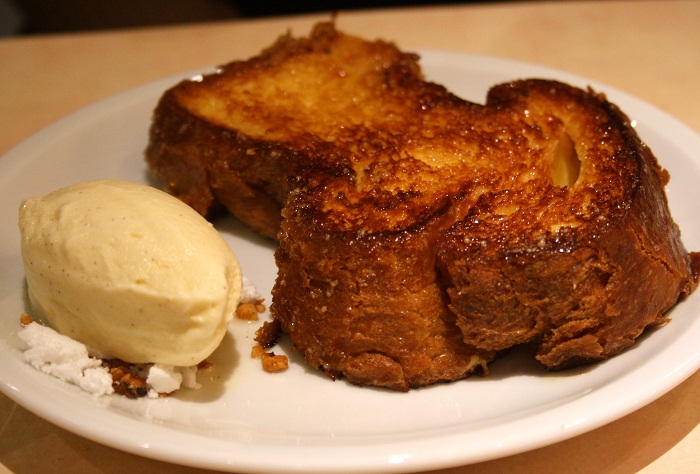 When visiting Paris, I'm often torn between a craving for typical French food and checking out more innovative offerings from noted chefs.  Bistrot Terroir Parisien bridges the two, offering mouthwatering dishes with the flair of a renowned chef – best of all, at wallet-friendly prices.
Staff were so friendly and efficient and I liked the large open dining room and unpretentious atmosphere.  I can see Bistrot Terroir Parisien becoming a modern classic in Paris and I can't wait to return to try more of Yannick Alléno's comforting creations.
For more information and booking, visit: www.yannick-alleno.com
Chérie City was invited by Bistro Terroir Parisien 
Photos by Chérie City and Bistro Terroir Parisien