At last…the famous New York pizza slice has finally come to London at brand new Dalston pizza joint, Voodoo Ray's.
Just a few doors down from its sister venue Dalston Superstore, Voodoo Ray's serves 14 different gourmet slices (or whole pizza at an enormous 22-inches) with Frozen Margaritas, craft beers and an impressive range of soft drinks in a rough-luxe canteen setting.  If you like Paris' Pink Flamingo and Roberta's in Brooklyn, Voodoo Ray's is an absolute must.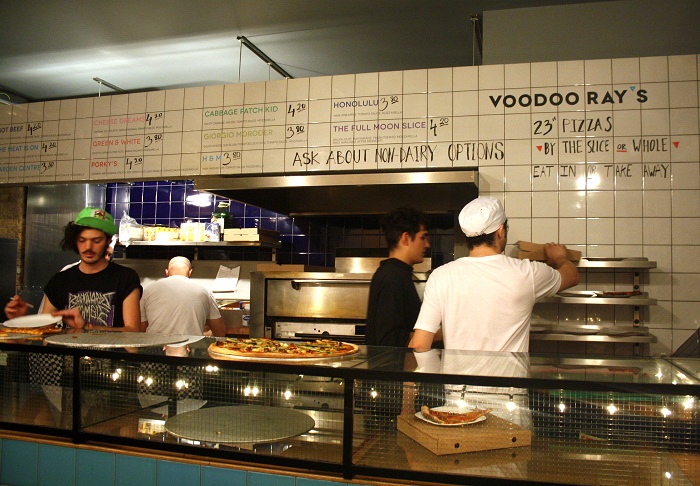 Just order your slices and drinks at the counter, sit down and within a few minutes they are brought to the table, after a quick firing in the pizza oven.  Slices are served simply on disposable paper plates, just as they should be, and you can finish them with some chili oil, dried Parmesan, chili flakes and black pepper.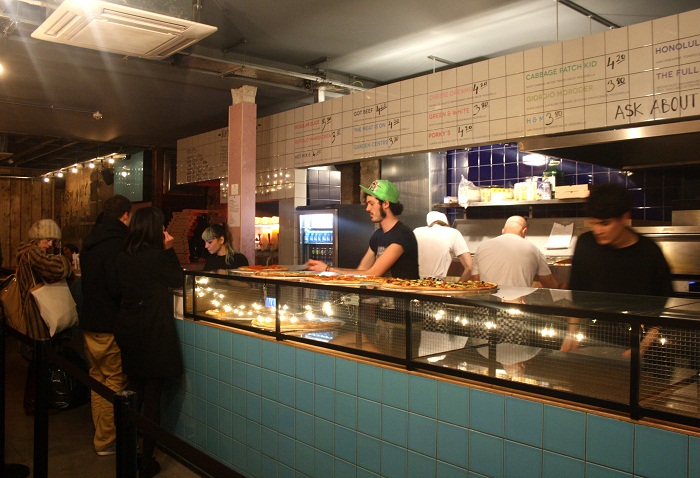 I ordered the delicious Cabbage Patch Kid – savoy cabbage, bacon, tomato sauce, mozzarella (£4.20).  The base was thin, crispy and authentically Italian (made with 00 flour) and covered with just the right amount of slow-cooked tomato sauce and creamy fresh mozzarella.  Savoy cabbage is a surprisingly perfect pizza topping and it went well with the small strips of thick bacon.
Steven went for The Meat Is On – minced steak, pepperoni, ham, pancetta, mozzarella, tomato sauce (£4.20).  It was a scrumptious meat feast without the usual oiliness and toppings were high quality and plentiful.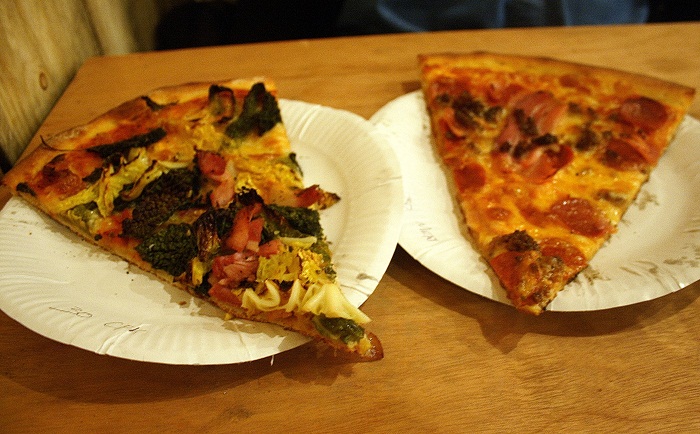 For round two, I wanted to try a Regular Slice, but they had just run out, so I couldn't resist another tasty Cabbage Patch Kid – well, there are many more occasions to work through the menu.  Steven went for a slice of Got Beef – minced steak, béchamel, aubergine, mozzarella, tomato sauce (£4.20).  This pizza version of a moussaka was covered in well-seasoned minced steak, a slice of soft roasted aubergine and a good drizzle of creamy béchamel.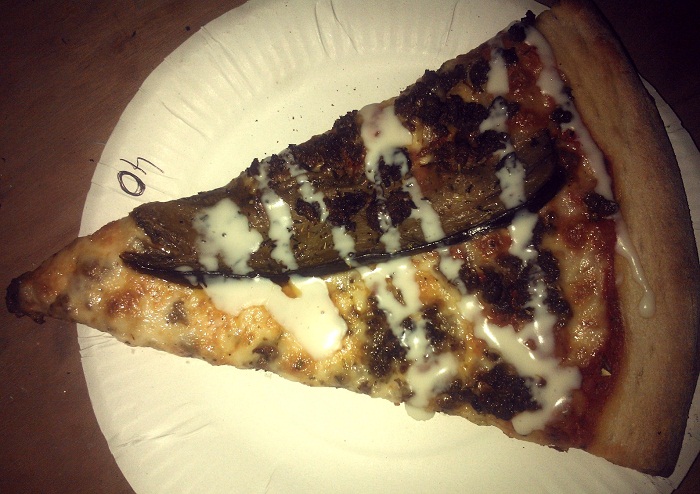 The pizza slices are affordably priced at £3.50-£4.20 and drinks are surprisingly cheap, so you can drop by for a quick and easy dinner or have a boozy pizza party with friends without breaking the bank.  Arrive extra late and you will be rewarded with a special Full Moon pizza topped with bacon dust and mayonnaise – served only after midnight.
As expected from the people behind Dalston Superstore, the music at Voodoo Ray's is brilliant, with a bit of Smashing Pumpkins and New York disco while we were there.  We heard rumblings from the mysterious Dance Tunnel downstairs, which has already hosted parties.  Rumour has it that the tunnel stretches all the way to Dalston Superstore.  Unlikely, but how awesome would a Dalston disco pizza tunnel be!
Voodoo Ray's – 95 Kingsland High Street, London, E8 2PB