I've been a fan of French pharmacy skincare products for almost a decade now, since my Parisian friend introduced me to them at university.  Over the years I have tried products by two of the most popular brands, Vichy and La Roche-Posay but I wasn't aware of just how extensive and prescriptive the ranges were until Handpicked Media hosted an evening at  B.HIVE in Covent Garden to present the entire skin and body care products.
Representing the two brands, the very knowledgable Julia Ward talked us through every range and product in close detail and Steph Marston recommended products that would suit my skin type and produce results.
Both brands are developed expertly by dermatologists and focus on the benefits of thermal water from different geological sources.  Vichy uses thermal spa water filtered through volcanic layers while La Roche-Posay includes thermal spring water from a source in a small French town of the same name.  This healing water is the base of the products and helps keep skin calm and comfortable.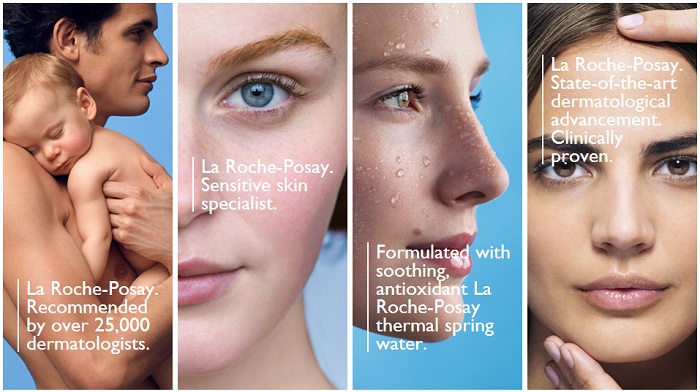 Over the past few months, I have been testing a selection of products prescribed for my skin type – combination with occasional break-outs.  I've enjoyed using La Roche-Posay Effaclar Purifying Foaming Gel for Oily and Sensitive Skin.  Free from soap, alcohol, parabens and colours, the foaming gel thoroughly cleanses without drying the skin and leaves it feeling clean and comfortable.
I follow this with Vichy Aqualia Thermal Serum, which claims to intensively hydrates the skin for 48 hours.  I've never been keen on serums due to the sticky, synthetic texture of some products that seem to sit on the skin, but this thermal spa water-based serum with hyaluronic acid is a real treat.  It absorbs quickly and prepares the skin nicely for moisturiser, or it can be worn alone.  I can't imagine it not being a part of my daily skincare routine now and I plan to try other products from this range.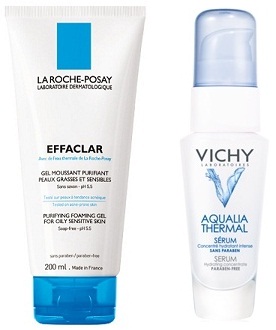 For a regular day, I use La Roche-Posay Effaclar Mat Sebo-Regulating Moisturiser.  This light gel-creme aims to reduce pores and sebum flow, keeping skin matt and calm.  I haven't noticed my pores getting smaller yet, but I find that it hydrates my skin well and helps combat oiliness during the day.  It feels less astringent, medicinal and drying than other mattifying moisturisers I've tried, so it is less likely to irritate sensitive skin.
My favourite discovery has been Vichy Normaderm Total Mat – an effective hydrating gel that targets sebum and sweat.  The light-weight gel has a cooling, menthol anti-perspirant effect on the skin, yet it's not at all drying.  Normaderm Total Mat is formulated to perform well in extreme heat, so it is perfect for wearing at the gym, during summer heatwaves or for a stressful job interview.  It also works well for clammy palm moments.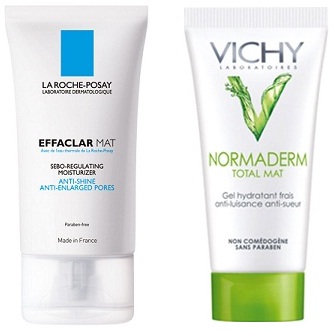 At night, I like to use something a little more nourishing and La Roche-Posay Toleriane Ultra has worked well for this.  Specially created for very sensitive skin, it intensely soothes the skin with the most simple, minimal ingredients to avoid irritation.  This product wasn't prescribed for my skin type and is too rich to wear during the day, but as a night cream it leaves my skin feeling smooth and plump.

Of course, it's early days to comment on the long-term skin benefits, but currently the Vichy and La Roche-Posay products make my skin feel comfortable and calm, which is a big priority for me.
A new Vichy product to look out for is the Idéalia Smoothing and Illuminating Cream, an anti-ageing cream to suit women of all ages and all skin types, available for Dry or Normal/Combination Skin.  When the warm weather returns, I'm looking forward to trying the Anthelios AC Fluid Extreme 30+, which provides sun protection without the irritating greasiness for combination to oily skin.
For more information, visit: www.vichy.co.uk and www.laroche-posay.com
* PR samples