Weekends don't get much better than when brunch is involved.  Especially when it's a lazy, late and luxurious brunch, so you can catch a few extra hours of beauty sleep (or recover from the excesses of Saturday night).
If you like your Sunday brunch with an air of sophistication, The Balcon at Sofitel London St. James has just launched its fabulous new Le Brunch menu.  Classic French dishes are given a creative twist and feature alongside brunch favourites, American-inspired dishes and lighter, healthy options.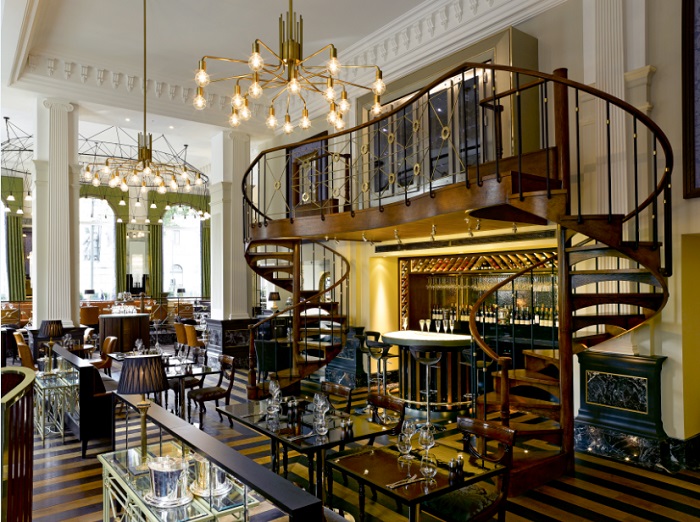 We visited the elegant Russell Sage-designed restaurant for a long, mid-afternoon brunch and were seated at a lovely corner booth with views over elegant Waterloo Place.  We were warmly greeted by the delightful staff, who explained the menu and chatted to us about our weekend.
The special brunch drinks are just as exciting as the food, including a Kir selection from the Champagne Bar, potent coffee and rum-based cocktails, alcoholic milkshakes and frappé coffees.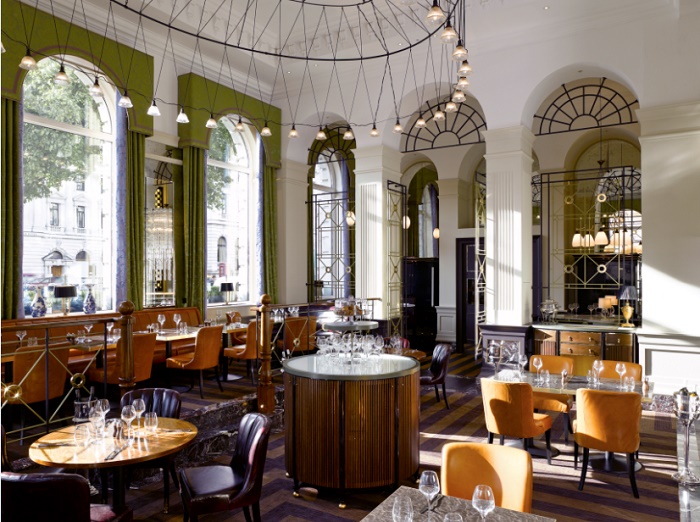 I chose a Kir with Pear Liqueur and Bulgare tea (£10), which was sweet, fragrant and refreshing, served chilled in a large wine glass with fresh raspberries.  I really enjoyed the white wine in the Kir, but you could ask for a Kir Royale if you prefer to start the brunch with Champagne.
Steven tried the Black Russian milkshake (£8) made with dark rum, Mozart chocolate liqueur, chocolate ice cream and milk.  It was decadent yet light and milky and just boozy enough.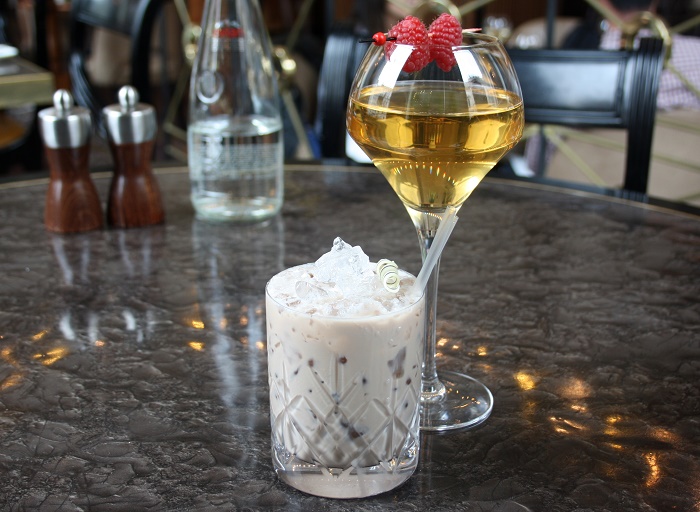 To start, we were brought two slices of savoury cake – a bold Mediterranean-style black olive tapenade flavour and a richer, more French ham and cheese.  We were fans of both and thought they were an interesting alternative to the usual bread basket, however a mountain of freshly-baked bread rolls with French butter soon followed too!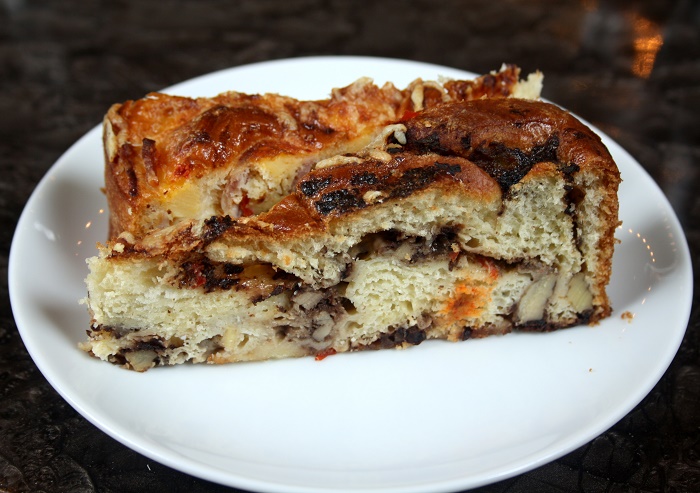 While we were waiting for our first dishes, we had a long chat with our lovely waitress Neslihan about her native Turkey and she recommended a contemporary Persian singer that she had recently seen live at Barbican.  She kept us entertained until our food arrived and it was so nice to build a rapport with the staff – everyone in the restaurant was treated like regulars.
I couldn't resist trying the Duck Eggs Benedict with Bayonne ham and green asparagus.  This was one of the best Eggs Benedict I've ever had.  The duck eggs were poached to perfection with runny, vibrant orange yolks and were perched atop fluffy toasted English muffins, steamed chunky asparagus spears and a generous amount of flavoursome, freshly-carved Bayonne ham.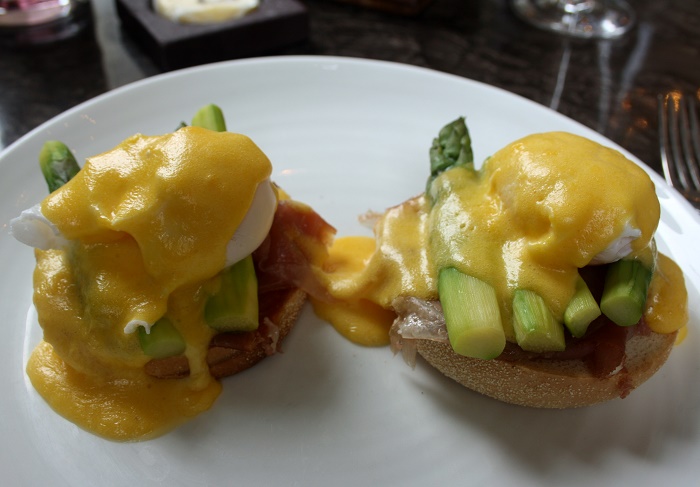 Steven went for the more indulgent Grilled jerk marinated steak and fried egg with cornmeal waffle and home-made barbecue sauce (£4 supplement).  The juicy, succulent medium-cooked steak was well-seasoned and had a delicious flame-grilled taste.  It went well with the crispy, grainy and slightly sweet cornmeal waffles and the fried egg and tangy, smoky barbecue sauce finished it nicely.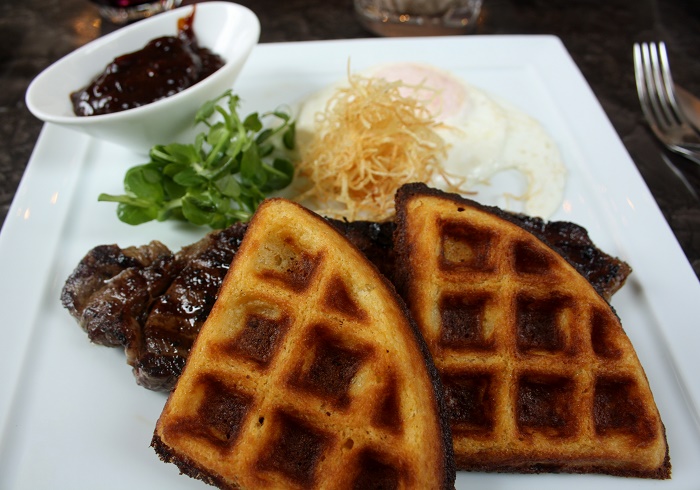 To follow, I ordered a quintessentially British dessert with a French flourish – Raspberry macaron Eton Mess.  It was a heavenly, whimsical dessert with lightly whipped, vanilla-scented Chantilly cream, fresh raspberries and soft, chewy raspberry-flavoured macaron pieces.  I couldn't help thinking of Marie-Antoinette with each mouthful – she certainly would've approved of this dessert.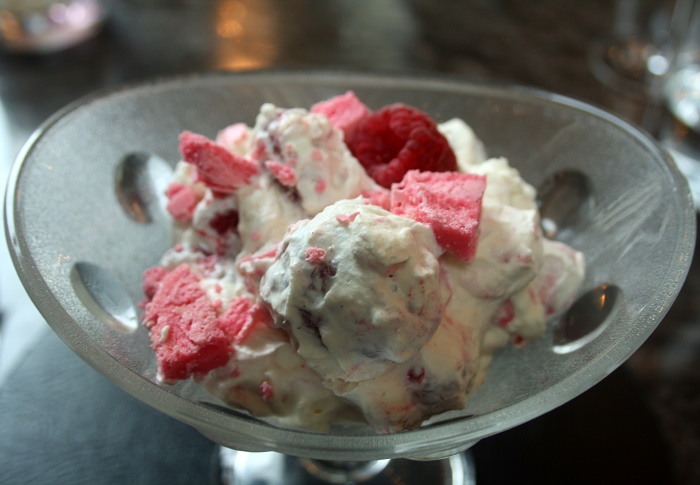 Warm chocolate and ginger tart with milk ice cream was another high point of the meal.  The luxurious chocolate fondant had a soft cake texture and oozed molten dark chocolate infused with aromatic ginger.  As it that wasn't mind-blowing enough, it was set on a fine, buttery pastry base and topped with cool, light milk ice cream.
We finished our brunch with pots of Earl Grey and Jasmine Pearl tea, which were served in my favourite Sofitel Asian-style cast iron teapots (one day I will have one of my own, as well as a Sofitel SoBed).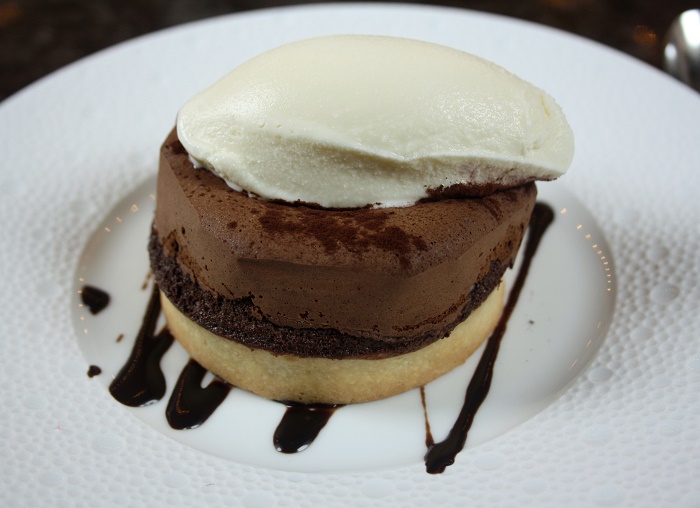 Le Brunch at The Balcon is a fabulous way to make the most of your weekend.  The menu is full of tempting dishes and the top notch food leaves you feeling full and satisfied without being too much.  With such chic surroundings, notable service and a relaxed atmosphere, it's the perfect choice for a memorable brunch.
Le Brunch at The Balcon is priced at £20 per person for two courses and is available from 12pm to 4pm every Sunday.  For more information and booking, visit: www.thebalconlondon.com
Chérie City was invited by The Balcon
Photos by Chérie City (interiors by The Balcon)