Our recent stay in Miami was a short and sweet weekend break, so we wanted our hotel to be special.
Tides South Beach ticks all of the boxes with an unbeatable Ocean Drive location, boutique feel and an outdoor pool.  It's a stylish haven in the heart of a buzzing, neon-drenched part of town and just a few steps away from the iconic Miami Beach.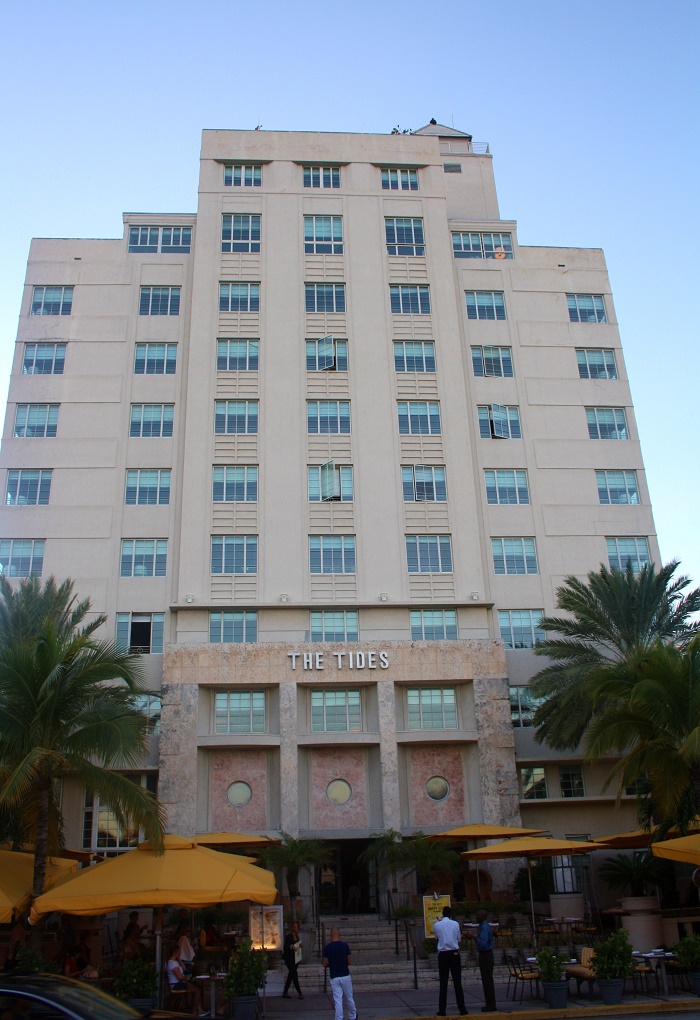 The Miami hotel scene is flourishing with exciting new openings, however Tides South Beach is already an established player and everyone we met on our travels spoke of it affectionately.
Tides South Beach is a true Art Deco hotel with striking architecture that dates back to 1936.  Its plush interiors, designed by Kelly Wearstler, also reflect the glamour of the age with a retro beach-chic look.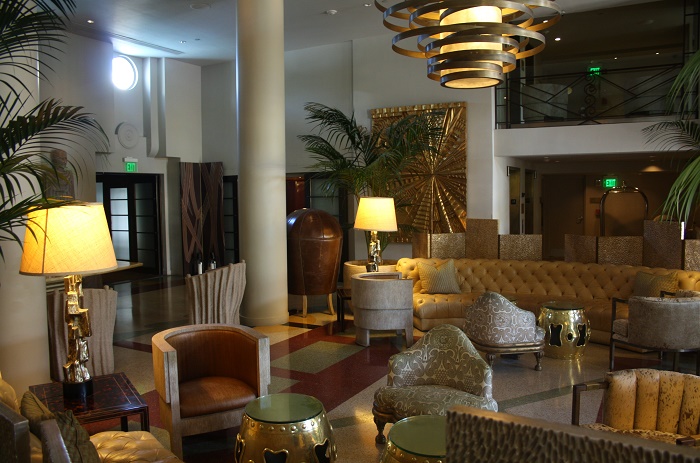 The open-plan lobby has a Biba vibe with wide leather sofas, shimmering gold screens, palms, hand-painted tropical murals and an original terrazzo floor.  It's the kind of space you can imagine appearing in a fashion photo shoot with Tamara de Lempicka-esque models elegantly lounging.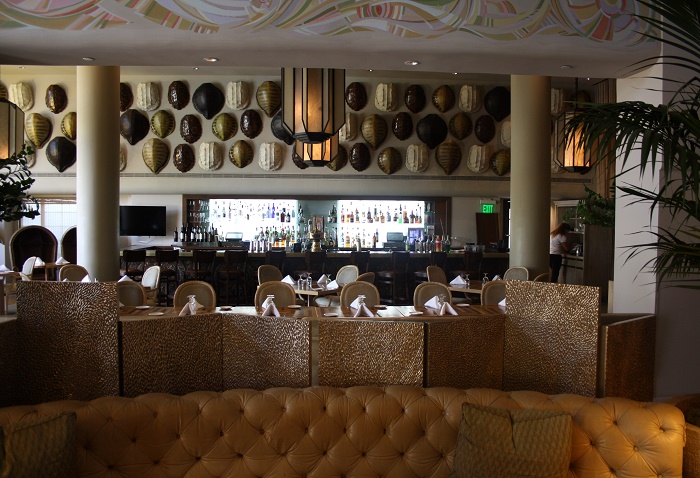 The ground floor also includes The Tides Restaurant and Terrace, where guests can enjoy a complimentary welcome drink to get settled in – a lovely, old school touch.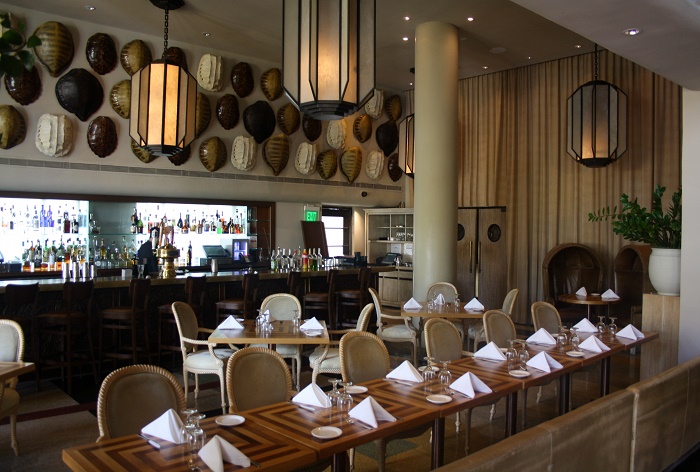 The mezzanine level overlooks the lobby and leads to the hotel's outdoor heated swimming pool.  While waiting for our room to be ready, we headed straight to the pool to soak up some sun.  The medium-sized pool has a comfortable temperature for swimming (my pet hotel hate is cold pools) and is flanked by sunloungers with parasols and two cabanas at each end.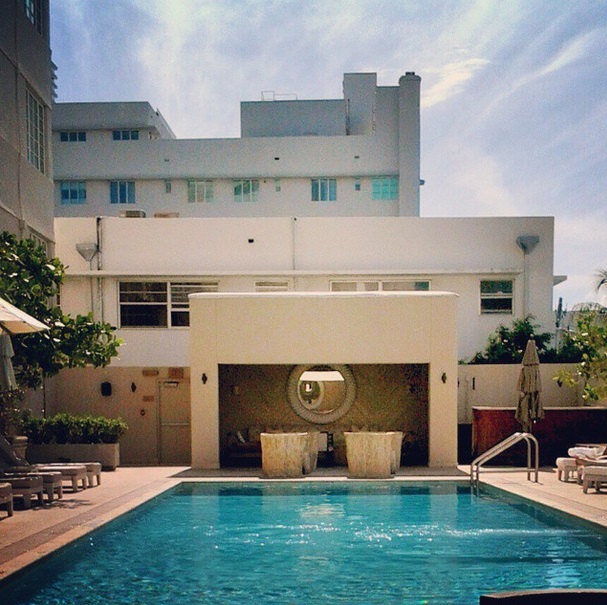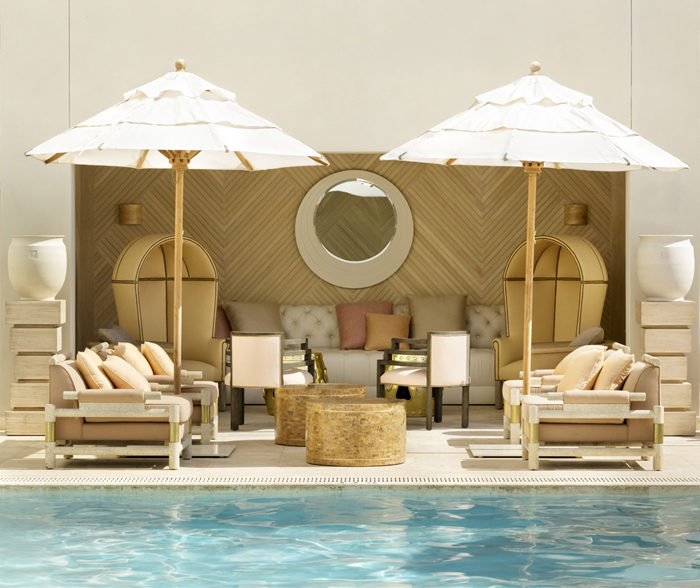 You can keep hydrated with complimentary chilled water infused with citrus fruits or order a cocktail, lunch or snacks to enjoy poolside.  Unlike some of Miami's flashier hotels, the pool is reserved only for hotel guests and we were delighted to find the pool quiet and intimate on Saturday afternoon with only the music from the neighbouring bars below.
Tides South Beach surprisingly has only 45 guest rooms and every one boasts a fantastic ocean view.  Our Signature Ocean Front Studio on a high floor was absolutely enormous and beautifully-designed.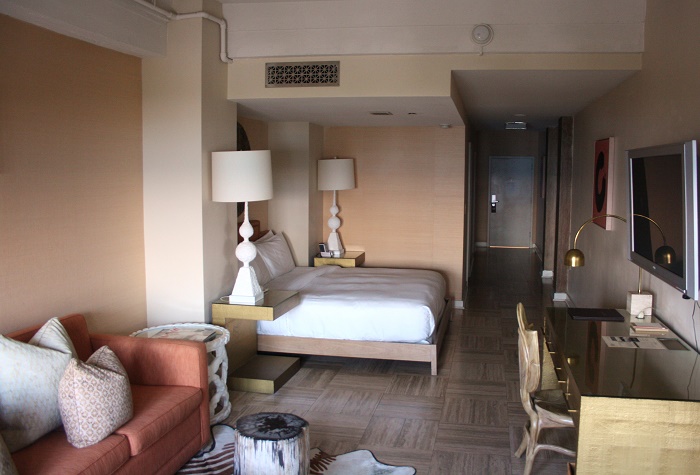 There are so many gorgeous design features to discover, including a most exquisite hammered gold writing desk, petrified log mini coffee tables, a faux zebra-skin rug and a large bronze sun sculpture above the king-size bed.  The low-set bed was very soft and comfortable, with crisp, high quality linen and good pillows.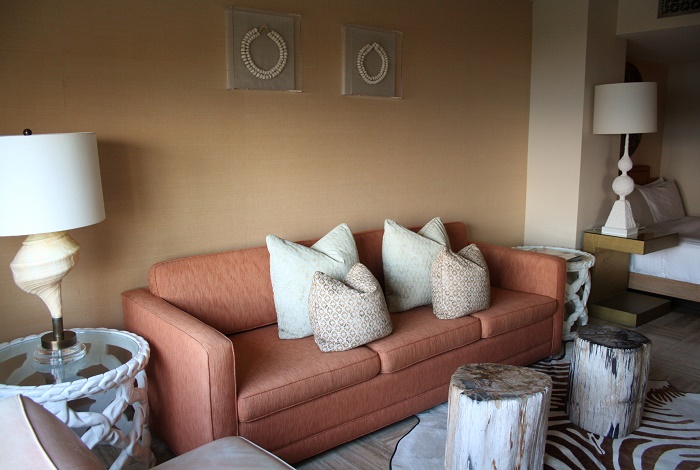 The windows aren't great for keeping out the music from the lively Palace Bar next door or impromptu live percussion on the street during the day, however we did sleep very well at night.  We enjoyed watching the bar's famous drag show after dinner on Saturday, where the pavement outside became a catwalk.  I have to say, I was quite sad to miss their RuPaul's Drag Race party on the Monday night that we were leaving.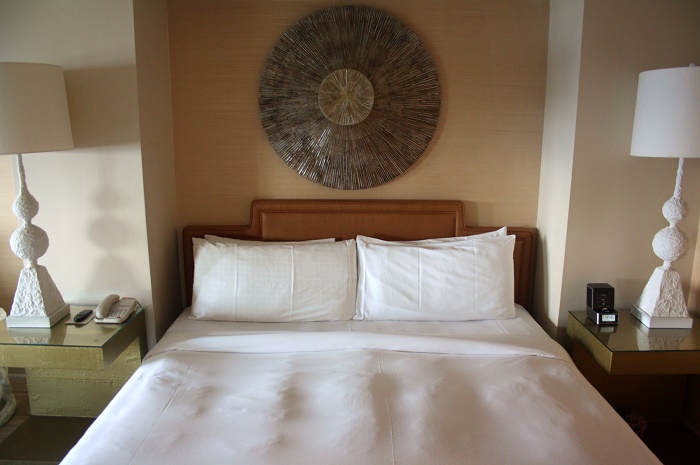 The room features a comfy sofa and chair in the living area, a 42-inch LCD TV, DVD player and iPod docking station, powerful air-conditioning and free wifi.  A highlight is the large separate walk-in wardrobe with a generously-sized fitted wardrobe, storage drawers and room for suitcases, a mini bar and a Nespresso machine, although it's a shame that the espresso capsules are charged for.
The spacious bathroom is an absolute delight with a beautiful marble sink, a rainfall shower with deep soaking tub, magnifying mirror, plenty of fluffy towels and face cloths, plush waffle bathrobes and a full set of lavender and peppermint bathroom products by C.O. Bigelow.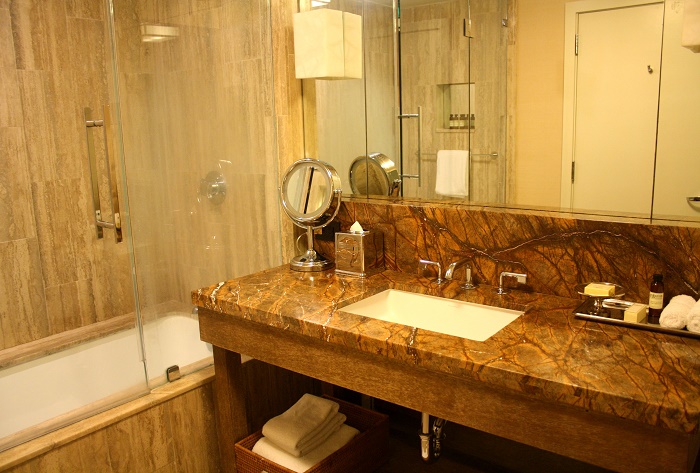 America's oldest apothecary brand isn't easy to find in the UK, so that was a real treat and I really liked the relaxing, aromatic products.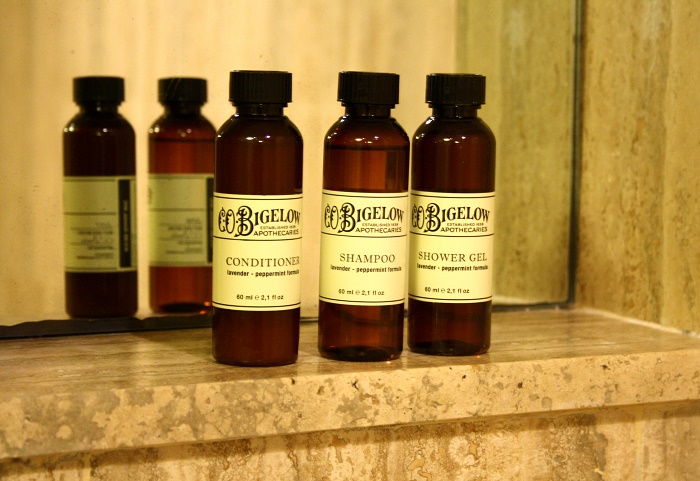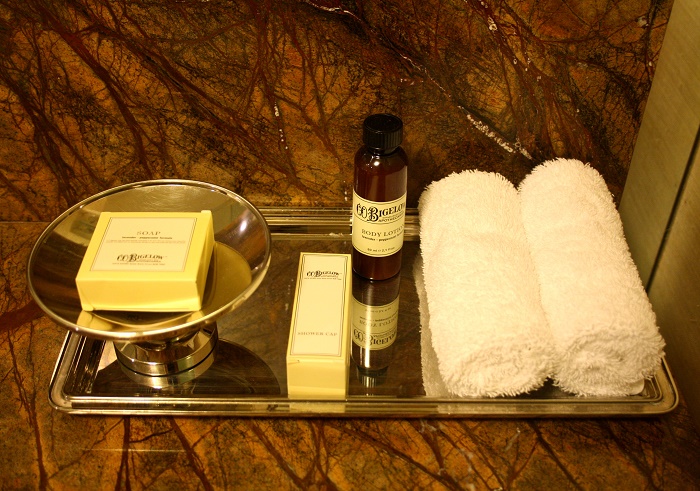 A real perk of staying at Tides South Beach is doing the beach in style with complimentary loungers, towels and an umbrella for guests. Regrettably we didn't quite find the time for a proper beach session, as it rained non-stop on Sunday and Monday was set aside for exploring.
If you're in Miami to unwind, you don't need to venture far and can hop between the beach and the hotel's swimming pool, followed by dinner on the terrace.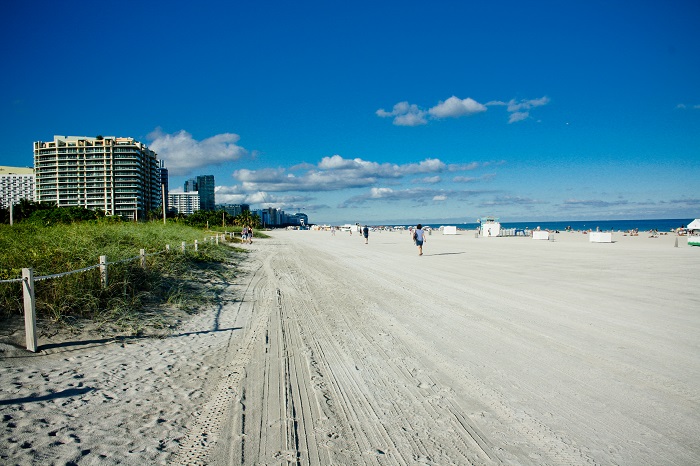 Tides South Beach has an attractive indoor restaurant and bar, but most people choose to make the most of the weather and atmosphere on the terrace.
Almost all of the hotels on this stretch of Ocean Drive have a terrace restaurant with passersby walking through the middle and staff coaxing guests in to dine.  The food looks tempting and there are cheap cocktails the size of your head on offer – it is party central after all.  The terrace can either be delightful or a little congested, depending on the time of day (breakfast is a safe bet).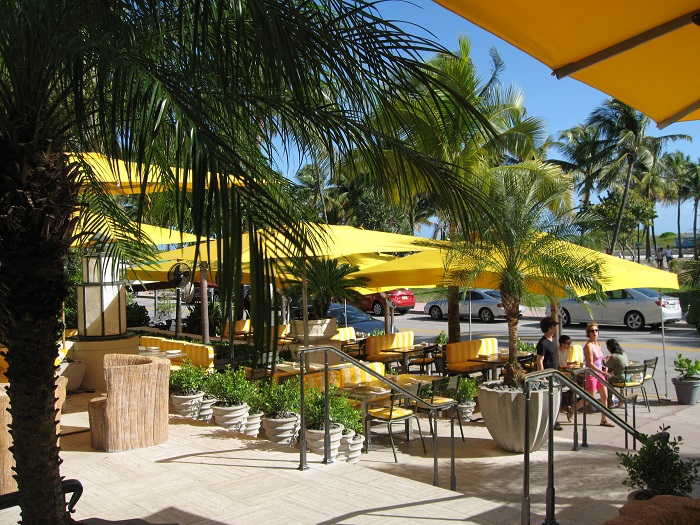 If you want a more peaceful dining experience, Tides South Beach has a few tables closer to the entrance, so you can observe the scene from above.  Or, you can indulge in 24-hour room service in the comfort of your own studio.
Tides South Beach is a romantic, characterful boutique hotel with an enviable location and fabulously-appointed rooms.  They don't call it the 'Diva of South Beach' for nothing.
For more information and booking, visit: www.tidessouthbeach.com
Photos by Chérie City (pool and terrace by Tides South Beach)
Chérie City received a press rate for the stay