Living in Hackney, I have my favourite, reliable 'go to' places for Turkish, Vietnamese and a Full English, however, pizza has always been a tough one.  Pizza East and Firezza started high up on my list but are inconsistent and my local pizzeria on Broadway Market is ok but strangely always packed out.  So thank goodness for Sodo Pizza Café and its incredible sourdough pizza.
Sodo is a petite, no-reservations restaurant with exposed brick walls, interesting photography, low lighting and simple wood seating.  Sodo started as a pop up at E5 Bakehouse, the London Fields artisan bakery and cafe, and its success has led to a stand alone restaurant.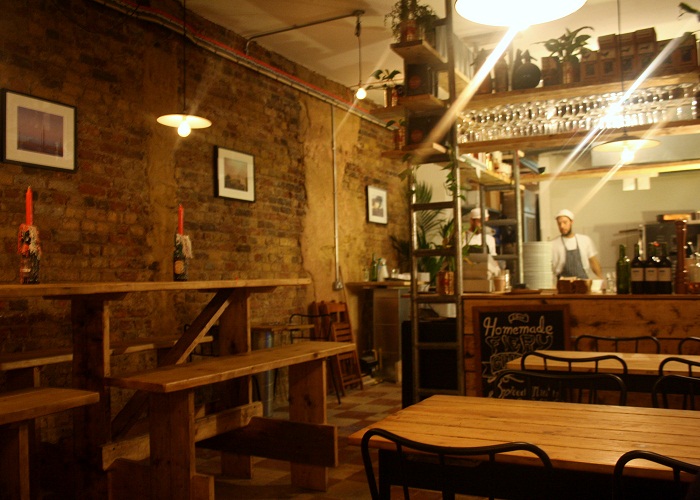 At 6.30pm, we were the first in the restaurant and were greeted warmly by the friendly, relaxed staff.  We were immediately served a carafe of chilled tap water and ordered a Home-made ginger ale (£2) each.  The ginger ale is potent, cloudy and naturally sweet – quite unlike the supermarket varieties.  If you fancy something stronger, there are wines from Borough Wine and local craft beers from Beavertown, The Kernel and London Fields Brewery.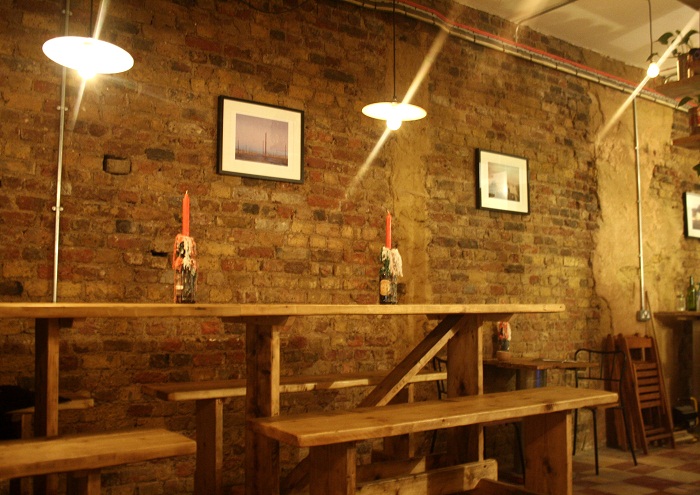 We tried two different pizzas and shared, which was made easier by Sodo already cutting the pizzas into slices.  The Cured Meat – tomato, mozzarella, salami napoli, salami calabressi, prosciutto crudo and chilli (£9) was truly excellent.  The base is one of the best I've ever had – thin, crispy and modestly sized, with a springy texture inside the crust.  The plentiful covering of tomato sauce was rich-roasted and sweet and high quality mozzarella was scattered lightly, so the pizza didn't become overly rich.
Sometimes the quality of the meat can bring down a good pizza, but this was like a charcuterie board on a pizza – flavoursome and delicious.  However, watch out for hidden slices of fresh green chilis, they are seriously hot.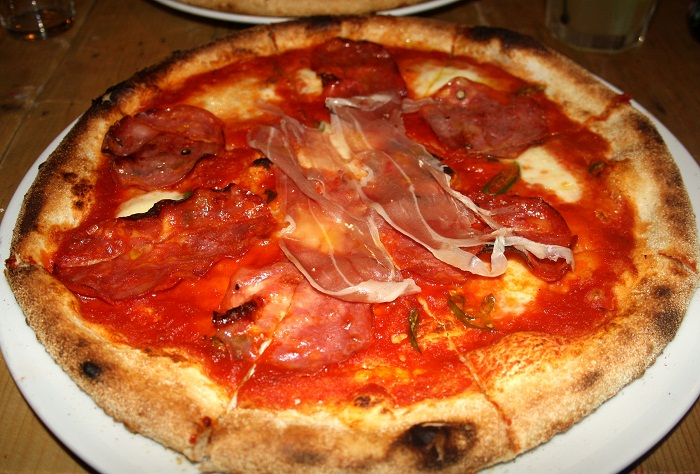 Equally moreish was the Lorena – tomato, mozzarella, butternut squash, rosemary, feta and pine nuts (£7.75).  The roasted pieces of butternut were dense, sweet and nicely charred on the outside.
I'm not a fan of feta, so when I asked for the Lorena pizza without feta, I was kindly offered parmesan cheese as a substitute.  This was a great choice, as the strong cheese counter-balanced the sweetness of the butternut squash and the sprigs of fresh rosemary brought an aromatic flavour – absolute pizza perfection.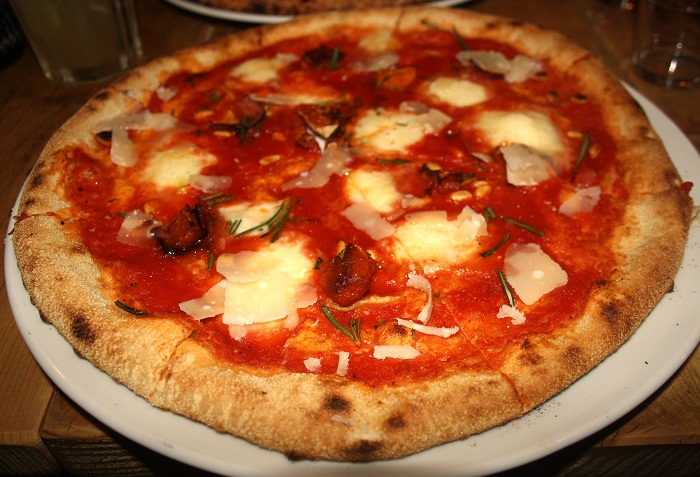 Dessert looked like it was going to be difficult, as I can't drink coffee and both sweet options include espresso.  I mentioned this when asked if we wanted to order dessert and they kindly offered the Affogato (£3.50) without espresso (and knocked £1 off the price).  I find it hard to get excited about ice cream in a restaurant, but this was ice cream straight from heaven.  The home-made ice cream was so creamy and decadent, topped with chunks of cantucci biscuit and served in a cute espresso cup.  I was told that the dessert list will be extending very soon to include non-espresso treats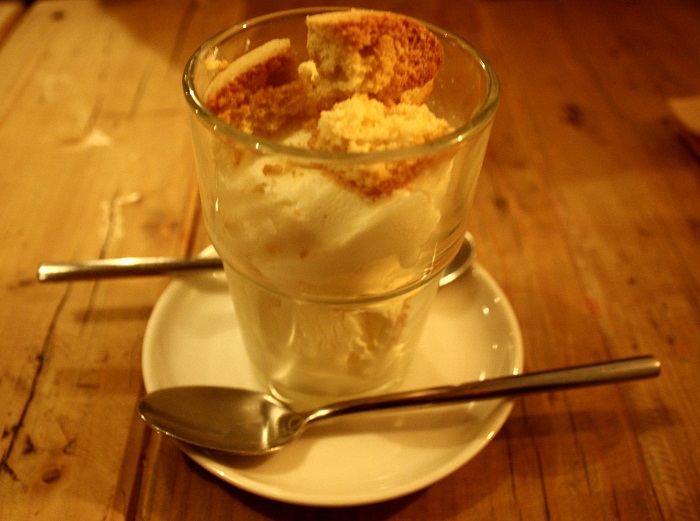 Sodo Pizza Café is perfect if you like a good quality, reasonably healthy pizza that satisfies without making you want to crash out afterwards.  Being greedy, I could have easily eaten a few more slices, as the pizza was just so tasty.  Simplicity is key at Sodo, but perhaps they might add a few Italian side dishes like arancini or rosemary roasted potatoes to complete the menu.
Best of all, if the restaurant is busy, or you just want lazy pizza at home, Sodo offers collection take-out.  Sodo Pizza Café is a real hidden gem and if you can make the trek across town to Clapton, you will be rewarded with some of the best pizza in London.
For more information, visit: www.sodopizza.co.uk
All photos by Chérie City