Last year, I visited Sake no Hana for the first time to discover its special Sakura menu, so I was delighted that it has returned for another spring.
To celebrate the season of cherry blossom, Sake no Hana has transformed its ground floor bar into a stunning cherry blossom garden with boughs of tiny white flowers and a tumbling blossom projection on the walls.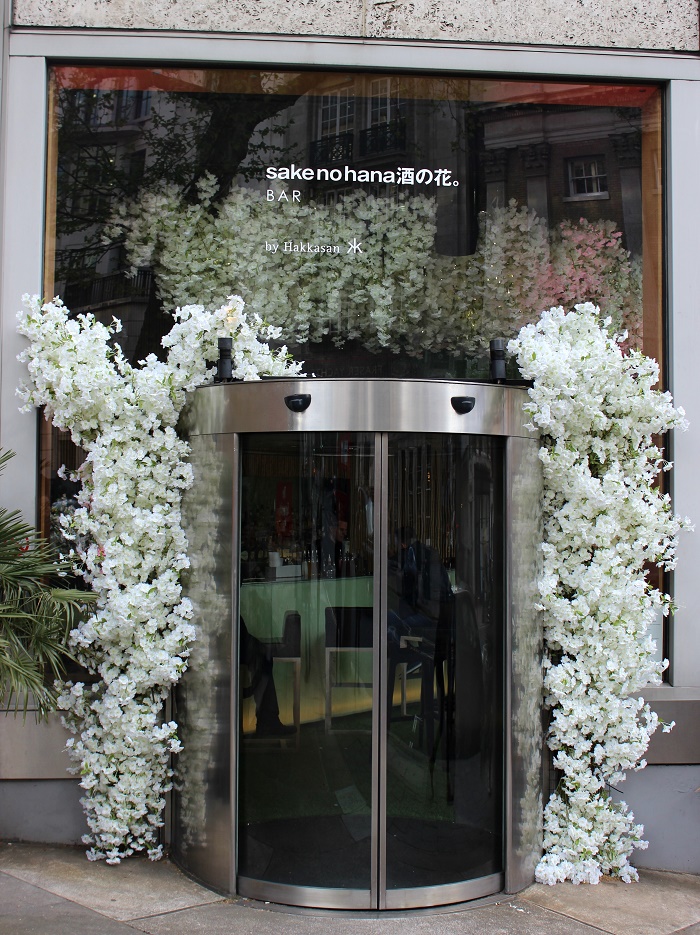 It's an ancient, much-loved tradition in Japan to feast and drink sake under the blooming sakura trees either during the day or at night when the boughs are lit with twinkling lights.  It's my dream to stroll through the sakura parks of Tokyo and Kyoto, but until then, it was a pleasure to indulgence in the heart of Mayfair.
Inspired by this visual and sensory experience, Head Chef Hideki Hiwatashi has created a fabulous Sakura menu, bringing the art of Japanese hanami to London.  It has a similar 'urban picnic' concept as last year's offering but with exciting new dishes and bites.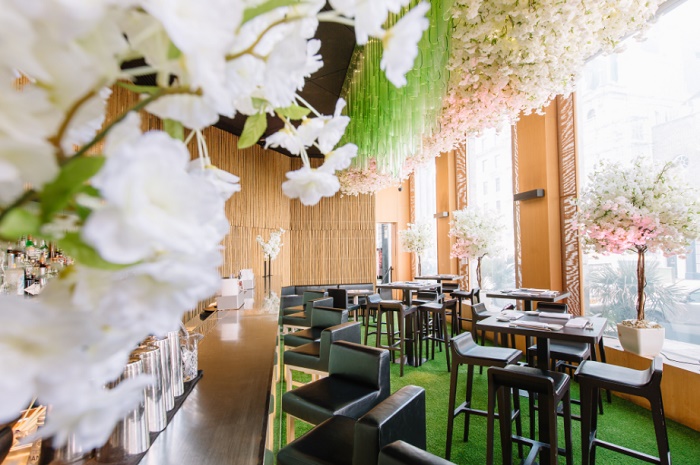 Our Sakura experience started with a dreamy Kaori Arpège cocktail – Beefeater 24 Gin, yuzu sake, cherry liqueur, peach bitters, grapefruit juice and agave.  The refreshing, citrusy cocktail was accompanied by three perfume atomisers – red cherry, black cherry and cinnamon, elderflower and jasmine and violet – to fragrance the air and enhance notes in the cocktail.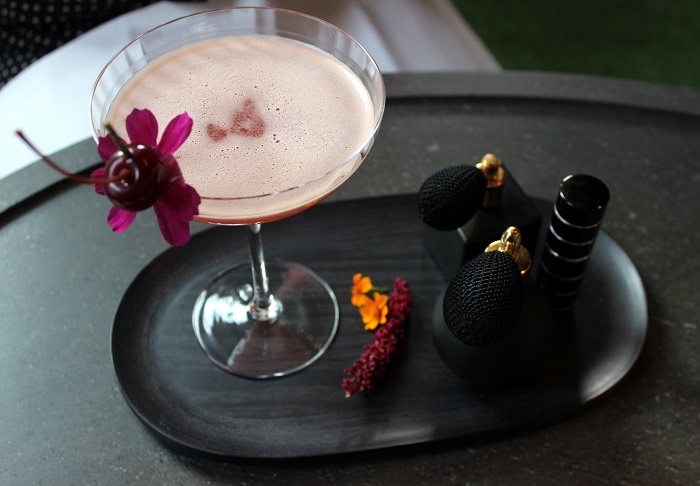 We started with the delicious Shiro Misoshiru Uguisu Tofu – steaming hot miso soup filled with spring onion, wakame seaweed and a fluffy flower-shaped piece of tofu made from edamame peas.  Its spongy texture and slightly sweet flavour made it an interesting addition to the usual classic miso soup.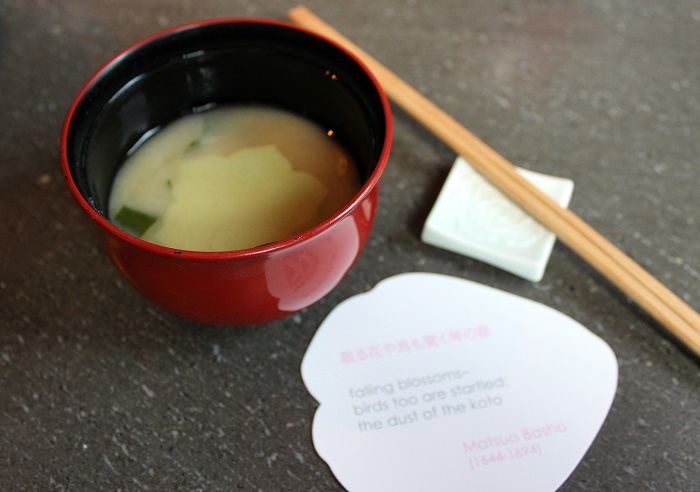 This was followed with a beautifully-presented Sushi and Sashimi Box – it was almost too pretty to devour. Thick slices of hamachi, akami and salmon sashimi simply melted in the mouth and were served chilled over ice in a bamboo box.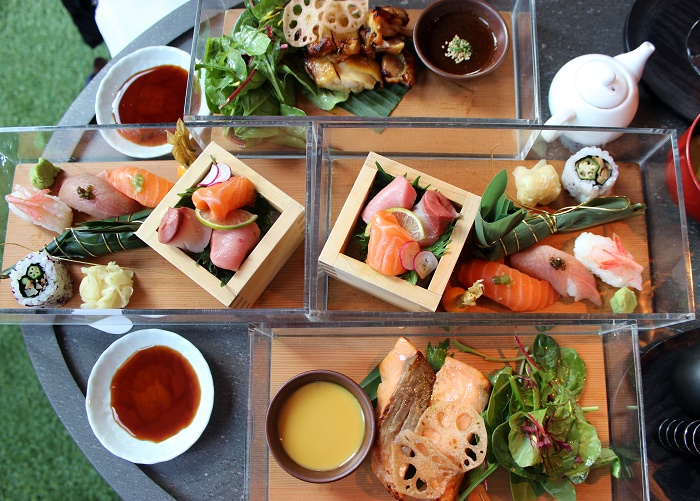 Just as delicious was the trio of nigiri – medium-fatty chu toro caviar, silky salmon kizami wasabi and fresh ama ebi nigiri.  Okura shiso maki was very unique – the okra maki was tender yet crunchy and finished with purple-hued dried sweet plum.  Another tasty bite was the Suzuki Sasazushi – flavoursome seabass sushi wrapped in a bamboo leaf to give it an aromatic taste.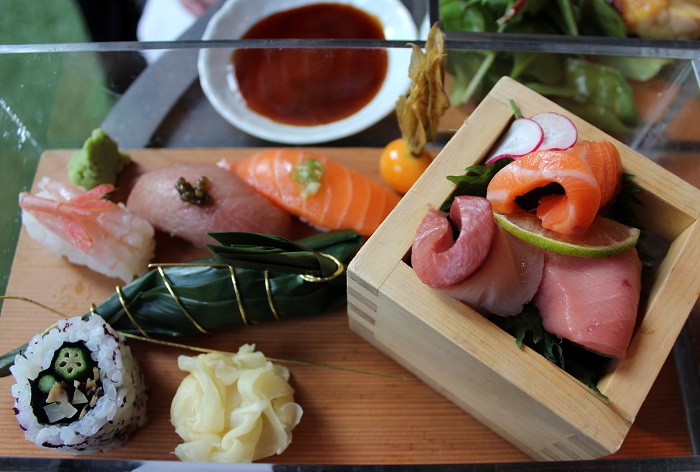 The new Sakura menu also includes a choice of three tempting main courses.  Chicken Sumiyaki with spicy shichimi sauce was a generous amount of succulent, lightly caramelised pieces of grilled chicken thigh with crispy skin.  The shichimi sauce had a deep honey-soy flavour and I found it milder than I'd expected.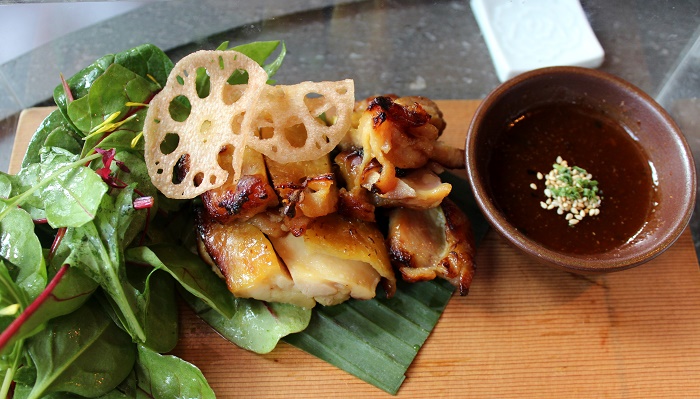 Salmon Miso Yaki with egg mustard sauce was meaty and satisfying with a punchy, slightly creamy dipping sauce.  Both dishes were accompanied by a leaf salad lightly dressed with refreshing yuzu and crunchy fried lotus chips.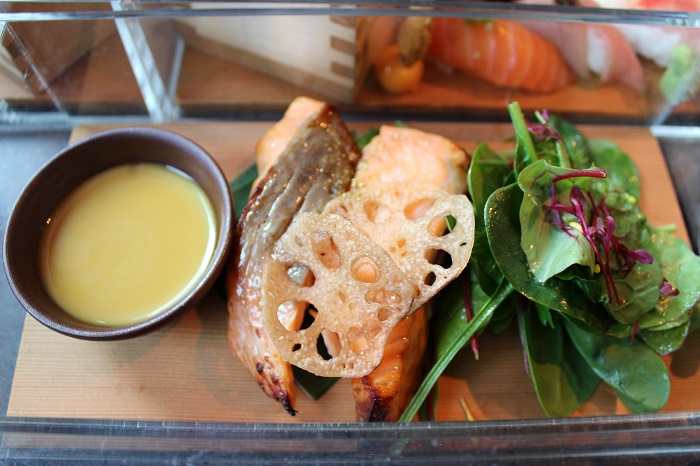 Dessert is not to be missed, especially if you love macarons!  Cherry Chocolate Sake Mousse not only looked exquisite but it tasted divine.  The dessert plate featured an intense, bitter-sweet cherry chocolate mousse and a cherry sake mousse with a softer creamy vanilla flavour.  It was made even prettier with yummy chocolate crumble and little cubes of sake jelly.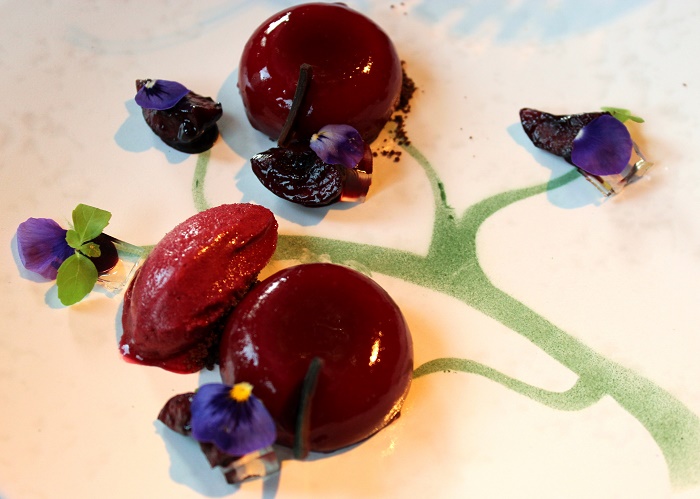 We finished the meal with the most amazing Cherry Blossom Macarons and a pot of jasmine tea.  The freshly-baked vanilla macarons were delicately hand-painted and filled with plenty of velvety cherry blossom tea ganache.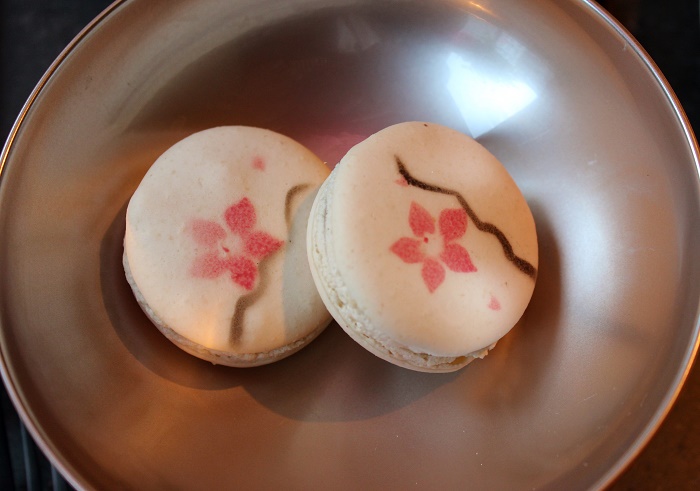 It was such a delight to enjoy this beautiful feast under the cherry blossom and I love how chilled out the bar is, even when the restaurant upstairs is busy.  Go quickly, before the blossom disappears for another year.
The Sakura Menu at Sake no Hana is priced at £34 per person and is available until 18th June.  For more information and booking, visit: www.sakenohana.com
Chérie City was a guest of Sake no Hana
Photos by Chérie City (interior image by Sake no Hana)