Foodies are spoilt for choice at Christmas, whether it's gourmet hampers, cool kitchenware or beautifully-packaged delights.
Here are a few of my favourite Christmas foodie treats…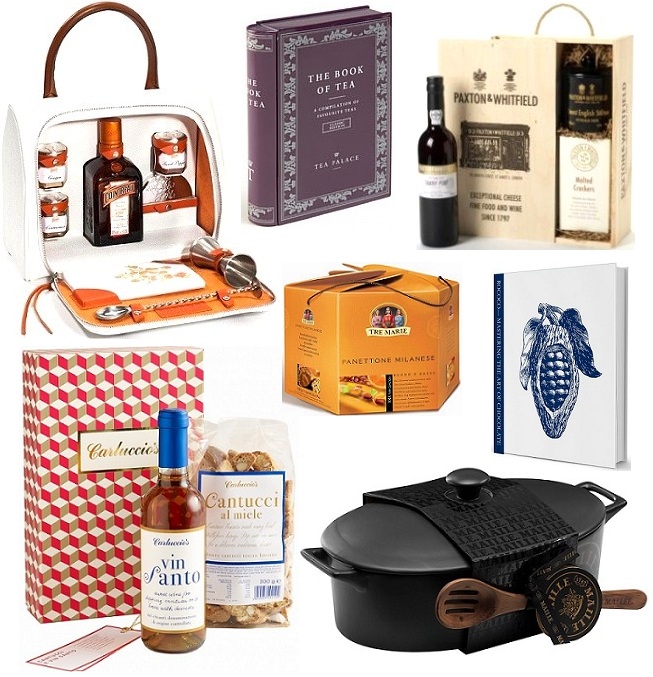 My Cointreau Evening Bag, £559, Selfridges
Cointreau ambassadress Dita Von Teese designed this chic vintage-style handbag, containing everything you need for a classic Cointreau cocktail and a decadent evening.
Book of Tea – Classic Edition, £25, Tea Palace
Keep warm in style over the festive period with Tea Palace's adorable book of tea.
Captains Favourite Gift Set, £45, Paxton & Whitfield
This indulgent gift set from Paxton & Whitfield, London's oldest cheese shop includes a bottle of Tawny Port, Stilton and malted crackers in a traditional wooden box – perfect for the Christmas dinner cheese course or entertaining over the festive period.
Le Tre Marie Panettone, £24, NifeisLife.com/Lina Stores
Le Tre Marie is often named the best panettone and for me, Christmas Morning breakfast wouldn't be the same without a slice.
Rococo: Master the Art of Chocolate, £17.50, Amazon
The inspiring founder of Rococo Chocolates Chantal Coady shares her chocolate-making tips, so we can make delectable sweets at home.
Cantucci & Vin Santo, £23.95, Carluccio's
No one does Christmas quite like Carluccio's.  What a treat it would be to find this beautifully-packaged Cantucci & Vin Santo gift set under the tree.
Maille Casserole Set with Mustard and Spoon, £25, John Lewis
Cook up a post-Christmas Bourgignon or Cassoulet, when you can no longer tolerate the sight of turkey and sprouts.
Have you found any fab gifts for foodies?  Which foodie gift would you love to find under the tree this Christmas?