Visiting Hotel du Vin Newcastle with my mum always feels like a real treat and the last time I was back up North, we dropped by for afternoon tea before shopping.
I would have thought that a good roast would draw the Sunday crowds, but the lounge at Hotel du Vin Newcastle was filled with couples and groups of girlfriends enjoying afternoon tea and glasses of Champagne.  There was even a little Bichon Frise taking a sneaky nibble at its owner's cakes in the corner.
We sat on plush leather sofas and were swiftly brought a pot of the most fragrant and lovely loose-leaf Earl Grey Tea.  Afternoon tea was then presented on a pretty three tier china stand.
We started with some excellent finger sandwiches that included roast ham, smoked salmon, roast chicken and egg mayonnaise.  I'm not usually a fan of tea sandwiches, but the fillings were so delicious and of high quality – the ham and roast chicken were particular favourites.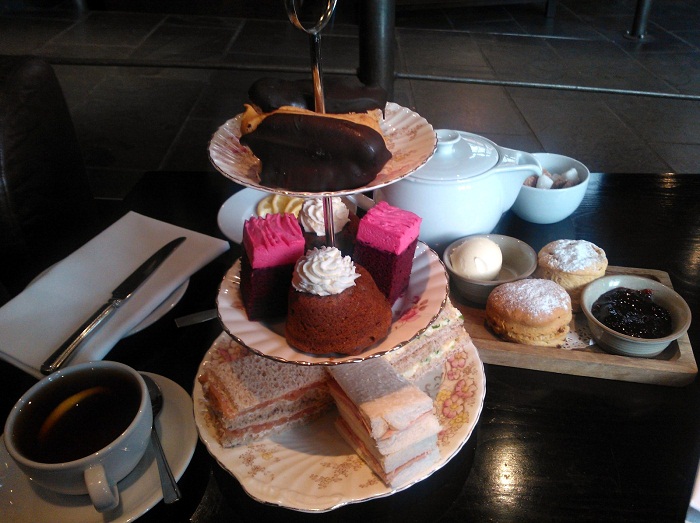 Freshly-baked scones were served warm on a wooden tray with a thick scoop of clotted cream and strawberry jam.  The cakes were beautifully-made and were surprisingly substantial, in fact we had trouble finishing them and took a few home.  Rather than lots of mini items, Hotel du Vin's offering was more focused, with larger portion sizes.
The Red Velvet Cake was dense and moist with a striking hot pink cream cheese frosting.  The dome-shaped Carrot Cake was lighter and slightly spiced with a delicate swirl of fresh cream on the top.  The indulgent Chocolate Eclairs were smothered in a thick layer of dark chocolate and the exquisite choux pastry was filled with fresh cream.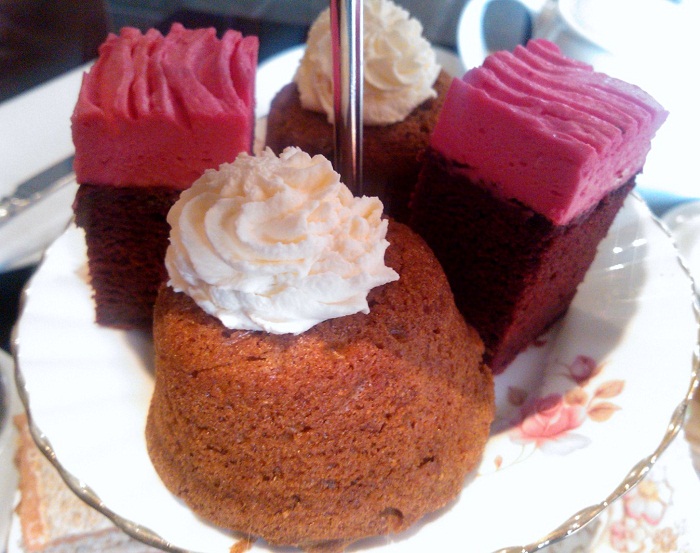 Afternoon Tea at Hotel du Vin Newcastle is classic with a fun twist and is extremely good value at just £14.50 per person.  It's a perfect treat following a day of shopping or a long walk along the nearby Quayside.
Chérie City was a guest of Hotel du Vin Newcastle
Photos by Chérie City