Le Royal Monceau Raffles Paris offers a new interpretation of luxury in the city, reviving a famous historic hotel and incorporating Philippe Starck's artistic vision.  Located in a well-heeled part of town, the hotel is just a short walk from the Champs-Élysées, Arc de Triomphe and the beautiful Parc Monceau.
The monumental five star Royal Monceau opened in 1928 and was reborn as part of the prestigious Raffles group with a brand new 'Starck look', in late 2010.  Over the years has attracted an impressive roll call of celebrities, artists and dignitaries including Coco Chanel, Josephine Baker, Walt Disney, Winston Churchill and more recently Robert De Niro, Madonna and Sofia Coppola.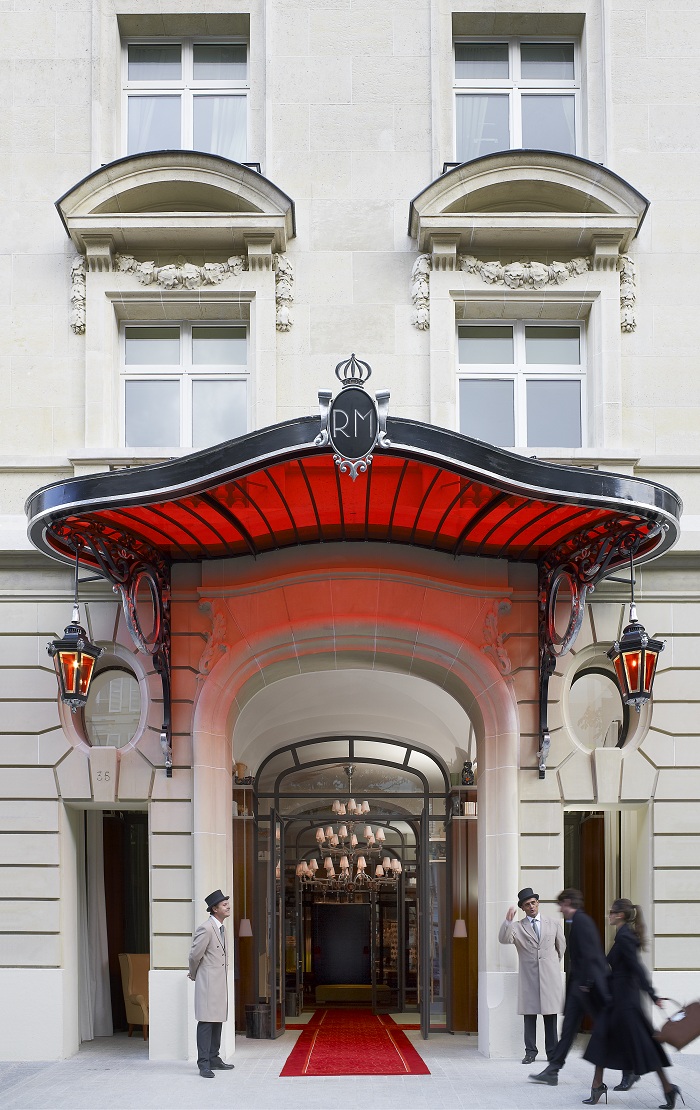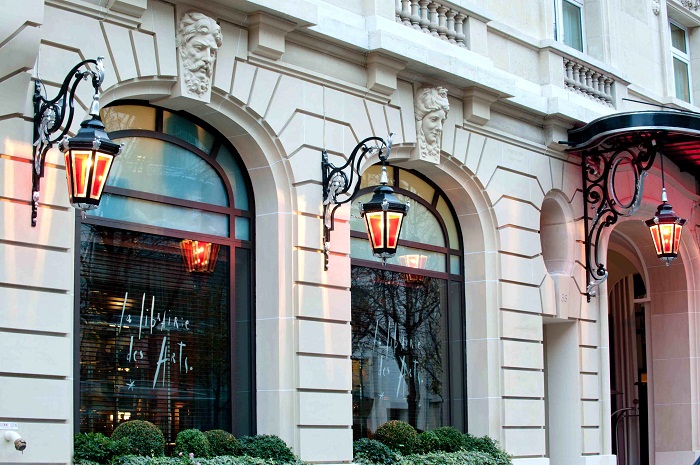 The hotel's investment in contemporary art and culture is unrivaled, with its own 'Art District' gallery hosting regular exhibitions and a special Art Concierge to connect guests with the Paris art scene.  There are a number of pieces by renowned artists throughout and it also runs the very cool blog, Art For Breakfast.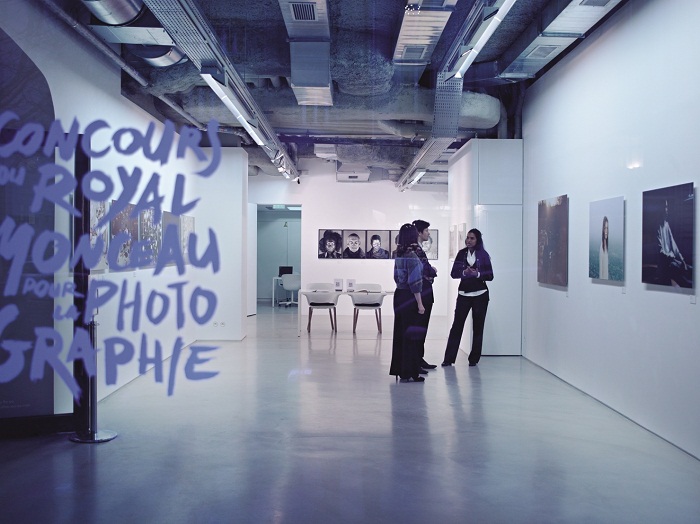 I visited Le Royal Monceau Raffles Paris for a leisurely lunch at the main restaurant, La Cuisine, by Executive Chef Laurent André.  The Jura-born chef began his career under the tutelage of three Michelin star chef Alain Chapel, followed by a number of years with the legendary Alain Ducasse in Paris, London and Hong Kong.  He also oversees hotel's Italian restaurant Il Carpaccio and lighter dishes at Le Bar Long.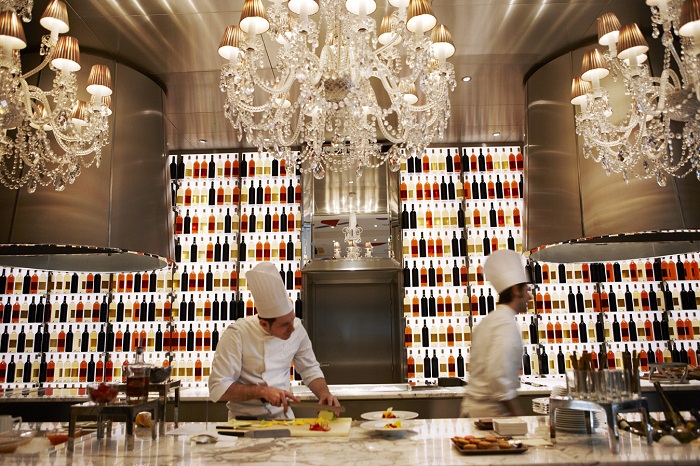 La Cuisine continues the exquisite design of the Lobby with high ceilings leading the eye up towards a striking ceiling fresco named 'Jardin à la française' by Stéphane Calais.  The large dining room features central tables with cosy leather banquettes and semi-private tables closed off by sheer white curtains (a Philippe Starck signature).  The walls are adorned with intriguing contemporary artworks and the cabinets feature china plates decorated by celebrities and artists who have dined there.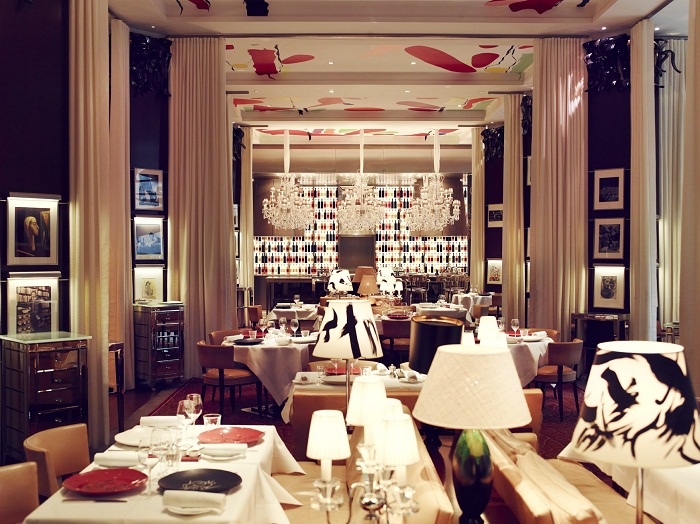 We were seated at a table close to the attractive open kitchen surrounded by hundreds of Murano glass bottles, where we could observe chef Gabriel Grapin meticulously adding the finishing touches to the dishes.  We were promptly served freshly-baked bread and butter and a bottle of ice cold still water.  The lunchtime crowd was a mostly business types, friends catching up and a few families with young, well-behaved children.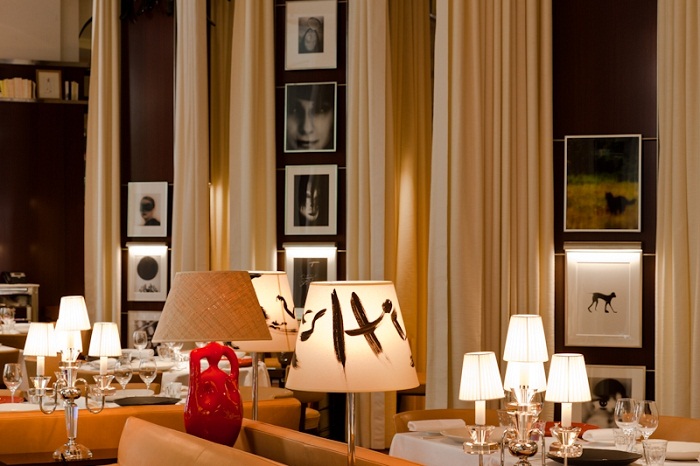 I started with the Brittany Crab – light jelly, avocado cream and warm royal emulsion (€29).  The crab was served in a glass verrine and resembled a colourful, well-manicured garden.  The bottom layer of flaky, meaty crab was deliciously fresh and covered with smooth, cool and creamy avocado puree.  It was finished with crisp julienne vegetables including carrots, beetroot and yellow pepper with a thin apple fan.  The warm layered crab jelly and mousse was airy and souffléed with a strong seafood flavour and a light foam.
Steven ordered the Mackerel marinated in white wine with Pissaladiere garnish (€25).  The mackerel was presented two ways – shredded and mixed with a light dressing and topped with a garden of greenery, and cooked rare and served on a thin tart base with slithers of red pepper, onion and black olives.  Unfortunately we weren't able to take photos at La Cuisine, so the images featured are examples of other dishes on the menu.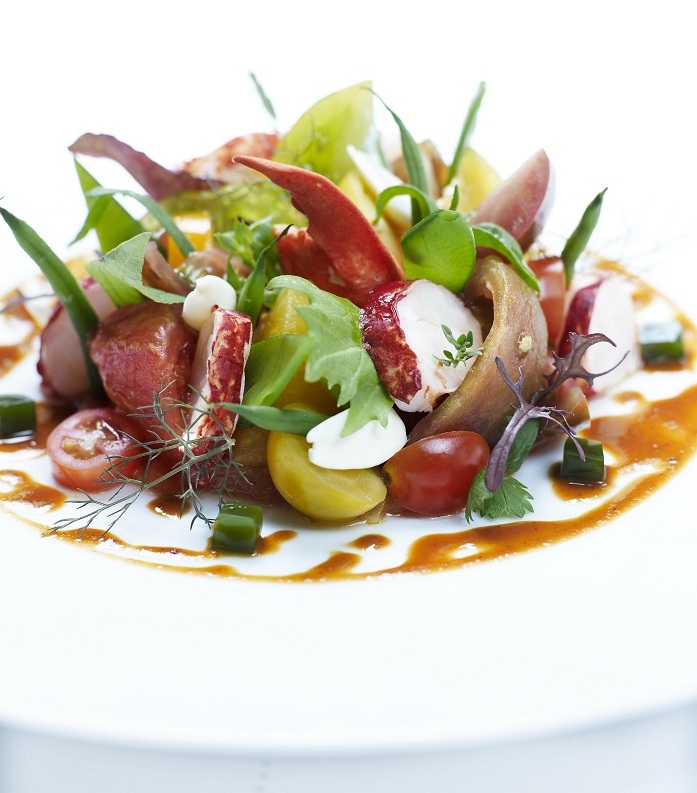 Before our main courses arrived, we were presented with a smart box of knives to choose from; we both opted for 'The Porsche', a light-weight, streamline steel knife that resembled a weapon from the Matrix (the desired Starck effect, of course).
I was tempted by the Beef Fillet from Normandy sprinkled with farm bacon – baked potatoes, romaine salad and souffléed potatoes (€46).  The thick, plump fillet of beef was succulent, lean and nicely charred on the outside with a juicy pink centre.  The baked potatoes were soft and flavoursome and topped with a puffed potato crisp and slim curls of bacon.  The romaine 'salad' was just two really tiny yet perfectly formed leaf and the rich jus finished the dish nicely.
Steven ordered the Roasted saddle of lamb from Lozère – shallots marmalade, stuffed macaronis pasta (€39).  The lamb was served perfectly pink and rolled with a rich herb stuffing.  A row of hearty macaronis were stuffed with bone marrow and the dish was finished with soft, braised fennel and a meaty jus.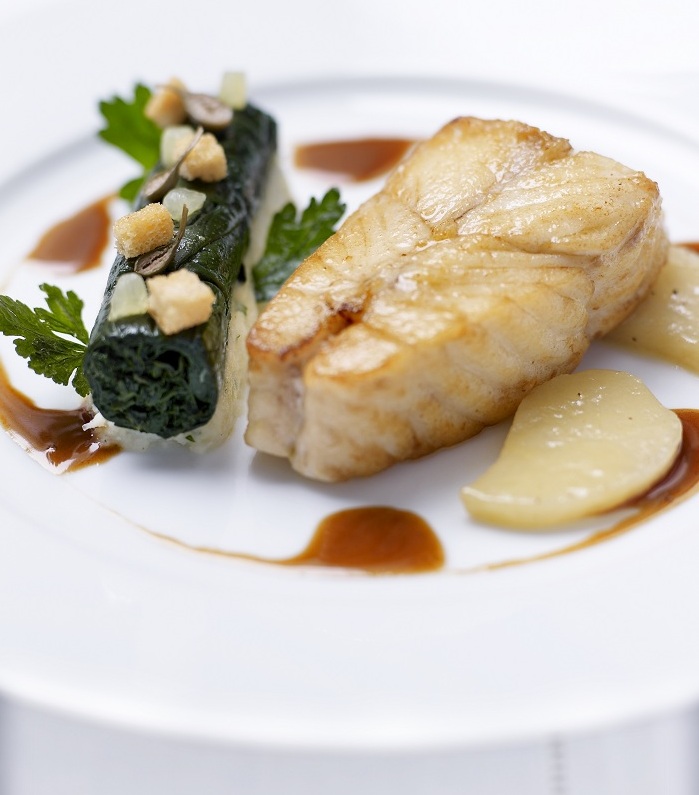 I was delighted to see that desserts are by the 'Picasso of pastry' Pierre Hermé – a perfect match for the sophisticated luxury of La Cuisine.  I ordered Pierre Hermé's signature cake, Ispahan – rose macaron biscuit, rose petal cream, fresh raspberries and lychees (€16).  The macaron-based cake was beautifully presented with delicate, fragrant and fresh flavours.  The macaron was topped with a rose petal and liquid sugar tears – simply stunning and very Parisian.
Steven went for the Baba au Rhum – brioche dough moistened with old dark agricultural rum and Chantilly cream (€16).  Our waitress drizzled the 15-year old aged rum over the Baba at the table and generously asked him to say when she had poured enough – a nice touch.  Pierre Hermé's Baba is a classic done well and the rum had lots of character, complimenting the brioche well.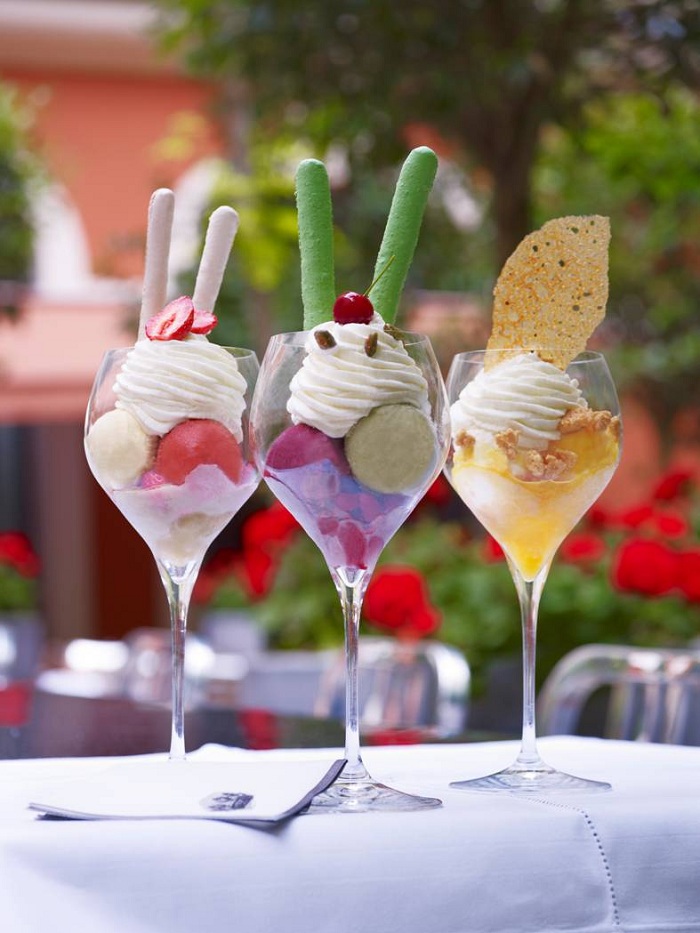 La Cuisine is the perfect spot in Paris for a chic, memorable lunch, as it offers innovative food in a relaxed, inspiring environment.  Staff are warm, friendly and attentive, providing exceptional yet unpretentious service.  In the warmer months, dine in the Terrace Garden under parasols around the glass pond directly above the swimming pool and spa.  Members and guests staying in the Presidential suites can hide away with a Havana or Montecristo cigar in the new private Viñales Club.
Until the end of December, renowned Japanese chef Nobu Matsuhisa and his team bring revolutionary Japanese gastronomy to La Cuisine with à la carte dishes and Omakase (the traditional Chef's Choice tasting menu).  Le Bar Long is also serving Asian-inspired cocktails and sake specially imported from the Hokusetsu House brewery on the northern Japanese Isle of Sado.
Before leaving, linger a little longer and explore La Librairie des Arts bookshop offering limited edition books, artefacts. books, prints and jewellery.  Another must see at the hotel is Le Royal Eclaireur, a special outpost of Armand Hadida's petite group of Paris concept stores selling niche designer pieces in an imaginative setting.
For more information and booking, visit: www.raffles.com/paris
Chérie City was a guest of Le Royal Monceau Raffles Paris
All images by Le Royal Monceau Raffles Paris