London's ramen craze continues with the opening of Kanada-Ya this week on St Giles High Street.
Opened in Japan in 2009, Kanada Kazuhiro's popular ramen restaurant also has a branch in Hong Kong.  The London restaurant is the brand's third outpost and judging by the enormous queues during the soft launch, its reputation preceeds it.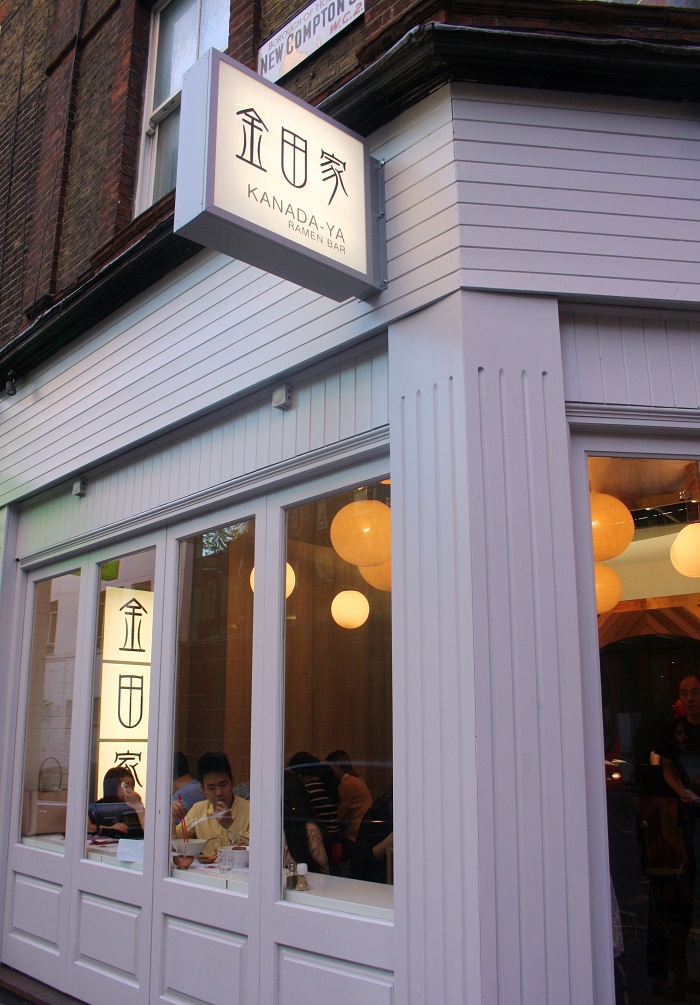 We were treated to a special preview this week before the restaurant officially opened.  Kanada-Ya is a petite spot with bright, contemporary design and an open hatch.  There's a mix of communal tables and counter seating by the windows with simple wooden stools (perhaps not the kind of seating to make you linger).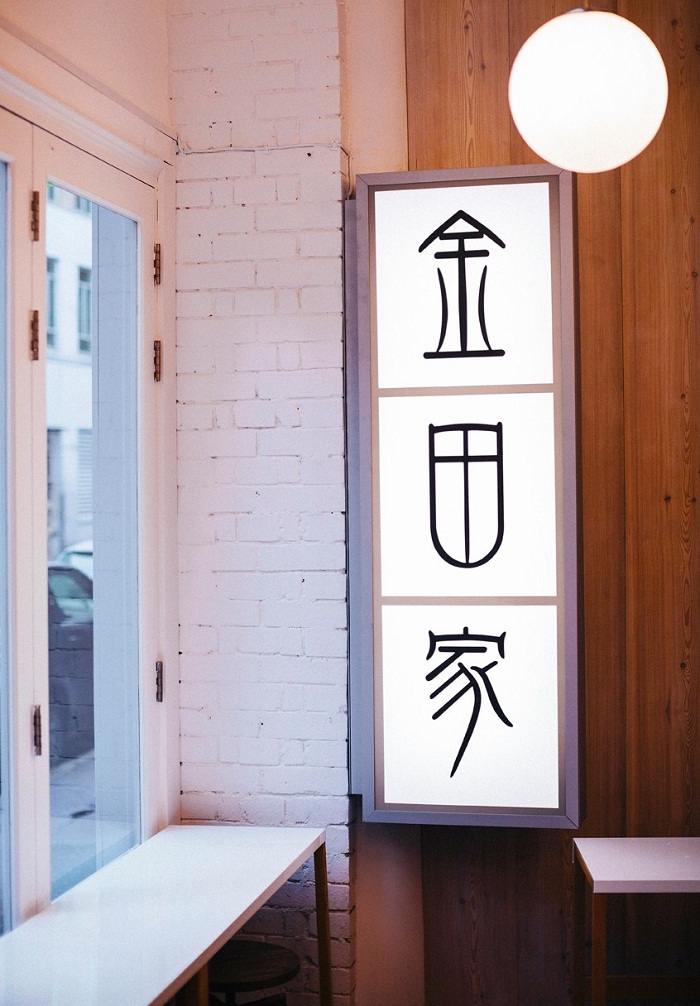 At present, there are three kind of ramen – Original Ramen (£10) with chashu pork belly, Moyashi Ramen (£11) with added blanched beansprouts and Chashu Men (£12.50) with deluxe chashu pork collar.
We both went for the Original Ramen, which arrived swiftly, served piping hot in a large bowl.  The 18 hour pork bone broth was so creamy, rich and meaty without being overpowering.  It's the result of Kanada-Ya's unique way of boiling the pork broth and its special secret sauce.
The tonkotsu broth covered a generous amount of excellent springy, thin noodles which were cooked medium-firm – yes, you have a choice between soft, medium and firm.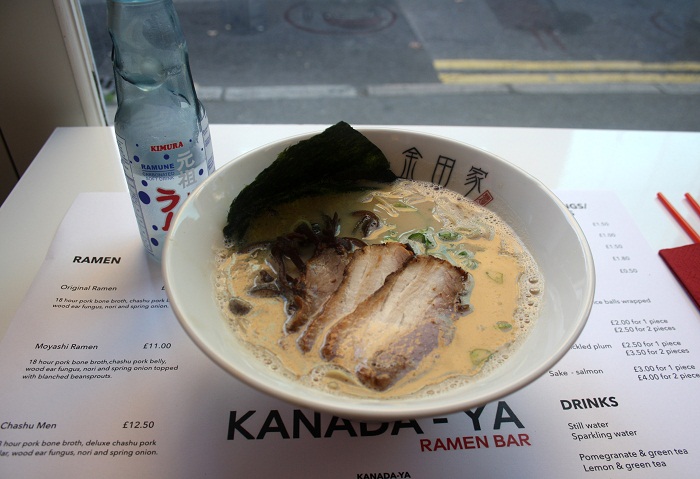 I'm never usually excited about the pork slices in ramen, but Kanada-Ya's chashu pork belly is absolutely incredible.  The slow-cooked, tender pork belly simply melts in the mouth and has a sweet honey-roasted flavour that blends a little into the broth.  Three slices were sufficient, but I would definitely order extra pork next time, as it was just so delicious.
The dish was garnished with fresh wood ear fungus, finely chopped spring onions and a thin sheet of nori.  You might be wondering, where is the nitamago (soft boiled egg marinated in soy sauce) and beansprouts – well, they are to be ordered as extras to customise your ramen.  I prefer this approach, as I'm not a huge fan of nitamago and sometimes find there are too many ingredients in ramen dishes.
The only side dishes at the moment are different flavours of Onigiri (rice balls wrapped in nori).  I tried the original Onigiri (£2 for one piece) and had expected it to taste like sushi rice served chilled, but in fact it was a substantial wedge of warm, salted plain rice covered in nori.  It's not a very flavoursome side on its own, so be sure to order one with a filling of either Umeboshi (pickled plum) or Sake Salmon.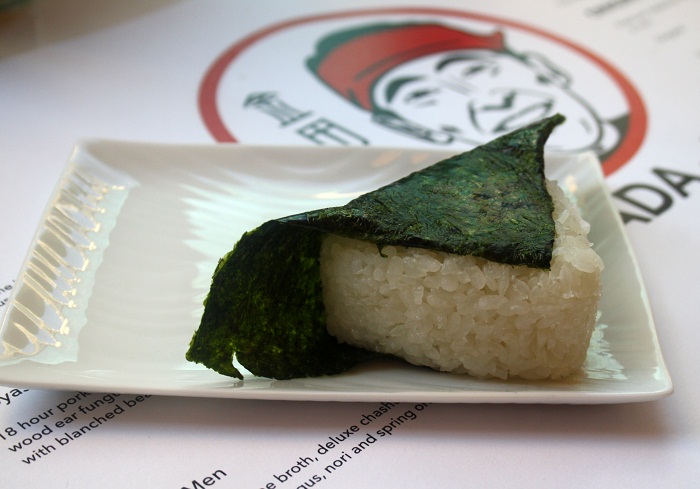 We washed down the ramen with a bottle of Kimura Japanese Lemonade (£2.90), which tasted like a fizzy concoction dreamed up in a sweet shop.  The cool bottle cap is something I've never seen before, so our waiter kindly offered to crack them open for us.  Flavoured iced teas and pots of Japanese tea are also available.
Kanada-Ya is a fantastic new place to dine with friendly staff, a pleasant atmosphere and possibly the best ramen I've ever tasted.  The ramen dishes are very satisfying and filling without being overwhelming and they're excellent value, starting from just £10.  I can't wait to go back and slurp some more tasty ramen soon.
For more information, visit: www.kanada-ya.com
Photos by Chérie City (interior by Kanada-Ya)
Chérie City was a guest of Kanada-Ya