It's been a few years since I stayed on Paris' Left Bank, so what better way to rediscover the area with a stay at the stylish Hotel Saint-Dominique?
I always keep a close eye on the Paris hotel scene, but it was a pleasant surprise to stumble across this beautiful gem on rue Saint-Dominique in the seventh arrondissement.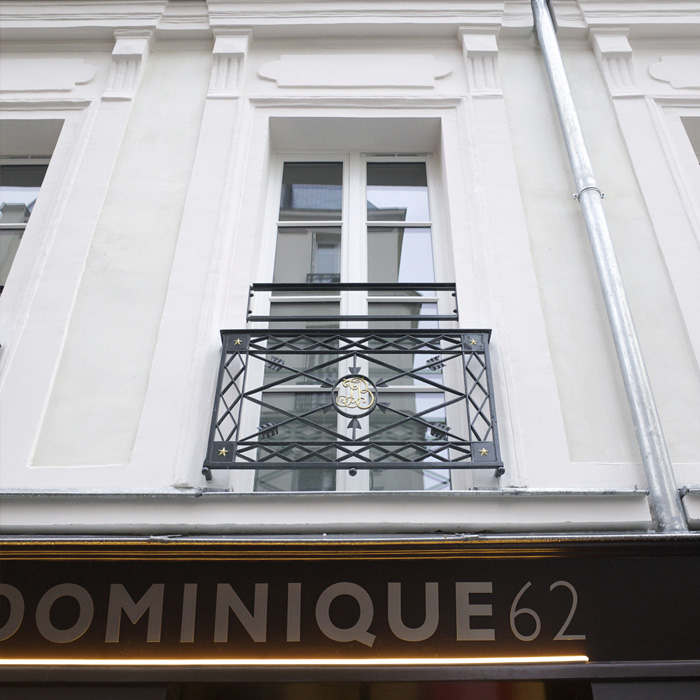 Hotel Saint-Dominique is a four star independent boutique hotel with a focus on contemporary design.  It's a small, cosy hotel with friendly staff and a number of thoughtful features to really make you feel at home.
As the name may suggest, Hotel Saint-Dominique is housed in a former 17th century convent built during the same period as Les Invalides for a religious order.  It also boasts a picturesque view of the Eiffel Tower from the street and is just a short walk away from the Champs de Mars, Les Invalides and Pont Alexandre III.
Our Junior Suite on the top floor overlooking rue Saint-Dominique was enormous and I loved the minimalist interiors with quirky design touches.
The super-comfy king-size bed with reading lamps is covered with high quality linen and a grey felt throw and cushions with a purple trim.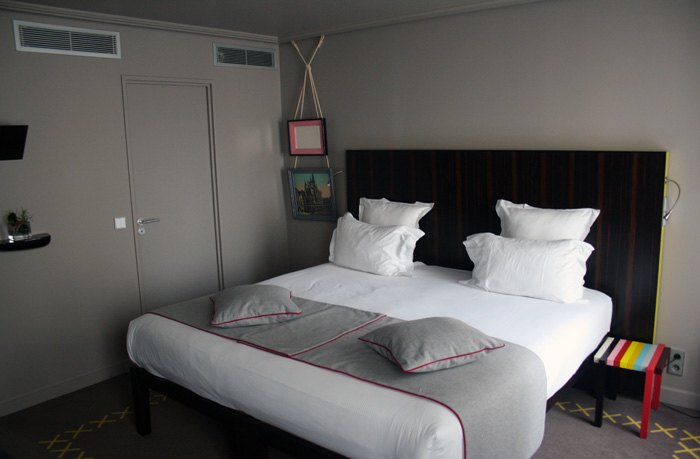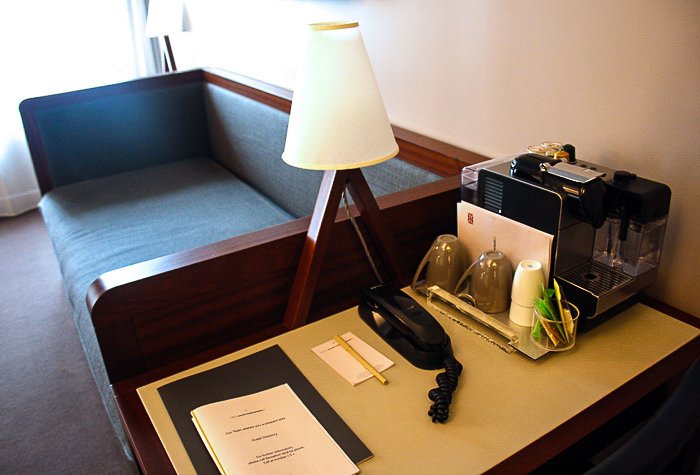 Other features include a long corner sofa, executive writing desk, air-conditioning, free wifi, loan of a mini iPad, Nespresso machine with plenty of espresso capsules and a separate kettle for making tea.  A highlight is the complimentary minibar stocked with Evian and Badoit, Granini orange juice and a can of Coke Zero.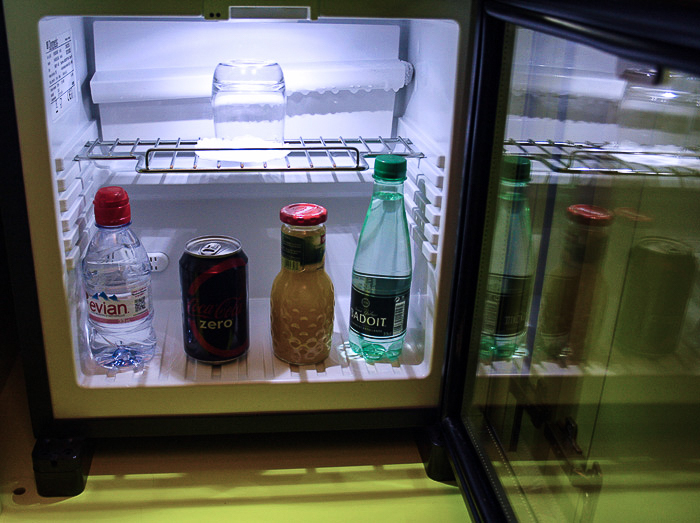 I couldn't help thinking that a room this size should have a slightly larger wardrobe than the multi-functional mirror one, but it did the trick for a short stay.
The suite is sophisticated and furnished to a high standard, but it also has a playful side with colourful bedside tables, cool rope-mounted photos of the Sacré-Coeur and a plush carpet trimmed with yellow crosses (or 'bisous', if you're a romantic).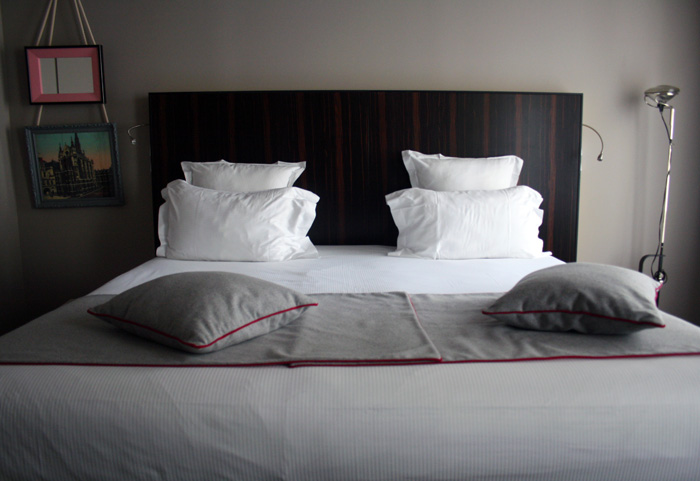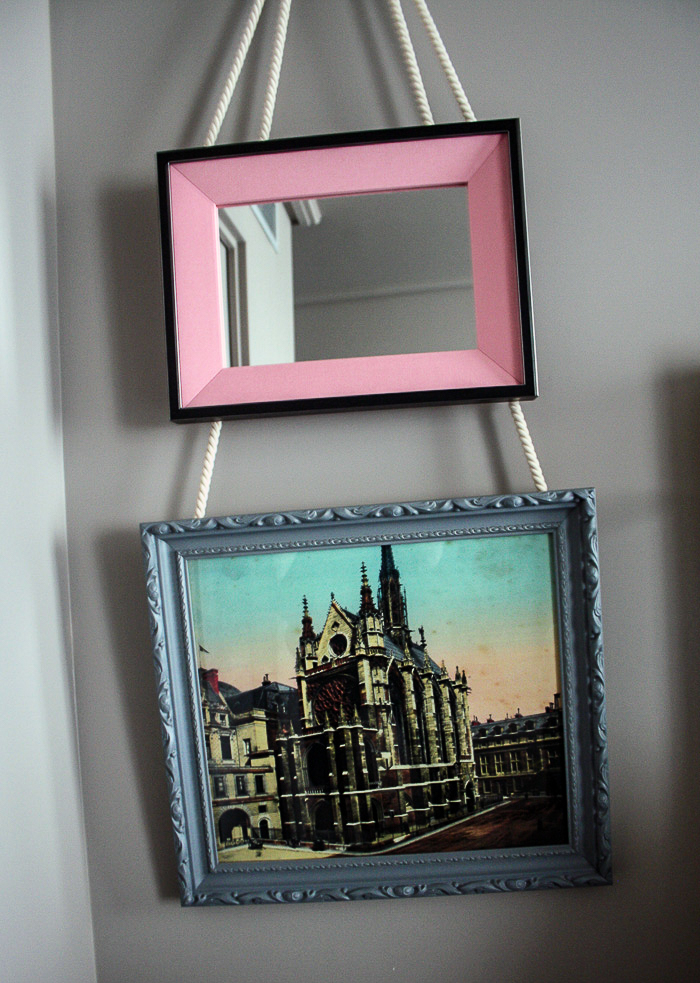 We were kindly welcomed with some delicious macarons and a delightful book – The Best Places to Kiss in Paris.  It was a lovely touch and totally in tune with our rose-tinted view of Paris – even after countless trips it still feels like the most magical city for us.
The white tiled bathroom has a cool urban feel and is an adequate size with a powerful walk-in shower, rectangular marble sink, fluffy towels, bathrobes and a full set of Azzaro bathroom products.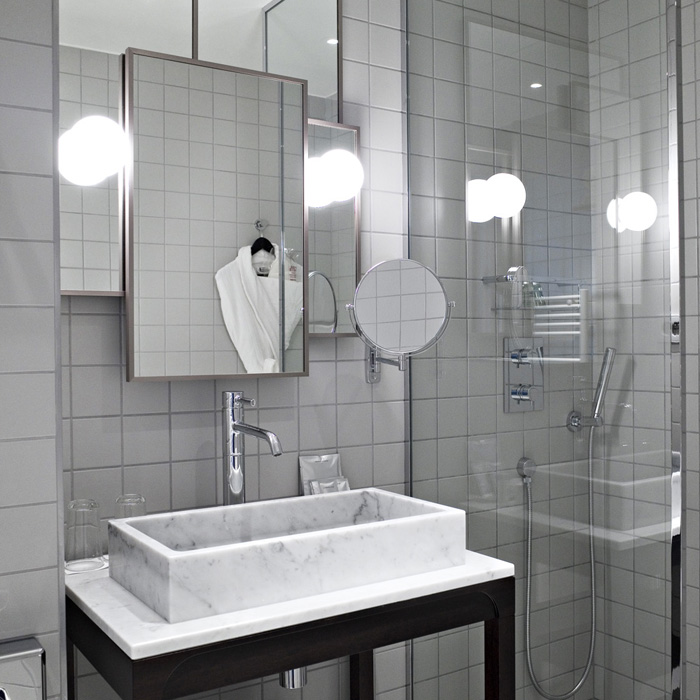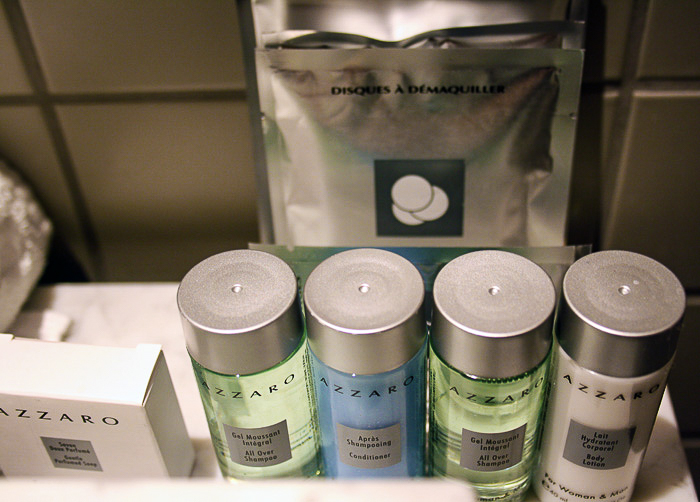 We weren't so lucky with the weather during our trip, but happily the hotel has plenty of posh umbrellas, which kept us a bit drier on the walk over to the Jeanne Lanvin exhibition at the Palais Galliera.
On the way back to the hotel, we warmed up with a delicious bowl of soupe à l'oignon gratinée at neighbouring Bar du Central – a casual, stylish bistro just a few steps away.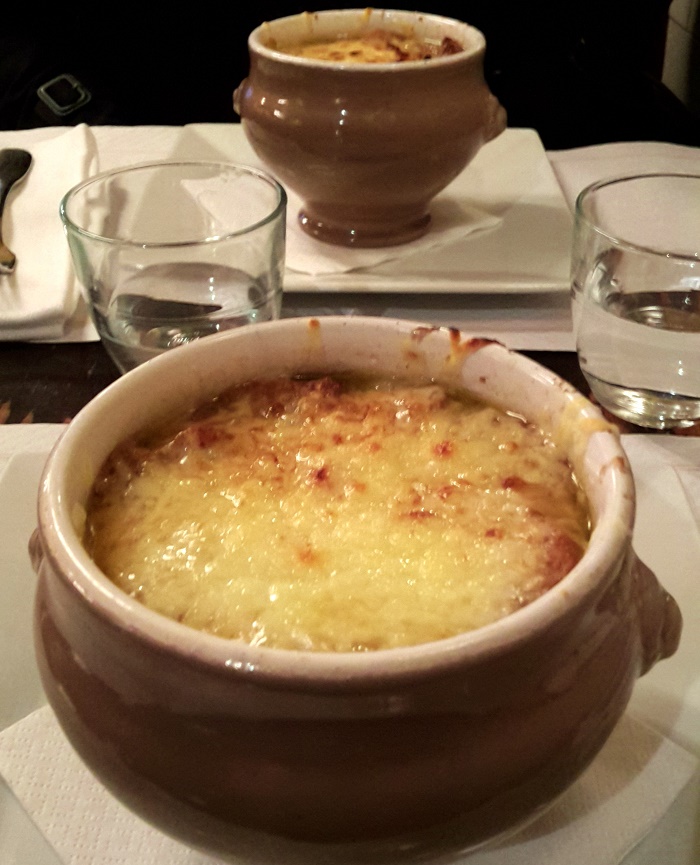 That evening, we enjoyed a fabulous dinner at L'Oiseau Blanc at The Peninsula Paris. Hotel Saint-Dominique doesn't have a restaurant, however it has a reasonably-priced, tempting room service menu if you fancy a cosy night in.
Of course, the 7th arrondissement is filled with foodie delights that you won't want to miss out on.  For a memorable dinner on the doorstep, visit Brasserie Thoumieux by Jean François Piège just a few doors down, or Stephane Jego's much loved L'Ami Jean, known for its outrageously decadent salted caramel rice pudding.
If you're in the mood for something sweet, rue Saint-Dominique has a number of excellent Parisian boulangeries and patisseries, including one of my favourites, Aux Merveilleux.
After a lovely, peaceful night's sleep, we went down to the breakfast room for a leisurely Parisian breakfast.  I loved this bright, Scandi-style breakfast room with comfy seats and flowers on the tables.
The buffet was filled with a generous morning offering of fresh baguette, mini pastries, crepes, pancakes, granola, cured meats, cheeses and yoghurts.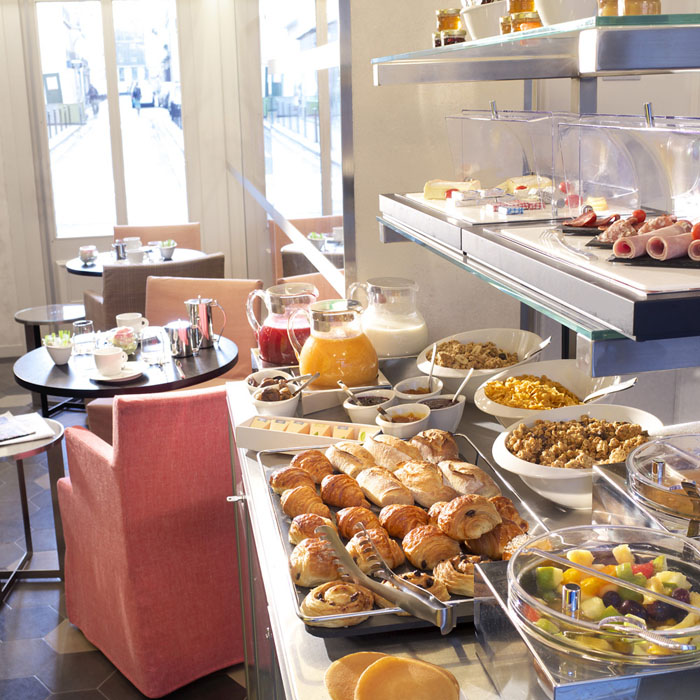 Hot items are also included and are made to order.  I was in the mood for croissants and jam but the friendly French-speaking lady who was looking after us for breakfast cooked up a fresh plate of scrambled eggs and smoked salmon for Steven.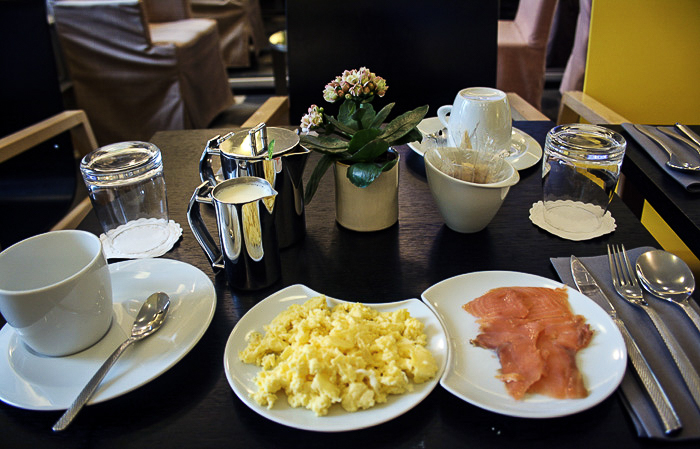 Everything was nicely done and in the warmer months, it would be a delight to have breakfast in the pretty Parisian courtyard.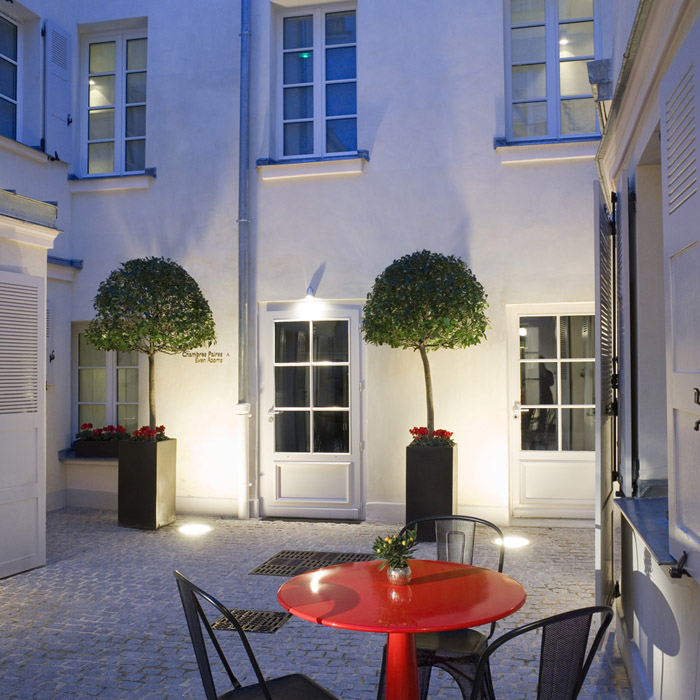 Hotel Saint-Dominique is the perfect base for a stylish city break with great design, an inspiring location and affordable rates.  It feels like a secret address in Paris where you can live like a Parisian on the elegant Rive Gauche.
For more information and booking, visit: www.hotelstdominique.com
Chérie City was a guest of Hotel Saint-Dominique
Photos by Chérie City and Hotel Saint-Dominique