I'm a firm believer that a relaxing holiday is great for the body and soul, leaving you refreshed and ready to take on the world on your return.  AXA PPP healthcare confirms this with research into reducing every day and work related stress.
According to a recent survey, one in every four adults experiences stress on a daily basis.  Major life changes such as bereavement, moving house, divorce and even happy occasions including marriage or a new baby can trigger stress.  Sometimes the cause of stress is difficult to pinpoint and can lead to feeling overwhelmed and anxious.
Symptoms of stress can show themselves in a number of ways, from poor sleep and loss of energy to mood swings and a feeling of loss of control.  Avoiding and managing stress as it occurs can benefit your long-term health and help re-balance your life.  One helpful stress-reliever is to remove yourself from the daily grind and indulge in a little 'me-time' with a holiday or short weekend break.
AXA PPP is offering one lucky winner a luxurious stay for two for 2 nights at the five-star Stobo Castle in Scotland – organised by Visit Scotland.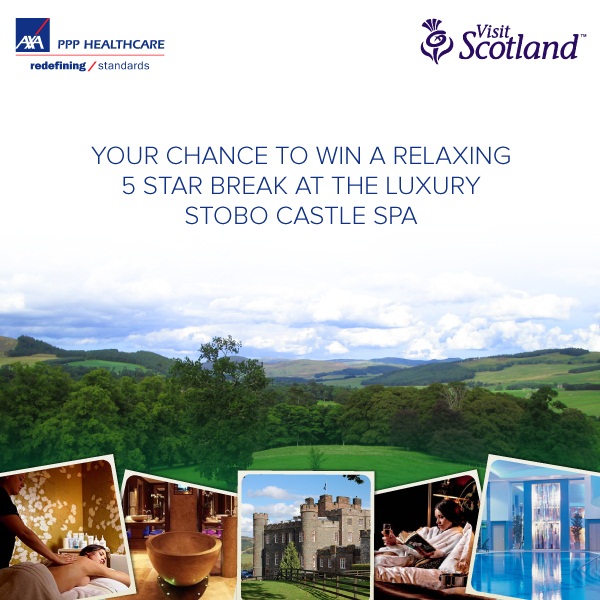 Included in the stay is a complimentary back massage and access to the spa facilities, access to guided country walks, evening activities and optional fitness classes.  Meals are also offered, from dinner on the day of arrival to lunch before departure, plus £200 spending money and £200 towards the cost of travel.
To enter the competition to win this relaxing stay, visit Facebook.
Sponsored post