Mad Hatter's Tea at Sanderson is one of the most inventive and popular afternoon teas in London.  I tried and loved the classic Mad Hatter's Tea during a staycation at Sanderson and last week I was delighted to return and try the brand new afternoon tea, curated by Luna & Curious, who present the hotel's super stylish gift shop.
The Mad Hatter's Tea is served daily in the courtyard garden, but don't be put off by the cold weather, as the terrace is fully covered and the powerful heater lamps keep it warm and toasty.
We started with a glass of Laurent-Perrier Champagne and selected our tea from tiny glass bottles filled with loose leaf tea to help you make a decision.  We went for a pot of fragrant Earl Grey and later tried a delicious pot of rhubarb and custard tea, which I would recommend for something a little different.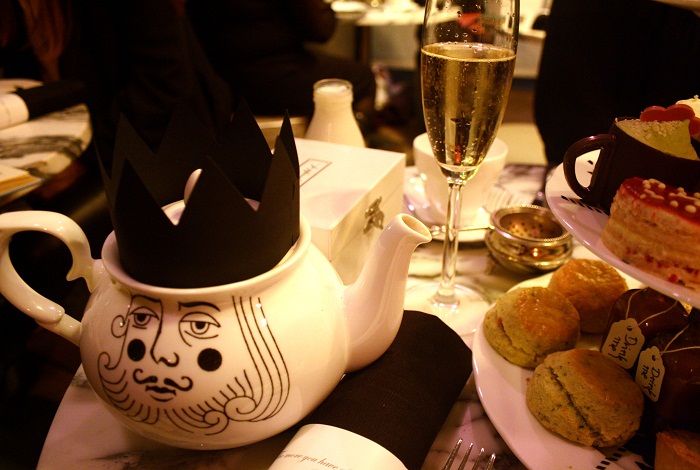 Our spectacular three-tier stand came laden with decadent, colourful treats and our lovely waitress explained the tea in detail.  The Mad Hatter also stopped by with a looking glass, naturally.
We started with a selection of sandwiches on flavoured breads inventively rolled with swirls of fillings including Smoked Cumbrian ham with wholegrain mustard, cucumber and chive cream cheese, cold smoked salmon and lemon butter and egg mayonnaise with watercress and smoked sea salt.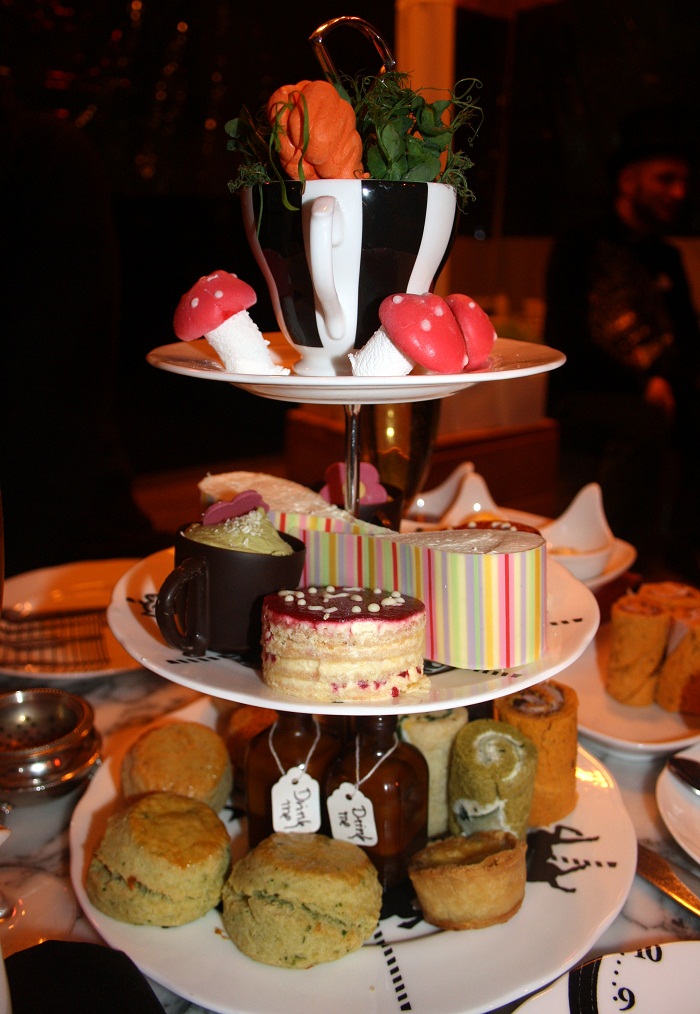 What I love about tea at Sanderson is that they ask about any dietary requirements or preferences before serving the tea.  With the previous tea, I was unable to eat the Chocolate Opera cake due to my allergy to coffee, so unexpectedly the chef made me a brand new coffee-free cake.  There is no coffee included in the new tea, but I was happy to be brought a plate of just Cumbrian ham and wholegrain mustard sandwiches all to myself.
Savoury scones served with herb butter, alongside the traditional sweet scones with clotted cream and strawberry jam, were a great addition and I loved the dainty, mini asparagus quiches.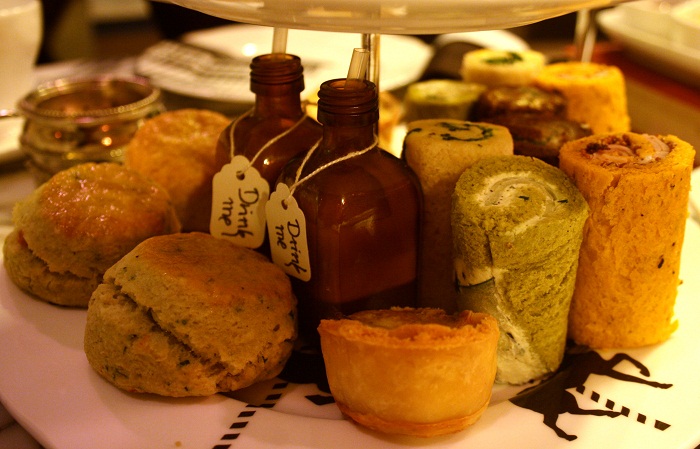 Then, it was on to the sweets, starting with the 'Drink Me' Potion – a tiny bottle filled with three sweet, fruity layers of passion fruit jelly, creamy coconut and banana purée.  The melting mango cheesecake was enveloped in striped white chocolate in a teardrop shape, with a cool, creamy cheesecake filling, hiding a gooey yolk of fresh mango purée.  The 'Tick Tock' traditional Victoria sponge featured sweet strawberry jam and vanilla creme packed densely between layers of fine sponge and iced with a clock design on top.
The matcha green tea and white chocolate mousse served in a chocolate tea cup was lightly whipped and the two flavours were a great combination.  By this point, I was almost delirious from the sugary treats, but still found some room for a scrumptious Carrot meringue served on a bed of pea shoots and a 'Strawberries and cream' homemade marshmallow mushroom.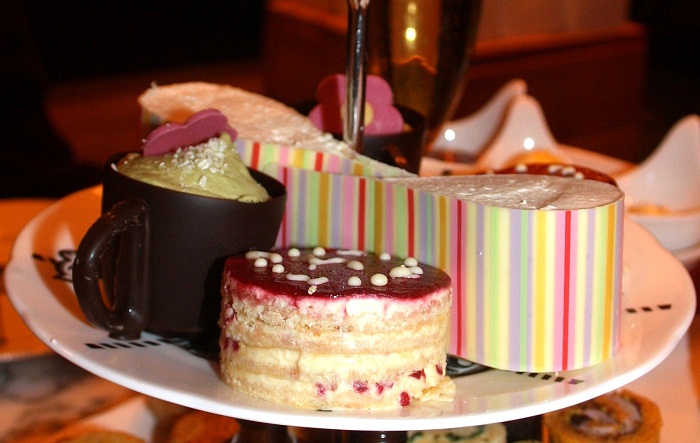 As covetable as the tea itself are the creative accessories.  Luna & Curious have created bespoke monochrome crockery specially for the afternoon tea with a carnival theme.  The menu is hidden inside a vintage novel – we were given The Woman in White by Wilkie Collins – so you can remind yourself of the flavours and get inspired with a few chapters of a classic.  The surreal, literary Alice in Wonderland theme continues with napkins wrapped with riddles and sugar cubes stacked inside a pretty ballerina music box.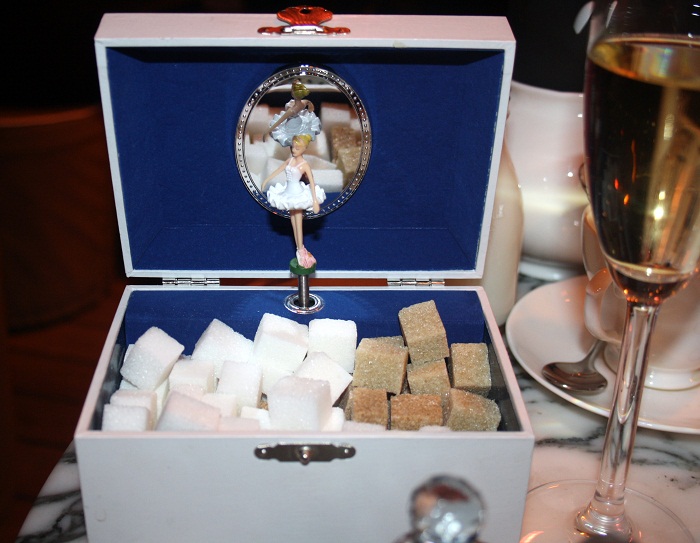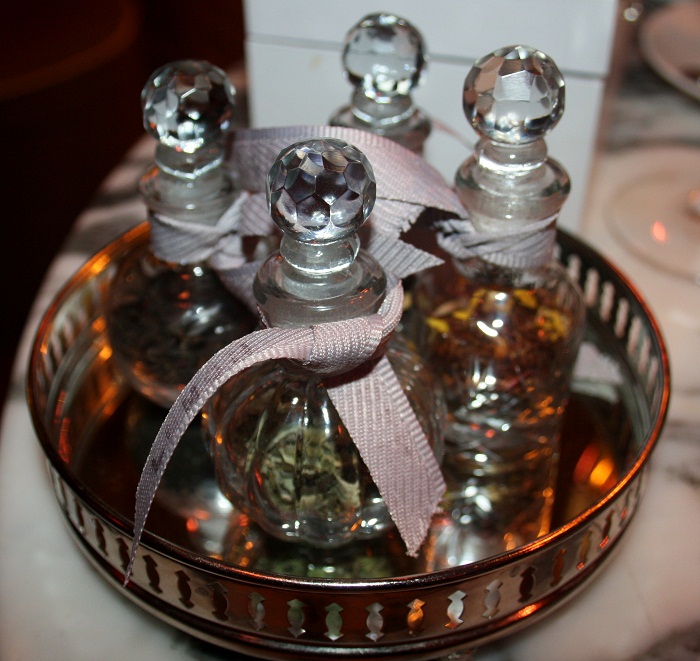 Not to be overlooked is the fabulous Jelly Wonderland – fruit jellies made in Victorian jelly moulds and presented on a Philippe Starck cake trolley.  The colourful jellies are made with real fruit, so they aren't overly sweet and have a more palatable texture than regular jelly.  I can't think of another London afternoon tea offering this (only perhaps at a Bompass & Parr tea party), so Sanderson is leading a trend with its jelly trolley.  I particularly liked the green apple, blackcurrant and strawberry flavours.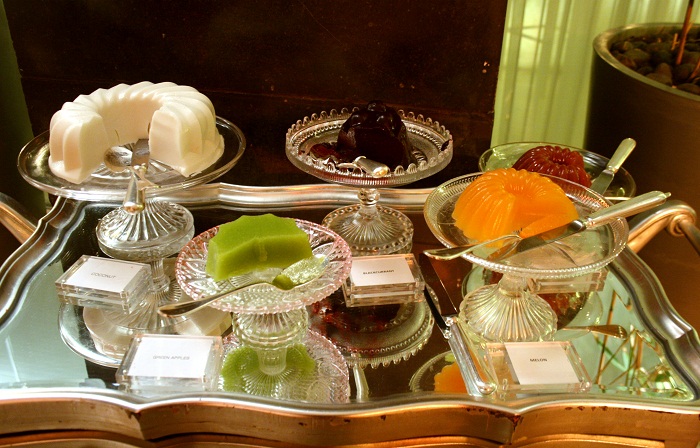 The new Mad Hatter's Tea at Sanderson is as imaginative, fun and memorable as ever.  It's definitely more on the sweet side than most afternoon teas I've tried in London, so be prepared to leave in a sugar coma.  Down the rabbit hole of the Sanderson is the perfect place to spend an afternoon and let the clocks spin backwards.
Mad Hatter's Afternoon Tea is priced at £35 per person.  Champagne afternoon tea with a glass of Laurent-Perrier champagne is £45 per person.
For more information and booking, visit: www.morganshotelgroup.com
Chérie City was a guest of Sanderson
All photos by Chérie City