While staying at The Nolitan in downtown New York, we were drawn to the Little Cupcake Bakeshop and popped in for an afternoon treat.
Established in 2005 in Brooklyn by four brothers, Little Cupcake Bakeshop is a cupcake shop with a difference.  It's the world's first carbon neutral bakery, built using green materials including recycled denim insulation.  All packaging is biodegradable and the cupcake shop is entirely wind-powered.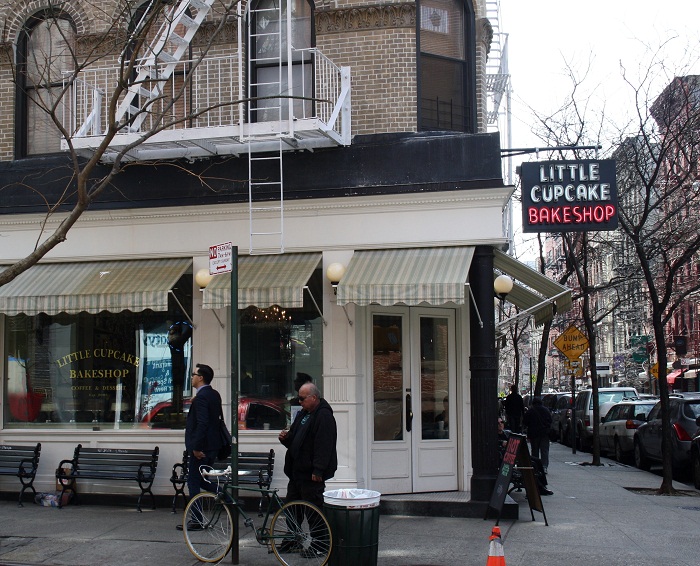 On the corner of Mott and Prince Street, Little Cupcake Bakehouse is quaint and classic American with a homely, family atmosphere inside.  It's also a bit of a celeb hotspot – Gisele Bundchen was shot scoffing their Red Velvet cupcakes by Terry Richardson, Zac Efron filmed Are We Officially Dating? just outside and Jessica Biel, Lake Bell and Amanda Bynes have stopped by for cupcakes.
The cake counter is full of colourful baked goods including beautifully-finished cupcakes, towering three layer cakes, pies, cookies and puddings.  The bakeshop's signature cupcakes are appropriately named Mott Street and Coney Island and the blueberry-flavoured Blue Velvet cupcake is a speciality.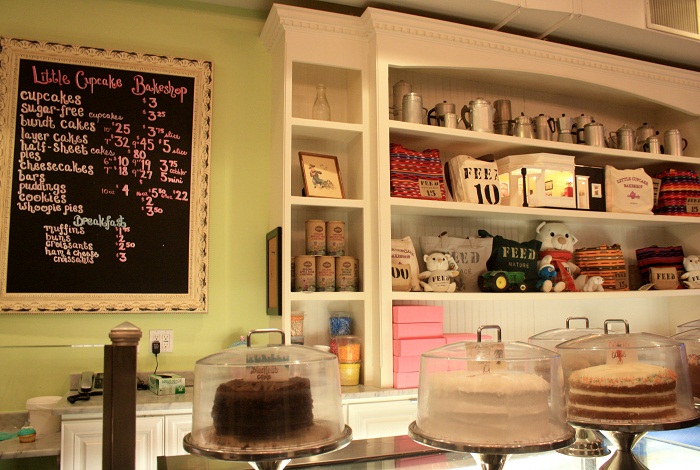 For me, it had to be a cupcake, so I chose The Dreaming Princess – almond cupcake, raspberry jam, buttercream frosting, meringue and toasted almonds.  The cupcake was super sweet and piled high with two kinds of frosting – the most decadent cake I've ever tasted.  The sponge was light and a little drier than what I've come to expect from New York cupcakes, but the smooth meringue made up for it.
Steven's Rice Crispy Treat was a massive, chewy cube of cereal fused together with thick, stringy marshmallow.  It was delicious, satisfying and difficult to finish.  We both washed them down with a Organic Oregon Chai Latte with honey, spices and vanilla.  Unsurprisingly, the chai lattes were very sweet and spicy, so unless you have exceptionally high sugar tolerance, perhaps accompany the cakes with an illy coffee or a Harney & Sons tea.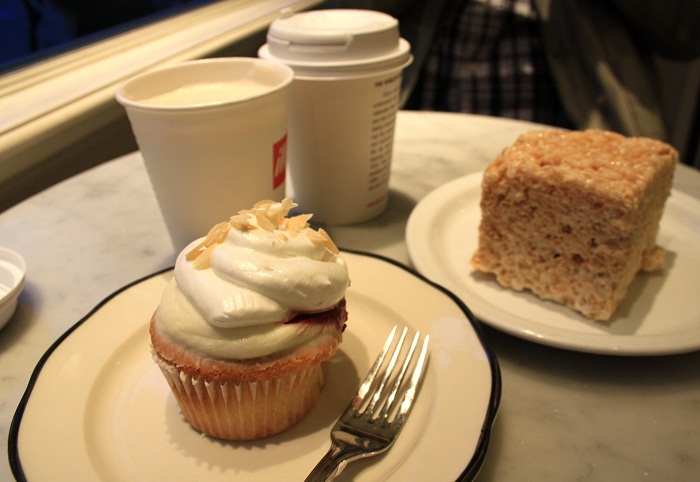 Little Cupcake Bakeshop might not be the home of the best cupcakes in the city (Magnolia Bakery really lives up to the hype), but it's a delightful place to stop and refuel if you're shopping downtown or enjoying a lazy afternoon.
Above all, an awesome fact about Little Cupcake Bakehouse is that it features in a hilarious deleted scene from Girls.  Hannah applies for a job there but she isn't quite pink and perky enough to join the (fictionally) nutty Bakeshop team….
For more information, visit: www.littlecupcakebakeshop.com
All photos by Chérie City