St. James' is a part of historic London that feels so elegant, refined and quintessentially English.  With the city developing so rapidly, a stroll through this neighbourhood reminds me of London's dapper, old world charm.
Nestled on Buckingham Gate is the luxurious St. James' Court, A Taj Hotel.  Its exquisite Victorian architecture makes it one of London's most attractive hotels and the lobby is just as welcoming with marble floors, warm wood panelling and plush seating.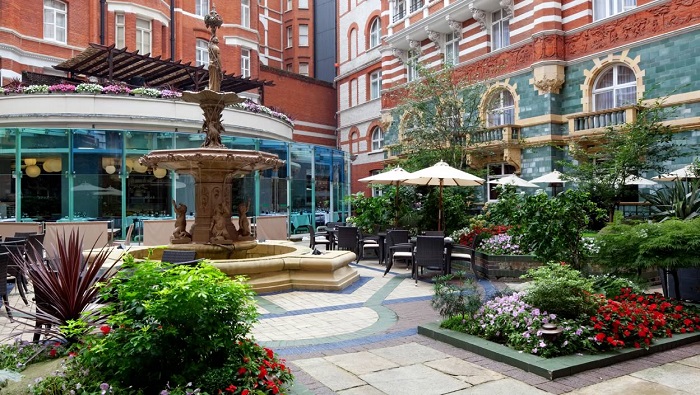 We visited last week for dinner, courtesy of the lovely folk at Zomato, and on arrival we headed to The Hamptons Bar at the back of the lobby for a decadent Laurent-Perrier Champagne Flight with specially-paired canapés.  We had a cosy table overlooking the splendid courtyard and a live pianist provided a soothing soundtrack.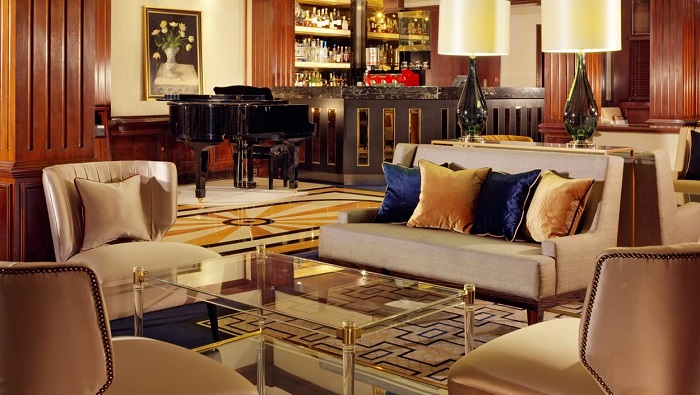 The Laurent-Perrier Champagne Flight certainly looked the part with three mini Champagne flutes ready to be filled on a special presentation tray.  The first fizz we tried was Laurent-Perrier Brut served with scallop and avocado tartare with lemon oil.  This light, easy to drink Champagne has prominent citrus notes and it went perfectly with the fresh scallop, creamy avocado and meyer lemon.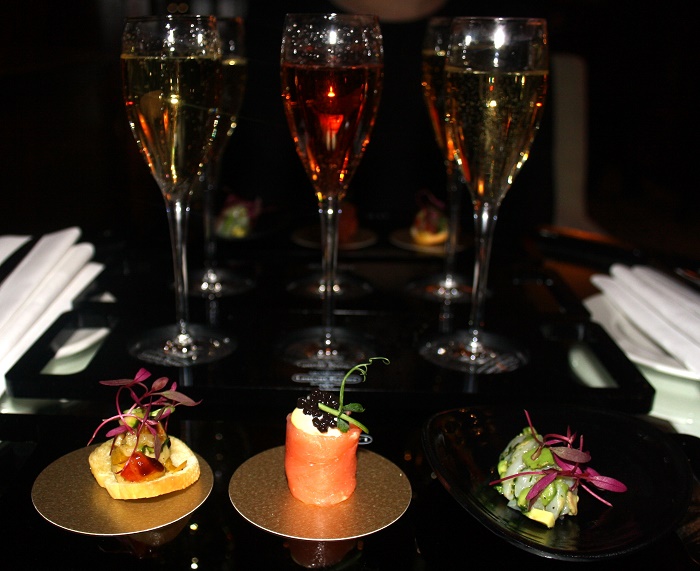 We then moved on to the Laurent-Perrier Cuvée Rosé, paired with smoked salmon and prawn marie rose rolls.  Not only did they match in colour, but the sweet, tangy prawns and intense smoked salmon complemented the Champagne's red and black fruit notes.  This Champagne's attractive pink colour is achieved by using the saignée method of leaving the red grape skins on the wine for up to three days.
Our third tasting was Laurent-Perrier Vintage 2004, served with asparagus ratatouille crostini.  This was our favourite of the three, as it is was the most rounded with biscuity, vanilla notes.  The Chardonny 50% and Pinot Noir 50% Champagne went perfectly with the vegetable crostini, which was nicely marinated and drizzled with olive oil and balsamic glaze.
The Laurent-Perrier Champagne Flight is fantastic value at just £20 per person and feels like more of a ceremony than simply ordering a glass of Champagne.  It also makes a perfect after-work treat when you're ready to be perked up with a few bites and bubbles.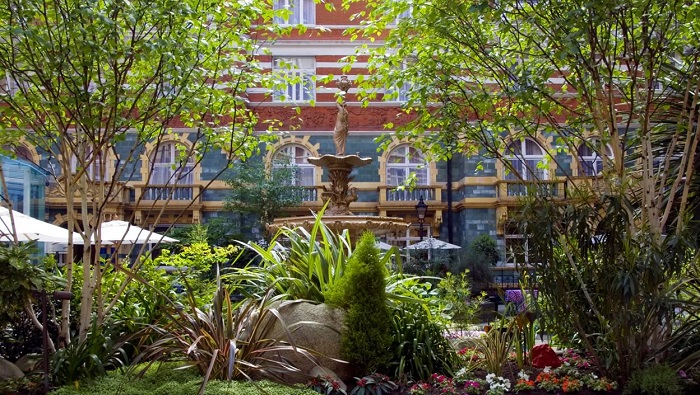 Before getting too tipsy, we moved across the lobby to Bistro 51, the hotel's modern European and Pan Asian restaurant.  The bright, contemporary restaurant has a calm atmosphere and there are a few different seating sections so it feels private and intimate.
We chose from the Chef's Menu, which offers four options for each course.  After ordering, we were brought a selection of freshly-baked pumpkin seed rolls and carrot bread, accompanied by the most delicious creamy mushroom dip.  We tried not to overdo it with the bread, but it was just so tasty and moreish.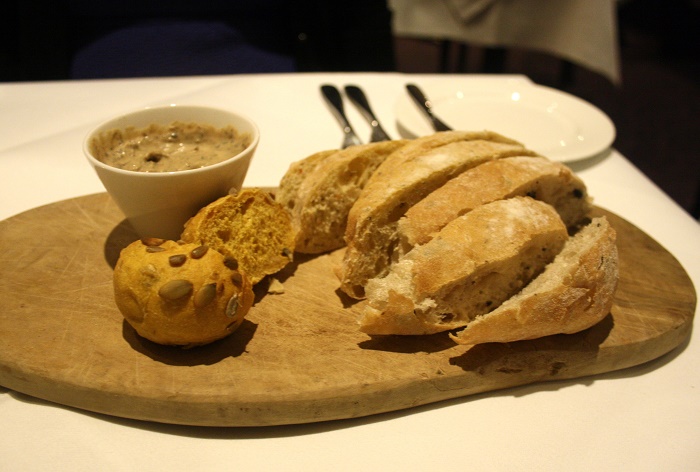 To start, I ordered Pan seared scallops, cauliflower puree and pancetta.  The dish looked appealing and was beautifully-presented.  The scallops were ever so fresh and lightly browned, though unfortunately too salty, as though they'd been seasoned twice.  They went well with the velvety smooth and subtle cauliflower puree and the flavoursome pancetta cooked two ways in a paper-thin strip and crunchy pieces.
I also liked the Brussels sprouts leaves, black olive crumble and dashes of olive oil that punctuated the dish.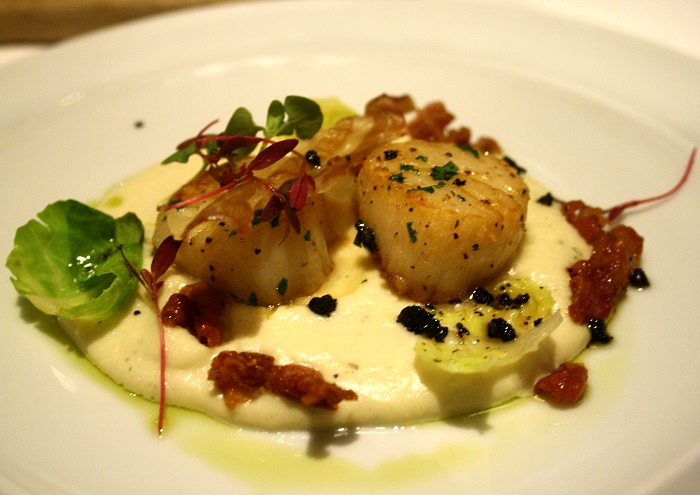 Steven tried the Salmon and cucumber tartar with yuzu dressing.  The chunky, fresh salmon was marinated with strong flavours of cucumber, onion and dill, drizzled in a creamy, citrusy yuzu dressing and topped with high quality caviar.  The portion size was substantial and it was a light and enjoyable start to the meal.
I followed with the Cajun spiced chicken breast, new potatoes tossed with spinach, however as I wasn't really in the mood for heat, I requested it without the Cajun spice (the friendly staff were happy to oblige).  The succulent, juicy chicken breast certainly didn't miss the spice, as it was infused with the aromas of fresh thyme and herbs and had a light, golden skin.
I loved the slightly sweet new potatoes muddled with a light Parmesan cream sauce and wilted spinach and the most perfect long-stem asparagus.  The dish was finished with a rich, meaty jus and more of that yummy black olive crumble.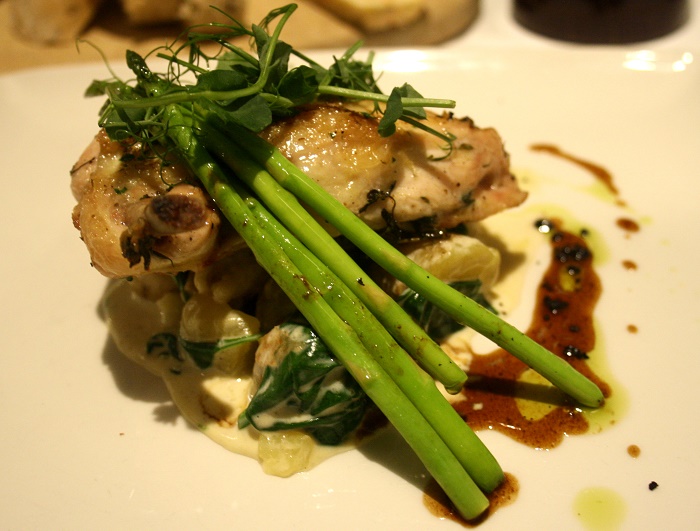 Steven tried the Masala fried fish, aloo and chickpea chaat.  The flaky, tender fish was lightly fried with an aromatic, crisp coating and was accompanied by piquant spiced potatoes, tasty spiced chickpeas and julienne vegetables.  It was a punchy dish with real depth of flavour and a combination of invigorating spices.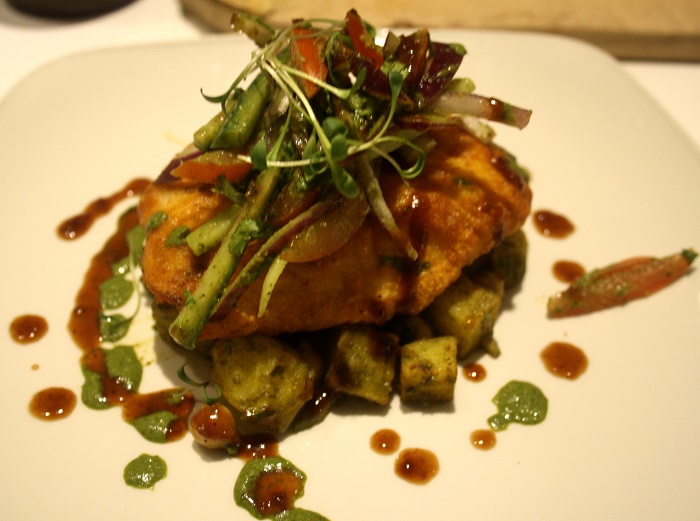 I finished with the Tonka bean crème brûlée with hazelnut biscotti.  The cool, creamy crème brûlée had just a hint of fragrant tonka bean and the caramelised crust was good but could've done with a little more time under the blowtorch to make it crunchier.
I loved the authentic, crunchy hazelnut biscotti and the unexpected joy of proper rum and raisin ice cream, finished with freeze-dried raspberry pieces.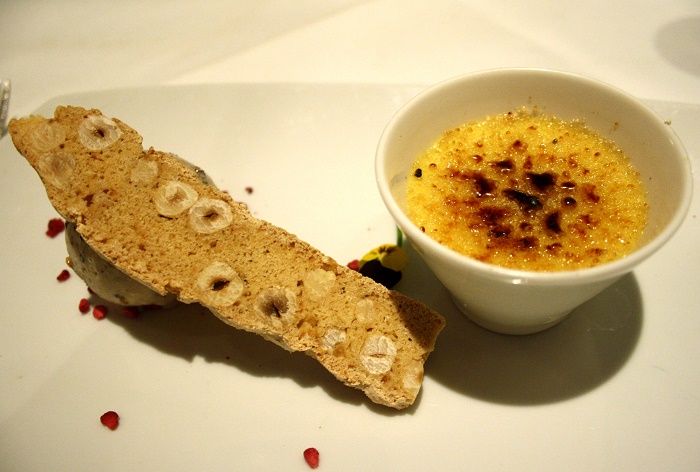 Steven's Sticky toffee pudding with vanilla ice cream was a British classic at its very best.  The moist and airy sponge was sweetened with chopped dates and was drenched in a very indulgent, thick toffee sauce.  It was finished with a scoop of luxurious vanilla ice cream, biscuit crumble and a sugar spear.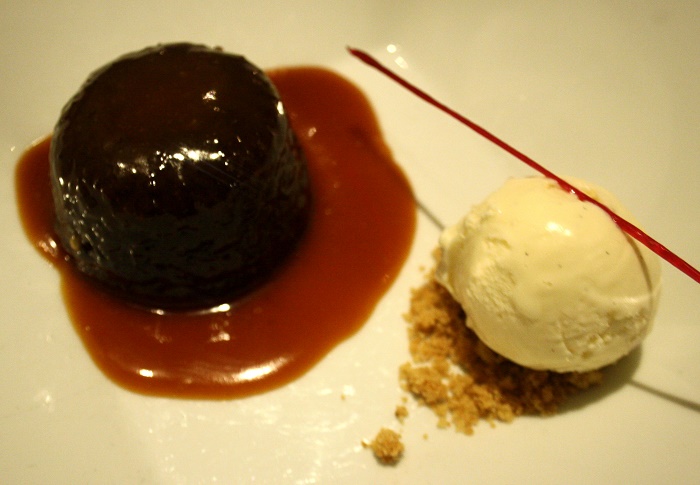 We finished the meal with pots of Earl Grey tea and went back to the lobby to enjoy the piano music before leaving.
The warm atmosphere and kind hospitality at St. James's Court really made our evening and our dining experience in the Hamptons Bar and Bistro 51 was very memorable.  The Laurent-Perrier Champagne Flight added that extra touch of decadence and I can't recommend it enough.
For more information and booking, visit:  See the menu on Zomato.
Chérie City was invited by Zomato and St. James' Court, A Taj Hotel
Photos by Chérie City and St. James' Court, A Taj Hotel