ila spa is a British spa and beauty brand that has a special place in my heart, so when I was invited to visit the ila barn in the Cotswolds, I jumped at the chance.
I spent the afternoon with ila's magnetic founder Denise Leicester who I've met a few times at ila spa events in London.  Not only did I get a rare glimpse of these luxurious, natural creams and oils in production, but I was treated to an exclusive preview of ila spa's new game-changing Gold Cellular Age-Restore collection.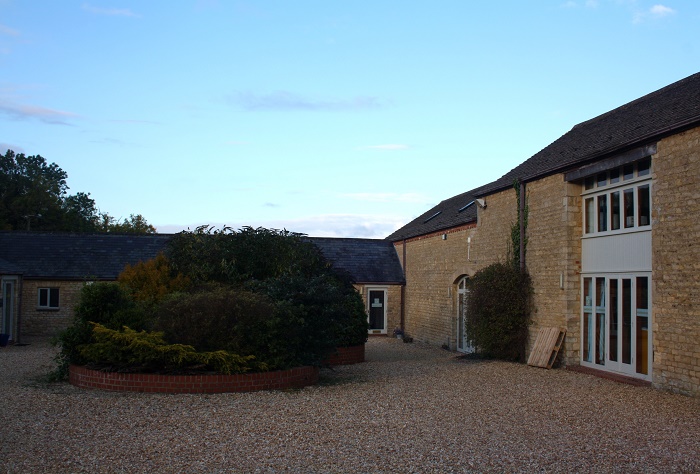 After a short drive from Charlbury through the rolling Oxfordshire countryside, I was warmly welcomed by Denise at the peaceful ila barn, framed by seemingly endless green fields.  Over a healthy snack of dates filled with cashew nut butter and warming cardamon and saffron tea, we chatted about the hotly anticipated collection and Denise's extensive travels.
ila spa Gold Cellular Age-Restore is the result of three years of experimenting and fine tuning.  The innovative anti-ageing ritual harnesses the power of ethically harvested frankincense from the Garden of Ethiopia and three types of naturally occurring gold.  Its unique BosTriWell formula combines three different kinds of frankincense to reduce inflammation while 24-Carat Gold, Homeopathic and Colloidal Gold boost the production of collagen.
A plant-derived hyaluronic acid to hydrate the skin completes this powerful trinity of active ingredients working to promote radiance and reduce the signs of ageing.  Denise explained that the range was formulated in partnership with a world-renowned German pharmacy to achieve the best possible results while staying true to ila's natural, 'beyond organic' philosophy.
First on the agenda was a tour of the ila spa workshop where all of the organic face and body products are hand-blended, bottled and packaged up.  It's such a unique, pleasant environment with exquisite aromas filling the air that I found myself daydreaming about packing up for the Cotswolds to be an ila apprentice.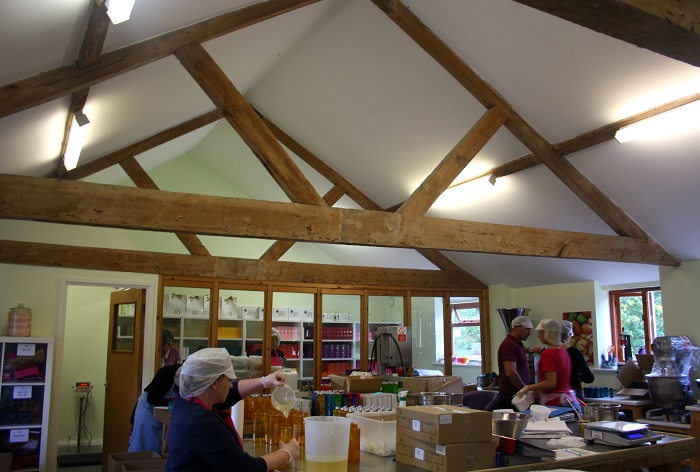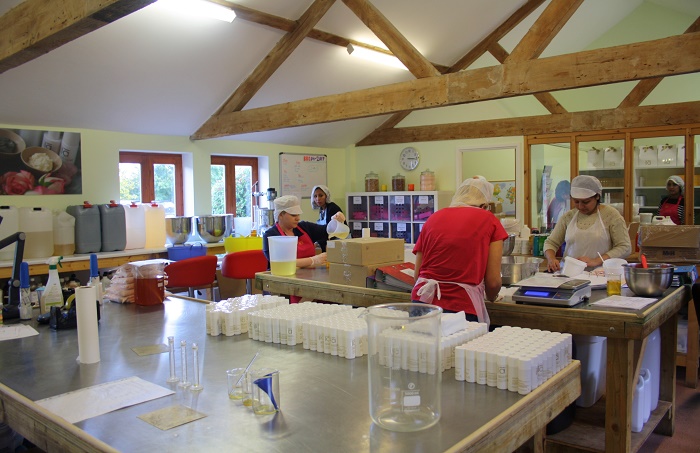 The work stations are adorned with a golden sri yantra to channel good energy into the products and every product is blessed with a positive affirmation by its creator – truly made with love.  I tried my hand at blending ila's best-selling Body Oil for Inner Peace, mixing heady top note oils jasmine, sandalwood and ylang ylang with a base of argan oil and rosehip seed oil.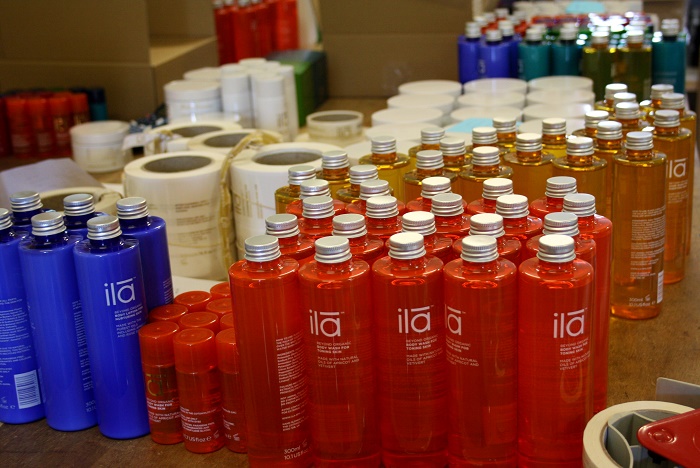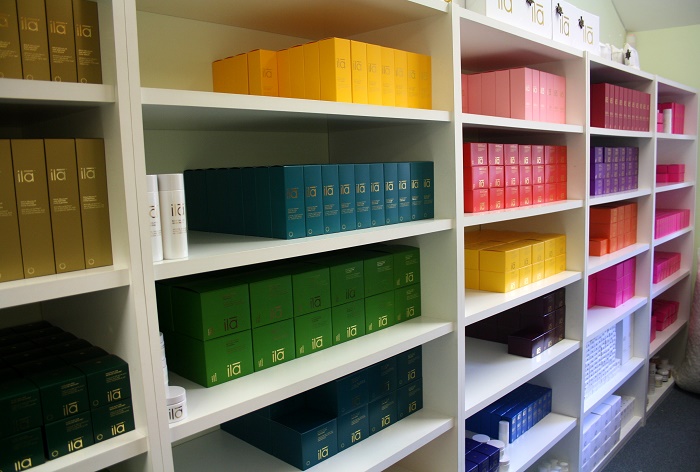 I then took a reflective walk around the special wedding labyrinth at the back of the barn with a lighted candle in hand while being watched intently by the flock of sheep in the adjacent field.  I'm guessing they're pretty chilled out sheep with all the Ayurvedic aromas flowing into their field.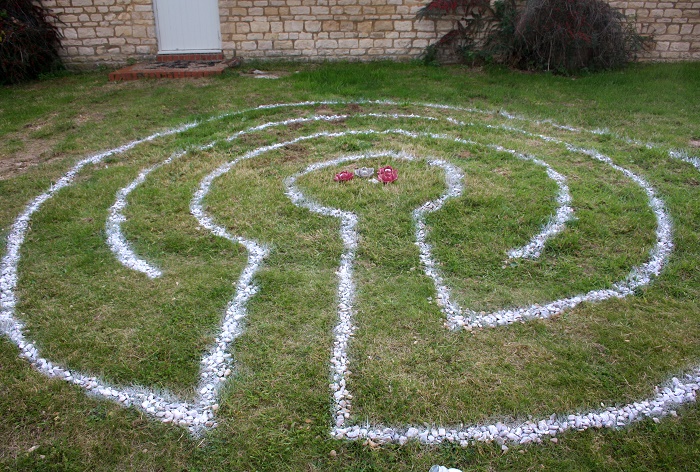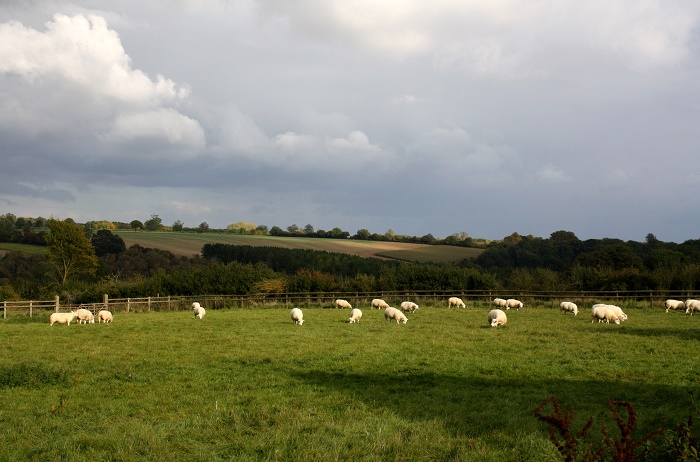 Already feeling serene and revived by the fresh country air, I was set for further relaxation with a signature ila spa Gold Cellular Age-Restore Facial.  Expert therapist Jo performed the most fantastic healing and rejuvenating facial in the warm, tranquil treatment room.  She thoroughly cleansed and exfoliated my skin and intuitively massaged my head, shoulders and face using lymphatic drainage techniques.
A paper sheet drenched in a zingy mask was pushed deep into the skin using the ila Sonic Wave Therapy, leaving my skin feeling tingly and taut.  The treatment finished with a light application of serum and face cream and I was gently awoken from my trance-like state.
The treatment was made even more relaxing and effective with a soundtrack of hypnotic, tribal music composed and sung by Denise.  After the treatment, we sipped on Radiance Cleanse detox juices and Denise led us in a meditative sound therapy session, chanting and playing crystal singing bowls in harmony.  It was the perfect end to an afternoon of wellbeing and I left feeling truly inspired by Denise and her soulful, holistic approach to skincare.
I've been trying out the collection since visiting the ila barn and am already hooked.  My skin was terribly stressed out with a new type of breakout that I had no idea how to tackle and it was getting me down.  The Gold Cellular Age-Restore has dramatically helped calm and soothe my skin, reducing the bumps with its anti-inflamatory properties and re-balancing the tone.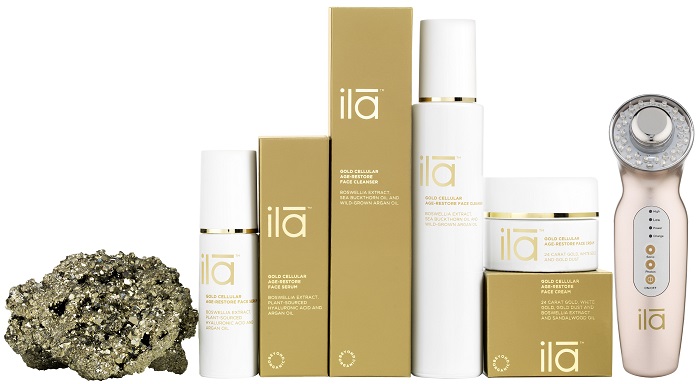 Gold Cellular Age-Restore Face Cleanser is my hero product and an absolute joy to use.  The oil-based cleanser is made up of Babassu oil, Boswellia Extract, Jasmine and vitamin-rich Sea Buckthorn to purify and nourish the skin.  It's just the right texture to give the face and decolletage a good massage and turns into a light milk when emulsified with water.  It leaves my skin feeling comfortable and clean and most importantly leaves no greasy residue.
Gold Cellular Age-Restore Face Toner is distilled from the purest organic orange blossom (instantly taking me back to summer in Provence) and helps revive and tighten skin.  I don't usually see the benefit of toners (unless they're acid toners to exfoliate) but this one is really rather special.
Gold Cellular Age-Restore Face Serum is the ideal product for getting a good dose of those effective ingredients without overwhelming the skin.  For best results, it can be massaged deeply into the skin with the ila Sonic Wave Therapy device.
Gold Cellular Age-Restore Face Cream is a rich, indulgent face cream with collagen boosting 24 Carat Gold, White Gold and Gold Dust to boost cell oxygenation and eliminate toxins from the skin and White Lily stem cells to target fine lines.  I find the texture a little heavy for everyday use on my combination skin, but I love using it at night and on lazy weekends to thoroughly nourish and repair my skin.
ila spa Gold Cellular Age-Restore is a truly luxurious, results-driven organic range that enhances the brand's excellent offering.  Priced at the higher end of natural skincare it's certainly an investment, but believe me there's much more to the products than simply the decadence of 24 Carat Gold.
The ila spa Gold Cellular Age-Restore collection is now available exclusively at Harrods and is priced from £40 to £180.  For more information and to buy online, visit: www.harrods.com and www.ila-spa.com
Chérie City was a guest of ila spa
Photos by Chérie City and ila spa