The Cavendish boasts one of the most interesting locations in London, on historic Jermyn Street, between Piccadilly and Mayfair.  The hotel is tucked neatly behind Fortnum & Mason and is within walking distance of the Royal Academy and heritage shopping destinations such as Floris, Paxton & Whitfield and my favourite Hatchard's Bookshop.
The contemporary four star hotel is surprisingly large with 230 guest rooms over a number of floors.  The reception is stylish and spacious, with high ceilings and plenty of staff on hand to help you with your bags and check-in.  Our first impression was that service is polite and subtle – you can arrive and get your bearings without being pounced on.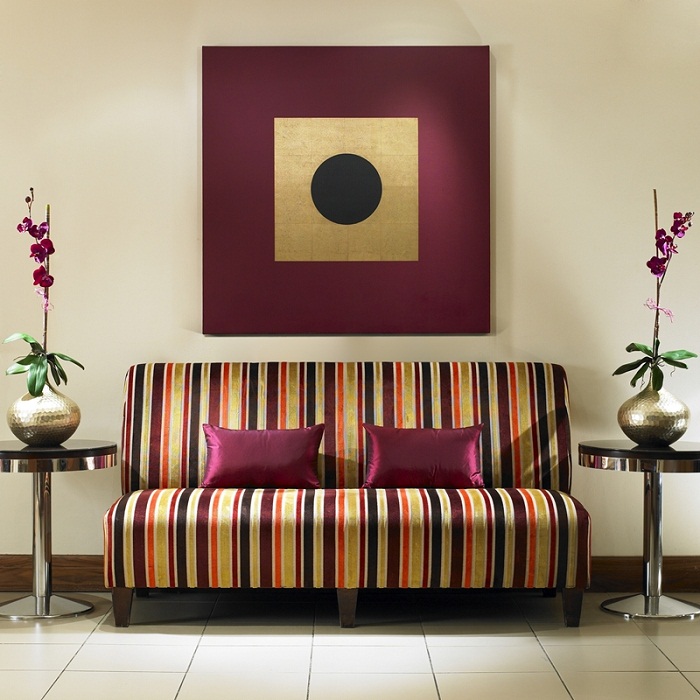 Our Superior room on a high floor was bright and just the right size with a good view over the city.  It was designed in a colour palette of espresso, chartreuse and white and included a comfortable seating area and a large desk for working.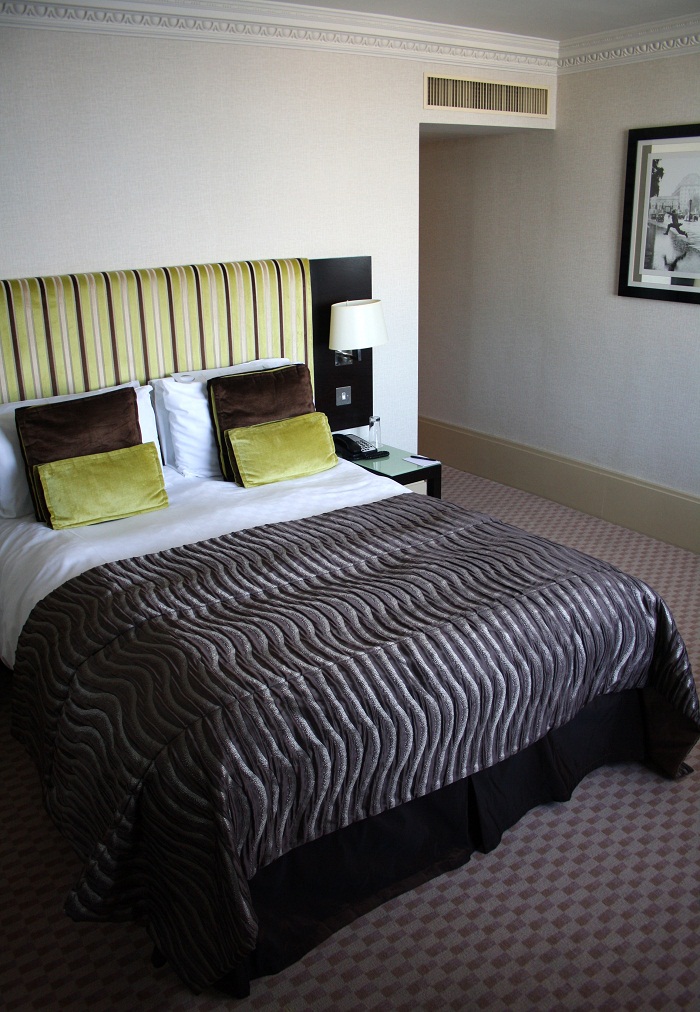 The room featured a Samsung LCD flat screen TV with movies on demand, a Bose iPod-iPhone docking station, wifi (for a fee), powerful air-conditioning, a handy iron and ironing board, mini bar with premium goodies, a large complimentary bottle of mineral water and tea and coffee making facilities.  I was particularly impressed to see a large teapot, which hotels rarely offer,  a selection of high quality teas and Walkers shortbread cookies.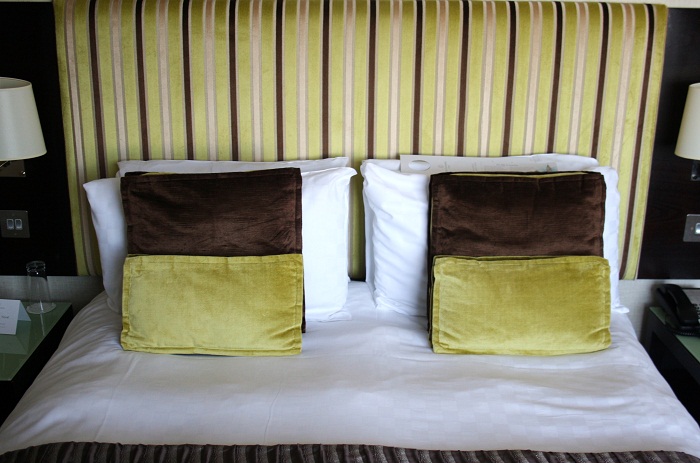 The heavenly queen-size bed was covered in crisp white linen and lots of plump cushions and the quietness of the room make for an excellent night's sleep.  The room would work well for guests visiting London for a number of days, as it was functional, well-designed and very comfortable.
The bathroom was petite and designed in soft, neutral tones, featuring a bath and power shower, Prija bathroom products and large towels and face cloths.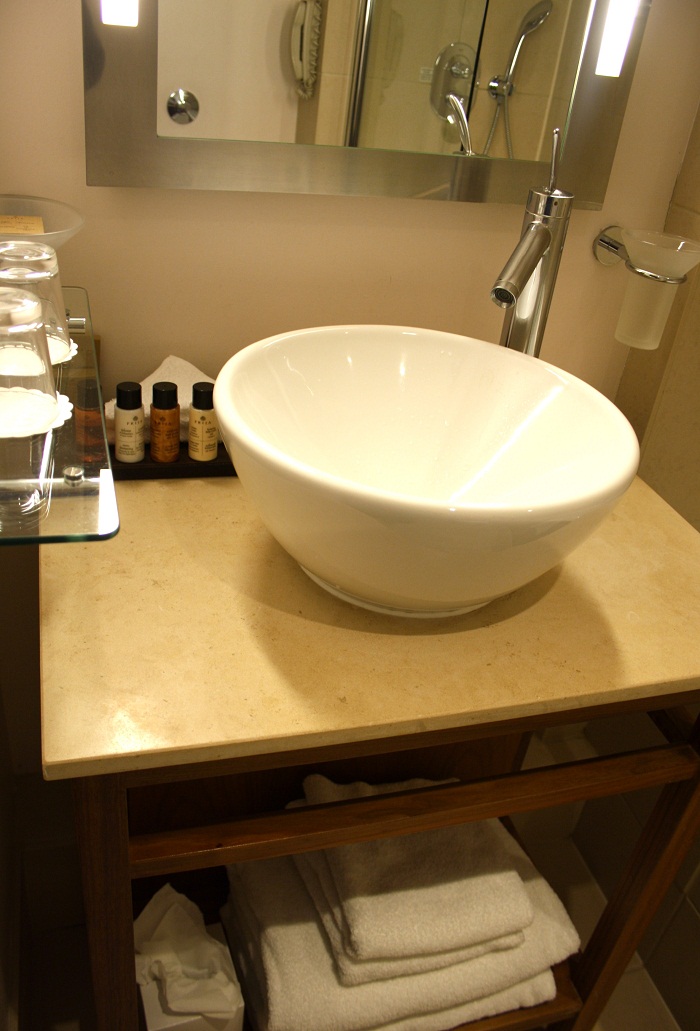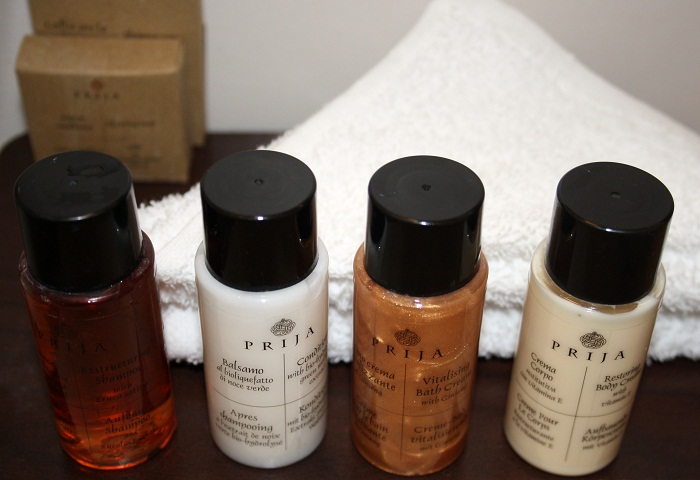 Before dinner, we went down to the Lobby Bar for a cocktail and ordered a Jack Daniels-based Lynchburg Lemonade – Jack Daniels, Cointreau, lemon juice, Agnostura Bitters, sugar syrup, soda water –  and a fruity Strawbacello – strawberries, Bacardi Oakheart, Limoncello, Frangelico, Butterscotch schnapps, lime juice.  The cocktails were expertly mixed and the bar had a calm, relaxed atmosphere – perfect after a long day of exploring the city or business meetings.  I tried not to devour too many wasabi pea snacks before dinner.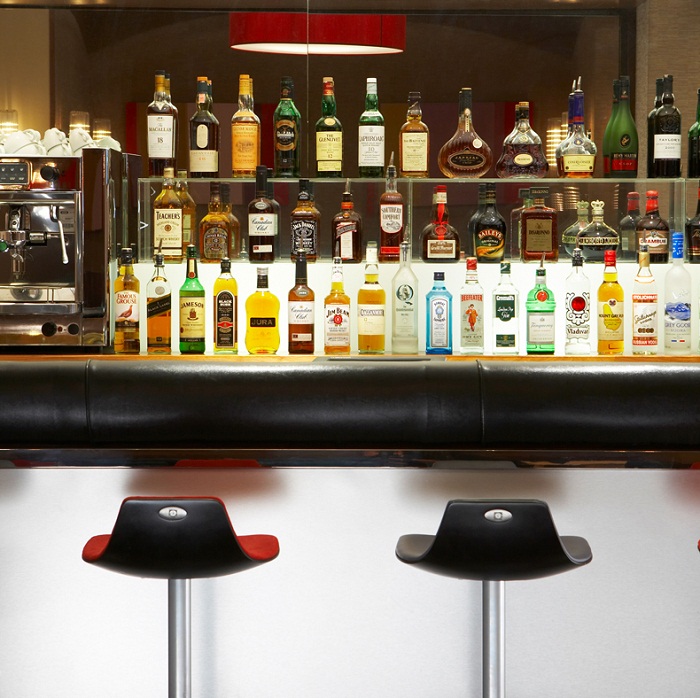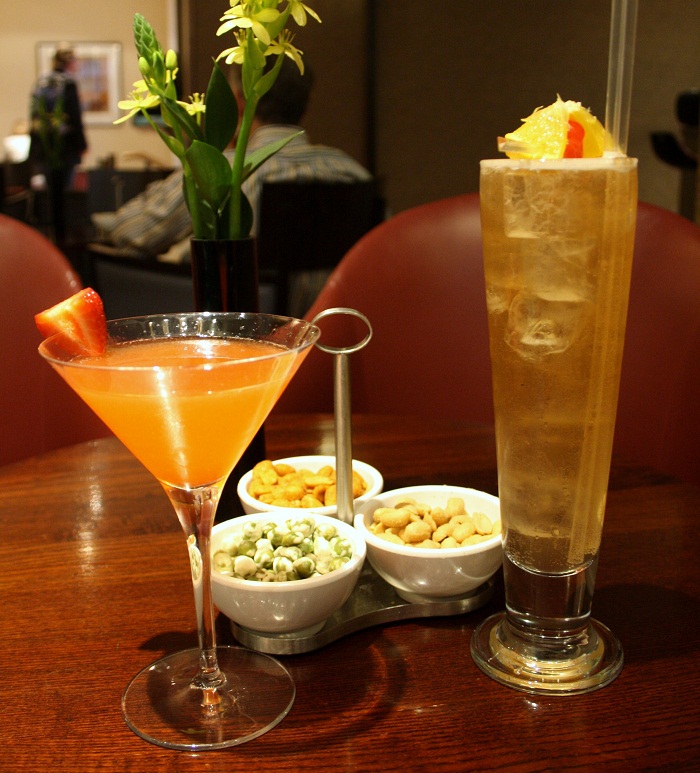 The hotel's expansive yet cosy restaurant Petrichor serves a seasonal modern British menu by head chef Nitin Padwal.  Located on the first floor, the restaurant overlooks the boutiques of Jermyn Street, directly opposite Fortnum & Mason – great for a bit of people spotting.  Designed in shades of red and gold, Petrichor has soft, dimmed lighting, making it feel romantic and intimate.  It also offers free wifi, should you need to stay connected.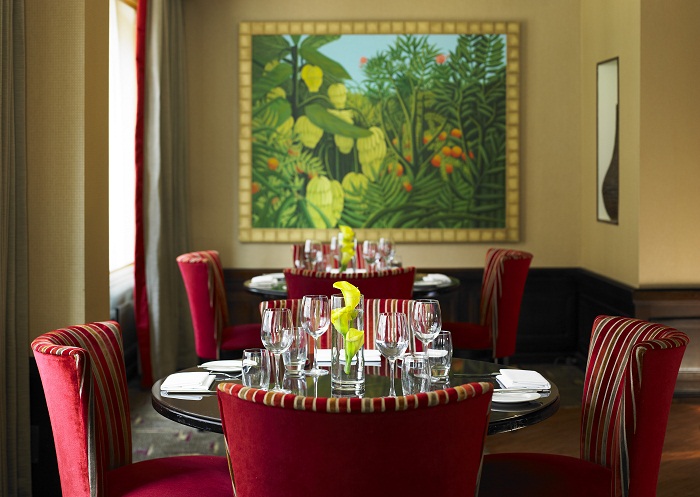 We were seated close to the window by the friendly, welcoming staff and were brought a bottle of still Blenheim Palace water and four freshly-baked breads – sundried tomato, black olive, Parmesan and onion – served with butter.  Such attention to detail at the beginning of the meal was impressive.
I started with the Irish Salted Beef – slow cooked feather blade, wholegrain mustard dressing, black truffle bread (£8).  I didn't expect the salt been to be served mixed up in wholegrain mustard and mayonnaise, however it was tasty and the portion size was large.  The mixture was very rich and sticky and could have covered the beef more lightly, but it went exceptionally well with the scrumptious slices of crispbread with truffle tapenade.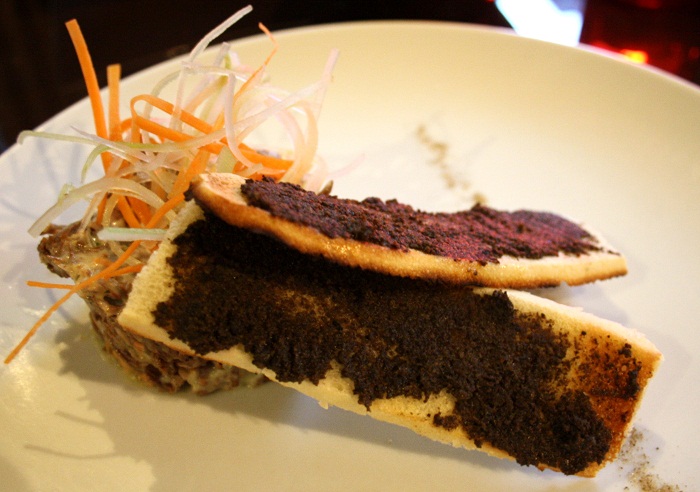 Steven ordered the South Coast Mackerel – honey glazed mackerel fillet, smoked baby beetroot, poached Granny Smith apple and sorrel salad (£8.50).  The sweetness of the mackerel went well with the tart apples and the beetroots added subtle smokiness.
I adored my main course of Devon Rose Veal Fillet – slow-cooked veal fillet, Pink Fir potatoes, braised with onions and bacon in a red wine sauce (£18.50).  The meat was cooked slightly pink inside and was tender, juicy and plentiful.  The crispy pink fir potatoes were wrapped in bacon and served on a bed of sweet roasted onions with spinach, lardons and the most delicious red wine sauce.  It was a perfectly autumnal dish that I would happily order again.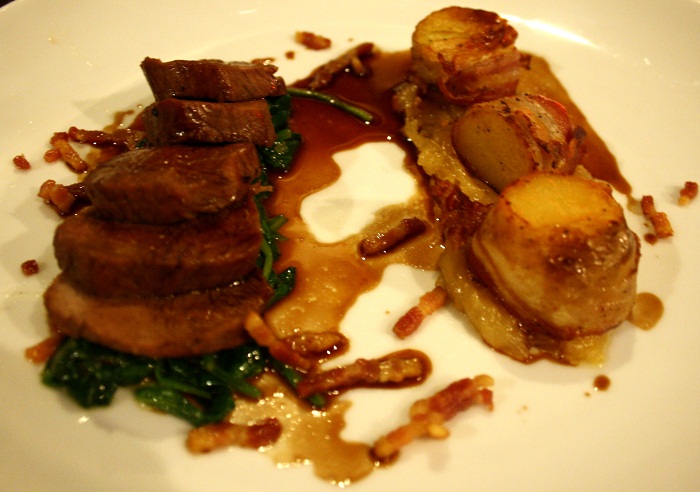 Steven went for the English Suckling Pig – roasted rack and slow cooked belly, roasted potatoes, Chantanay carrots and apple sauce (£16.50).  The suckling pig was deliciously succulent and slow-roasted.  It went well with the apple sauce and carrots, however the roasted potatoes were a little dry.
For dessert, I was tempted by the Praline Profiteroles – profiteroles stuffed with hazelnut cream, chocolate sauce, toasted hazelnuts and cocoa nibs (£7.50).  The profiteroles were small and delicate with a cool, creamy praline chocolate filling and choux pastry that wasn't too soft or too dry.  They are perfect if you want a light and refined end to your meal.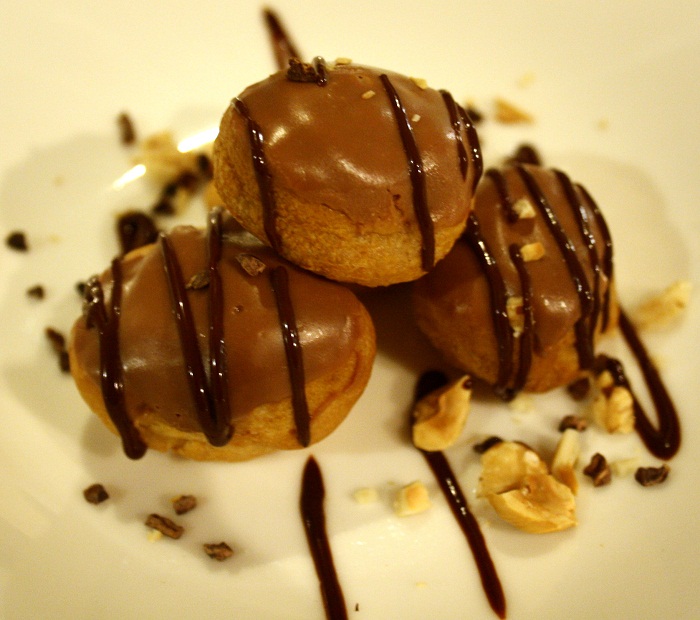 Steven went for the impressive Coffee Baked Alaska – layered vanilla sponge and coffee ice cream, Kahlua jelly and meringue peaks (£7).  The Baked Alaska included a deliciously burnt top layer of light meringue and was imaginatively served in a teacup with mini biscotti on the side.  Those with a sweet tooth will find this dessert particularly satisfying.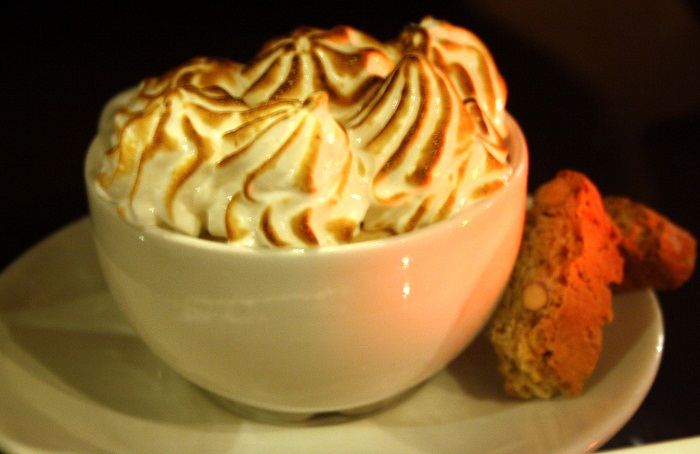 After our dinner, we were advised to avoid peak times for breakfast, as the hotel was running at very high occupancy.  In the morning, many of the guest seemed to be late risers like us and the breakfast room was already full with guests waiting to be seated.  This is the first time I've queued to get in for breakfast, but the staff expertly controlled the flow of guests and it took less than ten minutes to be seated.
Petrichor offers an excellent self-service buffet (£22.50) with lots of choice, whether you want a healthy low-calorie breakfast, a few quick pastries or an indulgent Full English breakfast.  We enjoyed the high quality selection of bacon, sausages and buttery scrambled eggs, however guests can also order cooked dishes such as Eggs Benedict, Kippers or Scottish Smoked Salmon with Scrambled Eggs at no extra charge.
The mini pastries were flaky and  delicious and we loved the home-baked strawberry muffins.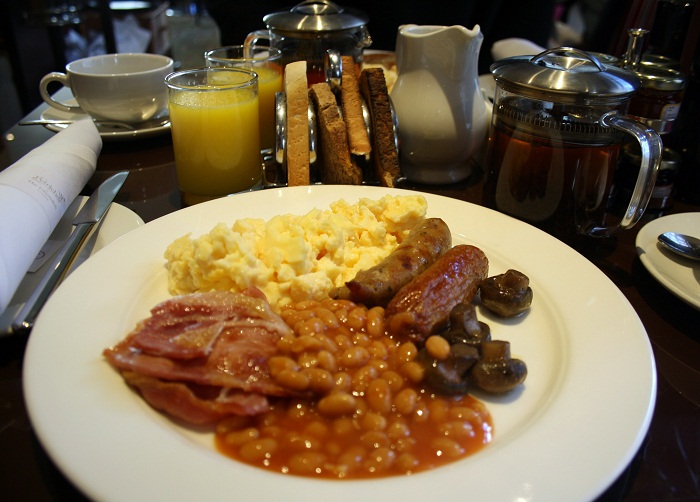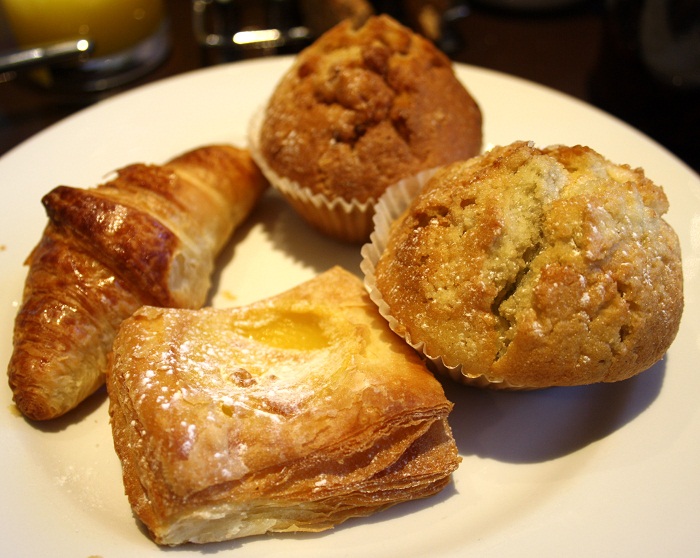 The Cavendish is a comfortable, reliable hotel in an ideal location with friendly, caring staff.  To reflect the room prices and calibre of the hotel, I feel that The Cavendish should offer complimentary wifi and turndown should be as standard rather than available on request, especially as we weren't asked at check-in if we would like this service.
Petrichor offers interesting, well-executed food and the breakfast is top notch.  To experience London's charming, historic side just a few steps away, there can be no better choice than The Cavendish.
For more information and booking, visit: www.thecavendish-london.co.uk
Chérie City was a guest of The Cavendish
Photos by Chérie City and The Cavendish