2014 was undoubtedly the 'year of the ramen', but our waistlines will be thankful for the next Japanese soup trend – the healthier, simpler udon.
The team behind new restaurant Den Udon describe themselves as 'udon evangelists', which seems accurate as udon is the only type of noodle served.
Den is situated in a mostly residential part of Kings Cross, within walking distance of the train stations yet secluded enough to qualify as a hidden gem.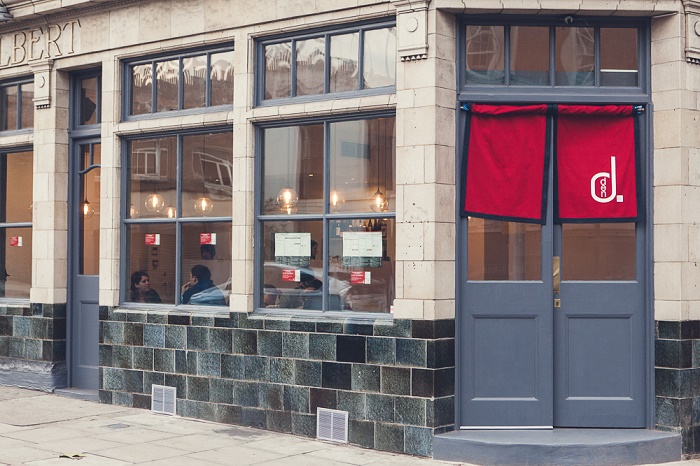 Its former life as traditional London boozer The Prince Albert is still evident, but the inside is minimal-chic with wide bench seating, sleek white walls and low-hanging statement lighting.  It has the shiny, bright feel of a brand new restaurant and the interiors are warmed with a sunny soul and jazz soundtrack and lovely, friendly staff.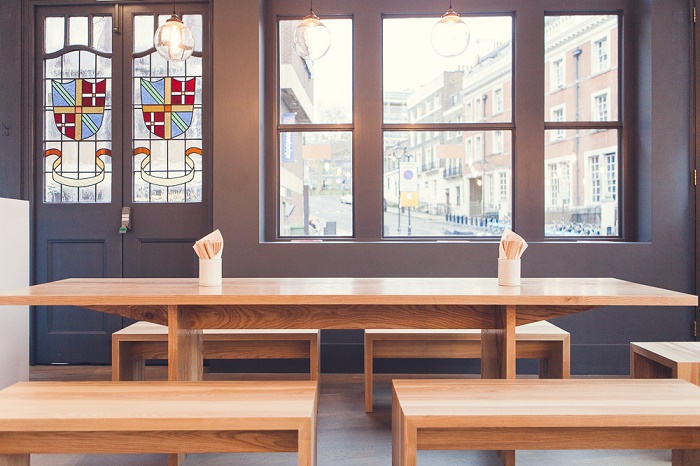 While staff in many London Japanese restaurants bellow 'irasshaimase' (welcome) in unison as you walk through the door, Den's welcome is more subtle and personal.  We sat at a table close to the window and ordered some drinks – mine was a fragrant Cold Oolong Tea (£2) while Steven went for a potent Ginger Vodka made with vodka, ginger beer with tonic water (£6).
Before our small plates and udon soups arrived, we grazed on Udon Pretzels with a creamy miso and sesame sauce.  The crunchy, curly deep-fried udon noodles were a tasty snack and the thick, velvety smooth dip was sweet and cooling.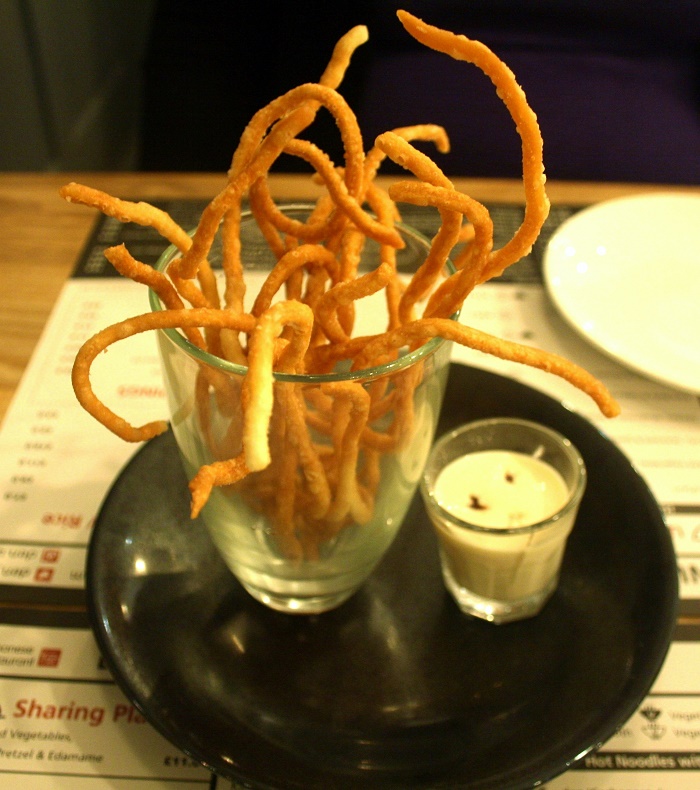 If there's Chicken Kara-Age (£5) on the menu, I'm always guaranteed to order it (well, who can resist Japanese fried chicken?) and Den Udon's offering is one of the best I've tasted.
Juicy, succulent chicken thigh was infused with plenty of soy and garlic and coated in a crispy, golden coating.  The portion size was generous and the Japanese mayo topped with fresh chives was a perfect dipping sauce.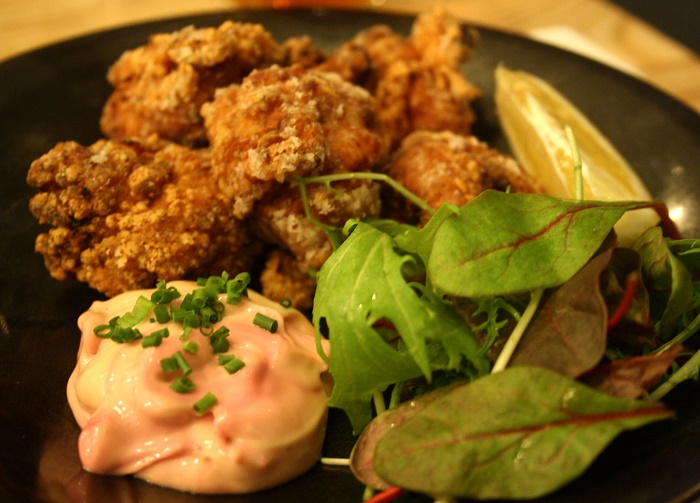 Another highlight of the meal was the heavenly Red Wine Stewed Pork Belly (£6).  The chunky pieces of slow-cooked pork belly were smothered in a sticky, rich and slight sweet glaze, topped with a touch of cream.  The pork was tender and satisfying and the layer of fat absorbed the flavour of the sauce, making it particularly scrumptious.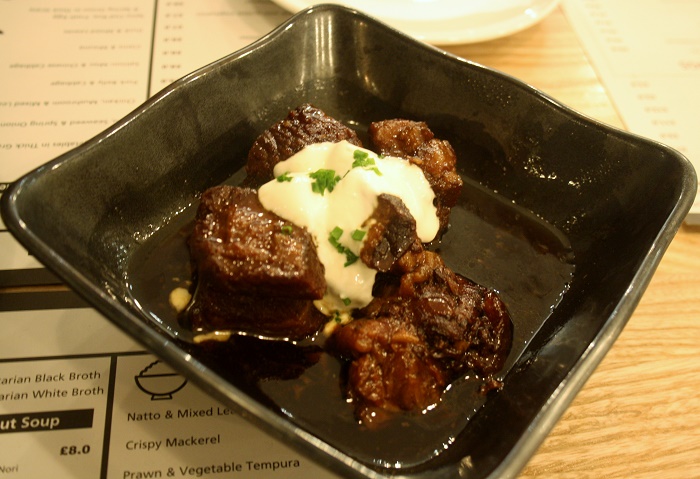 Prawn and Vegetable Tempura (£8) was a simple yet moreish classic.  The selection included king prawns, sweet potato, aubergine, Brussels sprouts and cherry tomatoes. The tempura batter was light and subtle, allowing the flavours of the prawns and vegetables to shine through, with a touch of pink salt to season.
I really enjoyed the tempura, but it would've been even better with a punchy dipping sauce – although we had plenty Japanese mayo left from the Chicken Kara-Age.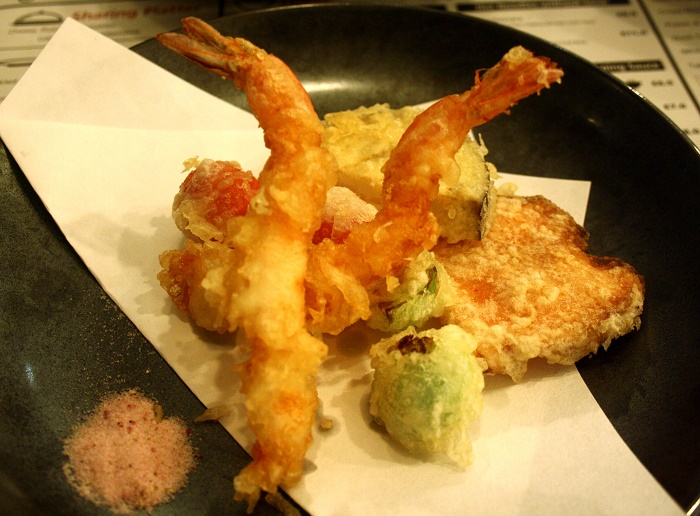 I was a little unsure whether udon would hit the spot in the same way as ramen (especially since it's claimed to be healthier), but happily it was just as comforting and full of flavour.
I ordered the Duck and Mixed Leaves Udon with black dashi (£10).  The plentiful udon noodles were thick and springy and served with pieces of lean, slow-roasted duck breast in umami-rich dashi.  I quite liked that the soup only had the key ingredients and not packed with too much 'filler'.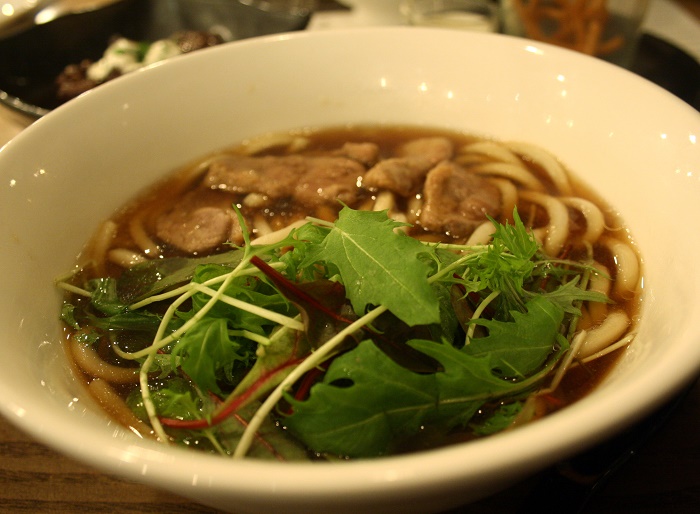 Steven tried the Pork Belly and Cabbage Udon with white dashi (£9).  The pork belly was soft and tender with a generous layer of silky fat and complemented by wilted cabbage.
The white dashi had a clean taste, allowing the seaweed flavour to come through, however I personally preferred the depth of the black dashi.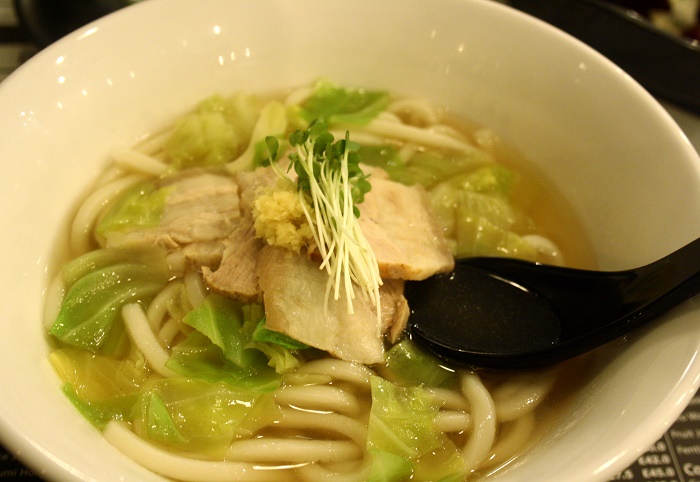 Den Udon doesn't serve dessert, but I kinda wish it did, as I have a sweet tooth and can't resist finishing my meal with a piece of green tea cake or my favourite mochi.
However, we still ended on a sweet note with a glass of deliciously sticky plum wine and expertly-brewed hot matcha green tea.  We were offered a second glass before braving the cold and the caffeine hit really perked me up, but in a calm and focused way.  I'm definitely going to pick up some matcha as a potent coffee replacement.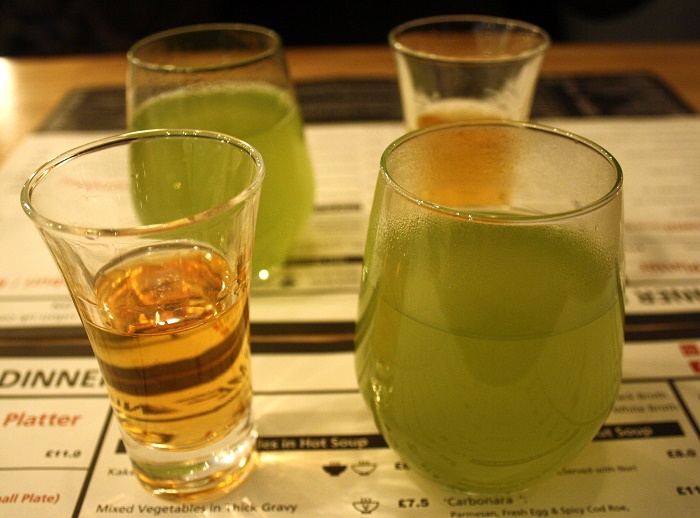 Den Udon is a fantastic spot for an udon fix with affordable prices, excellent cooking and a calm atmosphere.  It definitely has the potential to expand into a small group of restaurants, if that's what the owners have in mind.
For more information, visit: www.den-udon.uk.com
Chérie City was invited by Den
Photos by Chérie City and Den