Shoryu Ramen, the small Japanese restaurant chain from the people behind the Japan Centre, is known to offer some of the most authentic ramen in London.
Its new Carnaby branch opened just a few months ago in Kingly Court and is in a prime spot (a few steps from Liberty and Regent Street) to enjoy some warming tonkotsu ramen and hirata buns pre or post shopping.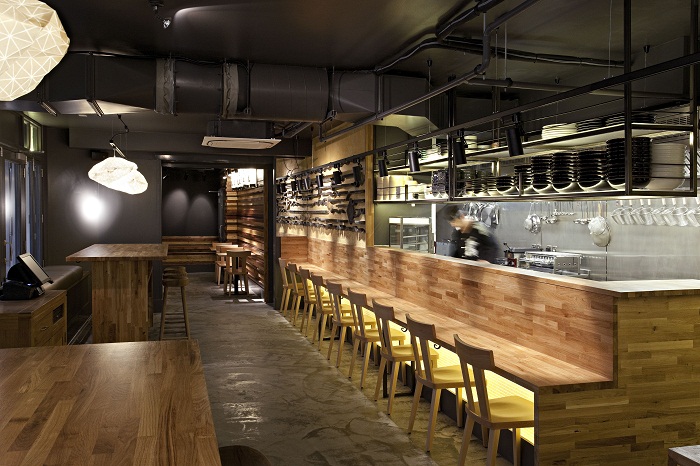 We visited on a quiet evening and sat at one of the high tables with a good view of the open kitchen.
While deciding which dishes to order, we sipped on some Japanese-inspired cocktails.  I loved the refreshing, zesty From Cuba to Japan (£9) – lime and shiso leaves muddled with sugar, white rum, honey umeshu and aloe juice over crushed ice (a zesty Japanese version of a Mojito).
Steven's Umeboshi Smash (£9) was a more complex, strong cocktail.  It included a potent mix of plums muddled with Rebel Yell Bourbon whiskey, orange curacao and egg white.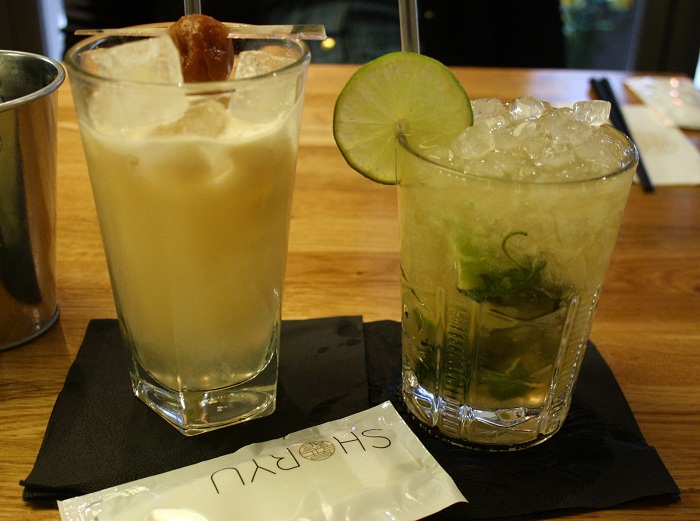 We visited on a Monday when hirata buns are 2 for 1, so of course we had to try a few.  The large Hirata Bun with chicken kara-age (£7 for two pieces) featured a fluffy, springy steamed bun filled with a tender piece of well-seasoned chick in a crispy coating, garnished with a slice of cucumber, lettuce and spicy mayonnaise.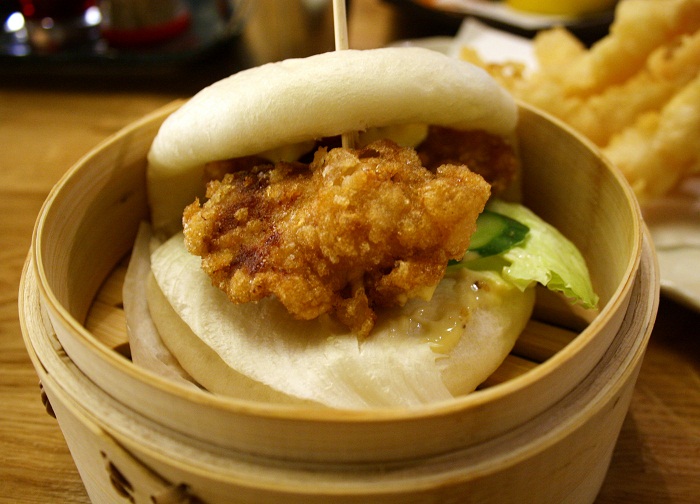 The Hirata Bun with belly pork (£7 for two pieces) was just as satisfying, with a generous slice of succulent, marinated belly pork with a thin layer of fat.  We could have easily grazed on these all evening, testing all of the different fillings, but there were more dishes to try…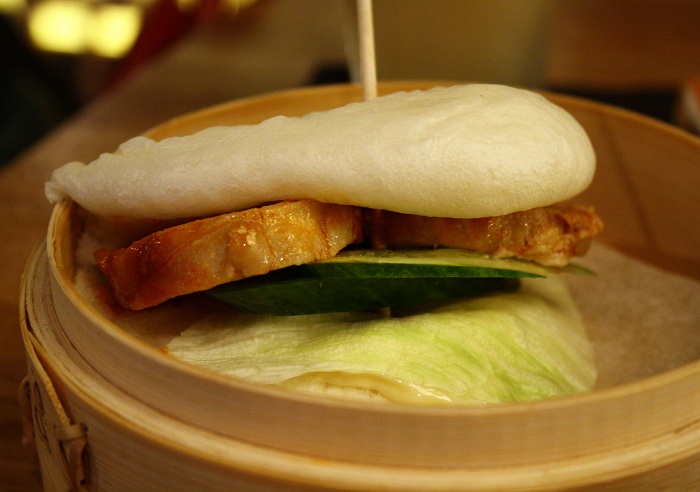 I couldn't resist ordering one of my favourite Japanese side dishes – Chicken Kara-Age (£6).  The marinated, tender chicken was covered in a golden, crispy coating and had subtle flavours of ginger and soy.  The portion size was very generous and the tasty fried chicken was topped with spring onions and served with a spicy mayonnaise dip.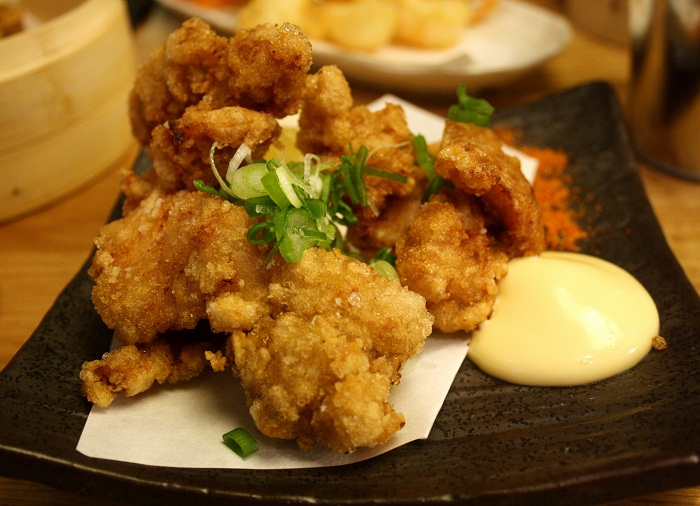 Tiger Prawn Tempura (£7) is another must-order dish.  Five large, succulent tiger prawns were deep-fried in a light, crunchy batter and served piping hot.  They came with slices of cucumber and carrot ribbons and a soy vinegar sauce that I found a little watery and weak.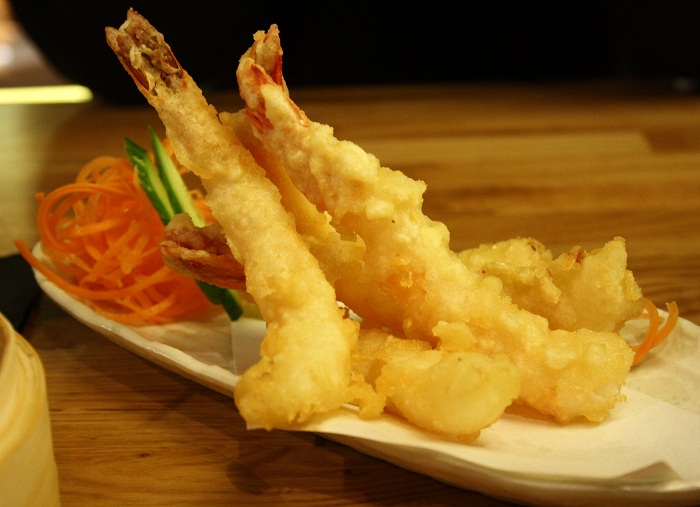 For my main dish, I tried the Tori Kara-Age Men (£11.50).  I'm not sure how I managed to order three different varieties of chicken kara-age, but it's a testament to how good they are at Shoryu.
The enormous bowl of Tori- Kara-Age Men included a shiitake and konbu soy broth with gluten-free aka miso, fried chicken, nitamago, kikurage, nori, kelp, mushrooms, spring onion, fish cake and menma bamboo.
The broth was less creamy than the signature tokotsu broth that I've become used to, but it worked well, as it balanced out the richness of the plentiful chicken kara-age.
I loved the springy noodles and the freshness of the mushrooms and spring onions, althought I didn't detect any fish cake.  Many of the ramen dishes on the menu can be spicy, but this is a great one to order if you want a delicious, comforting broth without the heat.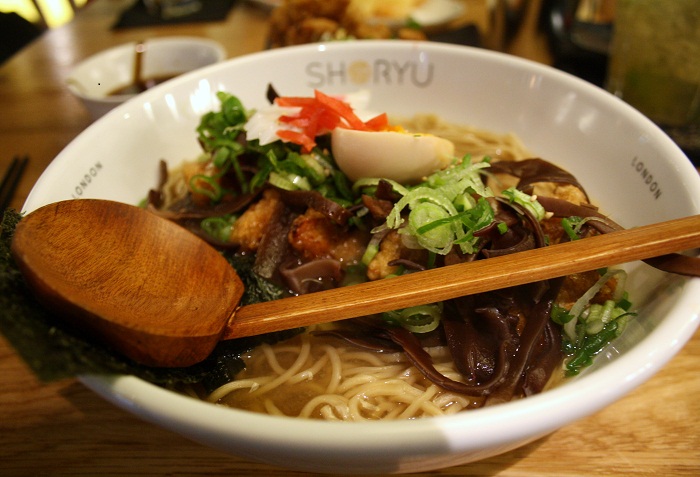 Steven went for the brilliantly-named Dracula Tonkotsu (£11.90), which came highly recommended.  The rich, creamy pork tonkotsu broth came with the typical fixtures and additional caramelised black garlic mayu, balsamic vinegar and garlic chips.
The dish lived up to its name, as the broth had a full-bodied garlic flavour and was peppered with big chunks of garlic.  It was strong but pleasant and not at all overpowering – still, not to be ordered on a date.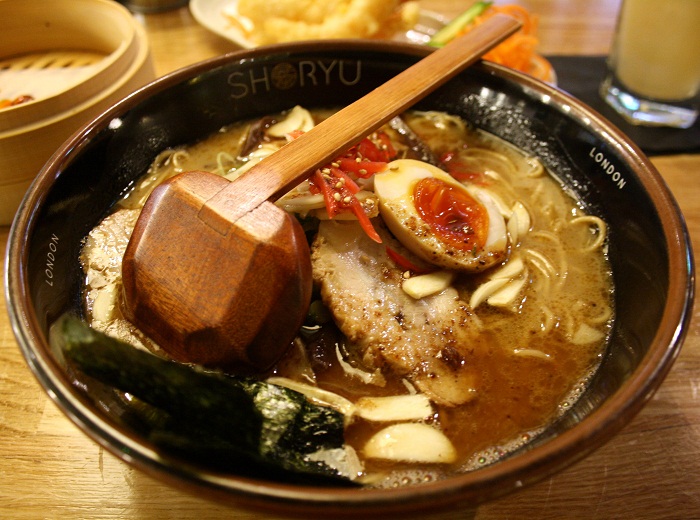 A Japanese meal should always end with tea, so we ordered a delicate, fragrant Jasmine Tea (£3.50), served in an elegant glass teapot and cup.  Shoryu has an excellent Japanese tea menu including Hoji Cha, Genmaicha, Soba Cha, Matcha and lychee iced tea.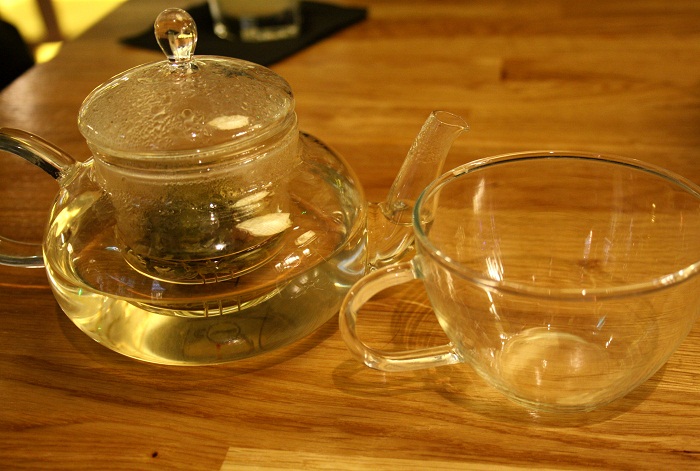 Although we were feeling very full, I couldn't resist a light dessert and ordered a Raspberry Milk Chocolate Truffle Mochi (£4.50).  Hand-made in-house, the fruity, glutinous rice cake was densely filled with silky milk chocolate ganache and doused in raspberry syrup.
I often pick up a mochi or two from the Japan Centre, but this home-made mochi was the best I've ever tasted and the raspberry chocolate flavour was more interesting than the regular red or white bean fillings.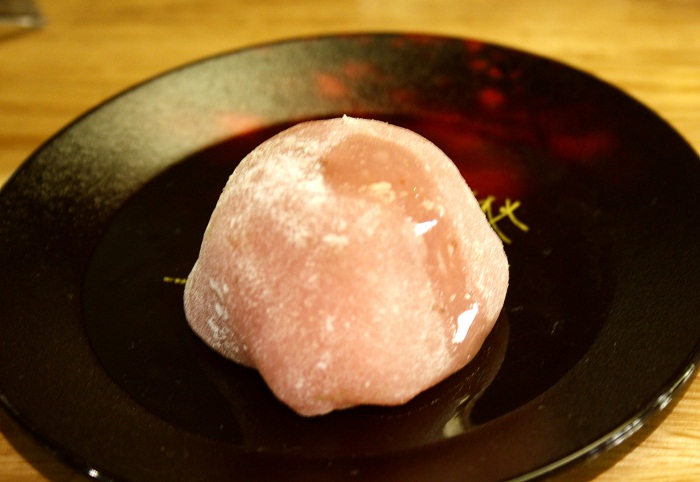 Shoryu Ramen continues to delight with authentic Japanese food and the Carnaby restaurant is a lively addition to Kingly Court, particularly with its outdoor courtyard tables.  Prices are reasonable and there are also a number of deals and loyalty cards available – even more of a reason to keep going back.
For more information, visit: www.shoryuramen.com
Chérie City was a guest of Shoryu Ramen Carnaby
Photos by Chérie City (interiors by Shoryu Ramen Carnaby)