Last year, I visited Greece for the first time and was wowed by the fresh, comforting local food.  I've been craving proper Greek grilled meat since and was thrilled to discover Suvlaki – a fabulous modern Athenian grill in Soho.
This bijou restaurant and take-away grill may be petite (with just 34 tightly-squeezed covers), but it really packs a punch, from its exquisite food to its vibrant graffitied exterior and buzzing atmosphere.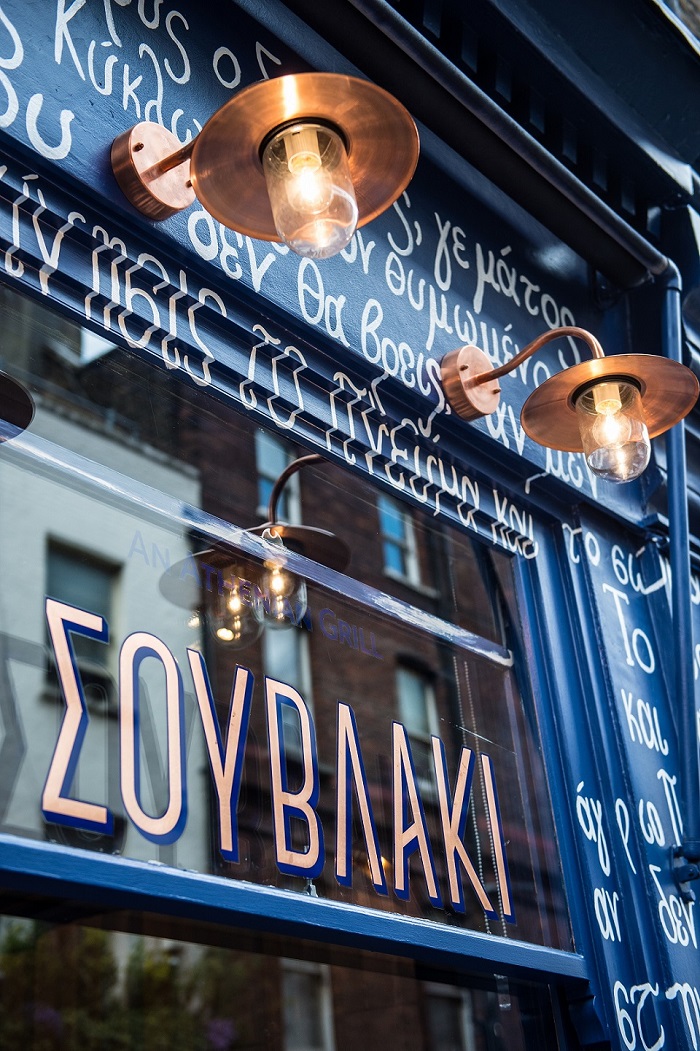 This spot on Bateman Street has long been a Greek restaurant, but Suvlaki recently relaunched with a fresh new look courtesy of Greek designer Afroditi Krassa.  It feels urban and sleek with ink-hued walls, pendant lamps, satirical graffiti on the walls and even a backdrop of classical-style stone columns – far from a typical Greek taverna.
There's also a new menu for spring by chef Alfred Prassad with a bigger variety of dishes and a focus on simplicity and great produce.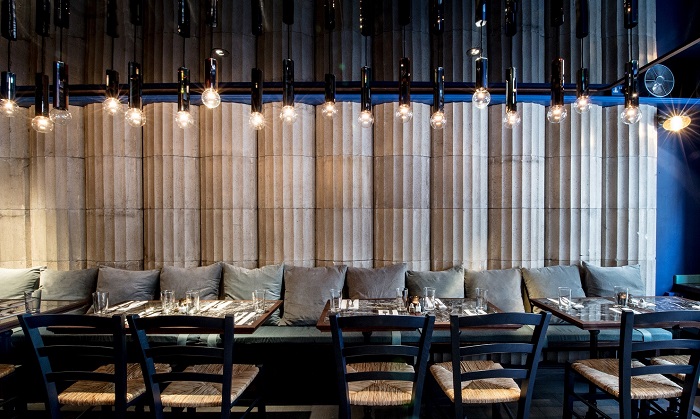 We visited Suvlaki earlyish on a mid-week evening and it started to fill very quickly.  We ordered bottles of Loux Greek lemonade and started with a Cheese nibble – grilled mastelo cheese with fig marmalade on pita. The cheese was springy and nicely browned with sweet stickiness from the fig marmalade, wrapped in slices of soft, fluffy pita, which comes all the way from Chasiotis bakery on the outskirts of Athens.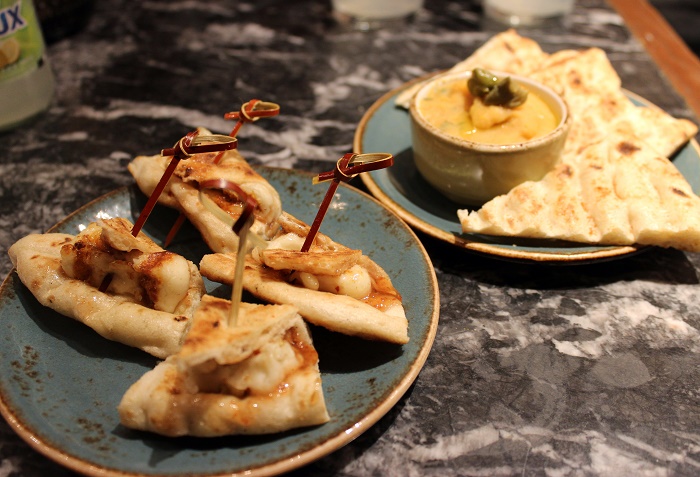 Another tasty snack was the very moreish Fava dip, made with smooth fava beans, salty capers and extra-virgin olive oil, served with more of that delightful pita.
For the main course, I couldn't resist the trio of Suvlaki skewers (there is a choice of five), cooked over charcoal on the robata-style grill.  The pork skewer was ever so tender and finished with a subtle honey glaze while the chicken thigh marinated in Florina peppers and tarragon was juicy with crispy edges and a slight aromatic flavour.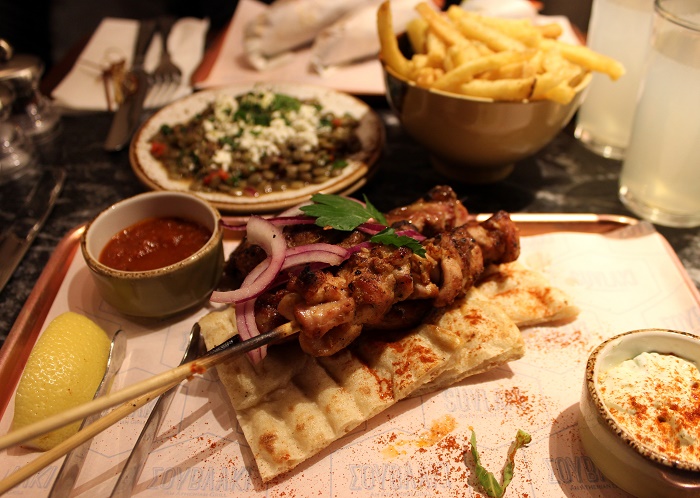 The lamb mince was very different to the other two, almost like a Greek burger seasoned with bold Athenian spices.  It was so tasty and satisfying and it kept the dish varied and interesting.  Of course, it came with even more pitta – lightly brushed with traditional mastiha liqueur – as well as a piquant tomato sauce, cool tzatziki and a wedge of lemon to season.
Steven enjoyed the trio of Suvlaki wraps, including the same choice of grilled meats or mastelo cheese with vegetables, plus the addition of plum tomatoes, parsley-glazed red onion, lettuce and tzatziki.  They each came individually wrapped and were just as delicious as the skewers.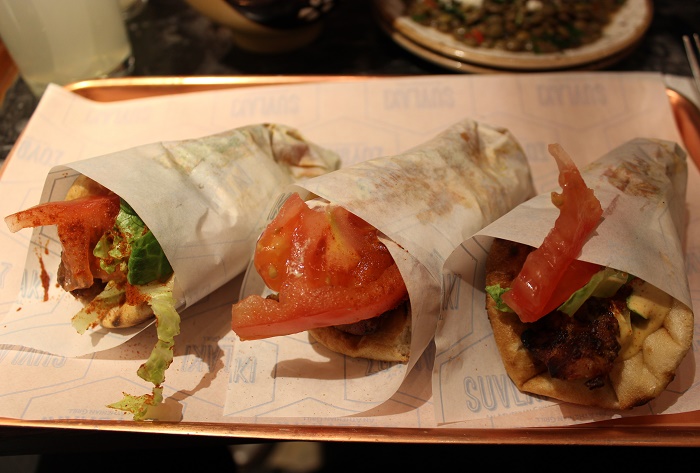 While Suvlaki is all about the mouth-watering locally sourced grilled meat, it also focuses on meze sharing plates.  We loved the Lentil salad – a fresh and zingy dish made with florina pepper, spring onion, crumbled feta and balsamic vinegar.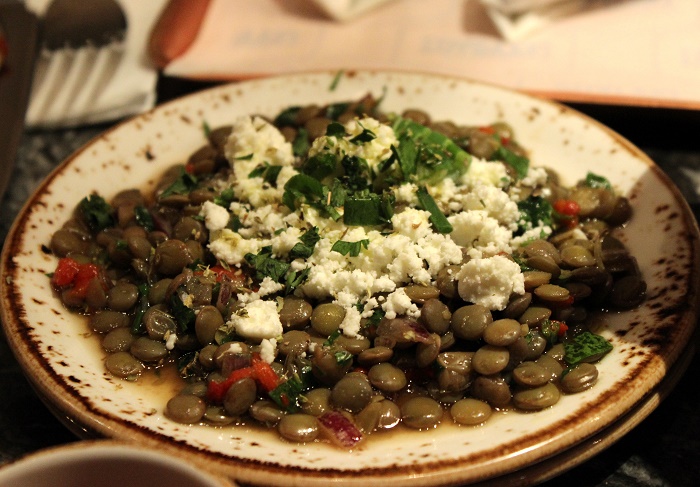 The Fresh chips sprinkled with oregano are also a must – they're golden, crispy and served piping hot, just as they should be.  Suvlaki recommends ordering two side dishes each, but we were rather full by this point and couldn't manage any more plates.  If you arrive with a rumbling tummy, go for the full works with the Suvlaki exuberance for two to share – it offers a generous taste of Suvlaki's offering.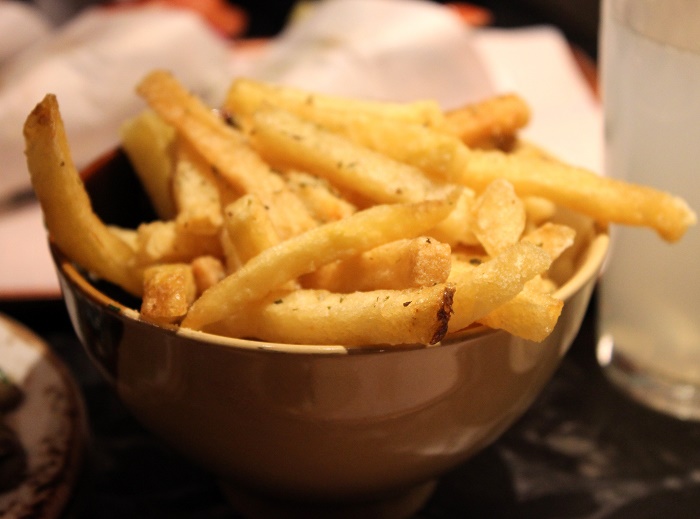 Desserts are typically Greek but with a twist and you can try the famous fig spoon sweet (dried fruit drenched in sweet syrup) with rustic buffalo milk mastiha ice cream.  I really liked the dense, rich Chocolate biscuit cake (usually served with home-made Greek coffee ice cream, but I ask for it without), but the two slices were difficult to finish – one to share is more than enough.
Steven's Samos to Soho cheesecake was a light and refreshing mix of Greek wild honey, candied ginger, mastiha and citrus meringue.  Both desserts were pleasing and finished the meal off perfectly, but you may be tempted instead by the many savoury snacks.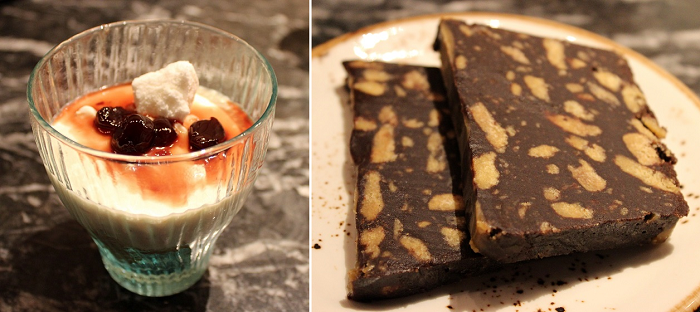 Suvlaki is a top quality neighbourhood spot with sensational food, modest pricing and above all, plenty of charisma.  I know that I'll be heading back this summer for a pita burger or to attempt the Suvlaki exuberance – the aromas of smoky grilled meat lingering through Soho are too hard to resist!
For more information and take-away ordering, visit: www.suvlaki.co.uk
Chérie City was a guest of Suvlaki
Food images by Chérie City and interiors by Suvlaki