As Greek As It Gets is the place to go if you're craving comforting traditional Greek dishes in a modern, stylish setting.
Located in well-heeled Earls Court, As Greek As It Gets is low-key, relaxed and friendly – no boisterous plate smashing or dancing here.  The two-floor restaurant has a sleek, contemporary design with homely, quirky touches such as a huge map of Greece and family photographs adorning the walls.  Many of the ingredients are sourced directly from Greece, so the name of the restaurant is certainly appropriately.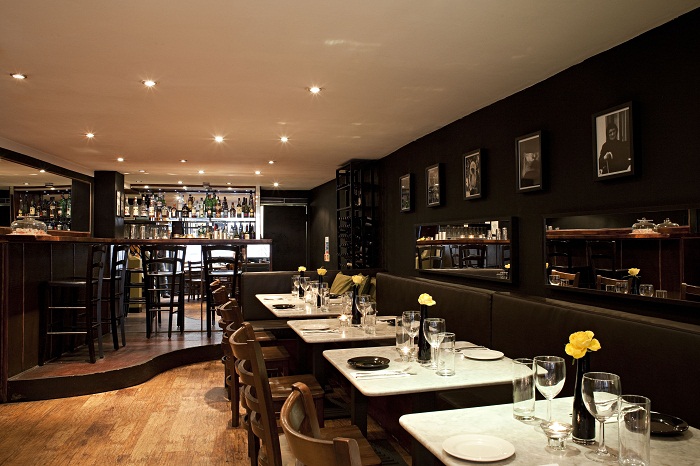 We were warmly welcomed by owner Dimitri Karonis, who guided us through the menu and suggested that we order dishes that we hadn't tried before.  While navigating the menu, we were brought some fluffy, garlic-infused bread and plump marinated green olives to graze on.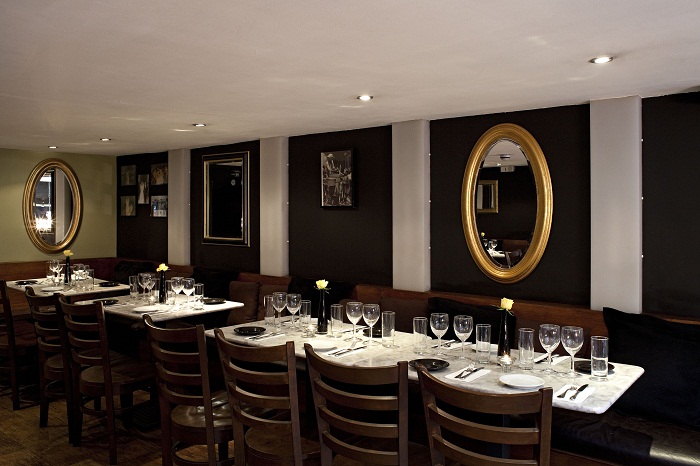 It's an absolute must to start the meal with Houmous (£3.95) and pitta bread.  The home-made houmous is cool and fresh, with a thick texture that is just in between chunky and smooth.  The Klassiki (£1) white pitta bread topped with oregano was the best I've ever tasted – so light and springy.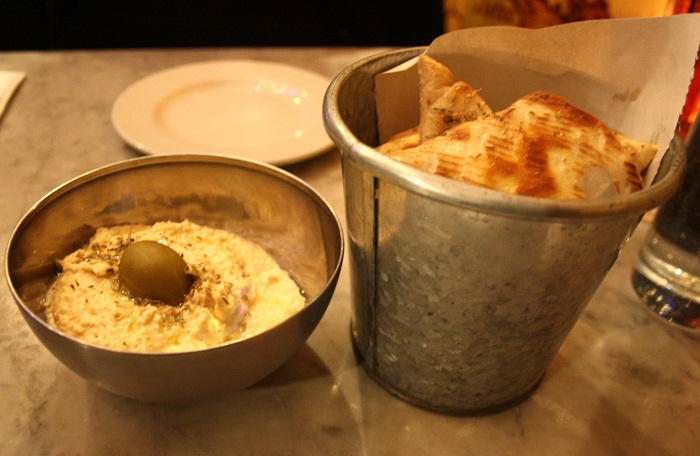 To start, we tried the Garidaki (£5.50) – crispy baby prawns with rosemary dip.  They were sadly a little disappointing as they weren't crispy at all, the flavours were rather bland and they were served tepid.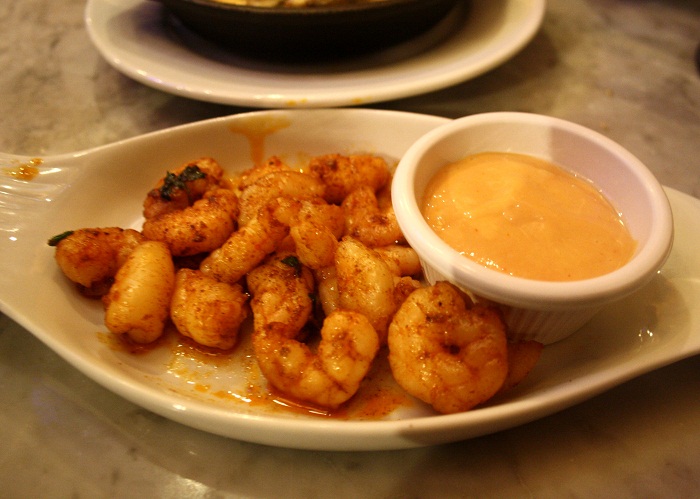 Much more satisfying was the Tigania Xoirini (£6.20) – pork strips in retsina wine and cream.  The pork was tender and slow-cooked with red peppers in a thick, creamy, wine-infused sauce.  It was so delicious that we couldn't help mopping up every last bit of the sauce.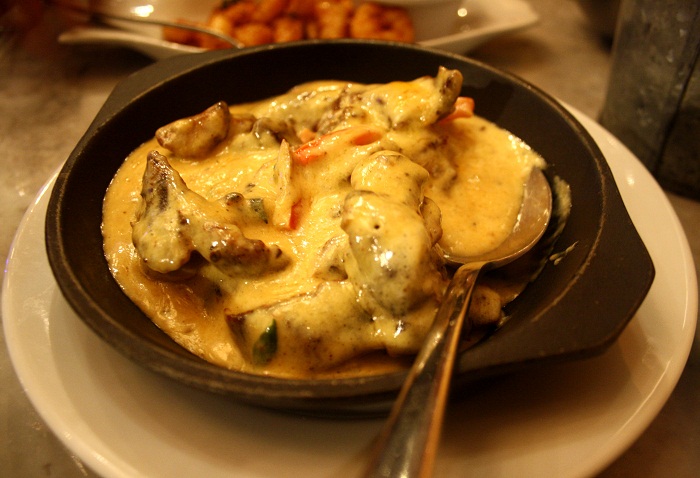 To follow, Steven tried the Psaronefri (£13.95) – pork fillet with blue cheese sauce.  The pork was succulent and juicy, coated with a creamy, intensely-flavoured blue cheese sauce.  It was accompanied by a thick slice of char-grilled aubergine with a fresh tomato and feta salsa, served cold.  It's worth ordering a side dish or some extra bread, as the pork is tasty but may not be substantial enough on its own.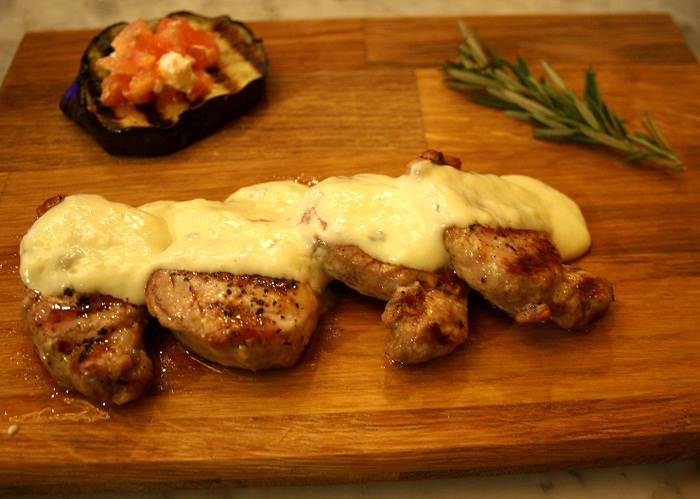 I was tempted by the Yiaourtlou (£12.95) – beef meatballs, yoghurt, pitta and tomato sauce.  The four large charcoal-grilled meatballs were nicely browned and smoky on the outside and cooked medium on the inside, making them less dry than regular meatballs.  They were served on small chunks of pitta bread and topped with Greek yoghurt and a fresh, sweet roasted tomato sauce.  It was a delicious combination and very filling – real Greek comfort food.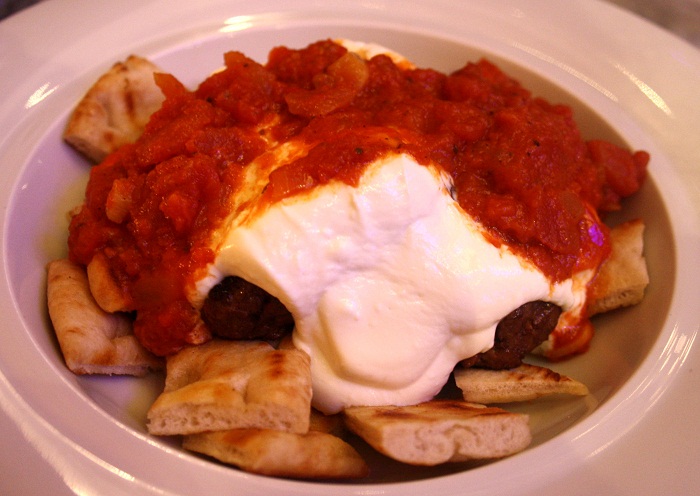 For dessert, Dimitri brought us a selection of sweets to try.  We sampled an exceptionally good Yiaourti me meli kai karidia (£5.50) – yogurt, honey and walnuts and another topped with berries.  I was intrigued by the Galaktoboureko (£5.50) – home made milk pie, and absolutely adored it.  A creamy set custard is packed between thin sheets of filo pastry and soaked in fragrant honey – just heavenly.
As we visited just before Christmas, we also had the chance to try some Kourambiedes – Greek Christmas biscuits.  The light, buttery biscuits were made with ground almonds and were covered in icing sugar – a perfect way to finish the meal.  We accompanied the biscuit with pots of Earl Grey tea, but for something a little strong, try the strong Greek coffee.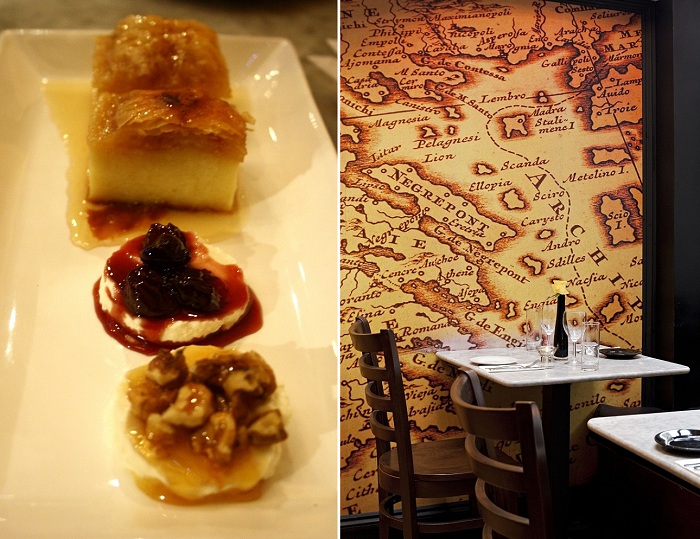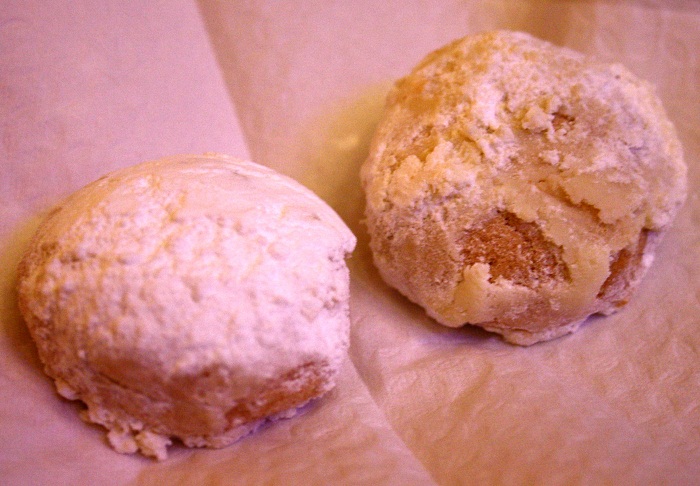 As Greek As It Gets offers Greek food at its very best, with great cooking and top quality ingredients.  It has real personality as a neighbourhood restaurant but could also work very well as a boutique chain of restaurants, as long as the authenticity and attention to detail wouldn't be compromised.  So, go beyond the souvlaki and mousaka and discover some new favourites at As Greek As It Gets.
For more information and booking, visit: www.asgreekasitgets.co.uk
Chérie City was a guest of As Greek As It Gets
Photos by Chérie City and As Greek As It Gets