This week, I attended Benihana Japanese Steakhouse's 50th anniversary party at its Chelsea restaurant on the King's Road.  It was the first time I've visited and it was even more fun and quirky than I'd expected.
Founded by the late Hiroaoki 'Rocky' Aoki in 1964 with just four tables, Benihana now has an impressive 120 global locations (three of which are in London).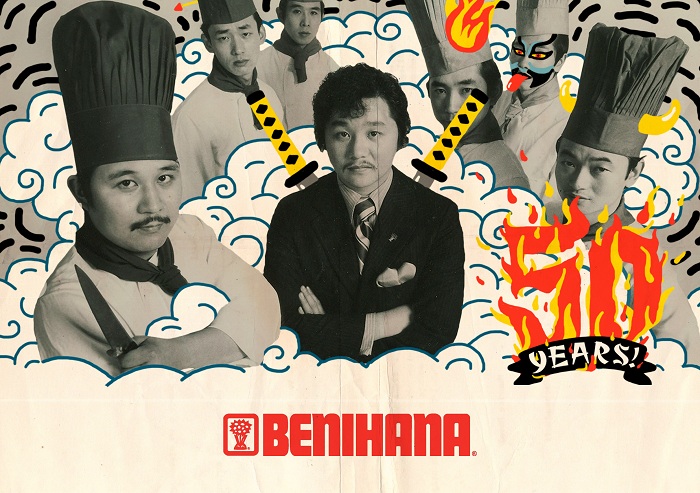 Entrepreneurial Rocky was quite a character, beginning his career as a wrestler, setting up an ice cream truck in Harlem, launching an adult magazine, breaking a world hot air ballooning record and coming close to death in a powerboat accident.  Rocky Aoki is largely credited as bringing Japanese food to the West and his flamboyant personality is ingrained in Benihana today.
We started the evening with delicious lychee and plum wine cocktails and a selection of sushi.  Then we took a peek at the VIP room with its own Teppan grill, which has been graced by the likes of Angelina Jolie and Brad Pitt, the Beckhams, Taylor Swift and that cheeky royal Prince Harry.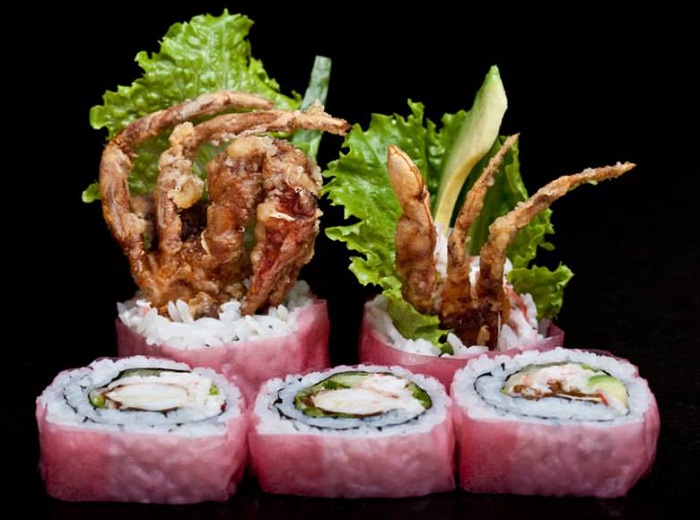 To toast Benihana's birthday and to bring good luck, we took part in the traditional Sake Ceremony.  Executive Chef Suzuki summoned a few volunteers to don Japanese uniforms and help smash the 18-litre barrel full of Gekkeikan sake in unison.  The sake was then served and passed around in Benihana branded wooden cups.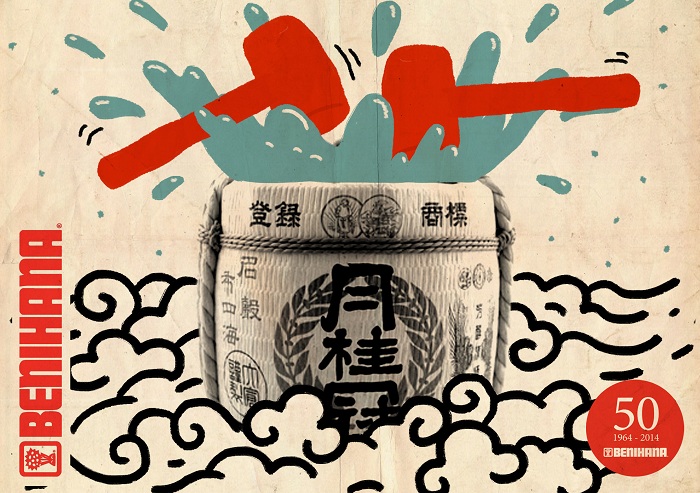 The potent sake prepared us for the next crazy festivity – a food fashion show.  Benihana's waitresses presented the restaurant's signature dishes on a red carpet catwalk.  Not to be outdone by the girls, Executive Chef Suzuki closed the show, throwing some stylish poses that would even make Zoolander jealous.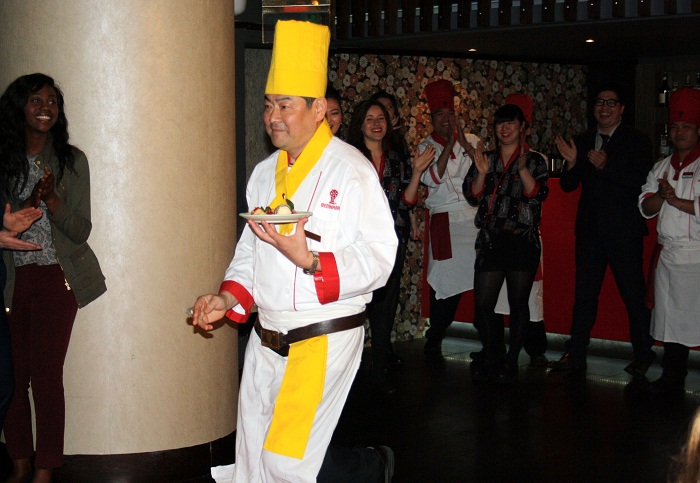 After all that excitement, we moved into the dining room for Teppanyaki theatrics and freshly-cooked dishes.  The four chefs performed some cool tricks with neon batons and chopping knives and made a wall of flames on the 360 degree Teppan grill.
Our Teppan chef Galileo not only sliced and diced the ingredients at lightning speed, but he was quite the joker.  He made a beating heart out of fried rice, flipped prawns for us to catch in our mouths and caught eggs in his hat.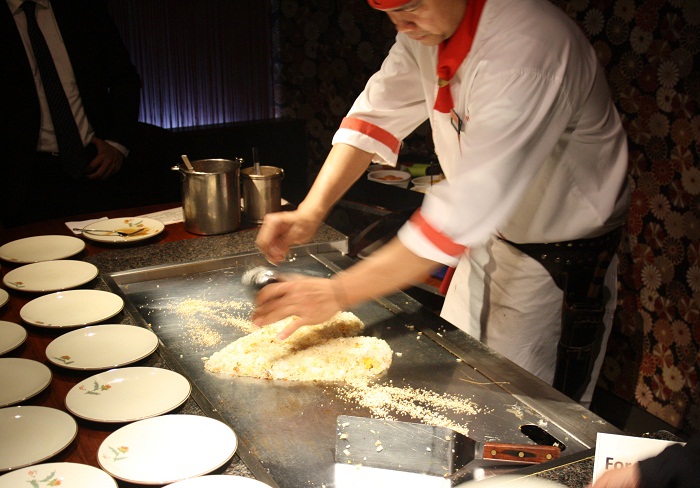 Each course was served separately and we grazed on tasty grilled prawns with a ginger sauce, seabass, lean Scottish steak with a creamy mustard sauce and fried rice.  The dishes are reasonably healthy, as the chefs use the heat from the grill to quickly cook the ingredients, rather than relying on too much oil.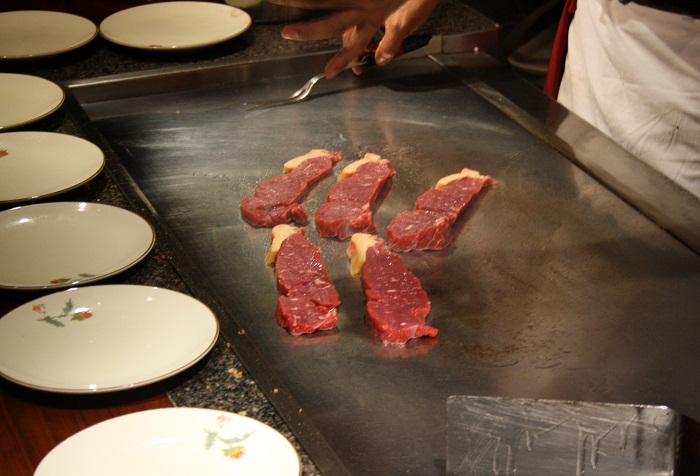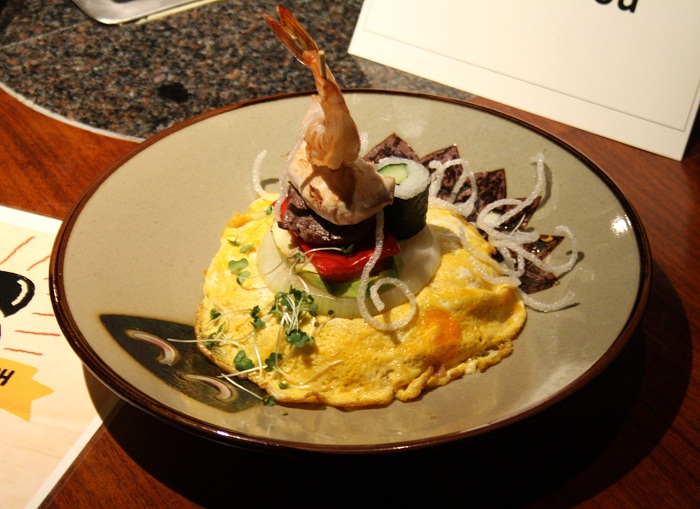 Benihana is great for birthday nights out, but you don't need to be in a big group to get the full experience, as the chefs can cook for different parties at the same table.  It may not be to everyone's tastes, but Benihana is definitely an old favourite that doesn't take itself too seriously, making for a fun evening out.
To celebrate its 50th birthday, Benihana is offering a number of deals, prizes and events, including:
– £5 Beni-Platter Lunch and £50 8-Course Meal for 2 (All diners who order these dishes are entered into a prize draw to win 5 x £100 vouchers each month across the two locations).
– Ladies-only 9-course Keiko Menu in honour of CEO Keiko Ono Aoki, including a cocktail and glass of wine for £30 per person.
– Loyalty card lottery worth £50,000 – pre-loaded loyalty cards with a minimum of £10 and a maximum of £500.
– The Sake Ceremony – tradition smashing of a 18-litre sake barrel available in the restaurant and at private events.
– A visit from the Beni-Girls hip hop dance duo.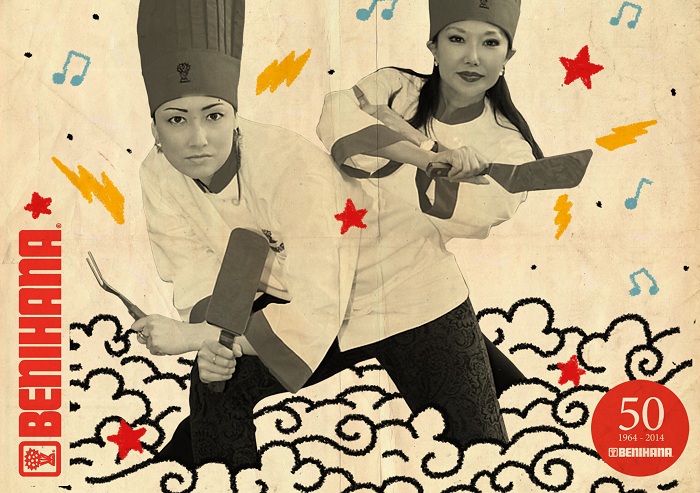 Watch Galileo perform some Teppan tricks…
For more information and booking, visit: www.benihana.co.uk