With so many renowned London institutions to strike off the list, it's likely that a few will slip through the net.  After visiting this weekend, I'm now kicking myself that I didn't experience the beauty that is Hawksmoor much earlier!
When I first started blogging in 2009, Will Beckett and Huw Gott's British steakhouse Hawksmoor was on the lips (and keyboards) of London foodies, who raved about its superior steaks and burgers punctuated with small nuggets of bone marrow.  It's fair to say that this grassroots acclaim has paved the way for Hawksmoor to expand to six locations across London and one in Manchester.  The original restaurant is based in Spitalfields, appropriately named after Nicholas Hawksmoor, the architect of nearby Christ Church.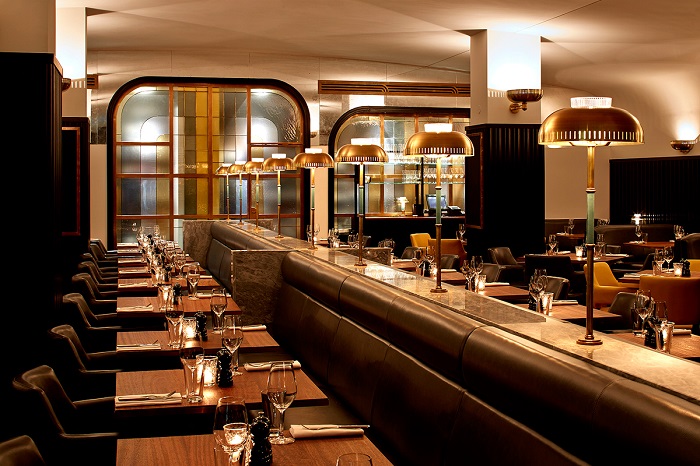 After a leisurely afternoon of Christmas shopping, we arrived at Hawksmoor Knightsbridge for an early dinner.  Usually Saturday night dining in central London needs to be organised with military precision, but just a few days ahead, I secured our spot easily with Bookatable, dining from the set dinner at 5pm.
Subterranean Hawksmoor Knightsbridge is discreetly tucked away on Yeoman's Row, just a short walk from Harrods, V&A and Hyde Park.  Designed by Macaulay Sinclair, the restaurant has a retro clubhouse feel with reclaimed walnut panelling, brass lamps, touches of grey marble and stunning amber-hued Art Deco windows.
It's a slick, polished operation yet the ambiance cultivated is unpretentious with a cool indie soundtrack and friendly staff mostly dressed in plaid shirts and glasses.  There's also an intimate cocktail bar away from the main dining room where you can graze on burgers, steak sandwiches lobster rolls.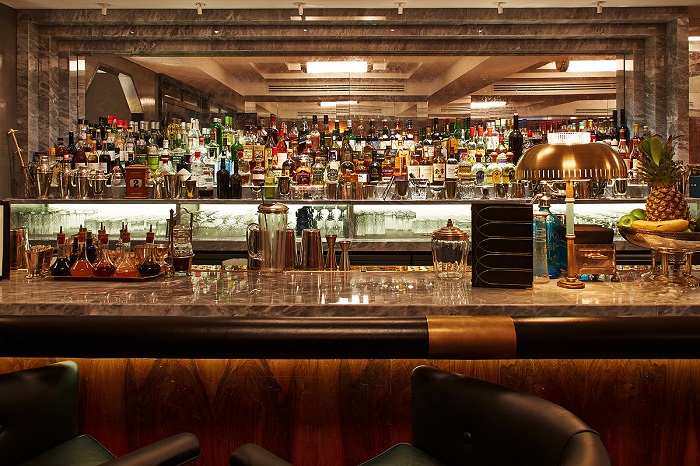 Dining at the pre-theatre time of 5pm may seem early, but since Hawksmoor Knightsbridge is a popular restaurant, it was already buzzing and filled up quickly.  The set lunch or dinner is an excellent way to get a taste of Hawksmoor's signature dishes at a very reasonable price – two course for £24 or three courses for £27.
I started with a very generous portion of Tamworth belly ribs with vinegar slaw.  The pork was so tender and flaky, with lean meat packed between layers of melt-in-the-mouth fat.  They were nicely charred on the outside and coated in a punchy dry rub with aromatic flavors of cumin, star anise and chipotle chilli.
The paper-thin ribbons of red cabbage doused in a tangy vinegar added freshness and helped offset the unexpected spiciness – my mouth was left tingling after I finished.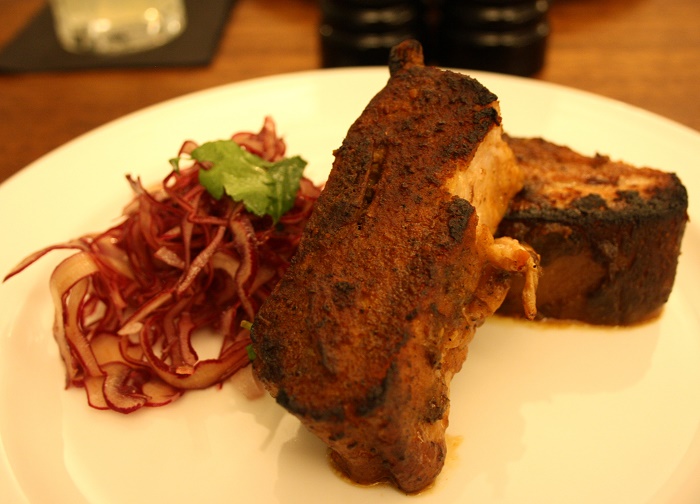 Steven tried the Potted smoked mackerel, which was a simple classic done well.  The mackerel had a bold, clean flavour with a layer of clarified butter on top and served with dill cucumbers and crispy toasts.  The other dish on the set menu was Roast beetroot salad with goat's cheese, which looked colourful, fresh and inviting.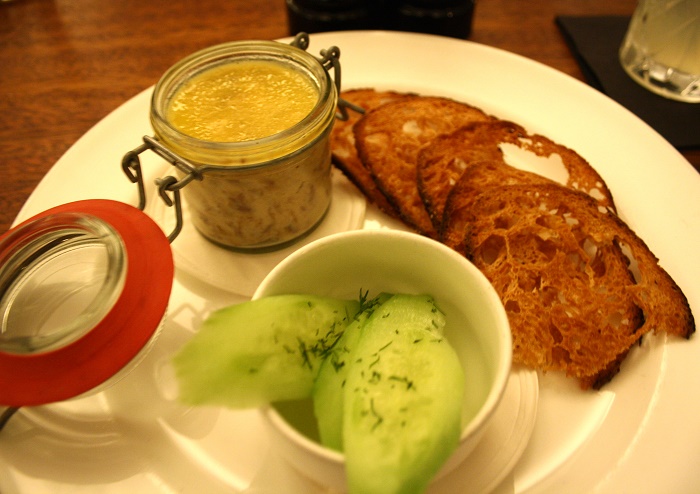 For the main course, I was happy to find two steak options, avoiding any potential squabbles over who would order the meat.  For a £5 supplement I enjoyed the most heavenly, medium-cooked Fillet tail (200g). The presentation was minimal without any leaves, herbs or garnish in sight, but that didn't really matter, as the steak certainly impressed.
Fillet is my favourite cut of steak and this one was excellent with a pink, succulent centre graduating to smoky, chargrilled edges and with a pure, natural flavour.  I always ask for my steak medium, but with this thick cut, you could easy go down to medium-rare for a little more juiciness.
The set dinner also includes one side and I highly recommend the Baked sweet potato.  The potato flesh is so soft and tender, it simply falls off the buttery skin and is the perfect accompaniment for the steak.  The only thing missing is a choice of sauce, but you can order a side of Béarnaise, peppercorn or Stilton Hollandaise for an additional £3.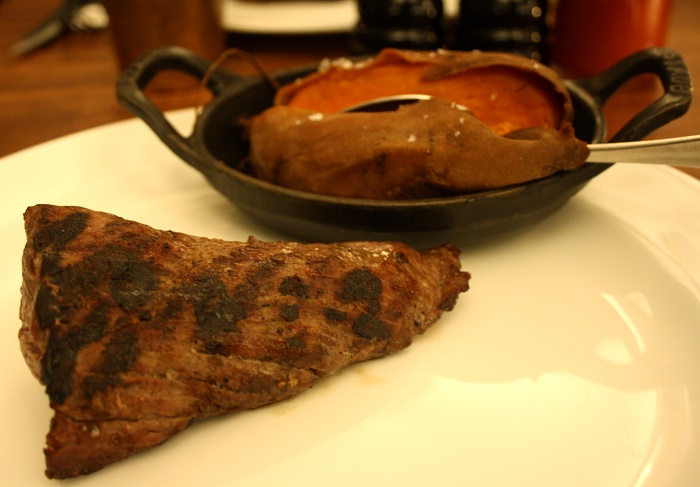 Steven's Rib-eye (250g) was just as tasty and beautifully-cooked with a mature, aged flavour.  The layer of fat and softness of the meat gave it richness – well-suited to those who prefer a more complex taste.  The thick-cut Triple cooked chips were golden, hot and crispy and served with a delicious home-made tomato ketchup that had a sweet hint of cinnamon.  Other options are Hake or Ricotta dumplings with autumn vegetables, but really, it's all about the meat.
We found the steaks to be just the right size for a filling, satisfying meal, however the steaks on the main menu go up to a whopping 500g!  You'll need to loosen your purse strings a little more, but then again the quality is undisputed, with steaks from ethically-reared traditional British breeds.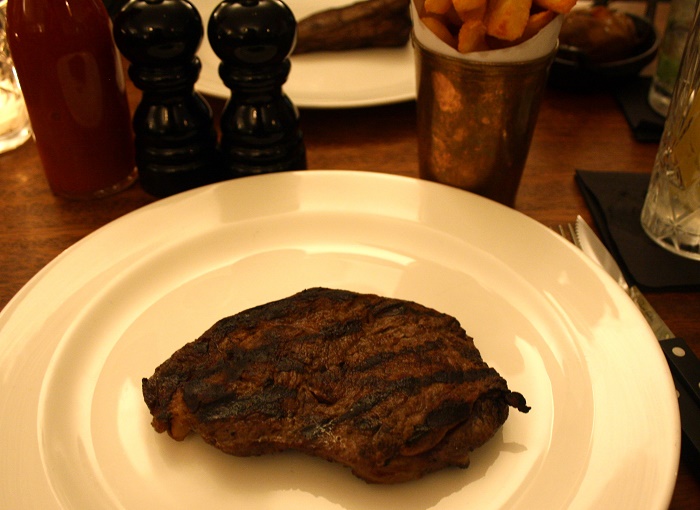 For dessert, I went all out with the indulgent Peanut butter shortbread, which was even better than I expected.  A freshly-baked pastry star was filled with molten dark chocolate sauce and velvety peanut butter, finished with salted caramel ice cream and crushed peanuts.  It was simply heaven on a plate, ending my meal on the sweetest note.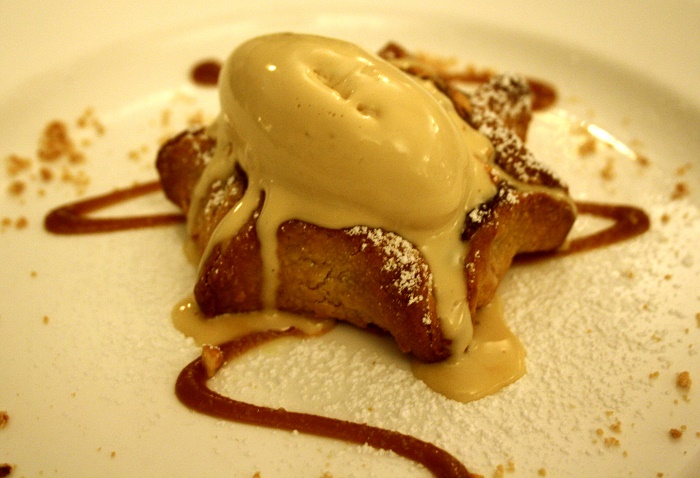 Steven's Lemon and yoghurt cheesecake was zingy and refreshing, but I found it too creamy.  The whipped cheesecake filling was a bit overwhelming and lacked the tartness that a cheesecake should have, plus the biscuit base was mixed in so there was no crunch.  Go for the Peanut butter shortbread (or perhaps the other option of Passionfruit pavlova) instead.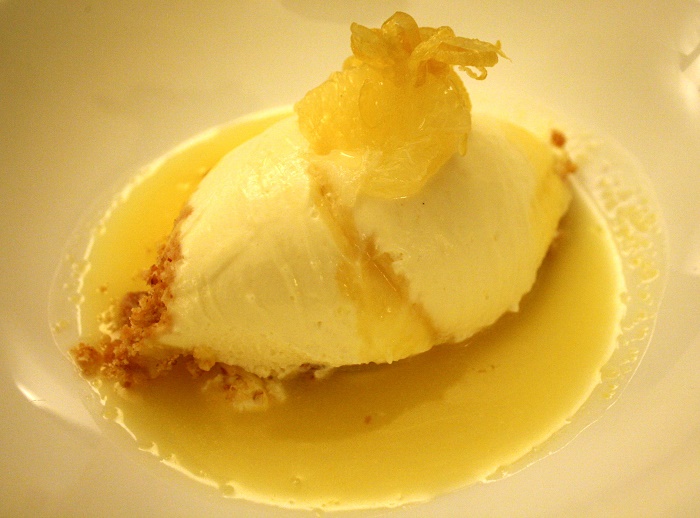 I can safely say I've been initiated into the cult of Hawksmoor and am already planning our next steak jaunt, perhaps to the Spitalfields restaurant closer to home.  The set dinner is excellent value with a great selection of winning dishes and you're sure to leave feeling happy and well-fed.
For more information and booking, visit: www.bookatable.co.uk
Chérie City was a guest of Bookatable
Photos by Chérie City and Hawksmoor Knightsbridge