Sotto13 is a friendly neighbourhood restaurant that really wowed on my trip to New York this year.  The 'social Italian' restaurant has an unexpectedly residential location on the lower floor of a landmark brownstone on a quiet, leafy street in the West Village.
We visited on Friday evening and the restaurant was already buzzing with well-heeled, in-the-know New Yorkers clinking Prosecco glasses and sharing rustic Italian small plates and pizza slices.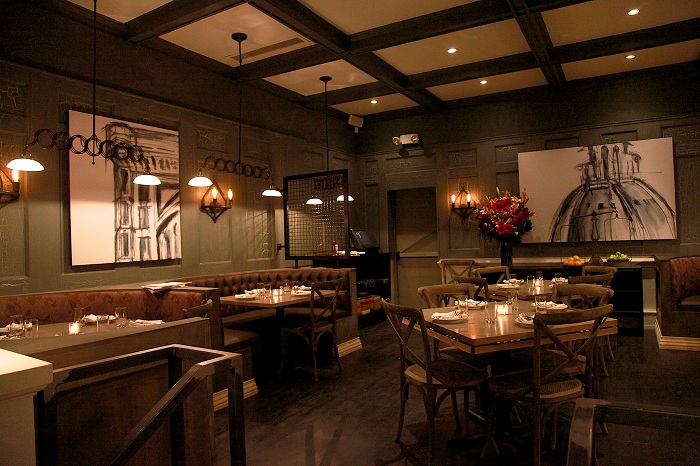 The restaurant is expansive with a split-level dining room, designed in earthy olive, espresso and dark wood tones.  We sat at a comfy booth and were greeted warmly by the manager Giuseppe, who made some great recommendations that we were more than happy to try out.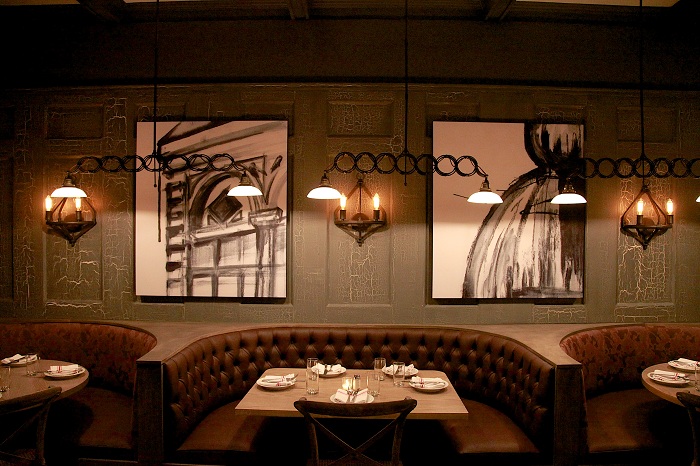 We started with some delicious freshly-baked Focaccia served with a dish of high quality olive oil.  Cocktails at Sotto 13 are a must, so I ordered a refreshing Mango Margerita (all cocktails $12) and Steven went for a strong and classic Sazerac.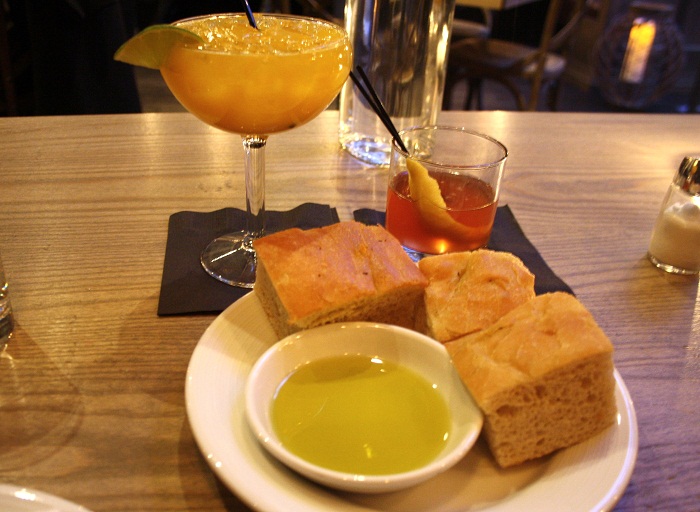 To start, we were tempted by the Chickpea Fries, sun-dried tomato pesto ($7).  The moreish fries had a golden, grainy coating and were smooth and creamy on the inside with a hint of aniseed.  The sun-dried tomato pesto dip was deliciously rich, zangy and sweet.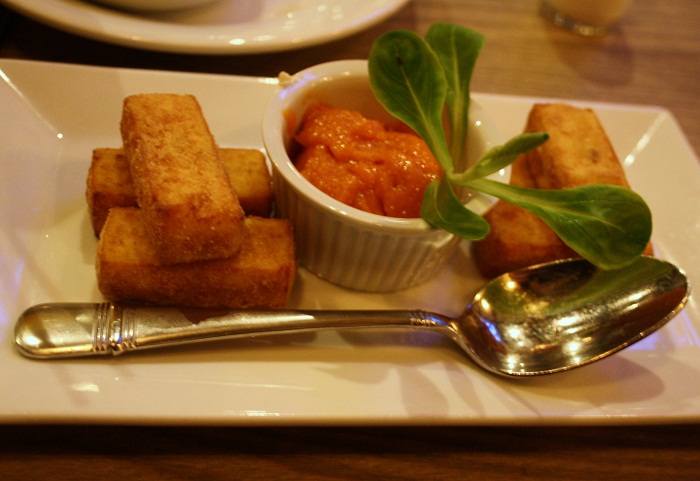 The Garlic Shrimp, rosemary-thyme infused olive oil ($11) came highly-recommended and rightly so.  The plump, succulent shrimps were perfectly cooked and came with a scrumptious garlicky jus that was so tasty we mopped it all up with the focaccia.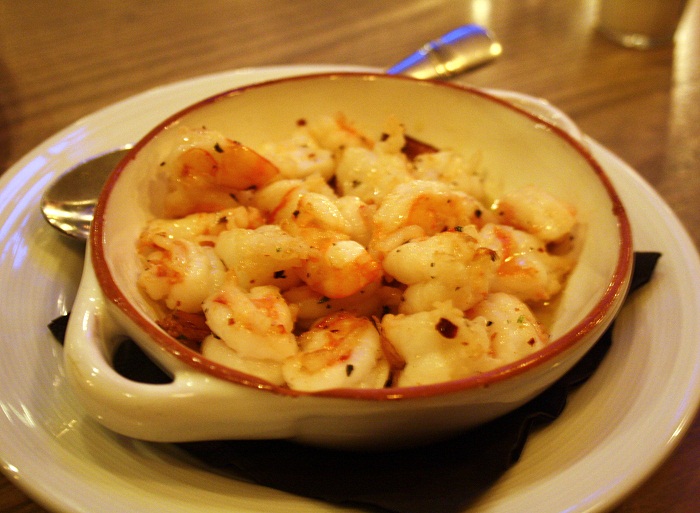 Having heard good things about Sotto 13's wood-fire oven pizzas, we shared a Brussels Sprout Pizza ($16) that was cut into slices for easy sharing.  The thin and crispy base was covered with strongly-flavoured toppings that complemented each other well.  The halved sprouts were nicely charred and scattered among chunky pancetta, rich Fontina and thinly-sliced caramelised red onion.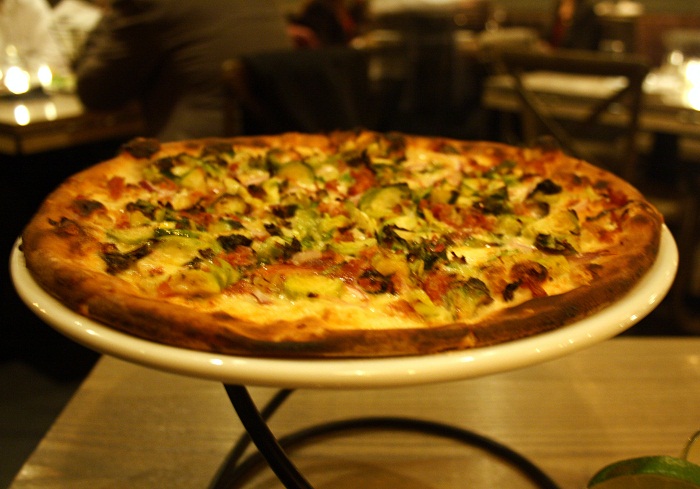 Our favourite, however, was the wonderful Rigatoni Veal Ragu with Caciocavallo cheese ($16).  The large tubes of al dente pasta were smothered in a slow-cooked, rustic sauce with well-seasoned minced veal and tiny pieces of carrot.  The pasta was comforting and satisfying, plus the portion size was enormous.  This is a dish I'd order again and again if only Sotto 13 was a little closer to home.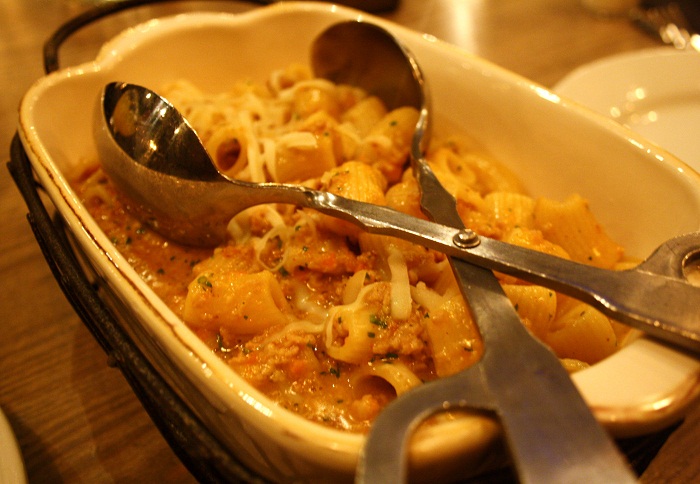 For dessert, it had to be the Cannoli – a New York classic that I always try to indulge in when in town.  Each mini cannolo was filled with cool, creamy ricotta and chocolate chips and the dough was light and crisp.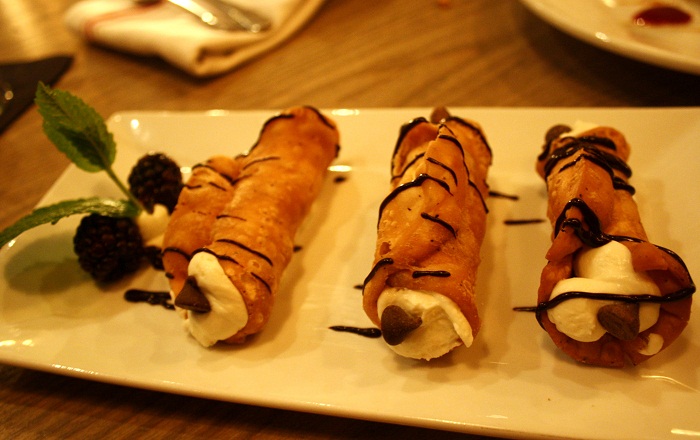 Steven's Pear Strudel with cinnamon ice cream was heavenly and also presented in small bites, so we could share.  The pear was stewed with raisins and the pastry was fluffy yet crunchy on the outside.
We finished with a round of New Old Fashioned cocktails that were, strong, expertly-mixed and infused with zesty orange.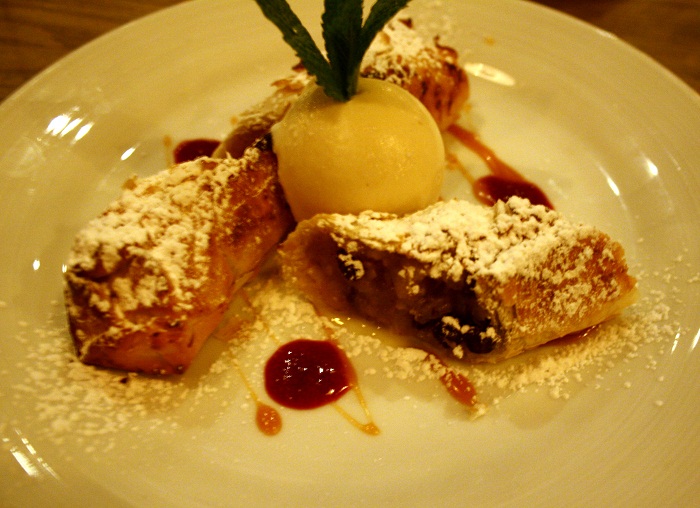 Sotto 13 is a real hidden gem where you can eat out like a true New Yorker.  The ambiance is stylish yet informal and the staff are so brilliant that you'll leave the restaurant with a smile.
Next time I visit New York, I can't wait to spend a lazy Sunday over Sotto 13's bargainous $25 All-You-Can-Drink Boozy Brunch, including tapas or pizza and unlimited brunch cocktails.  Another fun touch is the DIY Prosecco Bar where you can customise glasses of Prosecco with a tray of juice mixers, toss-ins and liqueurs ($15 per tray).
For more information and booking, visit: www.sotto13.com
Chérie City was a guest of Sotto 13
Photos by Chérie City (interiors by Sotto 13)