One of my favourite things about living in London is how close it is to Paris and all of the delightful French things that make their way across the channel.  Sofitel St James is a little corner of Paris in historic Mayfair – a perfect marriage of French elegance and English refinement.
Housed in the former Cox's and King's bank close to Piccadilly and the private members clubs of Pall Mall, the five-star Sofitel St James complements the building's original features with chic yet homely interiors by Pierre-Yves Rochon and Russell Sage.
I was invited with London Unattached and Lela London to experience a day of relaxation and indulgence, like true Paris-London 'ladies who lunch'.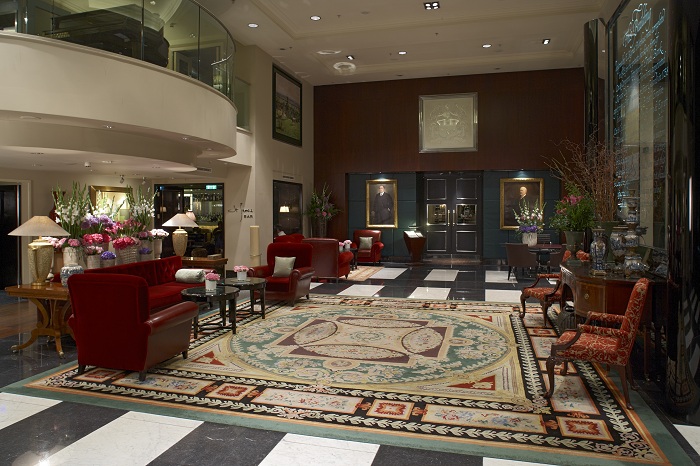 We began the morning in So SPA, a stylish urban retreat with an impressive reception area and treatment rooms set across three floors, filled with natural daylight.  So SPA uses Carita, Cinq Mondes and Mamma Mio skincare products and treatments are designed to appeal to the five senses.
On arrival, we sat at the large communal table and were welcomed with a neat little tray of lavender tea, a fruit jelly and a warm flannel to freshen up.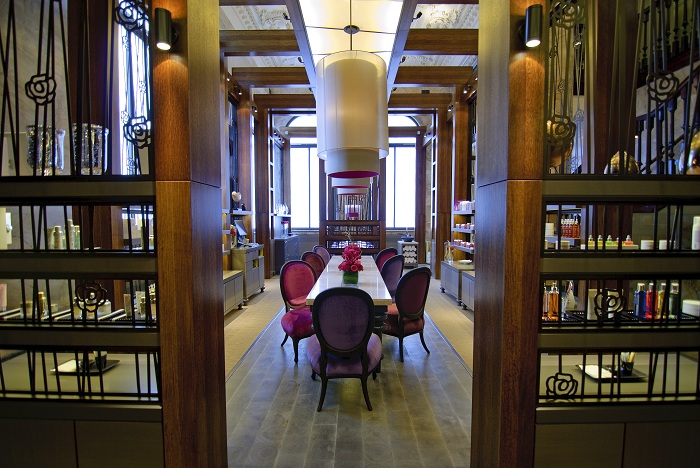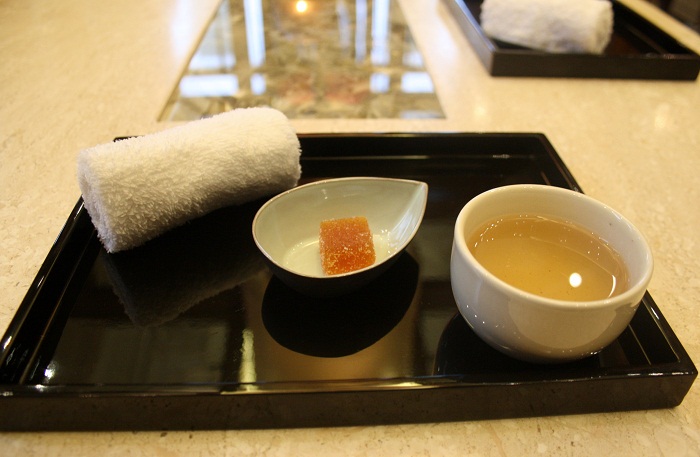 I was given the usual health consultation form to fill in, but So SPA also requested my preferences for music, scent, temperature of the room, if I liked a heated bed and so on.  This was a thoughtful touch and I loved that the treatment room was tailored exactly to my wishes.
We began the de-stressing process getting rid of toxins and relaxing the muscles in the hammam and jacuzzi.  There are no clocks in the spa, so we relied on the therapists to call us for our treatments and this was done seamlessly.
With the Spa Butler's help, I chose the signature So Rejuvenating Facial Treatment (60 minutes, £90).  The therapist began the sensory journey by spritzing a delicate rose fragrance in the air and applying a layer of warm honey on my lips.  My bespoke facial using Cinq Mondes products included a double foam cleanse and tone, exfoliation, a hydrating mask and a kaolin mask applied to the t-zone, lymphatic drainage massage and a relaxing hand and arm massage.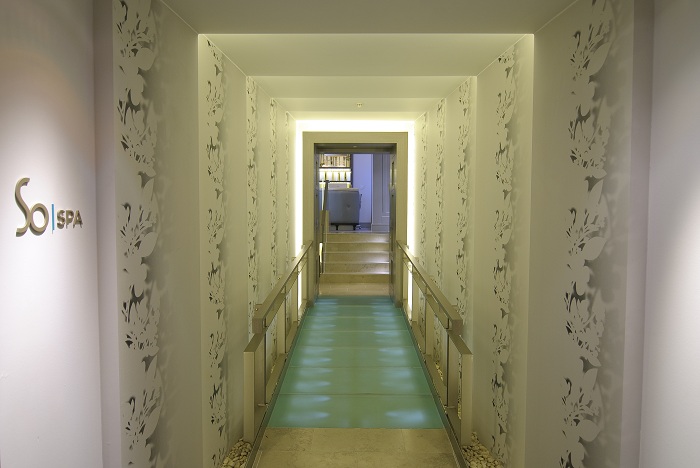 She very gently pinched and tweaked the skin around the eye area, cheekbones and jaw to expel impurities and reduce puffiness.  A nice surprise was hot stones smoothed along my arms and placed under each palm.
After the treatment, I felt blissfully calm and was offered some great skincare advice before being guided into the well-equipped Relaxation Room.  I ordered a Mediterranean Rose tea, which came with another lovely fruit jelly, and was left to continue my spa journey on the comfortable bed with magazines and an iPod system with soothing music to choose from.  I could have happily lingered in the Relaxation Room, but lunch beckoned.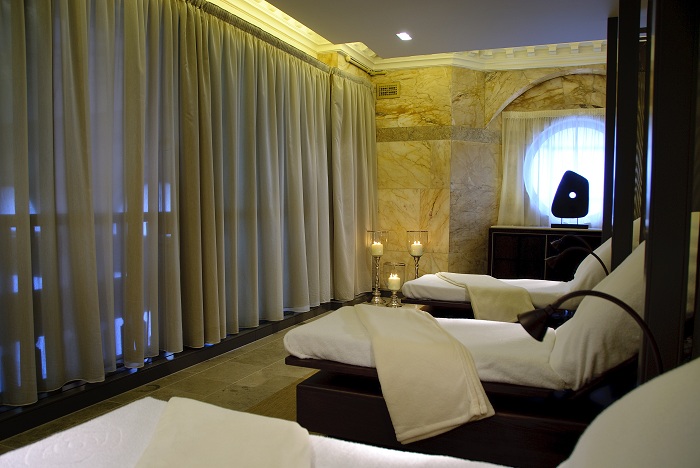 Before sitting down to a delicious three-course lunch at The Balcon, we met with Executive Chef Vincent Menager (formerly of Brasserie Roux, Sofitel New York and Alain Ducasse) at the Charcuterie Bar to sample the finest cured and air-dried meats from France and Wales with a glass of Charles Heidsieck Champagne.
True to the Anglo-French philosophy of the hotel, the marble charcuterie bar focuses on meats, cheeses and terrines from Mas le Rouget in Cantal and Trealy Farm in Monmouthshire in Wales.  Guests can stop by for a light indulgence or share a tasting platter before moving on to The Balcon.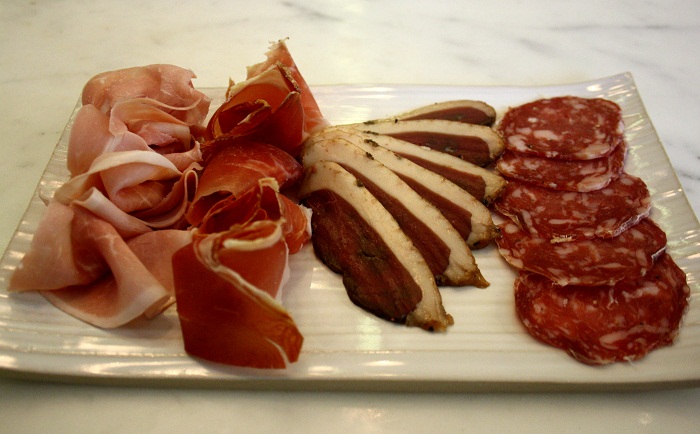 Designed by Russell Sage, The Balcon combines the elegance of the Parisian grand brasserie and London's modern-classic approach.  The high ceilings, large windows and light colours make it an attractive spot for all-day dining.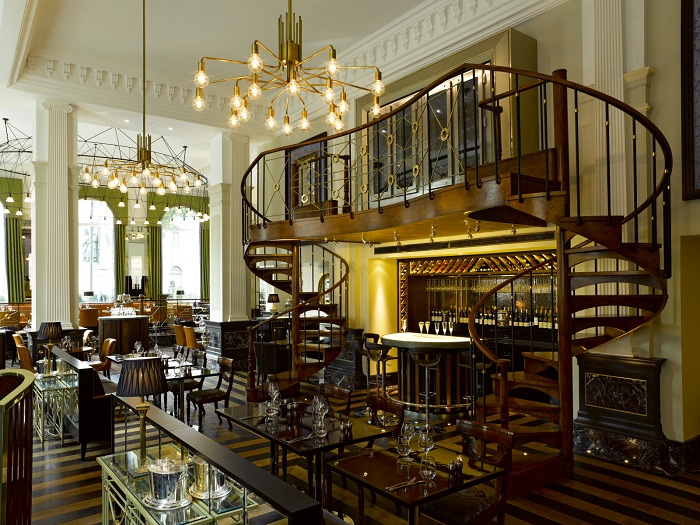 The test of an authentic French restaurant is how good is the soupe à l'oignon gratinée, so I just had to start with the Normandy onion soup with Roskoff onion and Aspall English cyder.
This Normandy-meets-Suffolf onion soup was one of the best I've ever tasted.  Served in a traditional French bowl, the soup was rich, dark and packed full of soft caramelised onions and topped with a baguette crouton, melted Gruyère and fresh herbs.  It's a comforting dish for when it's cold outside, or particularly for home-sick Parisians in London.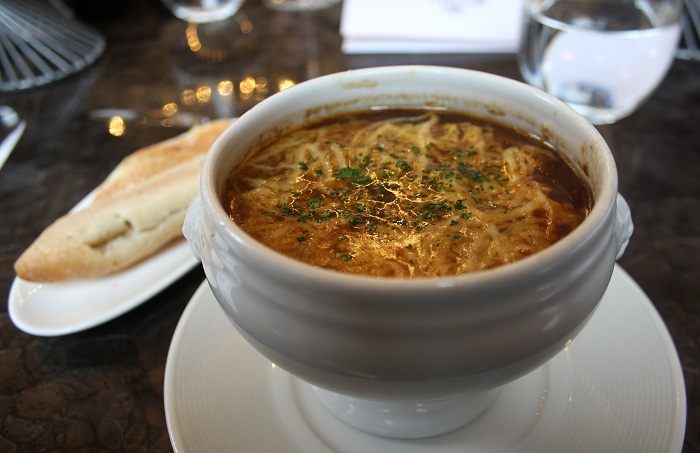 For the main course, I was tempted by the Rump of Devon lamb, French green beans, pequillo peppers and sweetcorn.  The lamb was tender, juicy and pinkish in the middle, cooked perfectly medium as requested.  I enjoyed the accompaniment of glazed green beans, soft slivers of pequillo pepper, buttery sweetcorn freshly cut from the cob and rich jus.  While the dish was colourful, it was presented in a simple, unpretentious way, which seems to be the concept at The Balcon.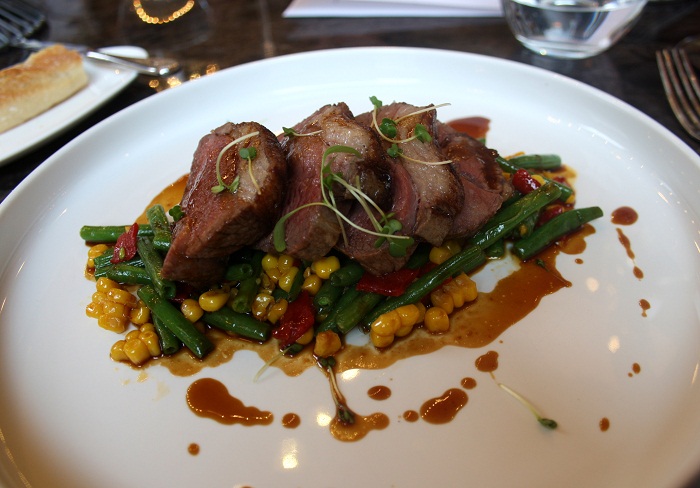 The Blackberry financier with green apple sorbet came highly recommended, so I was keen to try the restaurant's most popular dessert.  The freshly-baked financier was crisp and golden on the outside with a light, gooey almond cake centre.  It went well with the sweet blackberry coulis and I adored the luscious, home-made apple sorbet.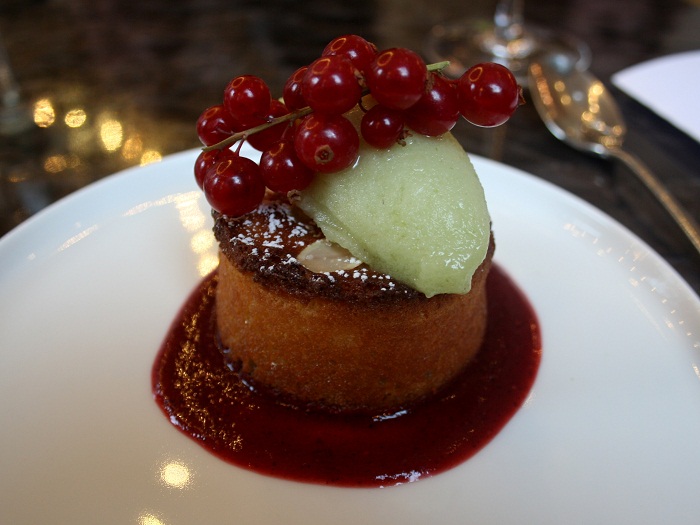 To finish the meal, I ordered an English Breakfast tea, which came in a Japanese-style cast iron teapot with Gavottes (French caramelised wafer biscuits) on the side.
I loved the bright, elegant design and refined atmosphere at The Balcon and wish I'd discovered it sooner.  It's now on my list of stylish, central London eateries.
To walk off the lunch, we took a tour of the hotel and viewed the temporary collection of sculptures by Daphne du Barry and the hotel's current Limelight exhibition, featuring photographic portraits of Barack Obama, Mick Jagger, Valentino Garavani, Francoise Hardy and Dita Von Teese.
We also had the chance to take a peek inside the Presidential Suite, with a stunning bed that looked so inviting for a post-lunch snooze.  I particularly liked the romantic, dusky St James Bar, inspired by the interiors of Coco Chanel's 1920s Paris apartment.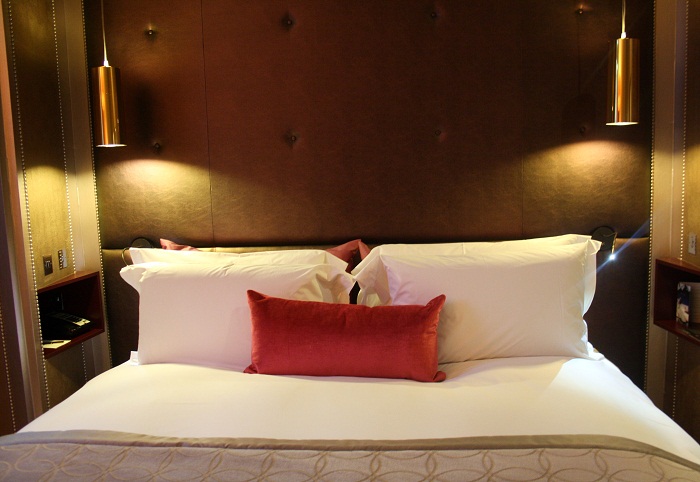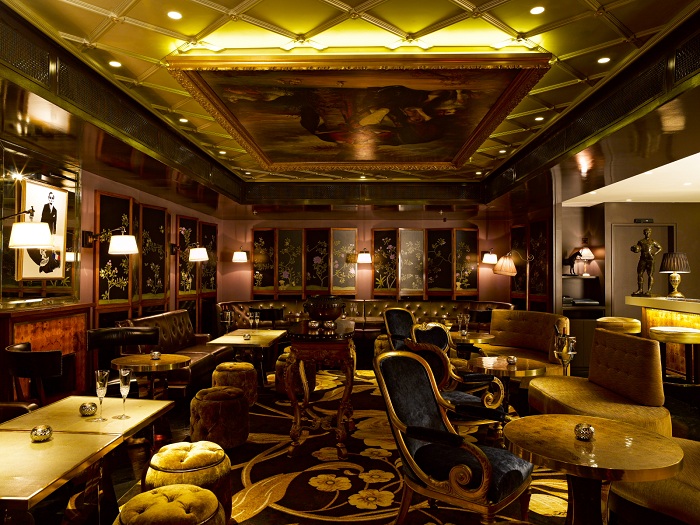 We ended the day of pampering in the stylish surrounds of The Rose Lounge for afternoon tea.  The intimate lounge is a treat for all the senses with an enveloping rose scent as you enter, heavenly music by a harpist each afternoon and beautifully-designed interiors.
Lunch was a long, leisurely affair, so rather than attempt the full afternoon tea, we enjoyed a pot of Postcard Earl Grey tea and warm, freshly-baked plain, raisin and apricot scones served with clotted cream, lemon curd and the most heavenly strawberry, rose and geranium jam.
I've experienced afternoon tea at The Rose Lounge before and the combination of delectable pastries in a relaxed, luxurious setting make it perfect for a post-shopping treat.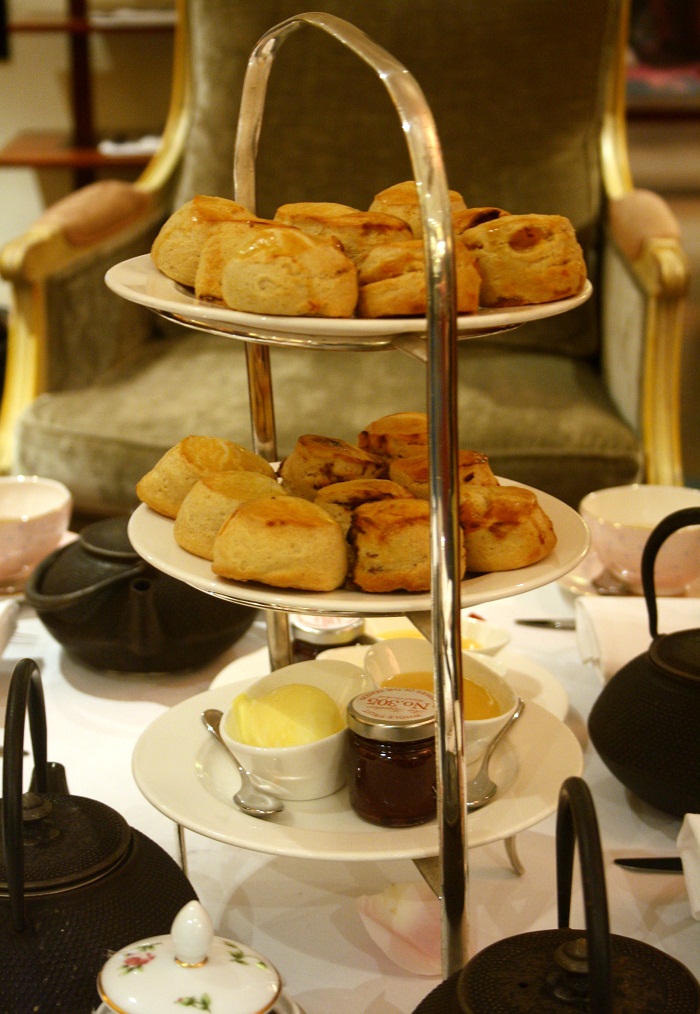 Sofitel St James is a beautiful, calming place to spend time in London, whether it's unwinding with a treatment in So SPA, a leisurely meal in The Balcon or catching up with a friend over afternoon tea in the exquisite Rose Lounge.  When you're feeling nostalgic for Paris, it's the place to come for a bit of la vie en rose.
For more information and booking, visit: www.sofitelstjames.com
Chérie City was a guest of Sofitel St James
Photos by Chérie City and Sofitel St James