Smithfield Market is one of my favourite foodie areas in London, as it has a real  'old world' atmosphere with its cobbled streets and Victorian architecture.  I've had some great dinners in this neighbourhood, so expectations are always high when trying a new grill restaurant.
The Grill on the Market overlooks West Smithfield and is much larger than it appear from outside, with a large yet homely bar, two dining rooms and a private dining space.  Formerly the Smithfield Bar & Grill, it is now part of the Blackhouse group, which also has branches in Glasgow, Manchester, Leeds and Cheshire.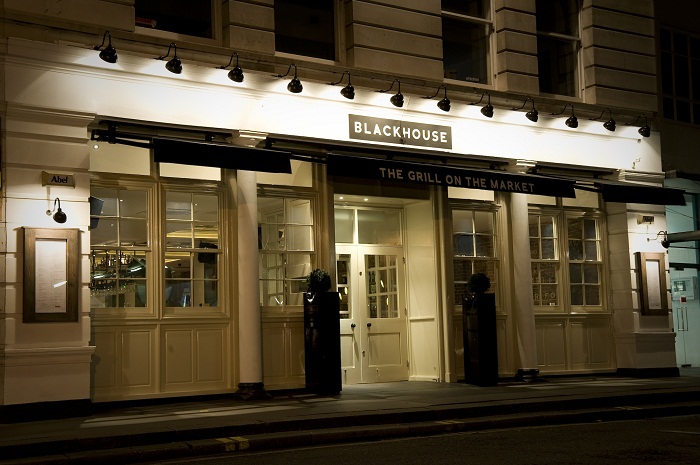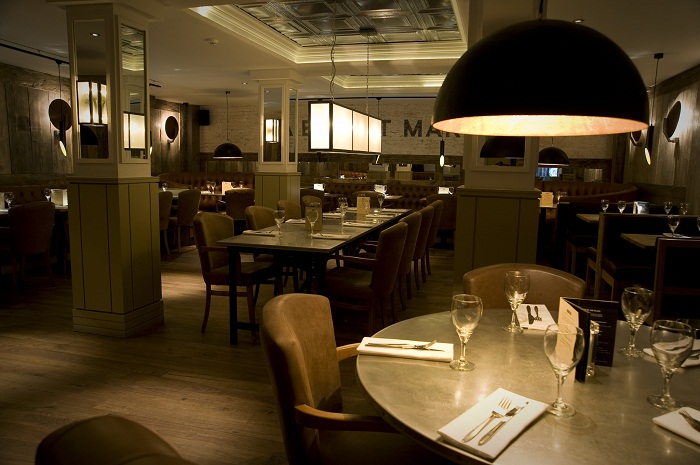 When we arrived, the place was already buzzing and filled with the mouth-watering aromas of grilled meat.  We were sat in an curved leather booth, which made it much more intimate and cosy than a regular face-to-face table.
The restaurant was very festive, with elegant garlands and baubles adorning the walls and live music from an excellent jazz pianist, singing a mix of swinging Christmas songs and old classics.  It really added to the warm atmosphere and I would love to see more live jazz in London restaurants…if it's done well.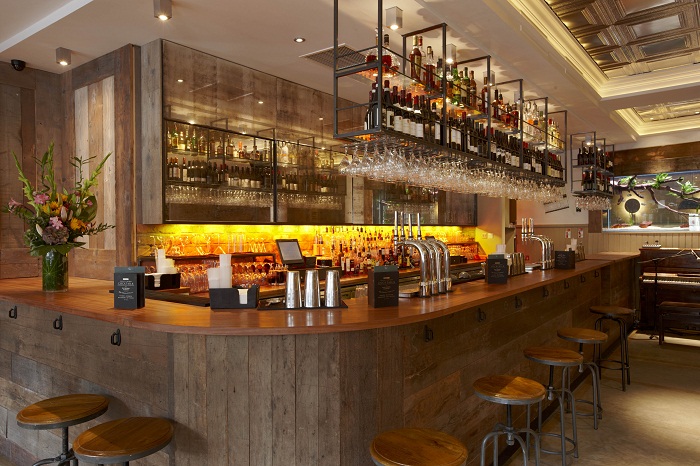 I started with the Baby Scallop, Garlic and Bacon Salad (£6.50).  The baby scallops were plump, soft and perfectly bite-size.  The mixed leaves with a garlic, herb and olive oil dressing and thin matchsticks of crispy bacon went perfectly with the scallops.  It was a light and tasty dish – perfect before an indulgent steak.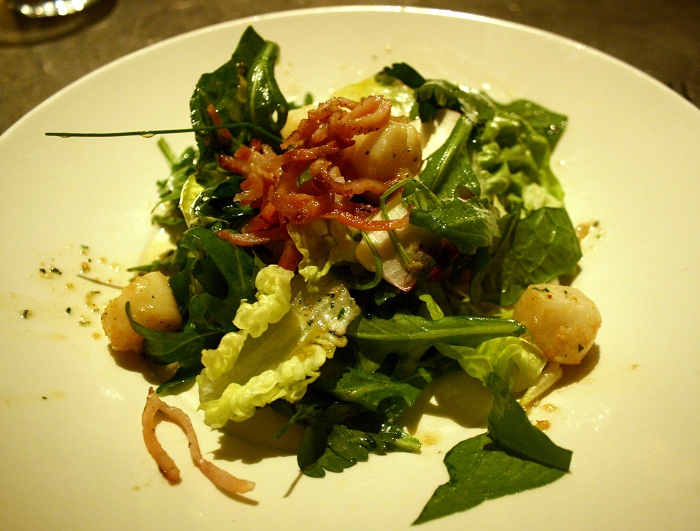 Steven went for the Salt and Pepper Chicken kebabs (£6.75).  The chicken was tender and well-marinated and came with a sweet chili ginger dipping sauce, topped with fresh chili and spring onions.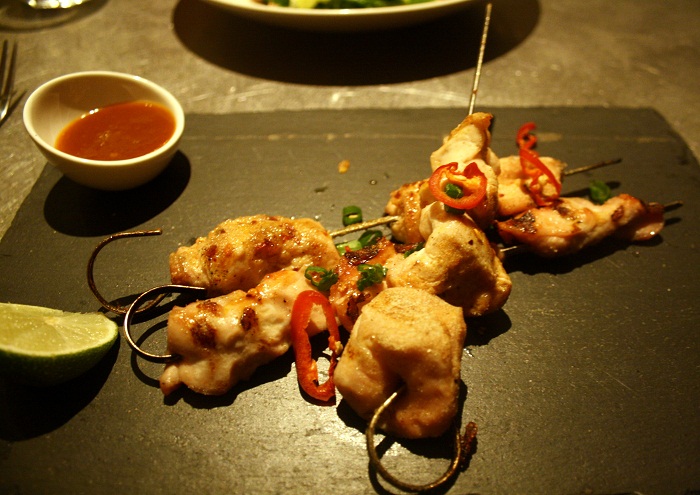 The cocktail list at The Grill on the Market is a tempting mix of classics with a twist and the restaurant's own inventive concoctions.  My Ginger Sidecar (£7.50) – Martell VS, King's Ginger Liqueur, Ginger puree, sweetened lemon juice and Bittertruth orange flower water – was absolutely delicious.  It was sweet, aromatic and packed full of potent ginger.
Steven ordered a Smoky Old Fashioned (£7.50) – Woodford Reserve, maple syrup, oak smoke and an ice ball.  The cocktail was served in a glass bottle filled with smoke and our waiter advised to swirl the liquid around the bottle for an extra smoky taste.  It tasted oaky, smooth, slightly sweet and was very easy to drink.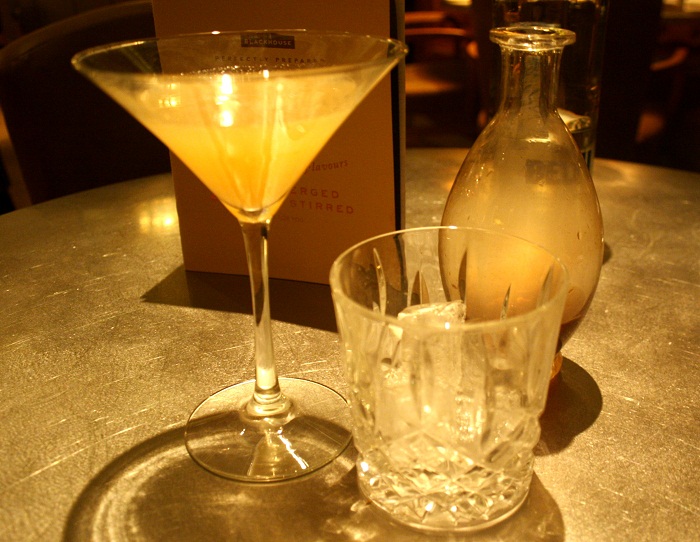 For the main course, it had to be the Fillet Steak (200g) (£22.50) with a skewer of garlic prawns (£6).  My medium-cooked steak was thick, tender, succulent and full of juice.  The garlic prawns were so fresh with a subtle garlic taste.  They went so well together, that regular steak will just never be the same.
The large portion of triple-cooked skin-on chips were perfectly cooked and the Béarnaise sauce was creamy, buttery and indulgent.  I couldn't finish the entire bowl of chips, so I'd recommend sharing, if you both order steak.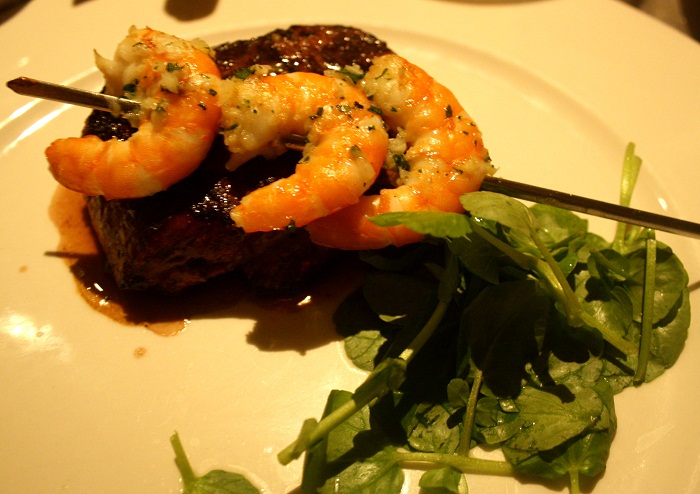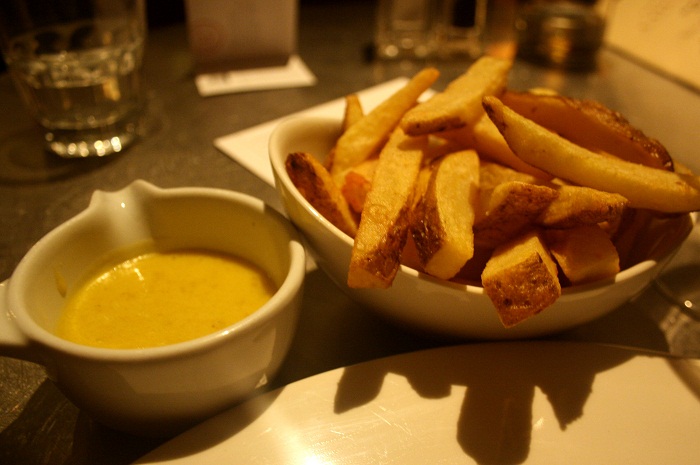 Steven's Traditional Fish and Chips (£13.50) was exceptionally good.  The two fillets of cod were fresh, succulent and covered in a crisp, golden batter that wasn't too oily or heavy.  The smashed minted peas were more interesting than regular mushy peas and other extras were a tangy tartar sauce and a tiny jar of pickled onions.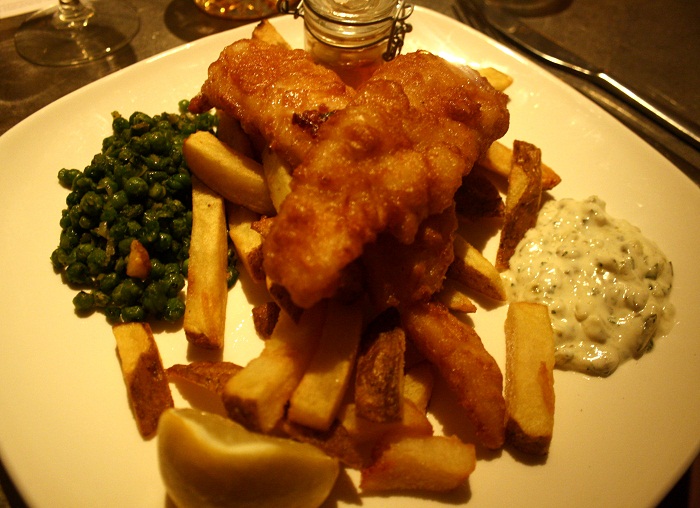 My Red Velvet Cake with kumquat clotted cream (£5.95) was disappointing, as the flavours didn't stand out after two courses including lots of garlic, however the texture was pleasant.  Unfortunately the cake had absorbed the aromas of the savory food in the kitchen, so it didn't taste quite as it should.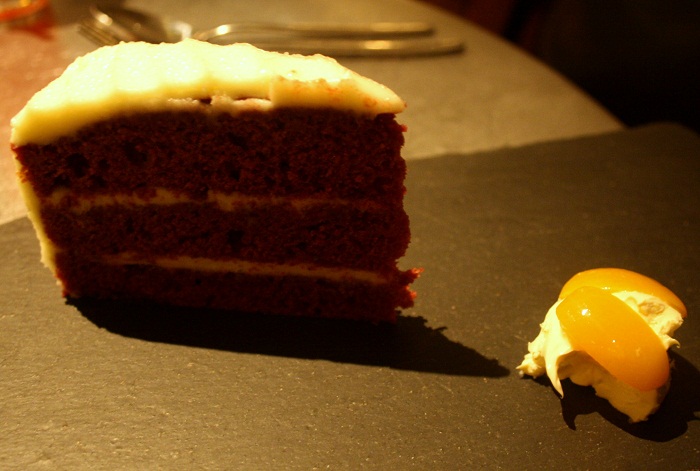 I had serious envy of Steven's Sticky Toffee Pudding with vanilla ice cream (£6), which was the best that a pudding can be.  It was light and spongy with tiny flecks of oats and a scrumptious, buttery toffee sauce – not at all stodgy or overly sweet.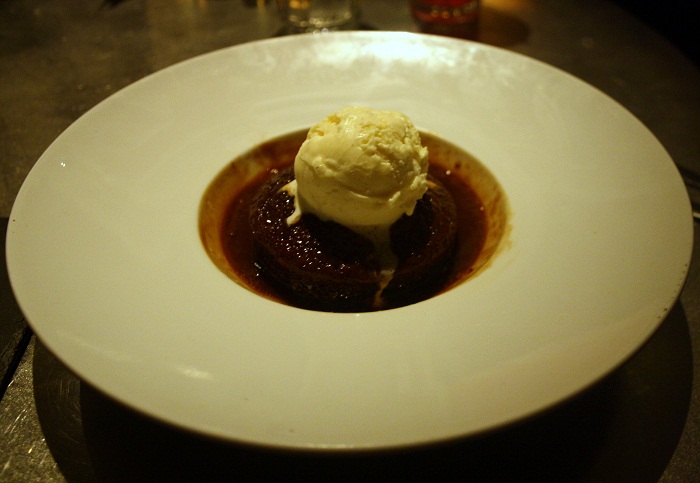 We finished with another round of floral, fragrant coctkails.  My Mint and Violet Crush (£7) – Bacardi Superior, Briottet Violett, mint, sugar syrup and fresh lime juice topped with lemonade – tasted like a Parma Violet Mojito.  It was delicately perfumed and the floral aromas perfectly complimented the citrus zing of the lime.
Steven's Rosewater Collins (£7) – Bacardi Superior, Briottet Rose, sweetened lemon juice, Bittertruth Rose flower water and soda – was just as refreshing, with lots of lemon and a pretty pink colour.  Both drinks would be particularly cooling and delicious in the summer.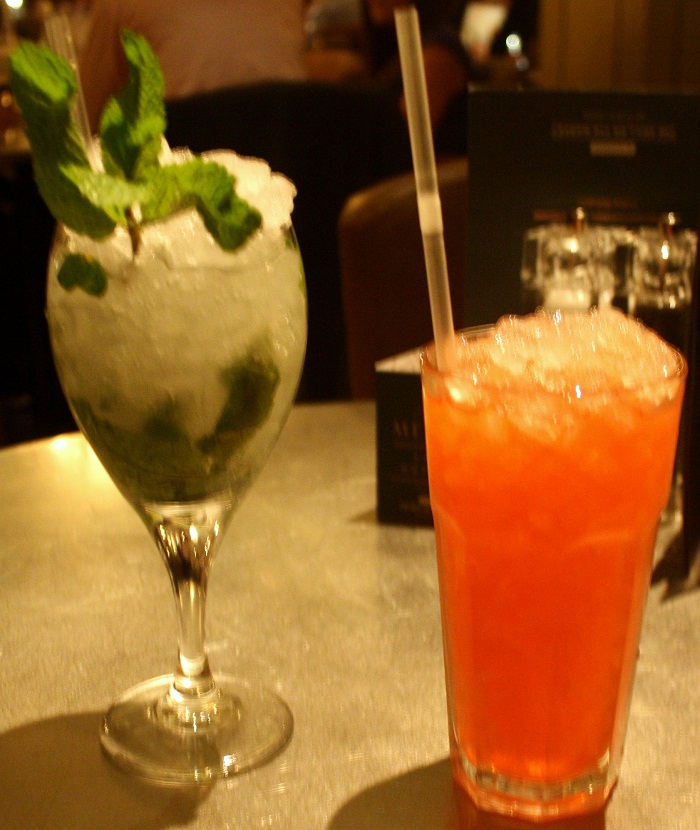 The Grill on the Market is perfect for a fun, relaxed, unashamedly carnivorous evening, with friendly service in a comfortable setting.  It's one of those places that you go with friends, family or your partner and while the steak with all the extras can push the main meal towards the £30 mark, the burgers and fish and chips are more affordable yet substantial options.
For more information and booking, visit: www.blackhouse.uk.com
Chérie City was a guest of The Grill on the Market
Photos by Chérie City and The Grill on the Market