dindin kitchen is the new Persian 'fine fast food' restaurant in Holborn that I've been raving about to anyone who will listen since visiting recently.
Being Persian, I've grown up on a diet of slow-cooked stews and Basmati rice studded with vegetable or dried fruit.  Typically, I have the Persian obsession with making the perfect rice in my genes, so I was curious to see whether dindin kitchen would be able to serve up great rice in a quick dining environment.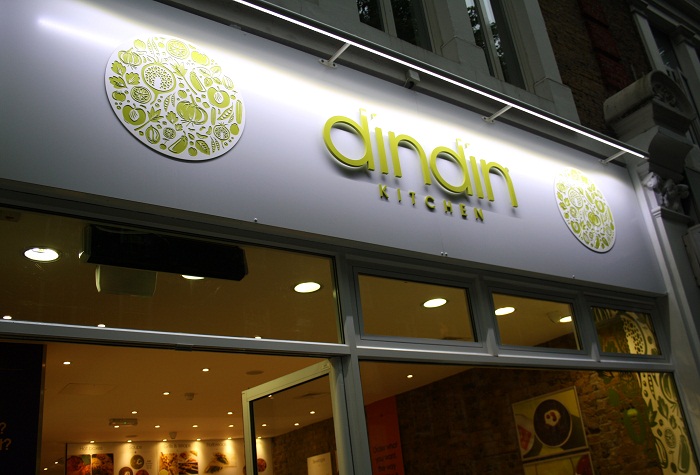 Dubbed as 'the Persian Itsu', dindin kitchen is a slick affair with fridges of bright meze pots and healthy juices, clear menus noting the dishes simply in English and arty shots of pomegranates adorning the walls.
The force behind dindin kitchen is Persian entrepreneur Vida Tayebi, who saw a gap in the market for home-cooked Middle Eastern food served quickly.  In fact, no one in London is doing what she is to the same professional level.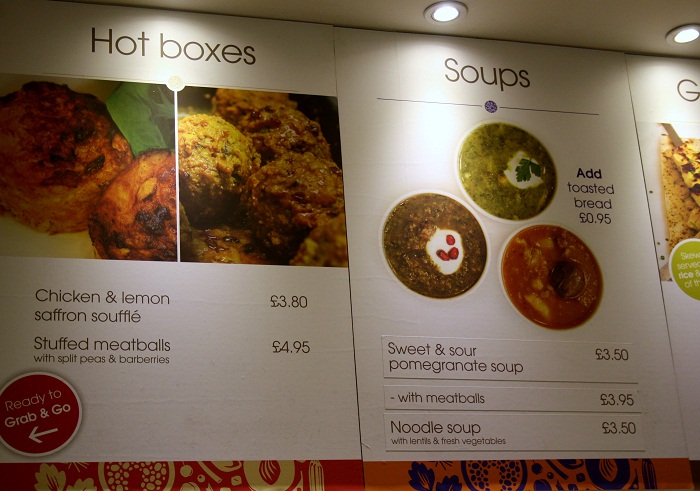 Before visiting, I carefully planned what to order to get the best overview of dindin kitchen.  Little did I know that Vida would bring us a spectacular feast of pretty much everything on the menu – that's the Persian way.
We started with a rainbow of delicious meze pots served with chewy, airy Persian Flatbread and a fresh, bitter Endive, Pomegranate and Walnut Salad (£2.80).  My favourites among the selection were the moreish Aubergine and Lentil Salad (£1.60) and a rich, flavoursome Smoked Aubergine and Tomato Salad (£1.60).  Other tasty meze pots include Beetroot and Parsley Yoghurt Dip (£1.60), cooling Baby Spinach, Dill and Yoghurt Dip (£1.50) and a traditional Persian Chicken Salad with mayonnaise, pickles, peas and egg (£1.95).
The meze pots make perfect starters or light bites and it's best to order a few different ones to share.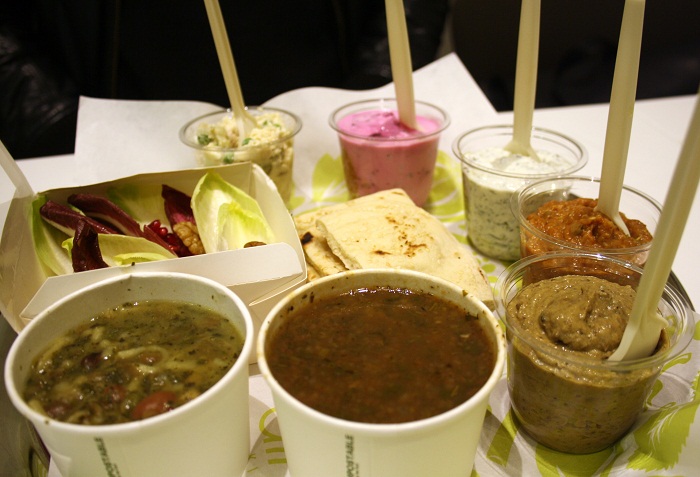 To follow, we tried a Sweet and Sour Pomegranate Soup with added meatballs (£3.95).  The soup was thick and comforting with tangy, mouthwatering flavours and soft pieces of meatball crumbled in the soup.  The Noodle Soup with lentils and fresh vegetables (£3.50), known as Ash-e Reshteh in Farsi, was herby and aromatic with plenty of spinach, mint and parsley.
Chicken and Lemon Saffron Soufflé (£3.80) is a must-try dish, either as a starter, side or accompanied with rice.  The large soufflés were packed full of shredded, marinated chicken breast and the saffron gave them a slightly sweet, fragrant taste.  'Soufflé' is the best English description for the classic dish known as 'kookoo', however the filling is usually the main part and the texture is less airy than a regular soufflé.
Stuffed Meatballs with split peas and barberries (£4.95) were juicy and substantial with sweet dates at the centre.  The tomato sauce was deliciously rich and slow-cooked with flavours of zesty dried kaffir lime – I really enjoyed this dish.
The grilled dishes at dindin kitchen are really fantastic and quite a healthy choice.  Chicken Skewers (£6.75) were succulent and tender, lightly marinated in yoghurt, lime and saffron and cooked on a charcoal grill.  The Lamb Fillet Skewers (£6.95) were also lean, flavoursome and substantial.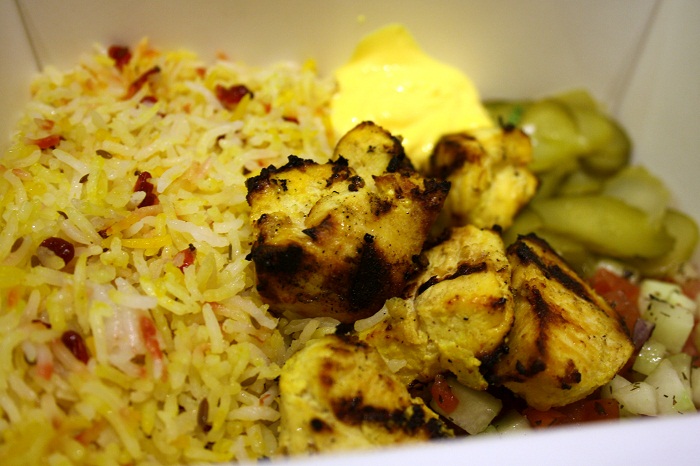 Mostly importantly, the accompanying rice was out of this world.  The delicate Basmati rice was steamed with saffron and plenty of barberries.  Often these little red berries can be very sour and sharp, but dindin kitchen managed to soften the flavour, making the rice ever so slightly sweet and rather addictive.
Both dishes came with some saffron mayo and a side of mild pickles and a tomato, red onion and cucumber salad.  The grills were perhaps my favourites of all the dishes we tried – it's quite hard to beat good charcoal-grilled meat.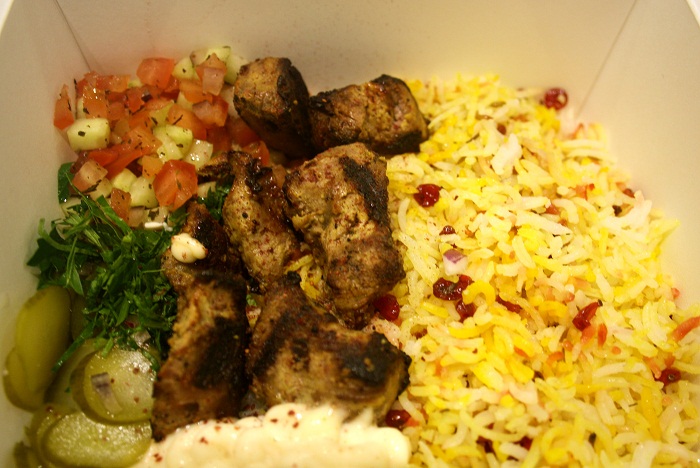 We were feeling rather full by this point, but managed to squeeze in a few wraps, which are available on their own or as a daily deal with soup for just £4.95.
The Minced Lamb wrap (£6.25) included a tasty flatbread filled with well-seasoned, smoky meat, sumac, tomatoes, pickles, fresh parsley and saffron mayo.  The Beef Falafel wrap (£4) is also worth trying, particularly if you like a wrap with a slightly spicy kick.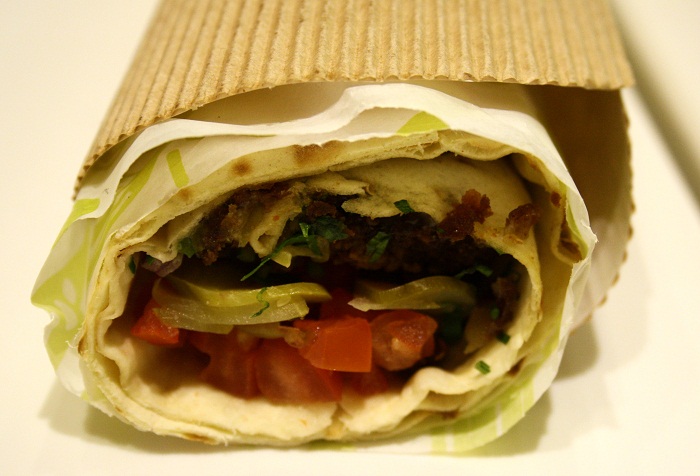 For dessert, we were excited to finally try a CroDough (£3.95) from Rinkoff Bakery.  There were four flavours to choose from and we went for the raspberry CroDough, filled with jam and topped with fresh raspberries.  It was pleasing enough (if a little underwhelming) and is a fun sweet item to offer, but I much preferred the more Persian-influenced Raspberry and Pistachio Cake (£2.35)
The dense, fragrant sponge was studded with chopped pistachios and pieces of dried raspberry and was a delightful end to the meal.  We finished with cups of fine Earl Grey tea, however a glass of typical Persian brewed tea would have been a welcome addition.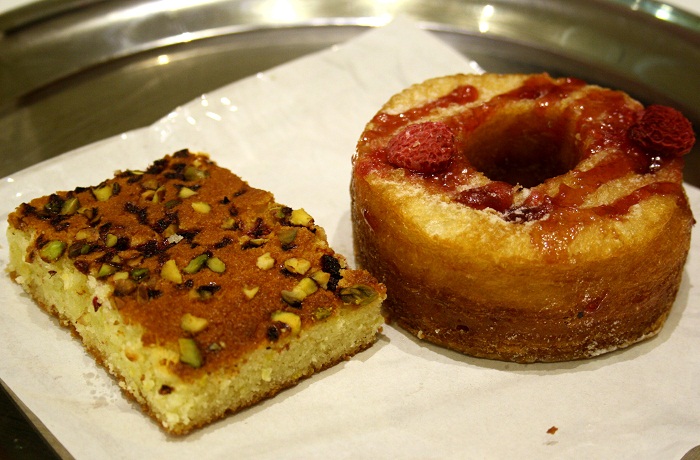 dindin kitchen is without a doubt my favourite new casual dining opening this year.  For me, it's the ultimate childhood comfort food and for those who haven't yet tried Persian cuisine, it provides an authentic yet uncomplicated introduction.
The food is excellent, prices are very reasonable and everything is available to take-out and eat on the go.  For something completely new in London, dindin kitchen should be top of the list.
For more information, visit: www.dindinkitchen.com
All photos by Chérie City
Chérie City was invited by dindin kitchen