In celebration of the must-see new exhibition Henri-Matisse: The Cut-Outs at Tate Modern, Le Méridien Piccadilly offers its own colourful Matisse Afternoon Tea in the stylish Terrace Grill & Bar.
Chef Michael Dutnall took inspiration from the bright colours and angles of Matisse's iconic works and his birthplace to produce a delectable afternoon tea that tastes just as exquisite as it looks.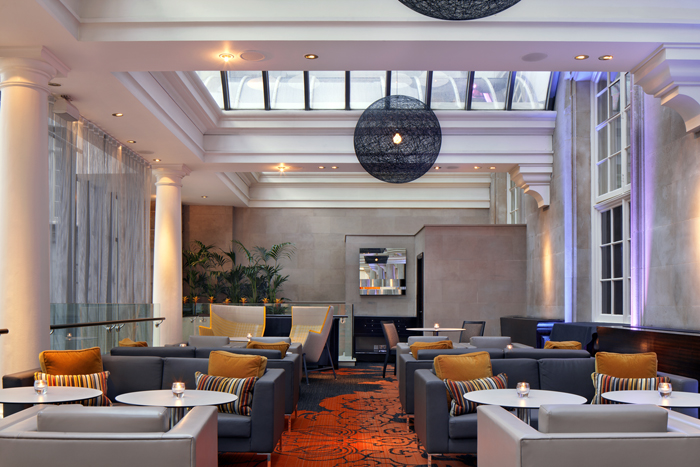 I visited the chic Terrace Grill & Bar to try the new Matisse Afternoon Tea on the Easter weekend when central London was blissfully quiet.  The bright and airy Terrace Grill & Bar is split across two levels with a sleek restaurant and a more relaxed bar and lounge.  It combines the elegance of Piccadilly's Regency architecture with contemporary interiors and striking artworks.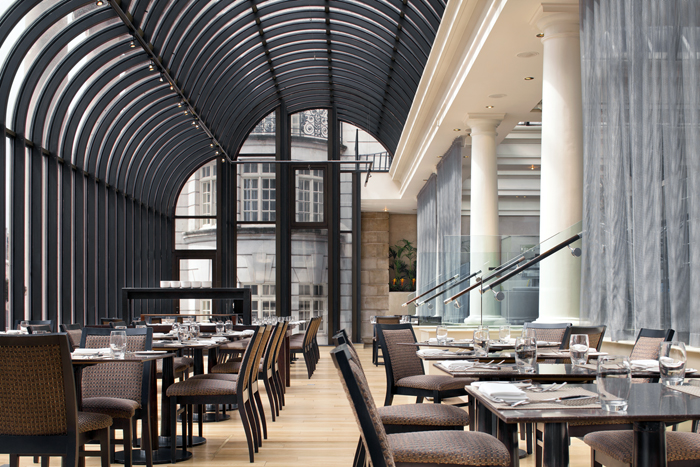 On arrival, we were shown to a table with a cosy, hammock-like sofa and ordered pots of JING Earl Grey tea from the extensive tea menu.
We also tried a French Revolution cocktail, chosen to complement the flavours in the afternoon tea.  A French twist on the classic Aviation cocktail, the French Revolution includes gin, maraschino liqueur, lemon juice and rose Champagne.  The refreshing, strong cocktail is served in a tall flute and dipped in sugar, referencing Matisse's cut-outs.
The Matisse Afternoon Tea is presented on a three-tier stand and the layer of cakes and pastries is sprayed with colour to represent Matisse's iconic Blue Nude (II).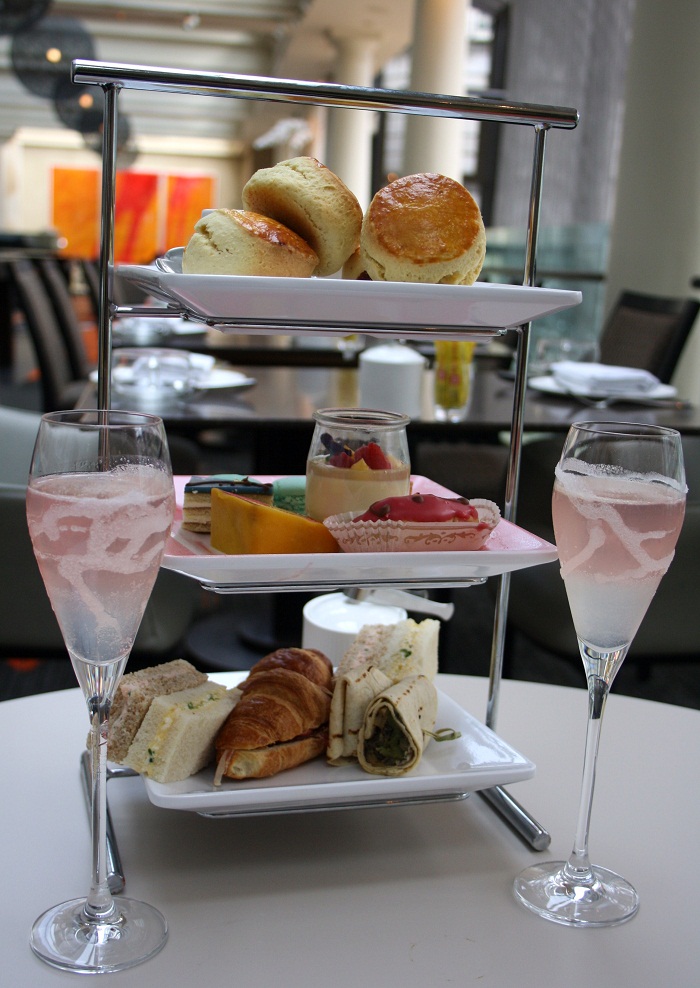 We started with savories inspired by the south of France and absolutely loved the gourmet Jambon de Bayonne and Brie-filled Croissant and a flavoursome Wrap with Marinated Provencal Vegetables and Tapenade.
Keeping with afternoon tea tradition, there is also a tasty Poached Salmon and Herb Crème Fraiche Sandwich and Egg and Cress Sandwich to munch on.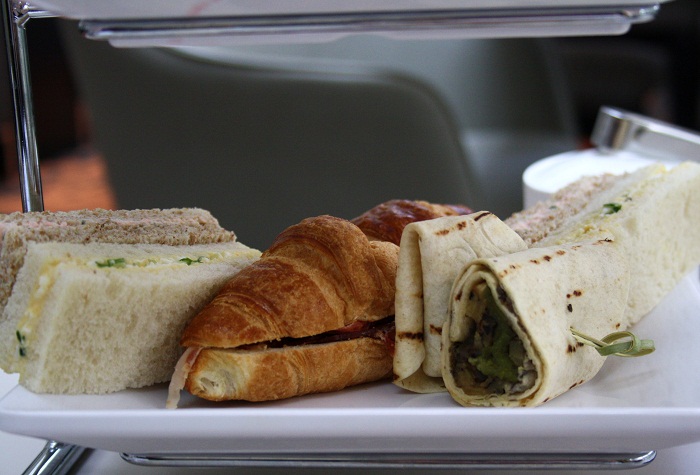 The test of a good afternoon tea is the scones and these plain and raisin scones were freshly-baked, springy and just the right size.  They were served with delicious strawberry jam and clotted cream.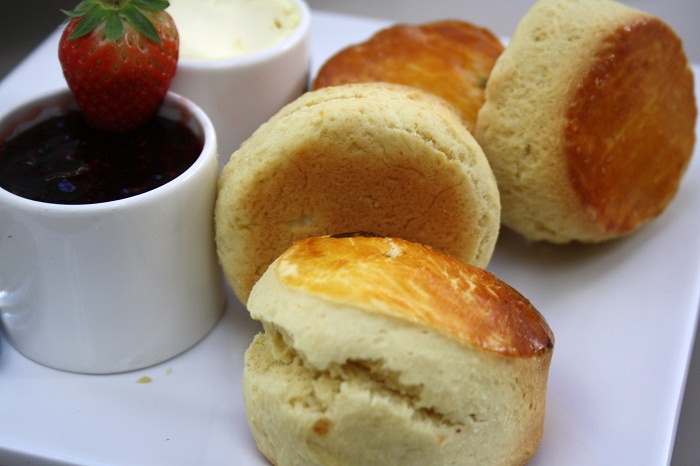 The sweets treats were delightfully colourful and tempting.  I loved the indulgent Vanilla Pannacotta with Calvados jelly served in a little glass jar and the Battenberg Cake was one of the best I've tasted, with a delicate layer of royal icing and not too much marzipan.  The Orange Delice was light as air and the asymmetric blue icing referenced Matisse's blue cut-outs while the Apple Macarons were perfectly bite-size and filled with apple compote.
A Raspberry Tarte included fresh raspberries on top of silky crème patisserie and finished with crumbled macaron and the Lemon Eclair was filled with zesty lemon curd and topped with vibrant pink icing.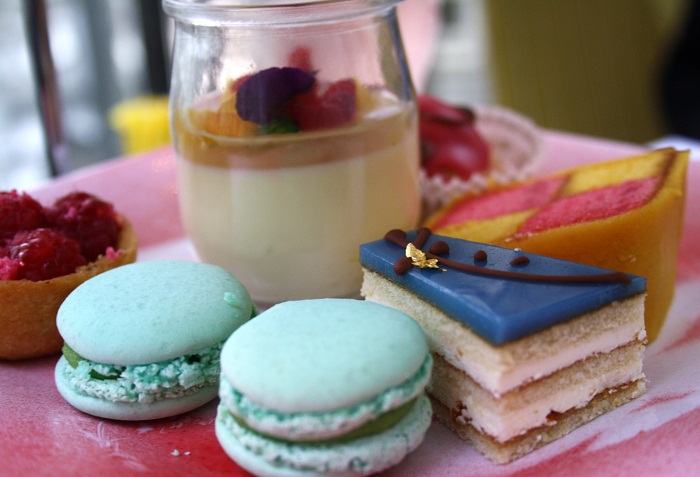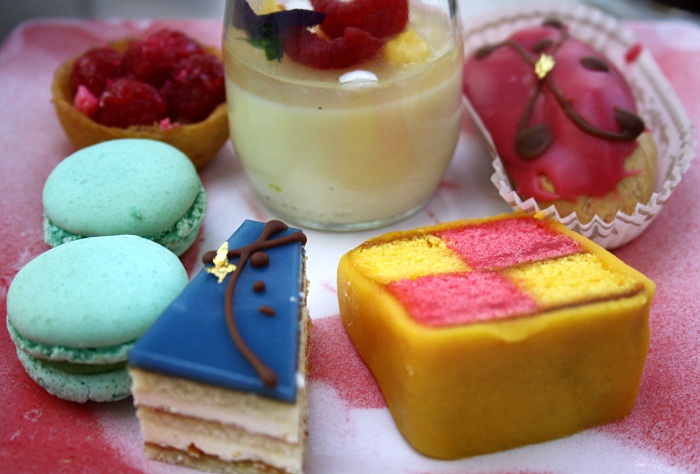 During the afternoon tea, we had the chance to create our own cut-out masterpieces with a box full of art supplies.  While finishing our cocktails, we started snipping away at the coloured card for our own artistic postcards, ending up with two very different takes on Matisse's vision.  The postcards provided offer 20% discount at Terrace Grill & Bar on your next visit, plus it's a fun way to spend an afternoon.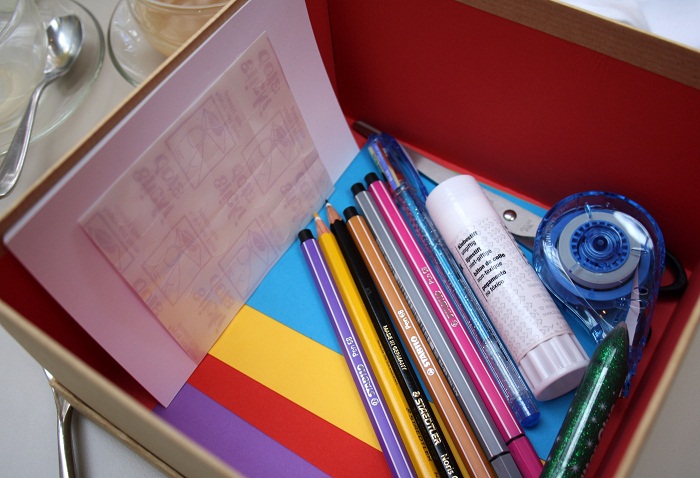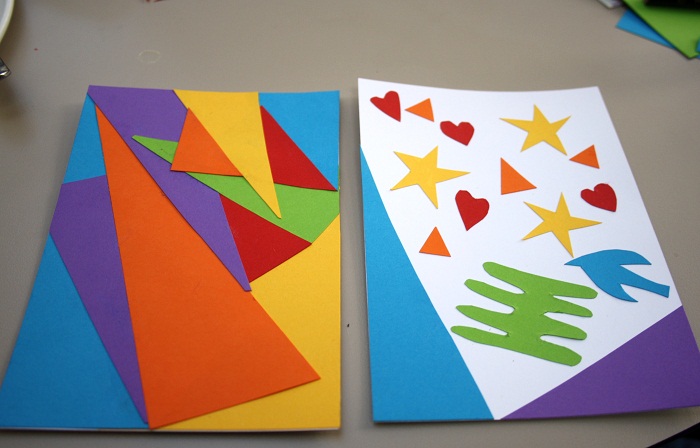 The Matisse Afternoon Tea at Le Méridien Piccadilly is a delightful, decadent treat and the perfect complement to the fabulous new exhibition.  If you can, book both on the same day and enjoy a whole day of being dazzled by colour.
The Matisse Afternoon Tea is priced at £30 and is available in the Terrace Grill & Bar until 31st May 2014.  For more information and booking, visit: www.lemeridienpiccadilly.co.uk
Chérie City was a guest of Le Meridien Piccadilly
Photos by Chérie City and Le Meridien Piccadilly