After our New York wedding, we left the bustle of the city for a relaxing beach break in Montauk.
It may sound alarming to honeymoon in a place nicknamed 'The End', or worse 'The Last Resort', but this tiny hamlet on the southeastern tip of Long Island is a very special place indeed.  Compared to neighbouring chi-chi, perfectly-manicured East Hampton, the fishing village of Montauk is purposely rugged and laid-back.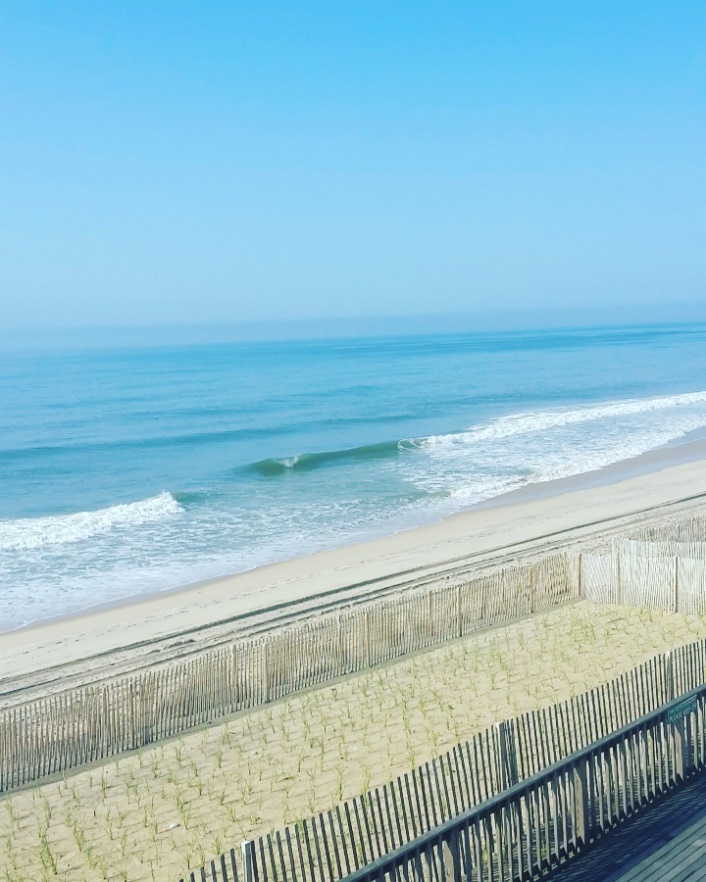 Once a well-kept secret among New Yorkers, Montauk has over the years become the summer hipster destination with cool new bars, eateries and hotels.
In the height of the summer, it's said to become a raucous party zone (much to the well-documented ire of locals), but we visited just at the beginning of the season before Memorial Day when it calm and free from obnoxious revellers – unless they count us over-excited Londoners.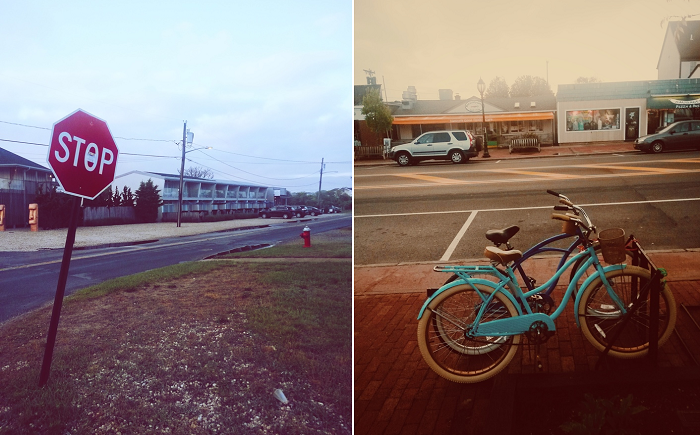 Montauk vacation life mostly revolves around beaching, surfing, eating and chilling, but you can also hike around the Montauk Point State Park, cycle up to the Montauk Lighthouse or shop at the Cynthia Rowley boutique on Main Street.
We arrived in Montauk to a storm that lasted all through our first full day, so some of our 'restaurant with a view' plans were put on hold.  However, the next day was glorious and we managed to hit the beach and spend some time in East Hampton.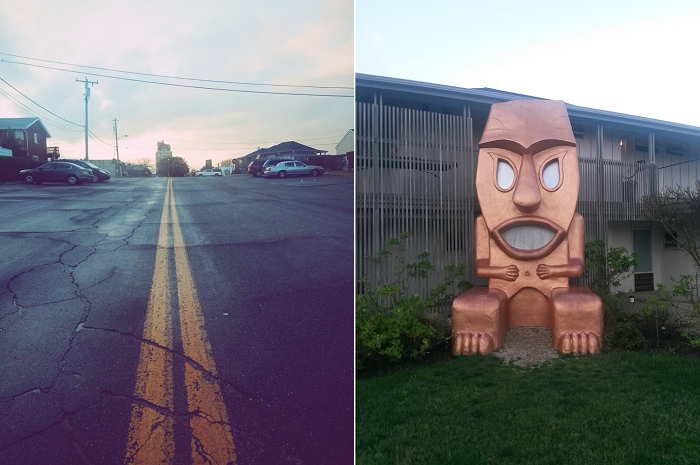 Here are a few of our favourite Montauk finds…
EAT AT…
Sausages, Pizza & Pastabilites
Sausages, Pizza & Pastabilities is the New York Italian joint that you always dream of finding.  It's a Montauk institution with a low-key surf vibe and the food is seriously good – so much that we ended up eating there twice! Best of all, Sausages will even deliver straight to your spot on the beach.
On our first visit on storm day, we ordered an Italian feast to take back to our room – Spaghetti with meatball and tomato sauce, Baked ziti and a side of Sausages in vodka sauce.  Each dish also came with freshly-baked bread and a side salad with a choice of dressing and we washed it all down with some Montauk Beverageworks iced tea and lemonade.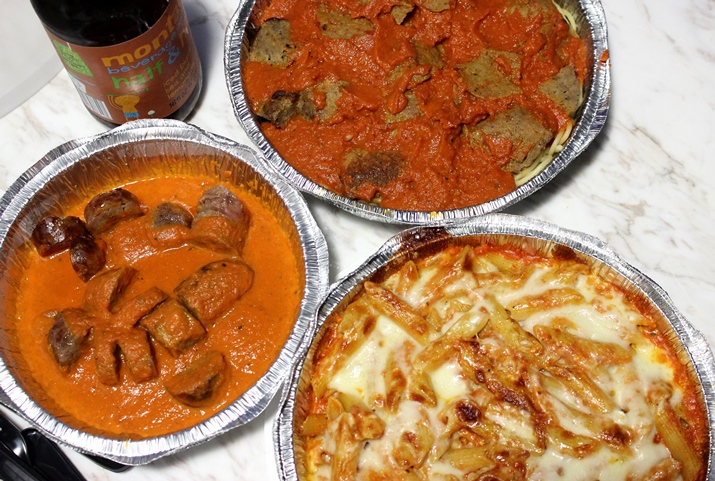 Needless to say we learned our lesson the first time and simply shared a portion of Spaghetti Bolognese, along with an Eppi roll – a twisted calzone stuffed with chicken cutlet, mozzarella and marinara.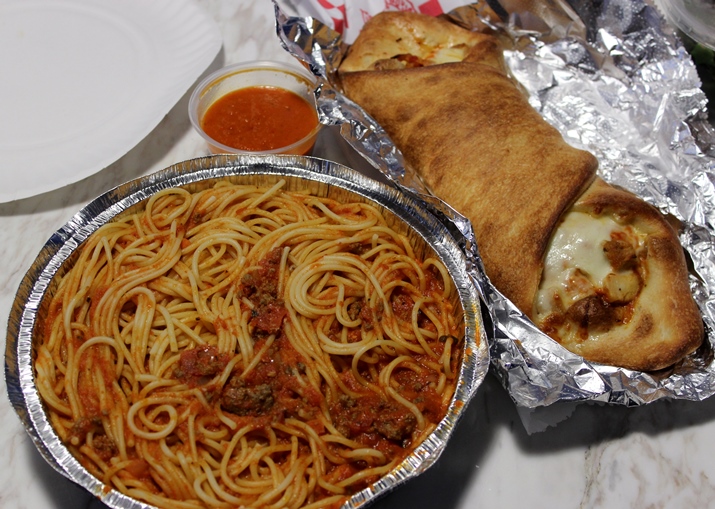 The food at Sausages is like a hug from an Italian momma and it's so yummy (and great value) that you'll want to eat there again and again.  We didn't try the pizzas, as they were so big we'd be munching on them for days, but surfer favourite Pizza Village serves up some epic slices from a take-out hatch on Main Street.
John's Drive-In
If you're in the mood for proper ice cream or an old school burger, John's Drive-In is the place to go.  It's a family-run retro diner on the roadside that's popular with both locals and vacationers.
Go for the chocolate and vanilla swirl soft serve ice cream with rainbow sprinkles – it will make you feel like a kid again!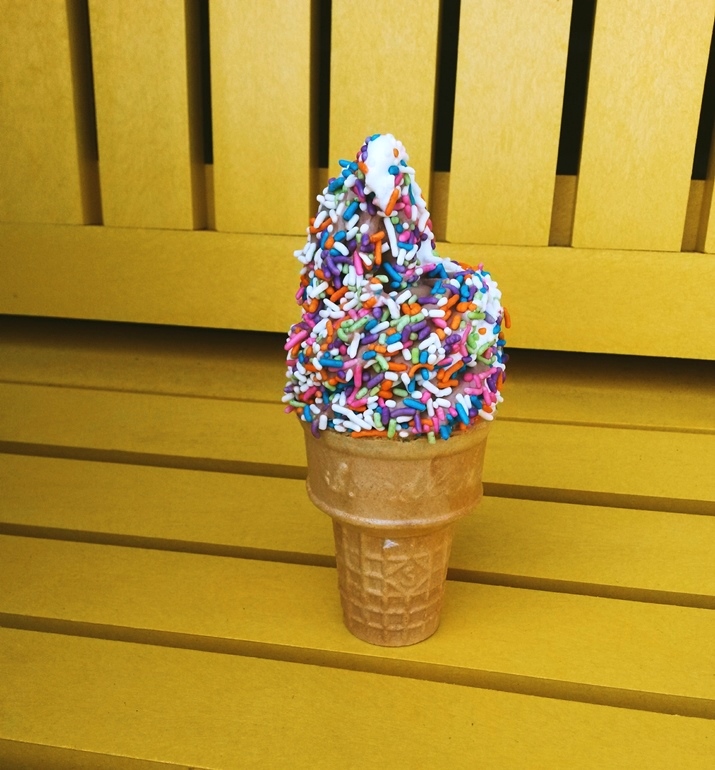 Montauk Bake Shoppe
We were so lucky to have a charming American bakery right on our doorstep for freshly-baked breakfast bites and snacks.
The Montauk Bake Shoppe is known across Eastern Long Island for its famous jelly croissant – a light and fluffy hybrid of a croissant and doughnut that you just have to try.  It also does fantastic home-made chicken and butternut squash soup and enormous banana bran or chocolate chip muffins.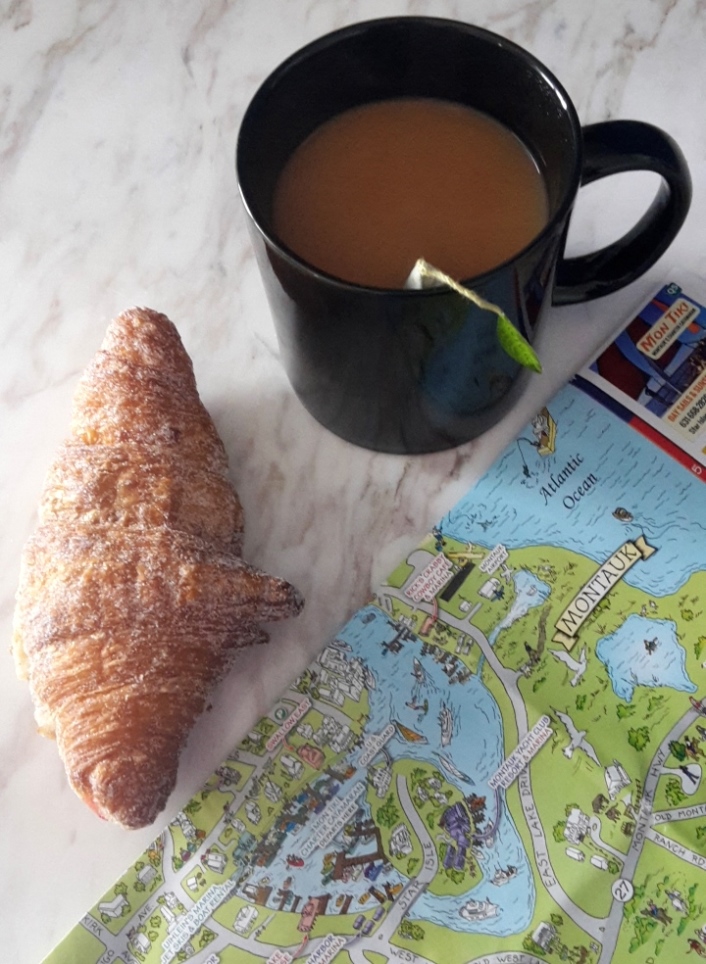 Anthony's Pancake House
Montauk has two pancake houses on Main Street and each has its own loyal following.  Mr. John's Pancake House has a claim to fame, being featured on an episode of Seinfeld, but it can get busy so we had breakfast at Anthony's Pancake House.
We'd planned to try the pancakes, but we were in the mood for eggs and they didn't disappoint.  I had Two eggs with Canadian bacon and toast while Steven went for the more indulgent Corned beef hash with one egg on toast.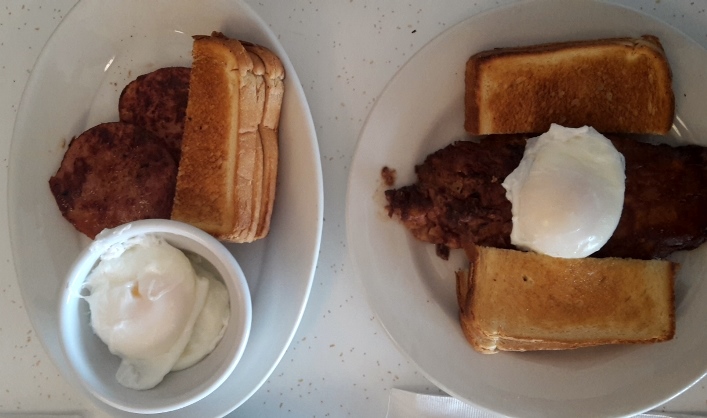 It was a super-tasty American diner breakfast and you could easily visit a few times and work through the menu of pancakes, waffles and French toast.
For more foodie spots in Montauk, check out Harvest on the Pond, South Edison, Navy Beach, La Brisa by Tacombi, Inlet Seafood Restaurant and LUNCH (the colourful diner known for its lobster rolls, as seen on The Affair).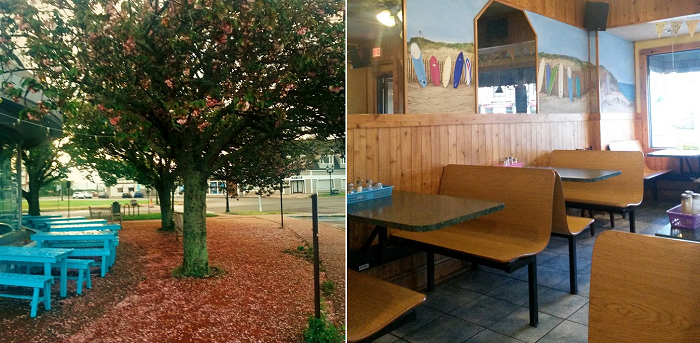 STAY AT…
Montauk Blue Hotel 
Montauk Blue Hotel is a real gem that literally overlooks the Atlantic Ocean and is right in the middle of the Montauk action.  The contemporary beachside retreat is often described as an 'upscale motel' and it has a cool yet unpretentious vibe.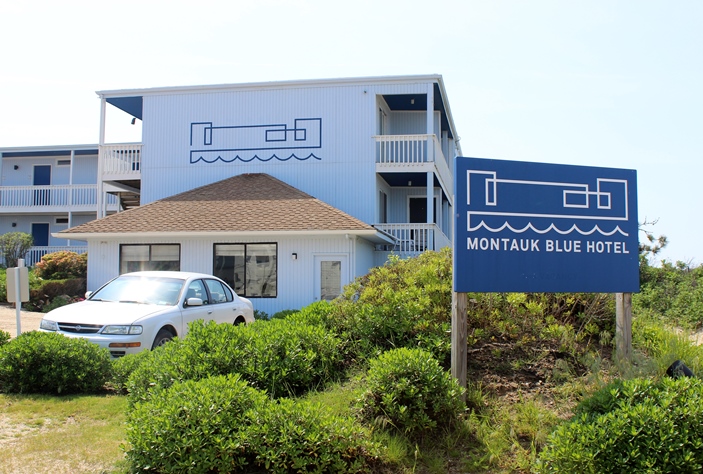 Our Ocean Front Queen Room on the upper deck was bright and spacious, designed in vibrant blues with a striped carpet and wood highlights.  Room features included a fabulous private terrace with a spectacular view of the sea, a comfy sofa, dining table, large cable LCD TV and a mini kitchen with kettle, hob, microwave, cooking utensils and an empty fridge.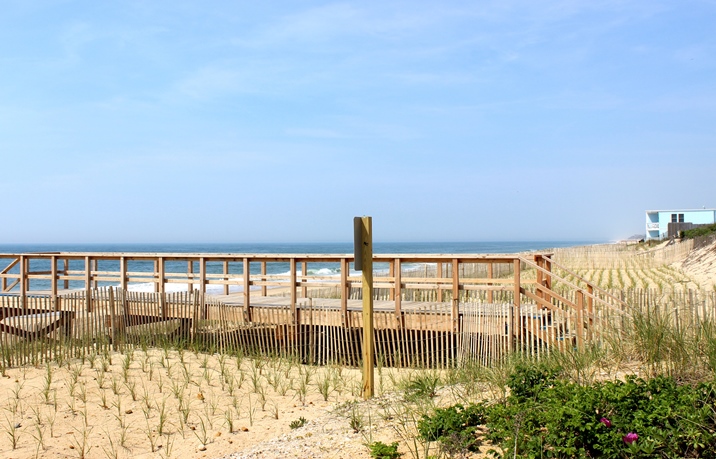 The bed was plush and cosy with adorable tree log bedside tables, and there was plenty of storage space with a double mirrored wardrobe and a large chest of drawers.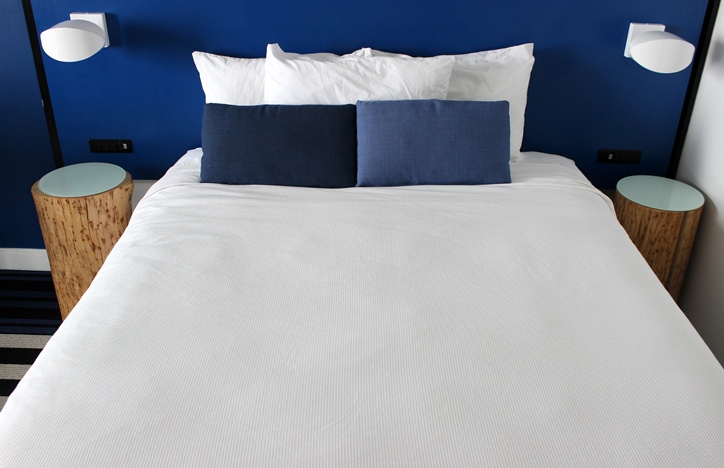 The bathroom was petite but finished to a high standard with a Corian sink, powerful walk-in shower and plenty of thick bath towels.  The room was particularly well set up for long stays in Montauk and the daily housekeeping was meticulous, keeping our room immaculate – free from sand and with fresh towels.
The hotel's amenities revolve around relaxing with sundecks for residents and also an inviting indoor pool and hot tub.  There's no on-site restaurant or cafe, but with so many eateries closeby in Montauk, you don't miss it – plus, the hotel has barbecue grills ready to use and vending machines for soft drinks, snacks and ice creams.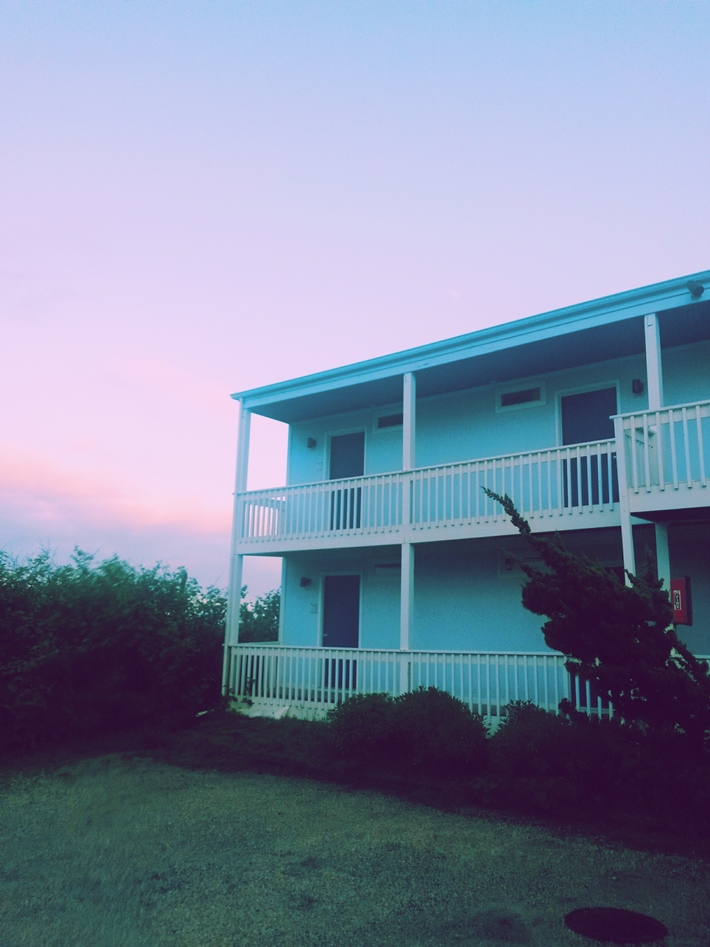 We absolutely loved the Montauk Blue Hotel and would love to stay there again and explore more of Montauk.  For more Montauk hotel inspiration, check out Ruschmeyers, The Montauk Beach House, The Surf Lodge, The Crow's Nest, Sole East and Gurney's.
HOW TO GET THERE
Long Island Rail Road
We took the Long Island Rail Road to Montauk from Penn Station (changing briefly at Jamaica), which takes three hours and costs around $48.25 per person (the fare varies depending on peak or off-peak travel).
The two-tiered air-conditioned train was actually rather comfortable and we enjoyed spotting the most unbelievable Hamptons houses complete with pools and tennis courts along the way.  Just be sure to bring plenty of drinks and snacks, as there's no trolley and while there are toilets, they can be a bit grim.
A few more cons are the extremely limited timetable, apart from the peak season when direct cannonball services are added, and the lack of luggage space – in fact, large suitcases on busy services are actively discouraged.
The Hamptons Jitney
Immortalised on Sex and the City, The Hamptons Jitney is the more stylish way to arrive in The Hamptons, particularly in the exclusive Ambassador Class with half the usual number of seats, complimentary drinks and magazines.  We took a spin on The Jitney to East Hampton when a friendly driver offered us a ride and it really seems to be a premium service.
The only problem with The Jitney is that summer traffic can delay the journey and it may start to feel a little bit cramped after a while.
BLADE Helicopter
The super-rich can take a helicopter from Manhattan to The Hamptons with elite services like BLADE and arrive in just 55 minutes.  Can you imagine?  One can but dream!
Have you been to The Hamptons?  Are you tempted by a New York city and beach break?
All photos by Chérie City