The Japanese ramen trend has truly taken off in London (via New York) and we are now spoilt for choice, with a number of ramen joints popping up across town within just a few months.  One of the most talked-about places for authentic ramen is Shoryu Ramen, a stylish yet casual tonkotsu noodle bar just a few steps away from the Japan Centre on Regent Street.
Earlier in the summer, I visited the Japan Centre for tonkotsu ramen and the manager Nari, who also oversees Shoryu, told me that it was the next big food trend to hit London.  Boy, was he right about the ramen invasion and cleverly the Japan Centre was there to meet demand with Shoryu.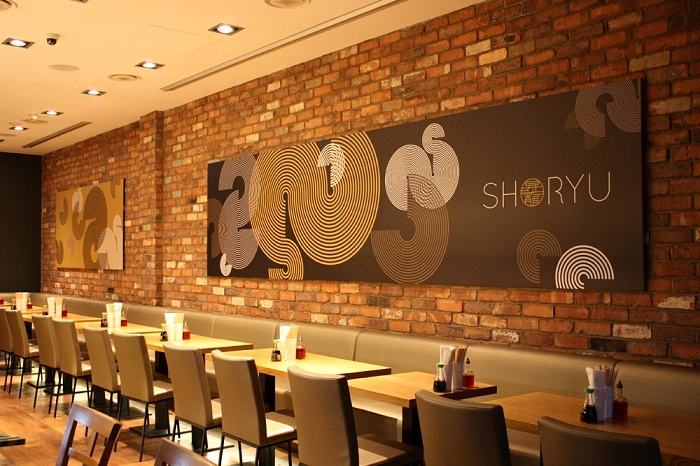 Judging by the frequent queues and high number of Japanese guests, Shoryu has already become a big hit.  Ramen varies between regions in Japan and Shoryu specialises in Hakata ramen, expertly made by Fukuokan-born Head Chef Kanji Furukawa.
The restaurant is petite and has a walk-in only policy so there's a good chance you'll have to queue at peak times.  Whenever a guest walks in, all of the staff shout 'Irasshaimase!' – an honored tradition of welcoming customers.  The design of the restaurant is contemporary, bright and unfussy and tables are squeezed quite closely together.
We began with Edamame with hakata yuzu and British sea salt (£3.50) to snack on.  The steamed edamame pods were infused with fragrant, citrusy yuzu and very fine salt, served cold.  The large beans were plump and full of flavour – edamame perfection!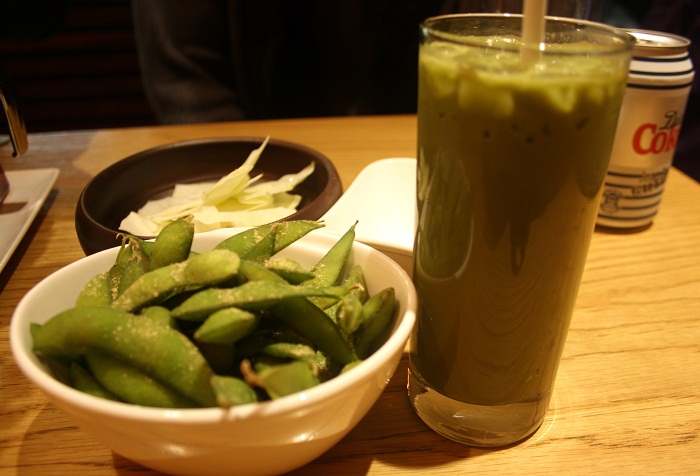 The Matcha Orange Smoothie (£2.90) wasn't quite what I was expecting.  On a positive note, it was filled with lots of detoxing matcha powder, but it was unfortunately very bitter, possibly made with concentrated orange juice instead of freshly squeezed and had the thin texture of a juice – not really a smoothie at all.  Steven fared better with a simple Diet Coke (£1.50), although notably they also serve Chegworth Valley Apple Juice, Gekkeikan sake and Asahi beer.
We're both gyoza fiends and could easily wolf down dozens of those little parcels, but spotting the size of the ramen bowls leaving the kitchen, we shared just one portion of Gyoza Dumplings (£5 for 6).  They were quite possibly the best gyoza I've ever had – thin steamed skins lightly fried on each side and filled generously with beautifully-seasoned pan fried pork, vegetables and herbs.
The six gyoza dumplings were served piping hot and came with a delicious soy vinegar dipping sauce.  Gyoza dumplings must be one of Shoryu's most popular starters, as almost every table ordered a plate of them, and rightly so.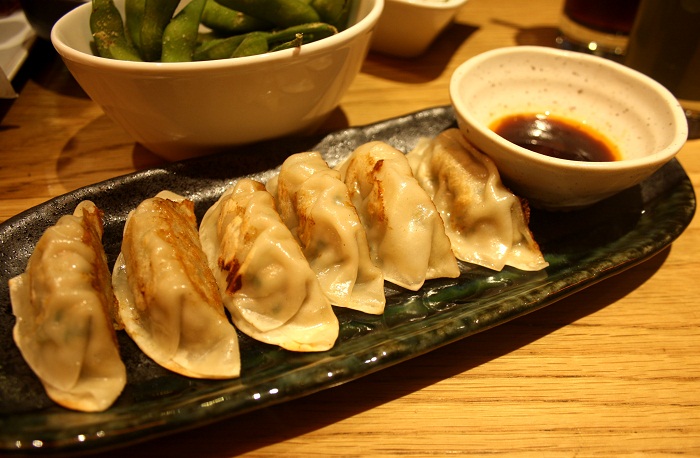 I love miso-based soups, so I chose the Shoryu Tonkotsu (£8.50) – tonkotsu pork broth with miso, bbq pork, nitamago, kikurage, red ginger, nori, bean sprouts, spring onion, sesame.  The bowl was enormous and filled with meticulously placed fresh ingredients ready to be mixed into the mild, creamy and not overly oily tonkotsu broth.
The bbq pork is already cooked and sliced, so it lacks somewhat in tenderness, but it's hearty, lean and goes well with the ramen.  My dish had around four medium slices, so there is a reasonable amount without the pork being the main feature.  The plentiful hosamem noodles at the bottom of the dish are thin,  springy and hold their own in the broth (thankfully not over-cooked).  The nitamago egg, boiled and marinated in a soy sauce mixture, was an authentic addition and added richness to the ramen.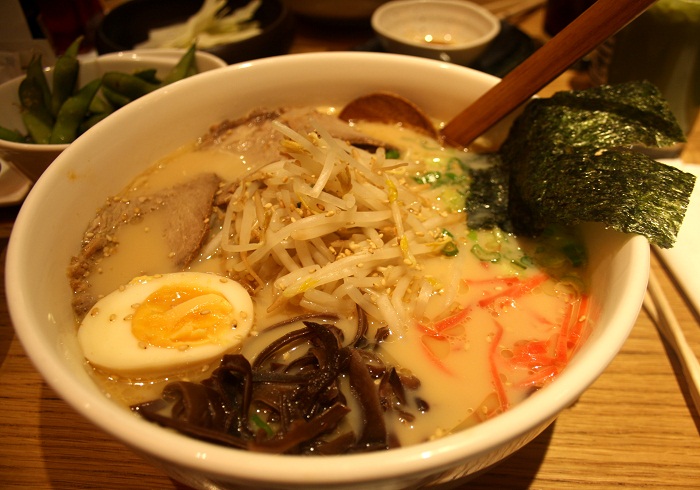 Steven was slightly braver and went for the Piri Piri Tonkotsu (£9.90) spicy tonkotsu pork broth with miso, bbq pork, nitamago, kikurage, red ginger, nori, bean sprouts, spring onion, sesame.  This fiery bowl of ramen had a serious kick to it, with spicy seasoning in the broth and slices of super hot piri piri chili.  This is definitely one to order to blast away winter colds!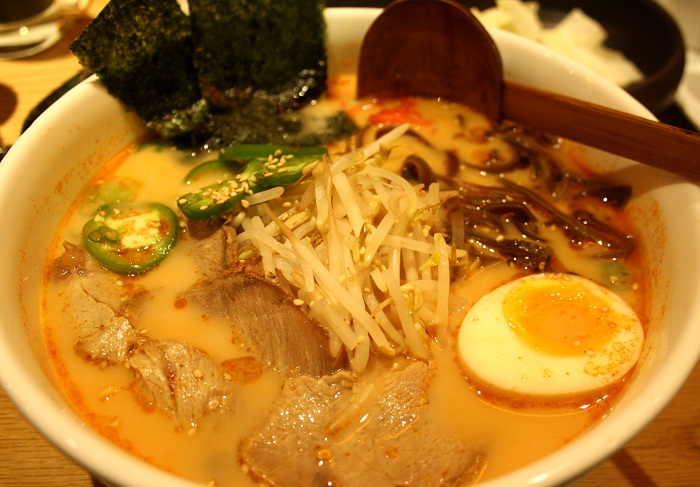 The ramen was so filling and warming, but there's always room for dessert, especially if they are bright green!  We were told that the desserts are made by a very good local Japanese bakery and all contain matcha.  I went for the Matcha Sponge Cake (£4.50), which included layers of deliciously vanilla cream, a centre of sweet plum jam and a generous dusting of matcha powder.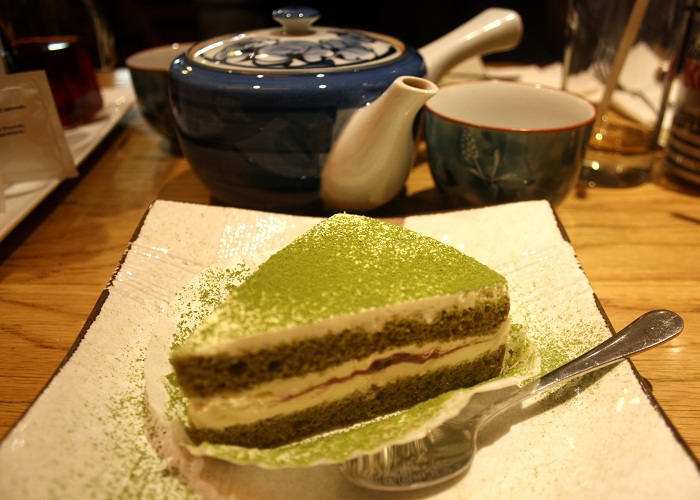 Steven's Matcha Cheese Cake (£4.50) had an intense matcha flavour and the biscuit base was crumbly and heavenly.  To finish the meal, we were advised to try Hoji Cha (£2) – a roasted green tea that is almost caffeine-free.  It had a subtle, nutty flavour and was very easy to drink.  The manager told us that they use the finest quality Hoji Cha and import it straight from Japan.  I later found this particular type of Hoji Cha in the Japan Centre and it really is the very best you can find.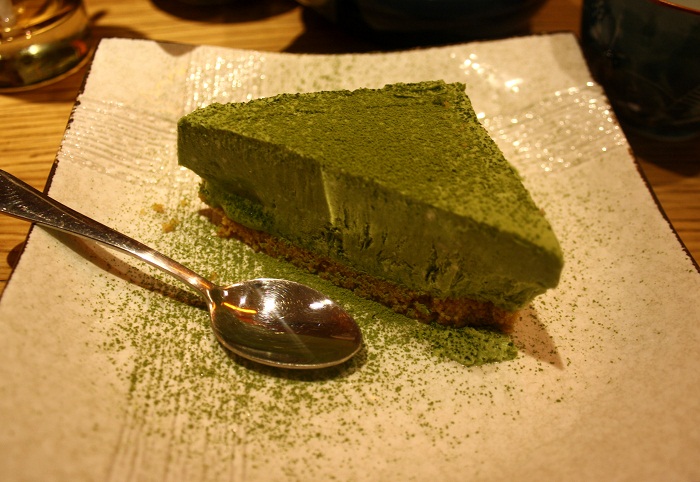 Shoryu is the perfect place for hearty, authentic Hakata ramen and is very reasonably priced, considering the generous portion sizes and high quality of the food.  They tempted us with some dishes that were 'coming soon' on the menu, including my favourite Chicken Kara Age, so I will definitely be back as their menu expands.
Best of all, if you feel inspired to recreate the dishes at home, Japan Centre is just across the road.  We were sold on the health benefits of Hoji Cha and matcha, so we picked some up on the way home, as well as some adorable little chocolate mochi and a matcha brownie for the next day.  A delicious dinner with a bit of shopping afterwards – what could be better!
Chérie City was a guest of Shoryu
Photos by Chérie City and Shoryu