Yauatcha City is the hottest restaurant to open in the City this summer and is without a doubt the jewel in the crown of new Broadgate Circle dining destination.
Living east, I'm thrilled to have the likes of Yauatcha City, José Pizzaro, Aubaine and Shoryu Ramen almost on my doorstep, without having to venture into central London.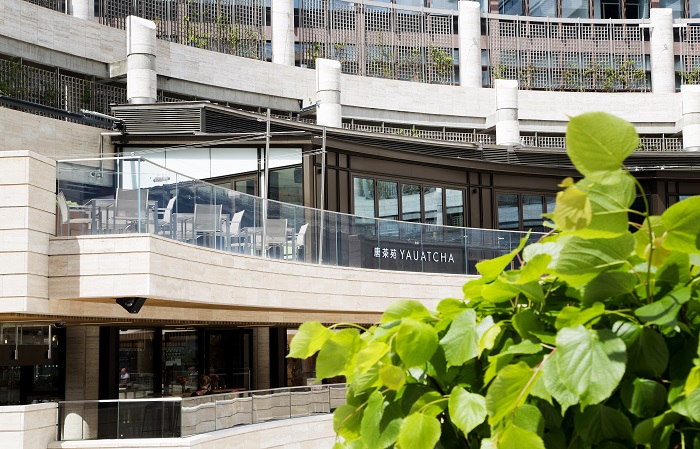 While it's likely to be suitsville during the week, Yauatcha City is all about leisurely indulgence on the weekend, hence the launch of its exquisite new Supreme Saturdays menu.
It's a real feast – and a boozy one at that – highlighting Yauatcha's most luxurious dishes.  Not only is it insanely good value (not exactly cheap, but what I would call a 'clever splurge'), it's an ideal introduction to Yauatcha with a number of different tastings.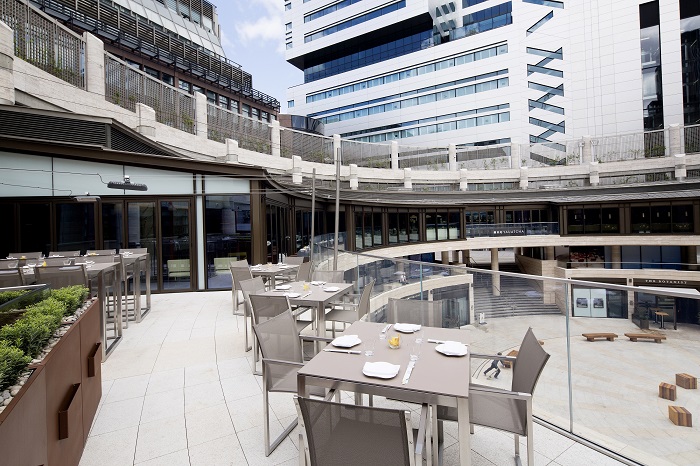 We were seated at a cosy table in the centre section of Yauatcha City's striking crescent-shaped dining room and warmly welcomed by the immaculately-presented staff.
The meal starts with a pre-lunch cocktail of a Thea martini, Lychee martini or a Negroni, followed by half a bottle of wine.  I wasn't quite ready to drink on an empty stomach at noon (I know, letting the side down), so instead we sipped on delicious Strawberry and vanilla iced jasmine tea packed with fresh fruit and vanilla seeds.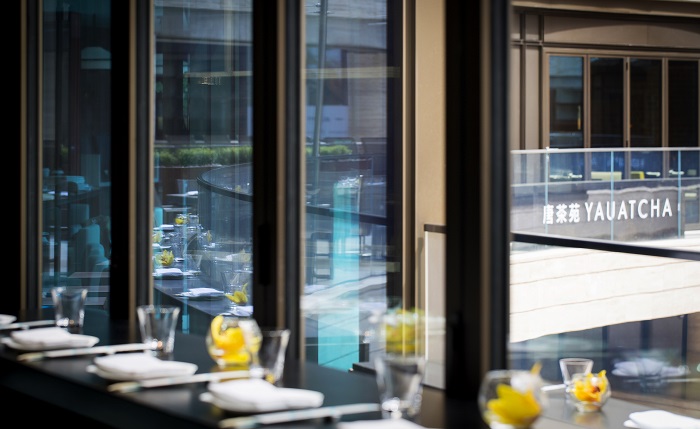 Our waitress humorously warned us that we were in for a lot of food and she wasn't wrong, as the Steamed dim sum platter was presented with six piece each.  We were literally in dim sum heaven!
The traditional Pork and prawn shui mai and Har gau were my favourites, however I also appreciated the comforting, autumnal flavours of the Crystal dumpling wrap with pumpkin and pine nut.
Black pepper and wagyu beef dumpling was a parcel of pure decadence, balanced out with a simple and tasty Wild mushroom dumpling.  I wasn't crazy about the Vegetable and truffle wrap as I found the winter melon casing and glossy sauce made it a little too juicy.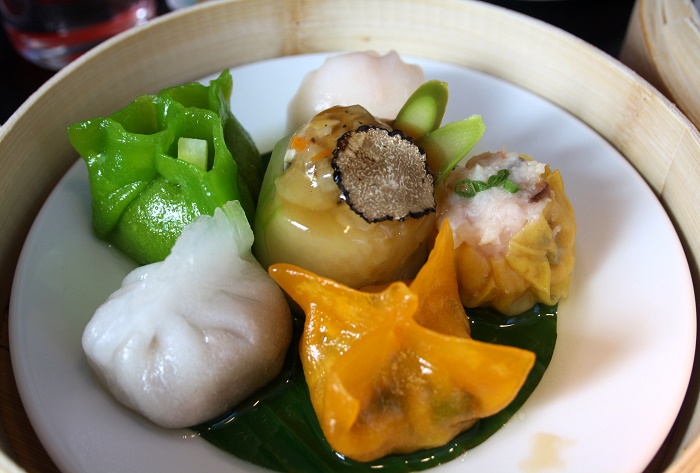 Of course there was still room for more light bites – this time a Fried dim sum platter each.  Venison puff, a Yauatcha speciality, featured buttery, glazed pastry filled with tender venison in a sweet, rich gravy.  I found the Lobster roll pleasant with small chunks of fresh lobster and scallop in an interesting sauce that was both creamy and tangy, while Mushroom spring roll was a vegetarian-friendly classic done well.
I particularly enjoyed the Sesame prawn toast, which was a big juicy prawn ball covered in sesame seeds with just a slim piece of toast – I'll definitely be ordering a plateful of them next time.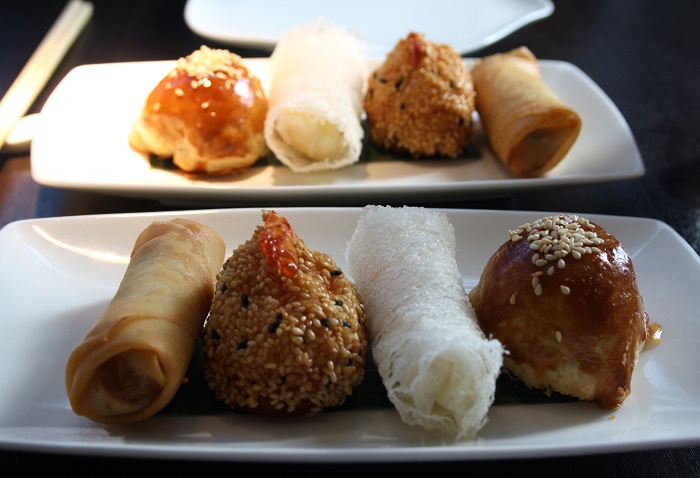 For the main course, there is a choice of three dishes – so, the only one that we didn't try was the Foie gras diced beef, which appears to be garnished with an oversized pastry puff.
Lobster vermicelli pot was a luxury take on the typical Chinese hot pot, cooked slowly and served fresh out of the oven.  There were copious amounts of succulent, high quality lobster that had to be extracted from their shells.  I knew the day would finally come when I'd be presented with a lobster cracker and attempt to hide my inexperience, hoping to avoid a re-enactment of the restaurant scene in Pretty Woman.
Once I had my lobster under control, I tucked into the thin, glass-like vermicelli noodle, which had a dry, springy texture and absorbed the seafood flavours, punctuated with a slight hint of curry spice.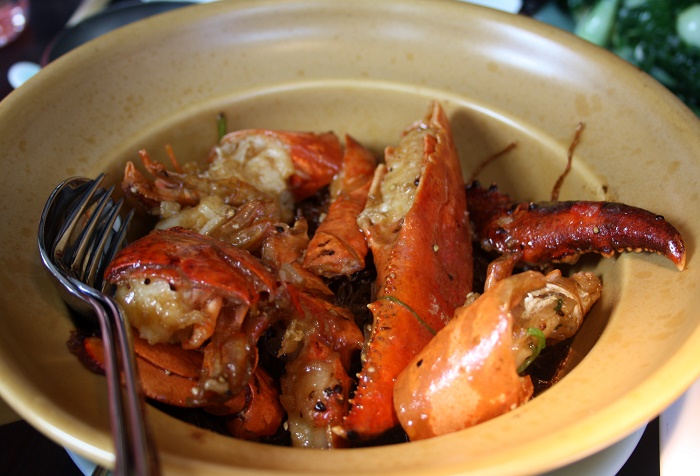 A much easier dish to navigate was the Truffle pork belly rib.  The gloriously sticky, lacquered pork ribs were ever so tender and the meat elegantly slipped away from the bone.  There was a good mix of flaky lean meat and melt-in-the-mouth fat and the glaze was sweet enough without being cloying.
They were topped with uniformly lined-up enoki mushrooms and truffle crumbs and I regret being too distracted by the pork to sample those lovely little asparagus spears.
The accompaniments of Jasmine steamed rice and steamed Chinese vegetables worked well with both dishes, although we were too full by this point to finish them.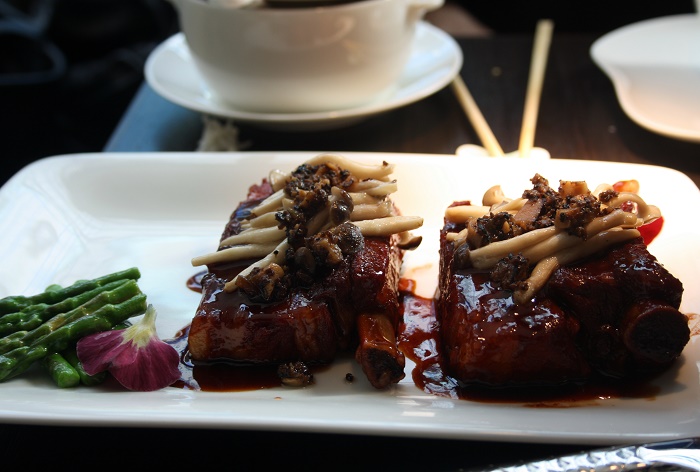 Yauatcha is famed for its exquisite French-Asian patisserie and it's impossible to walk past without admiring them sitting majestically in the glass cabinet.  The best thing about this menu is that you can choose any of the desserts (no fooling around with exotic fruit plates) and take a much-needed stroll over to the counter to see which catches your eye.
Is it wrong that I tried to choose the most Instagrammable cake?  They all look like works of art, but the Raspberry delice tempted me with the promise of raspberry, Madirofolo chocolate and lychee – all of my favourite dessert flavours.
I was later told that this dessert won an award for 'best tea cake', so it was definitely a good choice. Velvety bitter-sweet chocolate mousse sat atop a layer of light chocolate sponge and was covered with a fine layer of highly-pigmented raspberry dust.  The final flourish was the secret filling of rose-scented lychee gelée at the centre – desserts don't come much better than this.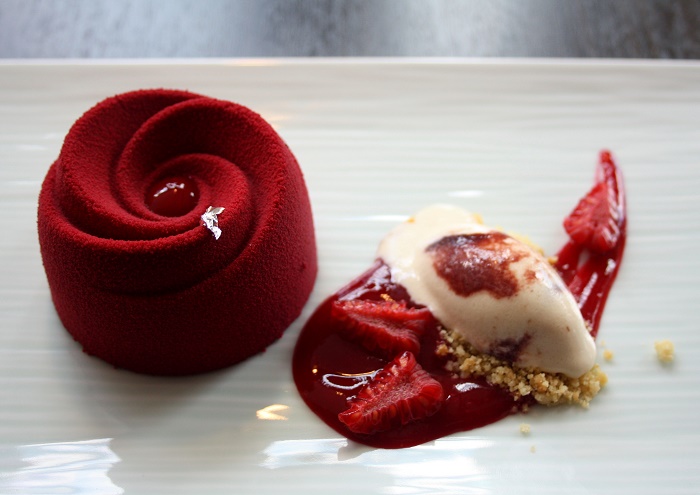 Steven went for another showstopper – the elaborately-designed Malted milk.  This included layers of smooth milk chocolate mousse flavoured with malt and caramelised honey, slim chocolate discs and a crunchy, nutty Anzac biscuit base.
With full stomachs, we savoured these sweet gems with a pot of jasmine tea, however if you're not already on the floor, you can wash them down with the included digestif – a Manhattan, Amaretto Sour or an Espresso martini.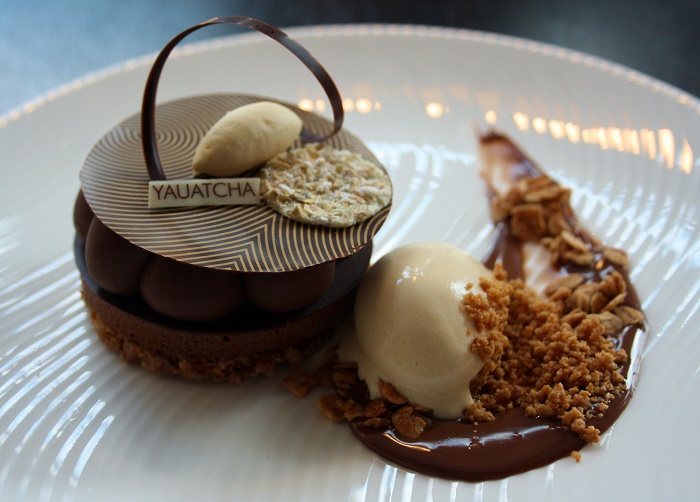 Yauatcha City was everything I hoped it would be and this fabulous Saturday offering is sure to draw in the crowds.  It was such an overwhelming foodie experience that we walked all the way home in the sunshine – a weekend well spent!
Supreme Saturdays lunch menu is available every Saturday from 12pm to 5pm and is priced at £49 per person for a minimum of two guests.  For more information and booking, visit: www.yauatcha.com
Chérie City was a guest of Yauatcha City
Photos by Chérie City (interiors by Yauatcha City)