Every time I come back from a summer trip, I survey the unused items in my suitcase and swear to streamline my packing for the next one.
Today I have the tedious task of unpacking, having just returned from a wonderful long weekend in Provence late last night and my packing skills have improved, but there were still a few things that didn't make it outside my hotel room.
With this in mind, here are a few simple travel essentials that are always in my suitcase for a summer trip…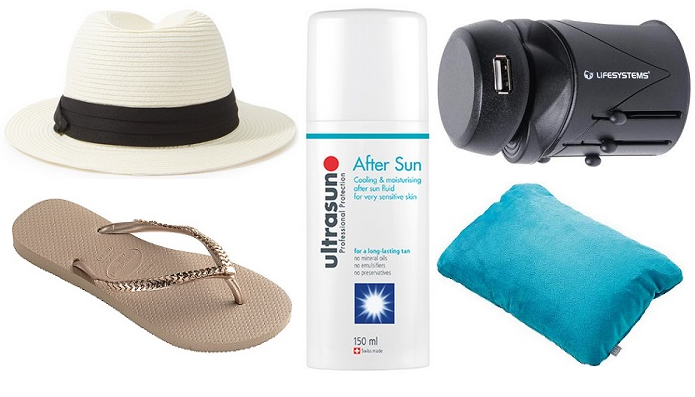 Hat – It might be the item that your Dad always reminds you to pack (I used to roll my eyes at this), but a hat can really help prevent sunstroke and protect your hair from sun damage and colour fading.
Posh Flip Flops – Towards the end of a summer trip, my heels cry out for no more sandals and flip flops are the only thing I can bear to put on my feet.  So, cheat with some smart flip flops that you can dress up or down and you'll not have to take them off.
After-Sun – On my recent trip I was confident that I'd be safe in the sun with my trusty Ultrasun suncream, but in the morning rush I forgot to apply it to the back of my neck and ended up with a patch of light sunburn.  Even if tanning isn't a priority on your warm city break, don't forget the after-sun to cool down your skin.
Travel Adaptor – My world travel adaptor is my number one travel essential.  It's small and doesn't take up much room, but with such a reliance on technology, most of us would be lost without one.
Travel Pillow – Snoozing on a plane or train can be so uncomfortable and leave you feeling crumpled on arrival, but a travel pillow makes sleeping en route much more pleasant.
Don't even bother with…
High heels – Unless your activities consist of lazing by the pool all day, you won't have the desire to wedge your feet into sky-high heels in the sizzling heat.  Just leave them at home.
Jacket – You think it might get cold in the evenings, but it never does.  Pack a cardigan and pashmina for travelling, but that's probably the only time you'll need layers in the summer.
All of the magazines – I tend to pack lots of magazines for a bit of travel entertainment, but most of them end up unread and come back home with me.  Digital magazines on a tablet or iPad are a much more sensible choice.
For my trip to Provence, I was travelling on the Eurostar, so I gave little thought to the weight and size of my suitcase, but taking a flight is a whole different ballgame.
Luckily, the clever folk at Expedia have created a handy travel tool that lists the hand luggage and cabin baggage allowance for all major airlines flying out of the UK.  You can view the restrictions on size, weight and capacity for flight with British Airways, Emirates, EasyJet, Wizz Air and many more.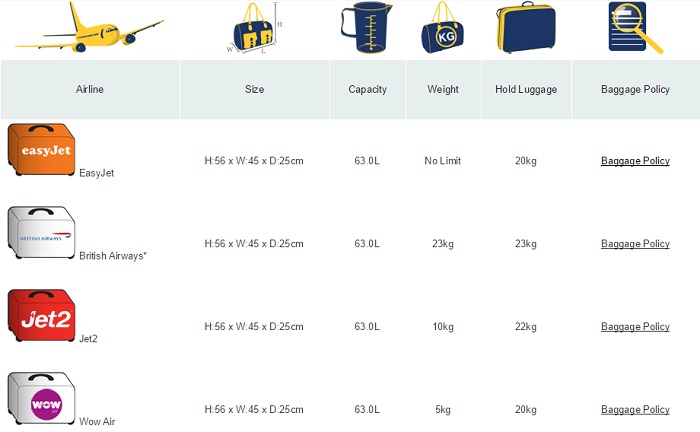 There's even a clickable link to the airline's official baggage policy, so you don't need to spend time searching the airline website to get more information.  The tool is regularly updated, providing the latest information so you won't get caught out at the airport.
It's also useful before travelling, as you can see which airline offers the best value for your flight, depending on whether you just need hand luggage for a short city break, or whether a generous baggage allowance is a priority for a longer trip.
I'll definitely be using the Expedia travel tool for my next trip – it's one less thing to stress about before taking a flight.
Do you worry about baggage allowances when packing?  Which items always come back unused in your suitcase?
Sponsored post