When I first moved to London, one of my favourite days out was a spot of vintage shopping on Portobello Road (I found one of my favourite designer cashmere cardigans there for a tenner) and a rummage for new music in Rough Trade, followed by cupcakes at Hummingbird Bakery, back in the day when there were always queues outside.
Visiting the hip new townhouse West Thirty Six for lunch made me a bit nostalgic for my past Notting Hill jaunts, when I was a care-free journalism student with little more to do than explore my new city.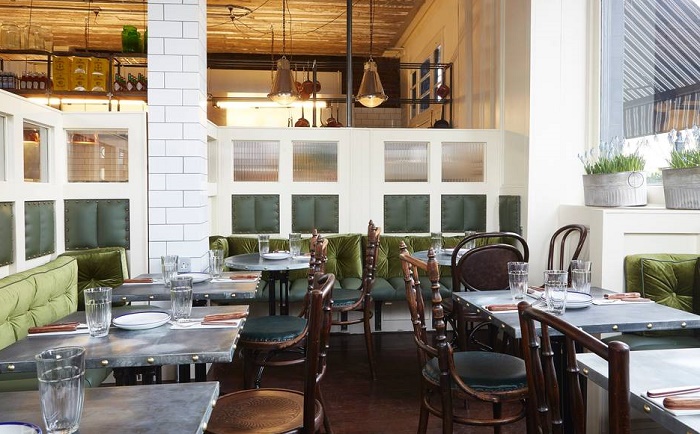 My summer resolution is to make it over to the west more often to watch the world go by at the pavement cafes and marvel at the pastel-coloured houses.
Located just over the bridge on Golborne Road, West Thirty Six is a seriously cool converted townhouse from the team behind Beach Blanket Babylon.  It has the cosy feel of a private members' club with a enviable mix of contemporary and retro design and maze-like rooms with different ambiances.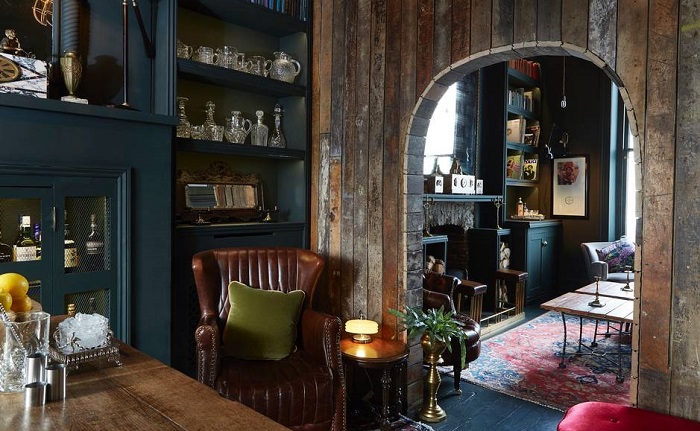 We walked through the expansive downstairs brasserie and ate in the more intimate first floor dining room, which also features a separate bar and stunning terrace.  Our corner table was in a prime spot with plush sofas, bookcases and sleek artwork – it almost felt like our own private living room.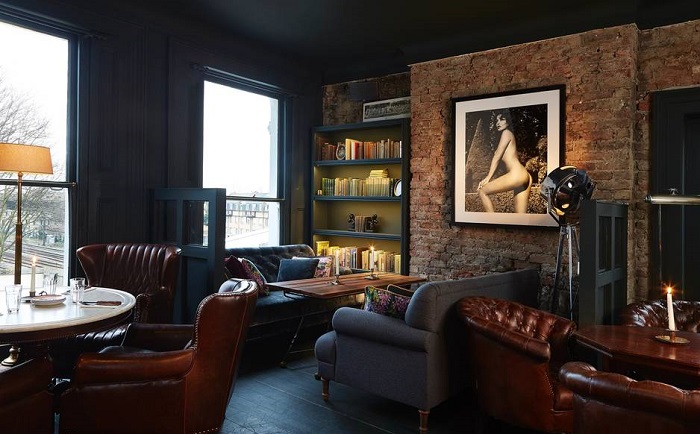 The second floor is exclusively for private parties and bottle service and there's also the 'secret' basement yard The Tool Shed with its own fire pit and a cute gardening theme.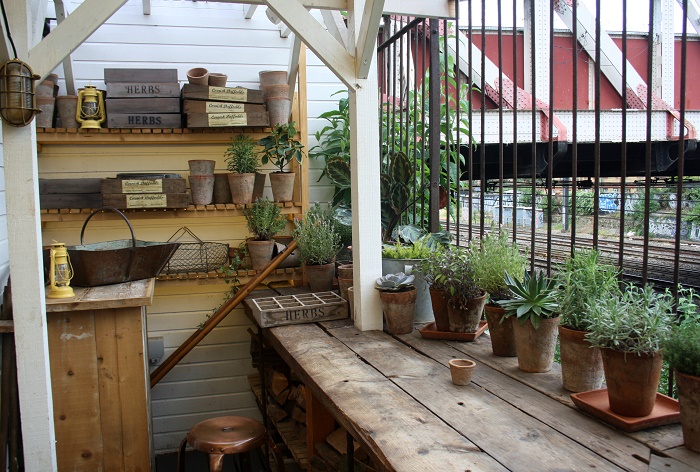 At the helm of West Thirty Six is Chef Jon Pollard (formerly of Soho House and Caprice Holdings), whose menu features grill house and brasserie classics with a twist.  There's a big meat focus with British farm-sourced produce, but still plenty of dishes to pique the interest of vegetarians.
Since it was a hot day and only lunchtime, we skipped starters and went straight to the mains – given the portion size, this turned out to be a wise choice.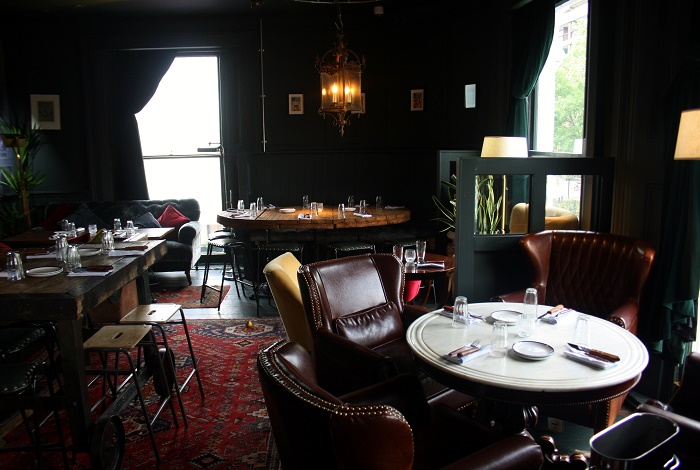 I was tempted by the Half Rotisserie Chicken (£12) and it really looked the part when it arrived nicely dressed on a wooden board.  But this was no ordinary rotisserie chicken, it was a spit roasted rare breed Norfolk grey chicken seasoned with rosemary and thyme.
The generously-sized roast chicken was tender, succulent and with the most delicious, properly crispy skin, grilled half lemon, roasted garlic cloves and sprigs of thyme.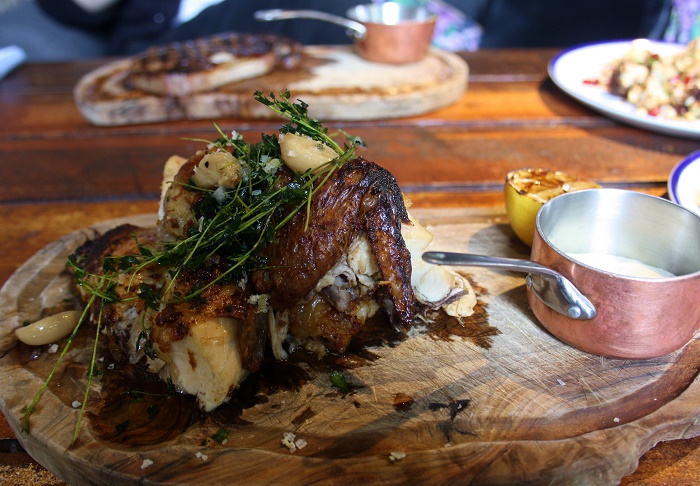 Steven went for the Sirloin 39 day house aged Hereford beef, 350g, (£25).  The nicely charred, juicy steak was cooked perfectly medium and had a lovely smoky flavour from the grill.  It was lightly seasoned, simply to enhance the natural meat flavours, but was accompanied with a pot of delicious, herby Béarnaise sauce.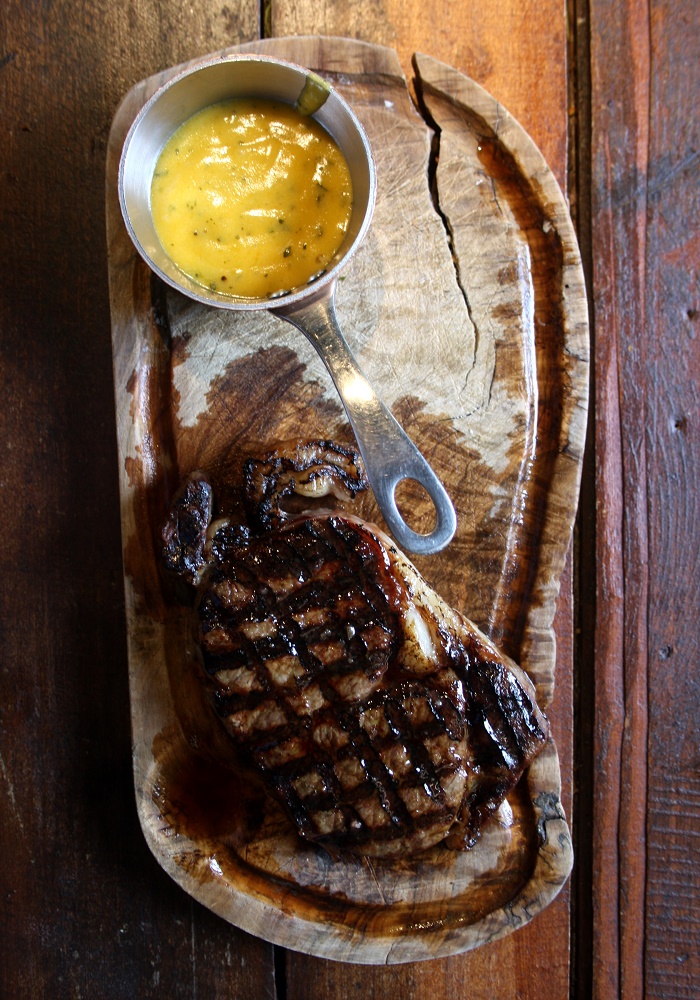 For a lighter alternative to fries, we ordered two of the tempting vegetable dishes to share.  Roasted cauliflower with pomegranate, hazelnut (£8.50) was a nice combination of ingredients, but I found the dish unexpectedly overly sweet, as though it was coated in a sugary glaze.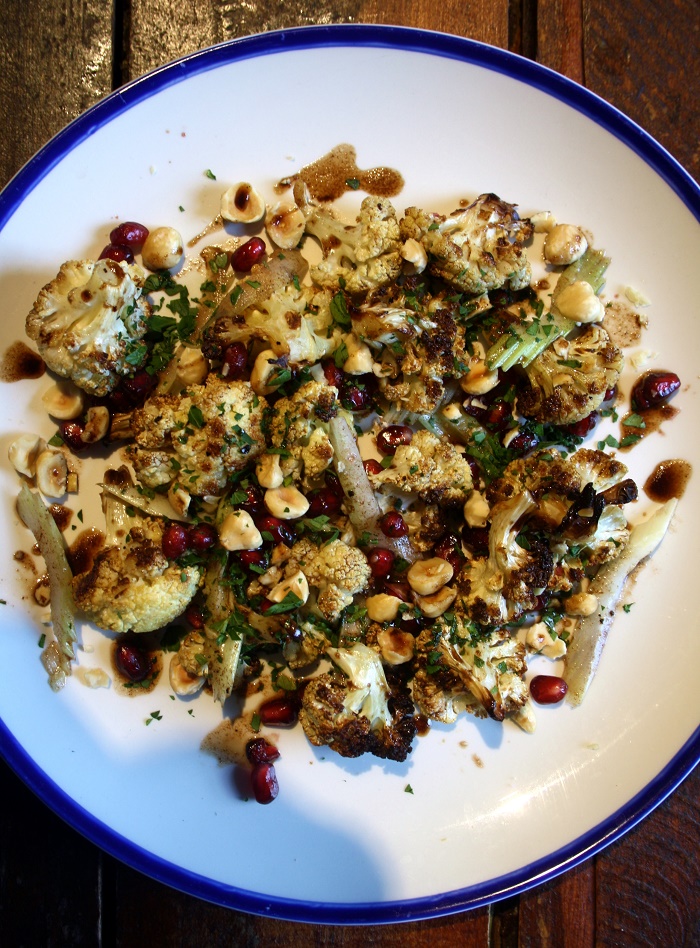 More successful were Artichokes with broad beans, hazelnuts and saffron (£9) – a dish that you can imagine gracing an Ottolenghi counter.  The tangy marinated artichokes had a summery lemon, saffron and fresh mint flavour and the large broad beans, hazelnuts and pickled pink onions were the ideal additions.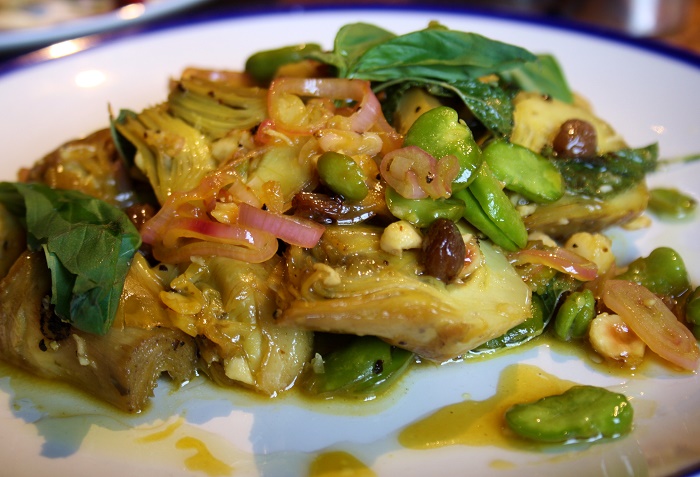 For dessert, the Apple Cinnamon Pie with custard (£9) came highly recommended and happily it was already my number one choice.  Our waitress presented us with a rustic, freshly-baked whole apple pie and cut the most enormous portion with a little jug of custard.
It was one of the best apple pies I've ever had with juicy, sweet green apples, plenty of cinnamon and a golden, buttery crust.  It was perfectly complemented by the smooth, vanilla-scented custard – puddings don't come much better than this.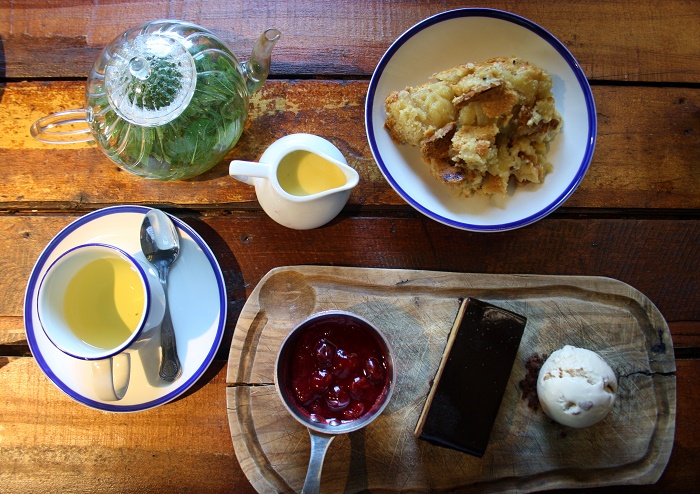 Steven tried the Chocolate Bar with peanut crunch (£9), which was a more sophisticated dessert but equally delicious.  The dense chocolate sponge base (almost like a brownie) was topped with a layer or smooth salted caramel mousse, milk chocolate mousse and glossy dark chocolate ganache.
As if that wasn't indulgent enough, it came with gorgeous salted caramel ice cream and a copper pot of warm cherry compote.  Desserts at West Thirty Six really are worth shouting about, so you must leave room to try a few, washed down with a pot of fresh mint tea.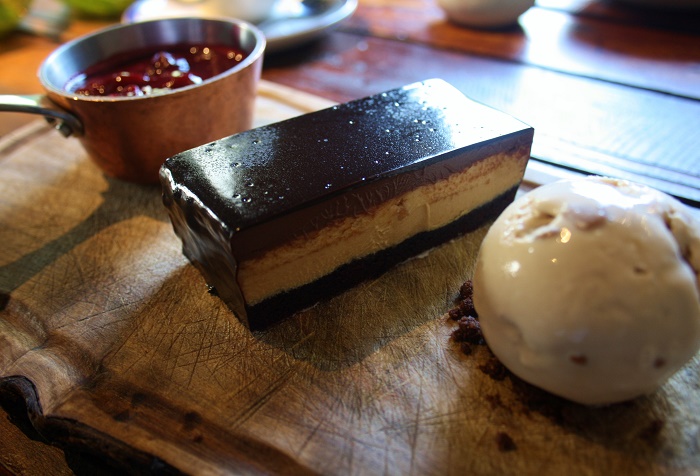 West Thirty Six is a fantastic spot for a laid-back, cosy lunch with friendly staff, excellent food and attractive surroundings.  I imagine it to be buzzing with a fun west London crowd in the evenings and will definitely be visiting again soon to try the Sunday Roast, cocktails and the magnificent Build your own Sundae.
For more information and booking, visit: www.w36.co.uk
Chérie City was a guest of West Thirty Six
Photos by Chérie City (some interiors by West Thirty Six)