I fell in love with Glasgow when I lived there as a student for four years, so when I was asked by People Make Glasgow to revisit to explore the Scottish city's thriving foodie scene, it was a no-brainer.
I already had more than a few favourite food spots (and far too many bars), but a lot has changed in the eight years that I've been away and I was excited for a whirlwind weekend of new discoveries.
After a very civilised and stress-free British Airways flight from City Airport, we swiftly checked in to our shiny, high-tech rooms at citizenM Glasgow.  The plush king-size corner bed, iPad-controlled mood lighting and pod-style rainfall shower made for a fun, comfortable stay.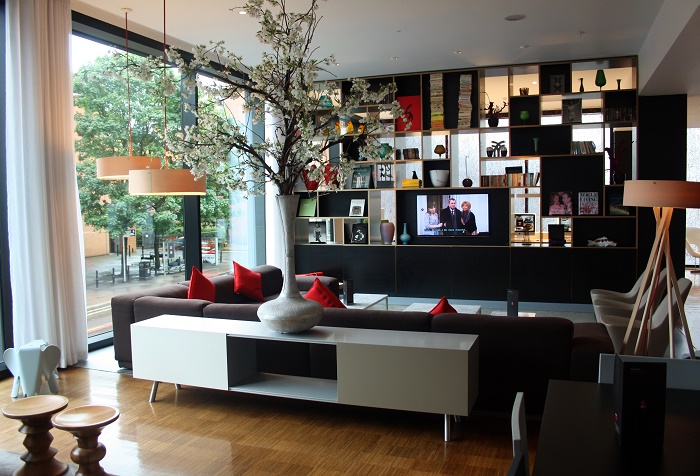 Then, it was straight back out for a late supper and drinks at Hutchesons with my Glasgow pal, Katie Chutzpah.  This stylish Merchant City restaurant and bar is housed in the striking 19th century Hutcheson Hospital and boasts some opulent interiors.
We nestled in a corner booth in the cosy ground-floor bar and grazed on the most amazing Scottish prawns on ice, dressed crab and skinny fries.  Our libations of choice were a Parma Violet, Twinkle and Bollinger Champagne, however there is also a collection of £5 signature cocktails – as if we needed any more reason to love a night out in Glasgow.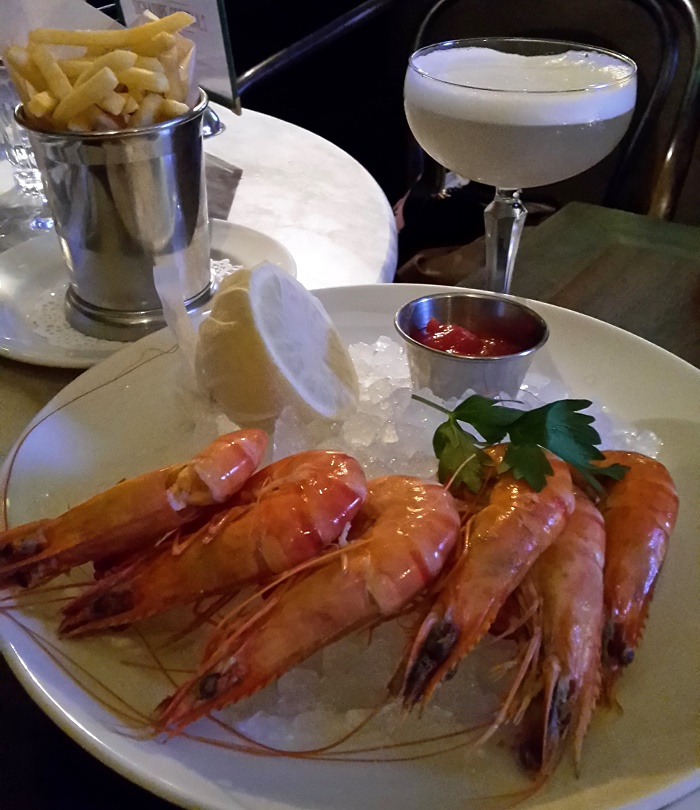 The next morning, our epic foodie day in Glasgow started with a spicy kick at Babu Bombay Street Kitchen just a short walk from our hotel on West Regent Street.  Owner Rachna Dheer found Glasgow lacking in authentic, healthy Indian street food, so she introduced Babu at farmers' markets around the city before setting up this basement kitchen gem in the city centre.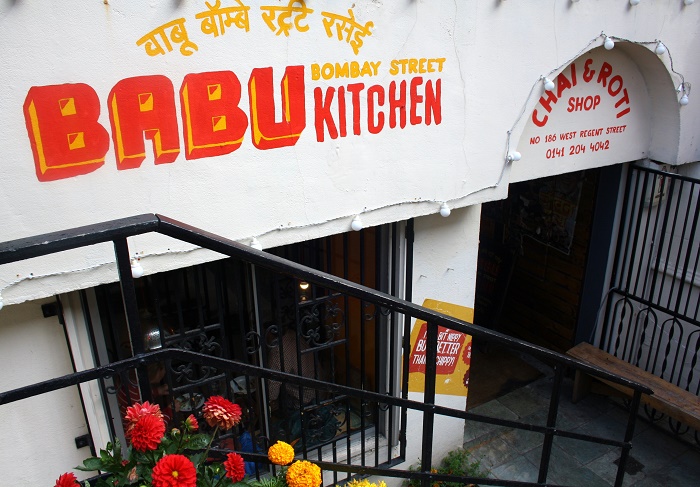 Babu serves freshly-prepared roti wraps, dahls and curries all day and the morning offering is an Indian take on typical Scottish breakfast dishes.  The pungent aromas are intoxicating and the kitchen is filled with fresh herbs, spices – this place is the real deal.
We basked in the sun and enjoyed a selection of dishes including Spicy scrambled eggs on a Mortons roll (Scotland's famous everyday bakery) and Bacon chapatti wrap with fresh salad.  I was in the mood for something sweet and tried the most delicious, aromatic Chai brownie washed down with warming ginger tea.

This set us up well for a morning of foraging with Monica Wilde at Boden Boo urban wood in the shadow of the Erskine Bridge over the River Clyde.  This was my first time foraging and I was truly amazed by the copious plants and flowers that can be eaten or distilled to benefit the body.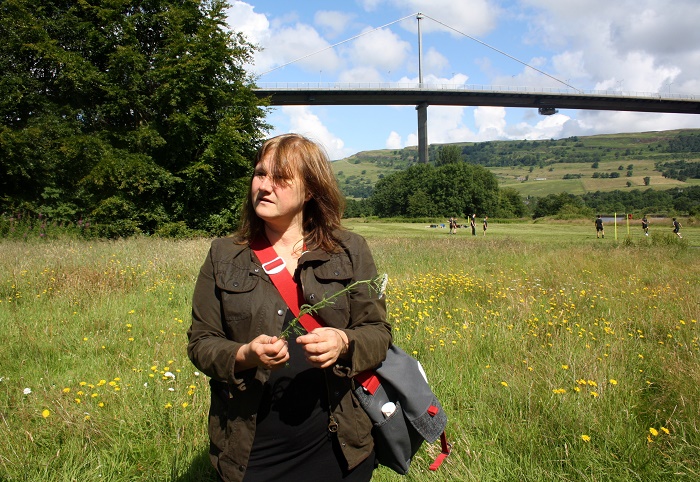 Monica guided us through the wood, highlighting useful plants and plucking pieces for us to taste.  She also had a well-stocked forager's bag full of alcoholic botanical tinctures for us to taste along the way, while the chefs from the acclaimed Riverhill Restaurant & Bar filled a basket in preparation for lunch.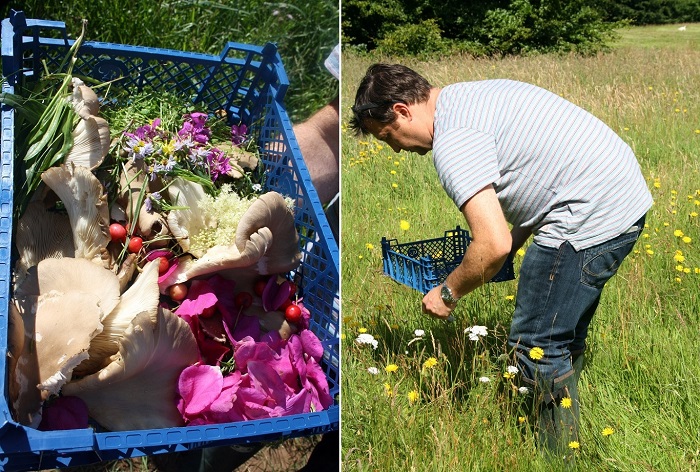 Feeling inspired by nature, we headed back to Riverhill in the city centre for our special Boden Boo's Bounty four-course lunch, complete with potent cocktails.  We were all impressed with the chefs' high end, flavoursome vegetarian creations and how they utilised our foraged (and completely free) ingredients.
My favourite dish from the menu was the Aviemore girolles & Lanark oyster mushroom fricasse, chicken of the woods & parmesan powder, fermented wild garlic puree and deep-fried Luss duck egg.  I also loved the fragrant, delicate dessert of Dog rose jelly, meadowsweet sabayon, wild berries, gorse sable & yellow raspberry sherbet.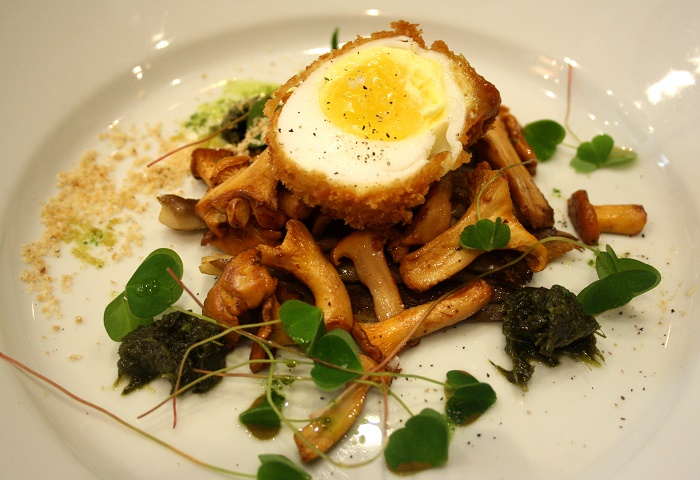 Scotland has long been synonymous with whisky, but gin is having quite a moment there, so off we went to an industrial estate on the Southside to discover the first gin to be produced in metropolitan Glasgow.
The Glasgow Distillery Company was originally founded in the 1770s and was revived just two years ago, debuting its first new product Makar Gin.
Named after the Scots word for bard or poet, Makar Gin is a juniper-led botanical dry gin that's made in small batches of 300 in a copper still called Annie.  We tried this bold, vibrant gin both on its own and as a typical G&T and as if that wasn't enough, we were treated to a wee sip of the distillery's other produced spirit, Prometheus Whisky (a cool £500 per bottle).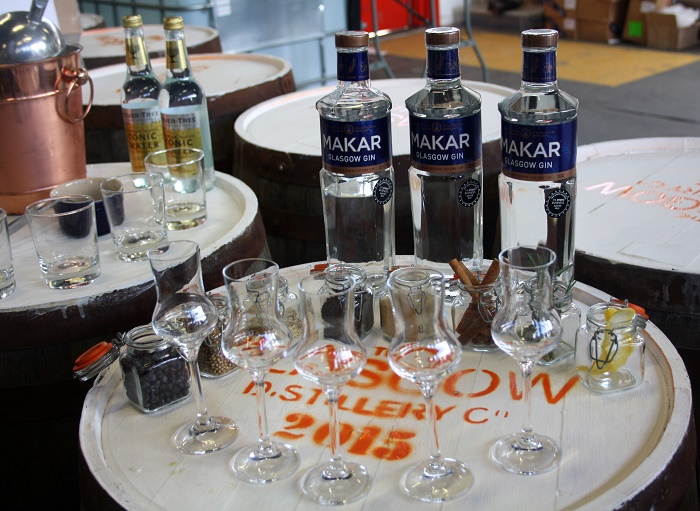 We spent our Saturday night dining around Glasgow's hip new foodie quarter Finnieston in the West End. This was my neighbourhood for four years and so much has changed since it was simply a low-key residential area with students occupying the grand tenement buildings just a stroll away from beautiful Kelvingrove Park (how lucky we were to live there).
I would never have expected to see pugs and Mulberry Bayswaters in this area, but that was the vibe at our first stop of the night, The Finnieston.  Graham Suttle's popular Scottish seafood bar and restaurant opened just last year and is designed like an urban fisherman's tavern.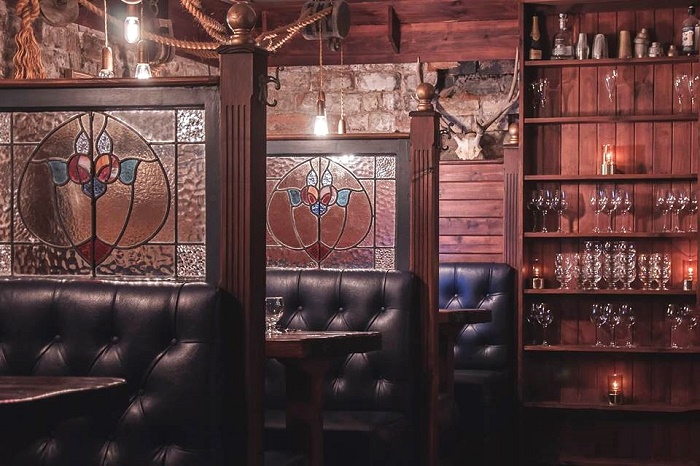 The Finnieston is known for its extensive gin collection, so of course we kicked things off with a Scottish gin cocktail made with Caorunn Gin, Fentimans Tonic and Red Apple.
We grazed on a selection of starter dishes including Fresh Pacific oysters, Heritage carrot, orange & kipper salad and Double dived scallops with roast baby aubergine & courgette, crowdie stuffed courgette flower and Romesco sauce.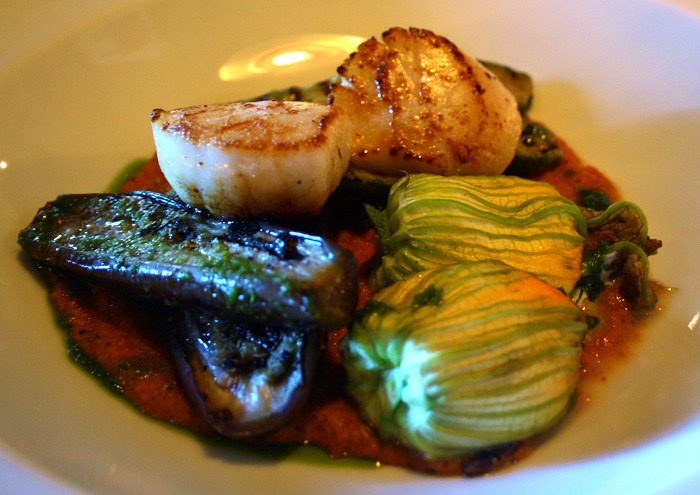 The main course was served next door at The Finnieston's slicker and more relaxed sister restaurant Porter & Rye, a temple of fine dry-aged meats.  We were treated to a succulent, perfectly-cooked Porterhouse steak and literally all of the side dishes on the menu to share.  I particularly enjoyed the Ayrshire potatoes with smoked Abernathy butter and the indulgent Mac and cheese with thick-cut smoked bacon.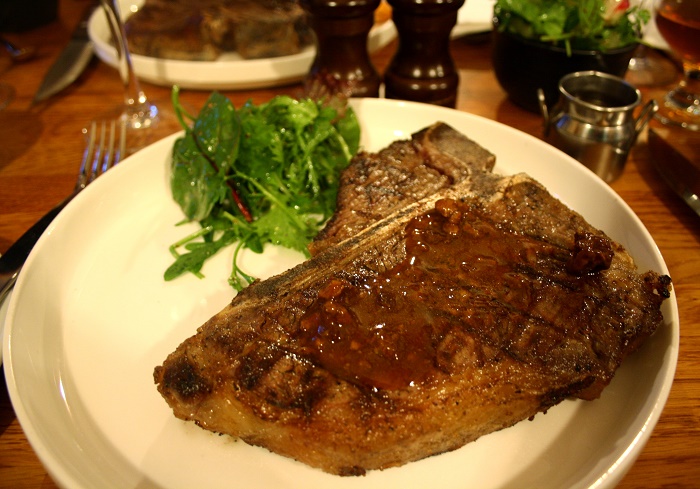 A brisk walk back towards the centre of town was very much needed before our final foodie stop of the night, the renowned Two Fat Ladies at The Buttery.  Two Fat Ladies is a real Glasgow institution and its romantic, old world Scottish decor – complete with tartan and oak panelling – is just irresistible.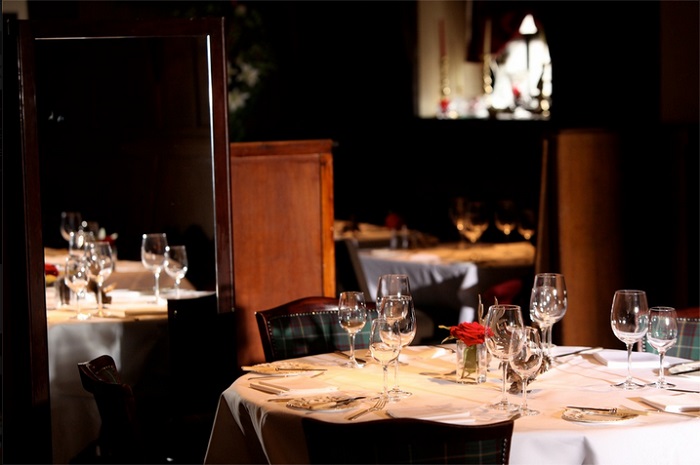 We were seated in a beautiful private room with Scottish thistle wallpaper by Glasgow design company Timorous Beasties and various ornaments lovingly collected by the general manager.
We finished the night on a sweet note with the Two Fats grand dessert tasting plate, an impressive cheeseboard, petit fours and of course a Scottish whisky tasting.  It was lovely to get a glimpse of Two Fat Ladies, but I would love to revisit on another trip, as the fine dining experience seemed quite magical.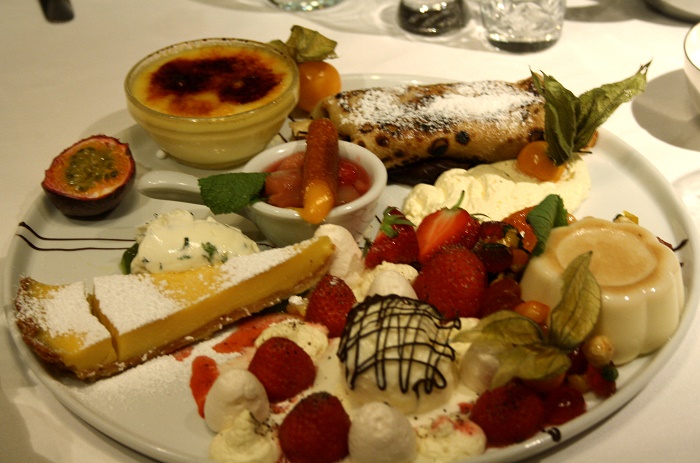 The next morning started with a caffeine kick at Gordon St Coffee Roastery, conveniently located inside Glasgow Central Station.  Well-known on the Glasgow coffee scene, Gordon St's beans are roasted and ground in-house on the mezzanine level – there's even a special Glasgow Blend.  I could only inhale the delicious aromas enviously due to my coffee intolerance (mine's an Earl Grey), but I can report that they do a fantastic bacon roll and posh giant blackcurrant marshmallows served on pretty floral china.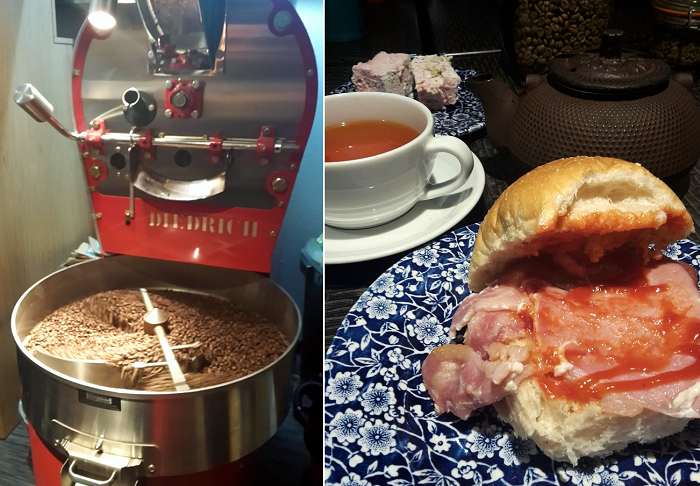 Our next stop was a real adventure, visiting the Plan Bee hive at privately-owned home Haggs Castle.  Plan Bee provides and manages bee hives for Glasgow businesses (including Two Fat Ladies) and arranges visits for schools to connect children with nature.
We got kitted up in protective overalls, veils and wellies and chief beekeeper Warren Bader opened the hive, filled to the brim with over 60,000 honeybees.  At first it was a little daunting, but the bees were quite calm and good-natured, allowing the most courageous in our group to take a close look at the frames covered in honeycomb.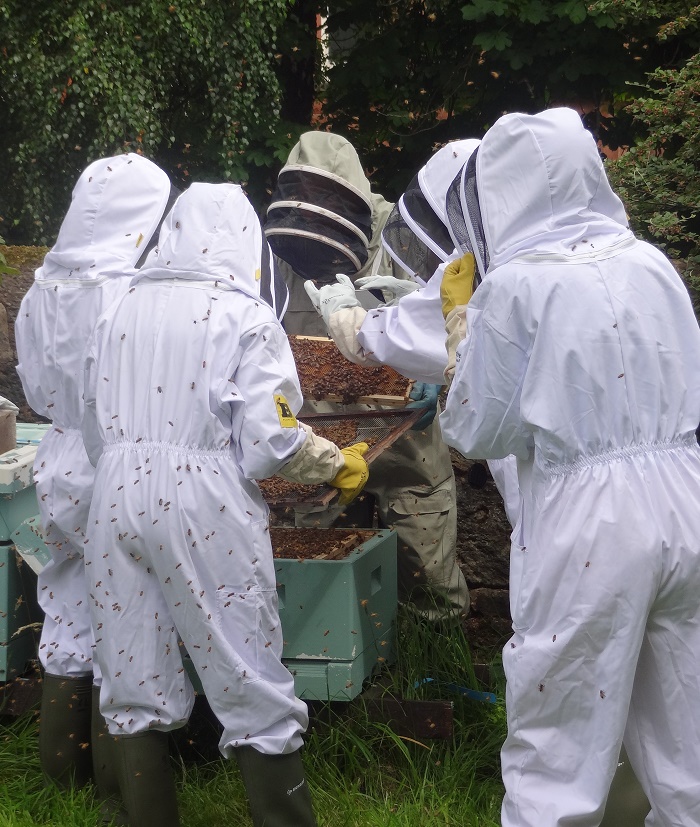 Once the bees were safely back in their home before the rain came, we tasted the fruits of their labour.  We tried the most delicious honey in flavours such as cinnamon, Italian truffle and vanilla and the good news is they can be bought directly online.
For our final meal in Glasgow, it was posh comfort food all the way at The Vintage at Drygate Brewery.  A collaboration between Williams Bros. and Scotland's famous beer company Tennents, Drygate Brewery is an 'experiential' craft brewery, restaurant and event space that hosts gigs, comedy nights and marketing – very cool and very Glasgow.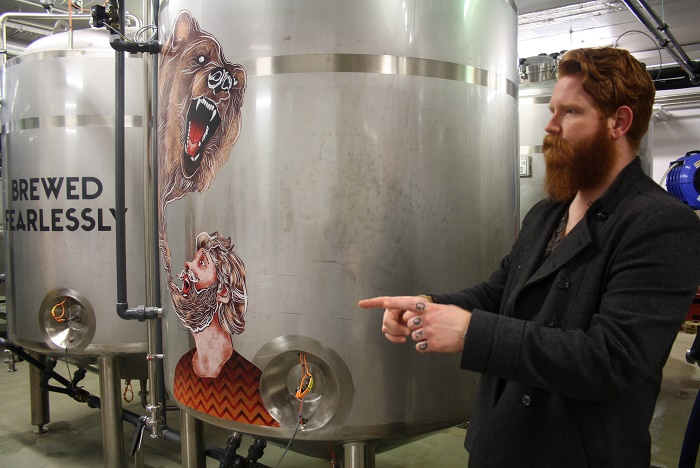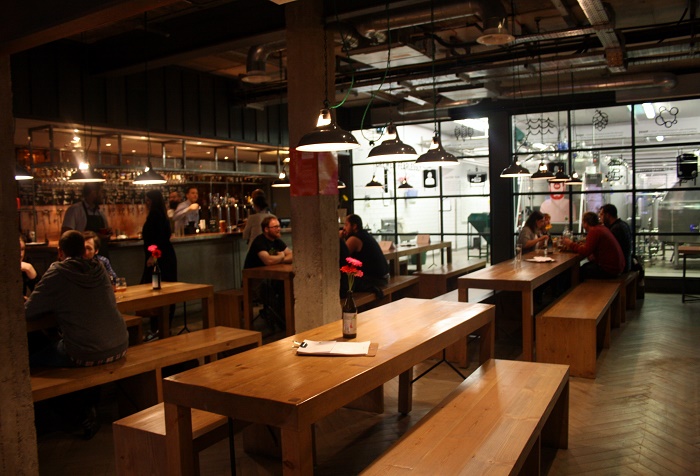 Most of us went for the awesome Drygate beef burger with jerk ox cheek served with triple cooked chips and house slaw.  It's a meaty, satisfying burger and the jerk ox cheek is a great addition, but if you come with an appetite, it's also worth ordering some punchy Sobrasada beans and potatoes, bacon and oats for the table.  Wash it all down with a chilled Gladeye IPA, Outaspace Apple Ale or Bearface Lager and watch them being brewed through the transparent glass.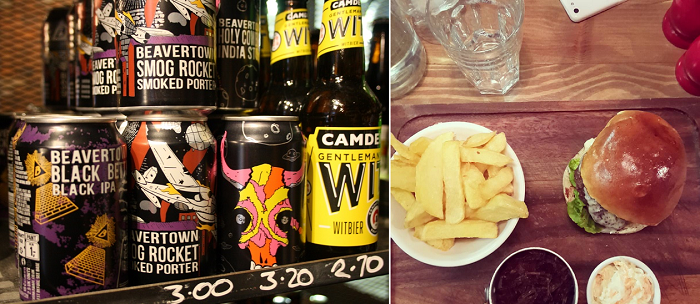 There's also a retail shop with an unbelievable selection of rare and interesting craft beers.  If only we weren't restricted by the flight carry-on liquid allowance, I would've brought home a few bottles, especially since the labels are designed with stunning artwork by Glasgow Art School students.
My weekend in Glasgow was so memorable and exciting and I loved seeing how vibrant the city has become. It's a real haven for foodies with top notch restaurants doing wonderful things with the best Scottish produce and a community that's so passionate about good eating and hospitality.  But don't just take my word for it, get yourself up to Glasgow for an amazing weekend.
For further information for booking your trip to Glasgow, visit: www.peoplemakeglasgow.com
Chérie City was very happily invited by People Make Glasgow
Photos by Chérie City (interiors by The Finnieston & Two Fat Ladies. Plan Bee by People Make Glasgow)