Tapas is such a joy when it's done well, especially when grazed on leisurely in the sunny climes of Spain.  London has some fantastic tapas restaurants, but there is certainly a lack of neighbourhood drop-in tapas bars that are such an integral part of Spanish culture.
That's where Omar Allibhoy comes in, bringing a taste of the Madrid tapas bar scene to London with the excellent Tapas Revolution Shoreditch.  This boutique group of casual, modern tapas bars had humble beginnings in Westfield and Bluewater shopping malls (stay with me here), but the latest outpost is its first standalone tapas bar, occupying a prime spot in between Shoreditch High Street and the top of Brick Lane.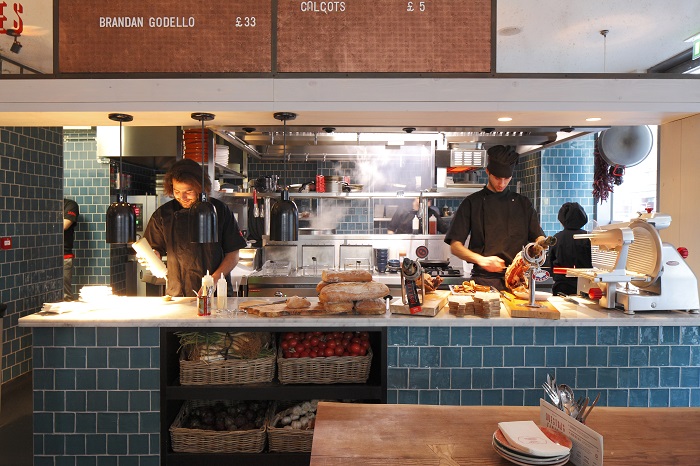 Chef Omar Allibhoy excelled in the world of innovative fine dining at elBulli under Ferran Adrià and at Maze with Jason Atherton before joining Elpirata in Mayfair as executive chef and then opening Tapas Revolution.
I visited on a mid-week evening and immediately liked the warm design and lively yet chilled out atmosphere at Tapas Revolution.  You can park up at the spacious bar or grab a table overlooking the open kitchen and counter.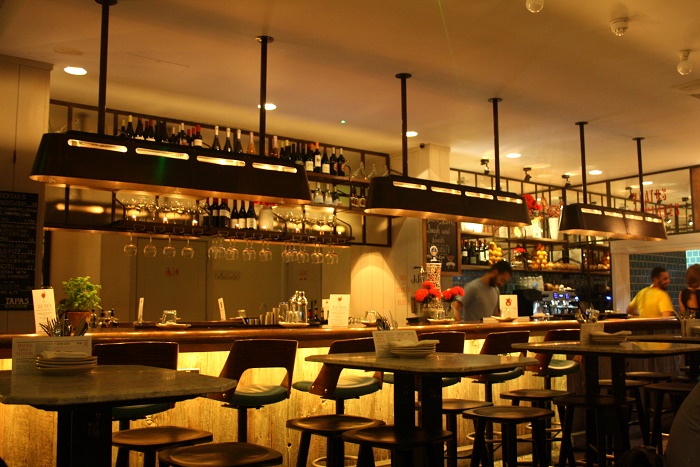 The friendly, welcoming staff explained the menu to us and made some good recommendations.  We chatted about Spanish gastronomy with our waiter and he told us that everything is made completely from scratch in the kitchen.
The meal got off to a great start as we were presented with the most visually-pleasing Gambas a la plancha (£7.95).  One of my favourite indulgences when in Spain is fresh seafood, so this dish brought back memories of happy days in the sun.  The majestic king prawns had a lovely smoky taste and were doused in a punchy garlic, herb and olive oil sauce.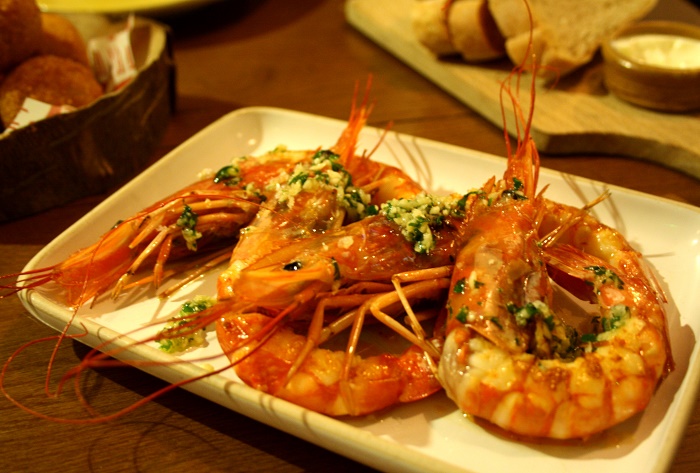 I can never resist Croquetas de jamón (£5.50) and these ones were very authentic and moreish.  The golden, hand-rolled croquetas were filled with oozing, silky bechamel but only a few tiny flecks of jamón, so that flavour was rather muted.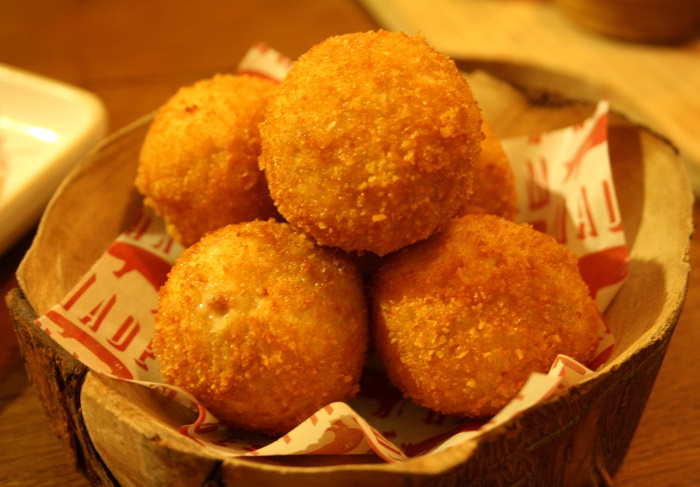 Patatas bravas (£3.75) are a must-order staple of any tapas meal, in my opinion, and these ones were exemplary.  I'm not a fan of the spicy ketchup breed of patatas bravas, but here, the fried potatoes had a naturally sweet flavour and were drizzled in a bold, piquant tomato sauce and a yummy, intensely garlicky aioli.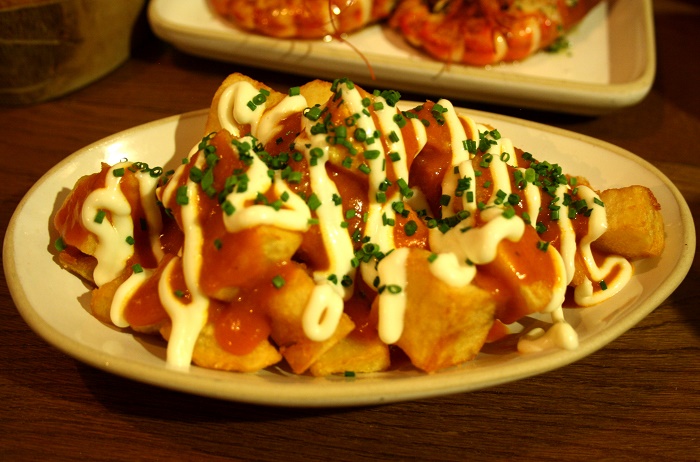 Tortilla de patata (£5.25) was served as its own lightly golden cake, rather than a large slice.  It was filled with layers of soft potato and caramelised onion and had a typically runny centre that made it even more of a comfort dish.  It could've been seasoned with a little more salt, but the aioli made up for it.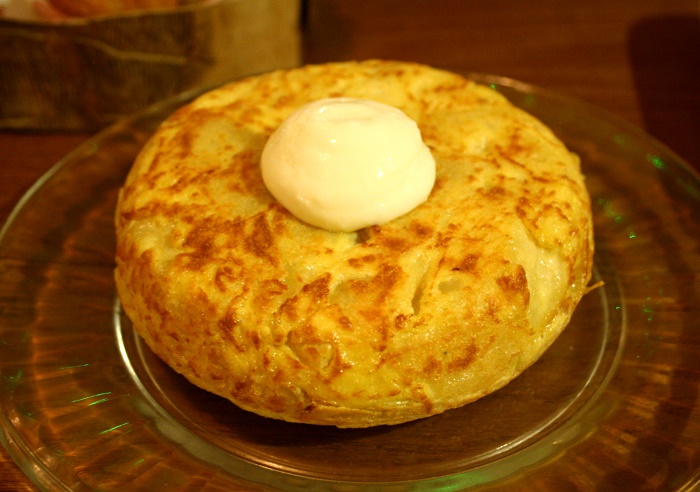 Carne a la parrilla (£6.75) was a tasty dish of succulent, medium-grilled flank of beef with slim slices of crispy potatoes on a bed of juicy roasted red peppers.  The acidic red peppers brought out the rich flavours of the beef and the herby potatoes were a perfect accompaniment.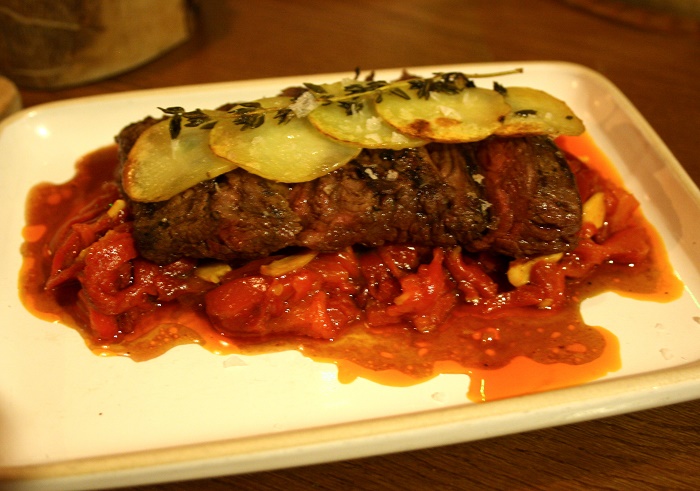 Albóndigas en salsa (£5.50) was a beautifully-cooked, homely dish with the kind of recipe that you can imagine a Spanish grandma would pass down through generations.  The tender, melt-in-the-mouth beef meatballs were coated in a sweet, slow-roasted tomato sauce studded with soft carrots and peas, topped with fresh chives.  Be sure to order these meatballs for the table and mop up the heavenly sauce with some bread.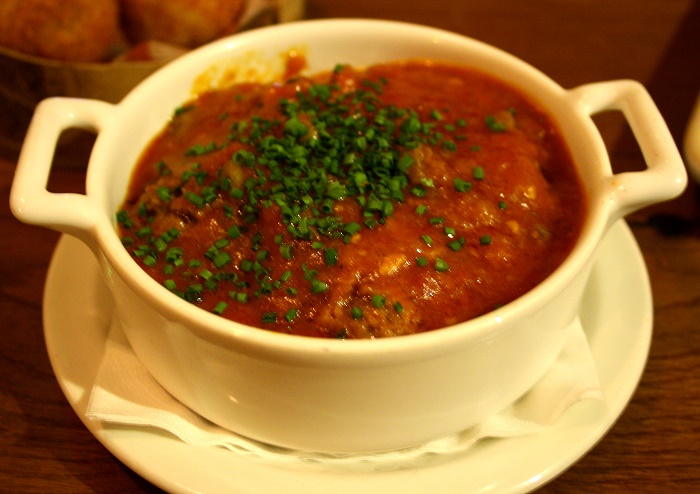 Tapas is a crafty kind of cuisine – the concept of small plates can make you feel virtuous but in fact, the dishes tend to be rather rich to make a lasting impression.  Napoleon complex, perhaps?  Of course, I always find a tiny spot of room for dessert and there can be none greater than Torrijas.  This traditional dessert, usually eaten at Easter in Spain, is similar to French Toast.  A thick slice of brioche is soaked in milk and fried, then topped with orange blossom-scented Crema Catalana and a generous dusting of cinnamon.
It's the most delightful sharing dessert to end the meal, but would also work well as an indulgent afternoon treat.  I'm definitely tempted to try and make it at home, or better still, go on a hunt for the perfect Torrijas in Spain!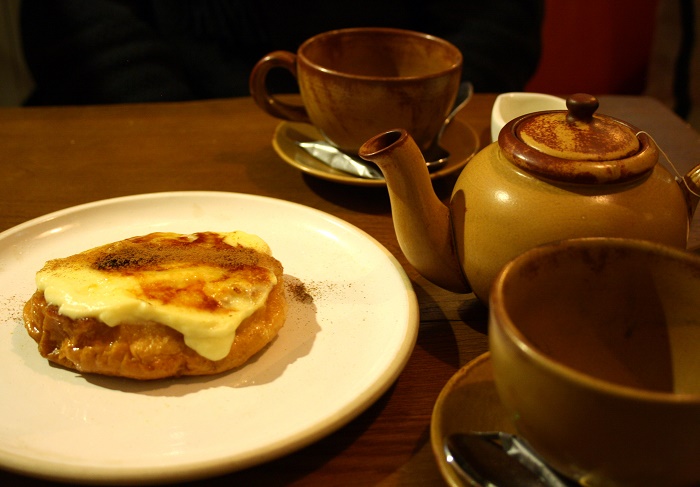 Tapas Revolution Shoreditch is a great spot to enjoy authentic Spanish bites over a few glasses of Sangria with friends.  With a nightly happy hour and menu rapido including a drink for just £7.95, there's no reason not to!
For more information, visit: www.tapasrevolution.com
Chérie City was a guest of Tapas Revolution
Photos by Chérie City and Tapas Revolution