January is the month when we tend to think about detoxing and 'eating clean' that little bit more seriously, but I can see my love affair with maple&FITZ lasting all year-round.  If like me you're always on the hunt for quick and healthy meals that are wholesome, filling and super-tasty, this little Fitzrovia cafe and counter should be top of your list.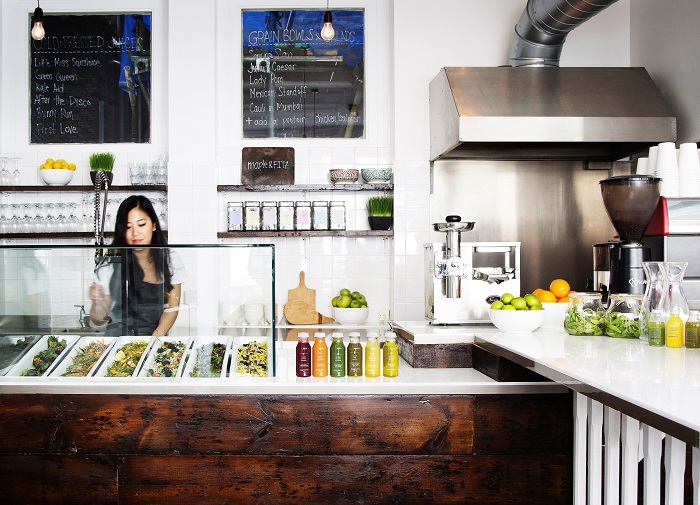 Canadian Cordon Bleu-trained chef Adria Wu opened healthy eatery maple&FITZ just last year and already it's become a hotspot for health-conscious Londoners.  Her philosophy is all about happiness, balance and nourishment, whether it's refueling the body with a cleansing cold-pressed juice or indulging in a guilt-free treat.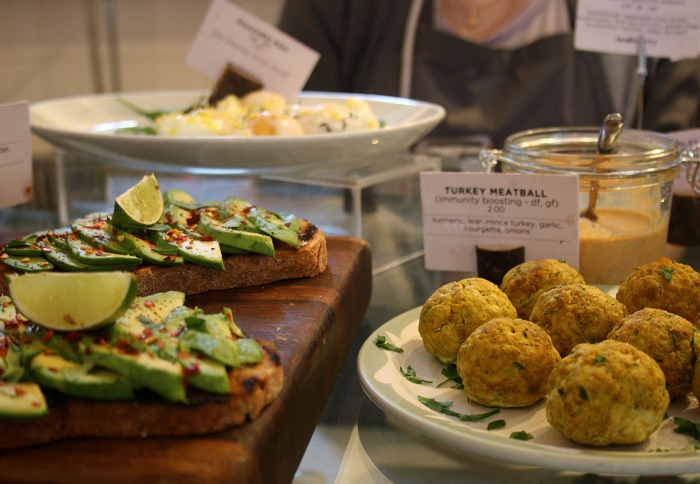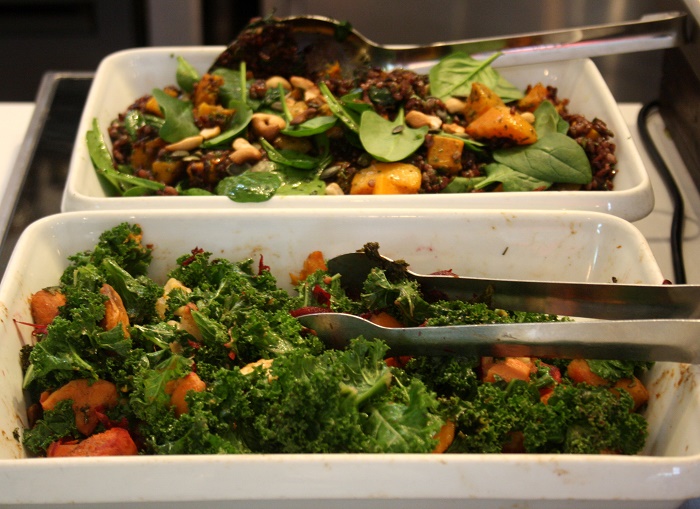 Walking into maple&FITZ, my eyes lit up when I saw the counter laden with colourful, tempting dishes.  Everything is made fresh from the kitchen throughout the day using high quality seasonal ingredients, so you know it's only full of good stuff.
Noticing that I was struggling to choose just one salad, the lovely staff suggested a large box with room for a few different tastes.  I enjoyed a rainbow of three salads – Julius Caesar, Sweet Caroline and Blackjack, topped with a few slices of grilled halloumi for good measure.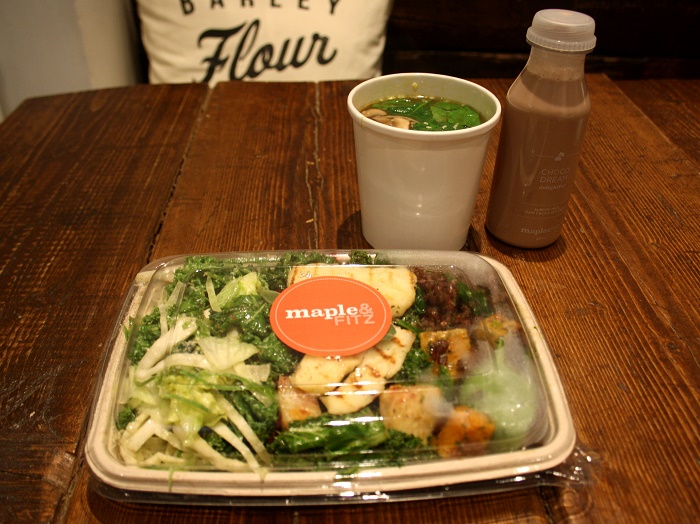 My favourite salad was Sweet Caroline – a crisp kale base, studded with vibrant shredded beets, juicy roasted sweet potato, celeriac and toasted pecans, finished with a tangy, sweet maple balsamic dressing.  This went exceptionally well with Blackjack – a warm, comforting salad of hearty black rice and roasted squash with winter sea salt, baby spinach and cinnamon, garlic and lemon dressing.
For something really light and zingy, try Julius Caesar – shredded kale, romaine, mangetout, toasted buckwheat, cabbage, toasted pumpkin and sunflowers seeds, Pecorino and Dijon-lemon tahini dressing.  It really complimented the other two salads, but if you're going for a smaller pot, it's worth choosing a salad with those glorious pieces of roasted sweet potato or butternut squash – they're just so good!
I also recommend adding a protein for that extra bit of indulgence.  Grilled halloumi with sage was an absolute winner, but you can also add grilled chicken, turkey meatballs, grilled salmon, tofu or a poached egg.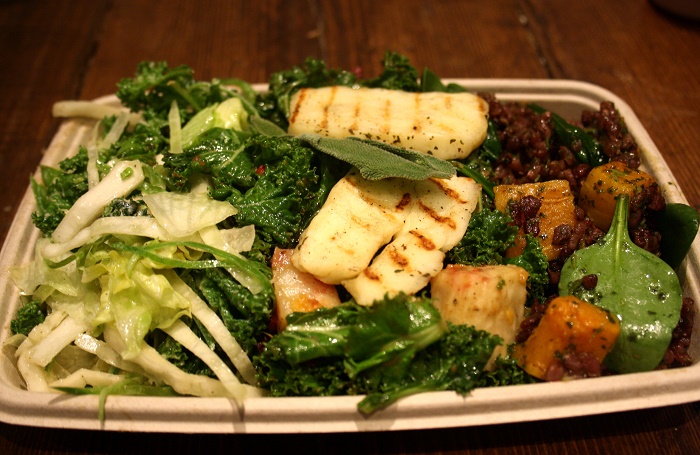 I accompanied my salad box with one of two delicious soups – Take My Broth Away.  This light vegetable miso broth was subtle and not at all salty, filled with plenty of silky gluten-free buckwheat noodles, baby spinach, mushrooms and small pieces of smoky tofu.  If you're in the mood for something more substantial, there's the Love Root soup with carrot, sweet potato, toasted spices, green apple, onion and garlic.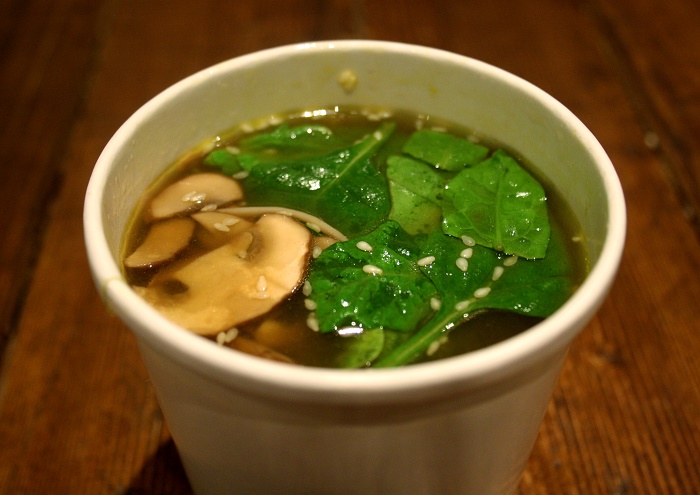 To finish, I couldn't resist a highly-recommended Gluten-free brownie with dark chocolate and salted caramel swirl.  It was absolutely divine – rich and sticky with a pleasant texture and an intense chocolate flavour.  It was the perfect match for my gorgeous Choco Dream raw cold-pressed drink made with almond milk, raw cacao, honey and sea salt – so decadent yet nourishing.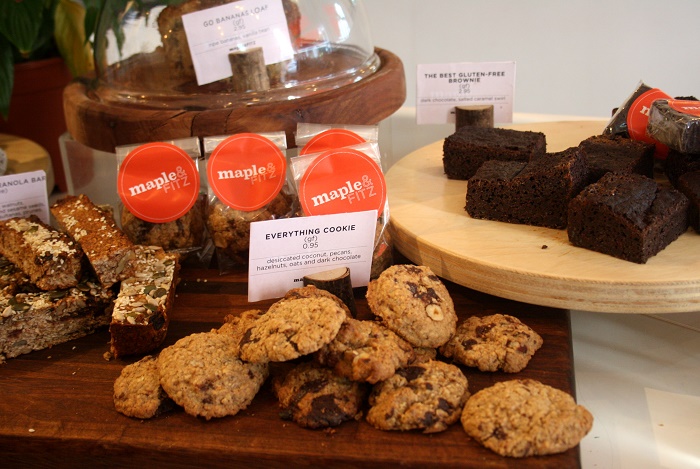 maple&FITZ is one of my favourite new discoveries and I was amazed at how much it energised my body and lifted my spirits.  I know I'll be back soon to work my way through the salads and try the matcha energy balls and banana loaf.  Breakfast also sounds yummy with sunny dishes such as Maple porridge, Salted date caramel toast and Avocado chili toast.
To help you keep those New Year's resolutions, maple& FITZ is offering a January Resetting Package including a choice of soup, salad and cold-pressed juice for £10.  For more information, visit: www.mapleandfitz.com
Chérie City was a guest of maple&FITZ 
Photos by Chérie City (interior by maple&FITZ)