Ultra-cool, nomadic collective Pret a Diner has returned to London, bringing a touch of decadence and culture to the city's dining scene.
Pret a Diner: The Bohemians, from Royals to Rogues, revives the spirit of artistic London and Cafe Royal Hotel is the perfect location, steeped in its own rebellious history.  Creative greats such as Oscar Wilde, Mark Twain, Virginia Woolf, Andy Warhol, The Beatles and Madonna have all graced the glamorous Regent Street hotel.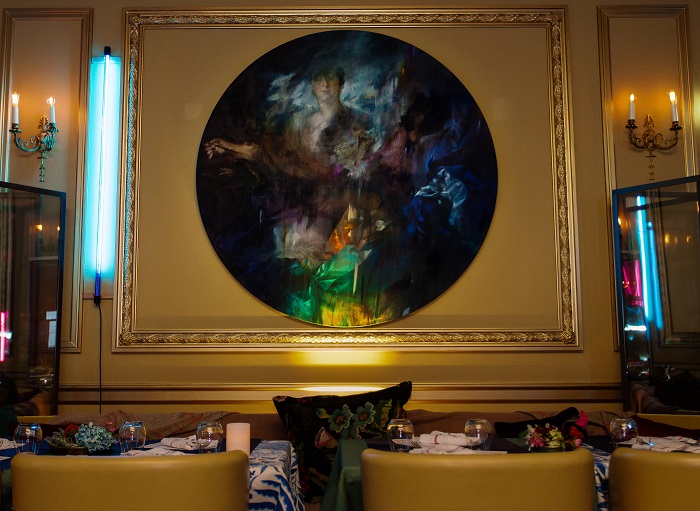 Last week, we visited for KP Kofler's unique dining experience that has brought two Michelin starred New York-based chefs to the UK.  Chef Patti Jackson's Delaware and Hudson is one of Williamsburg's hottest prix-fixe restaurants while Ryan Tate has received acclaim as head chef of farm to table restaurant Blenheim in the West Village.
They've join Andrew Turner, Executive Chef at Cafe Royal Hotel, to create a special four-course set dinner with dishes cooked by each chef.  The menu is modern American with Dutchy Pennsylvanian influence and offers a rare taste of the three restaurants.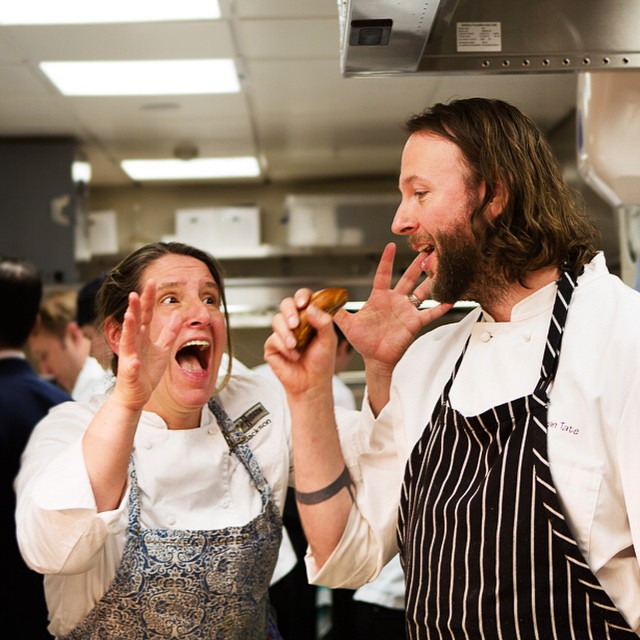 Exquisite restaurant The Domino has been transformed into a bohemian den of iniquity with dramatic flowers, crystal-encrusted animal skulls and objets d'art at play with the room's gilded opulence.  We were seated at a table for two and the cool, unpretentious staff took us on a culinary journey, explaining each dish thoroughly.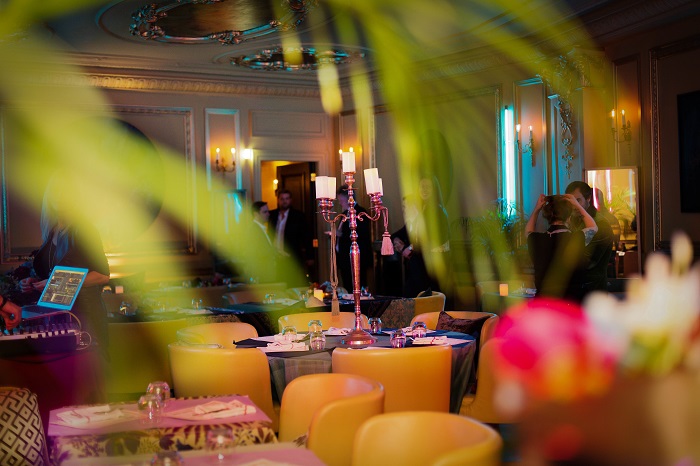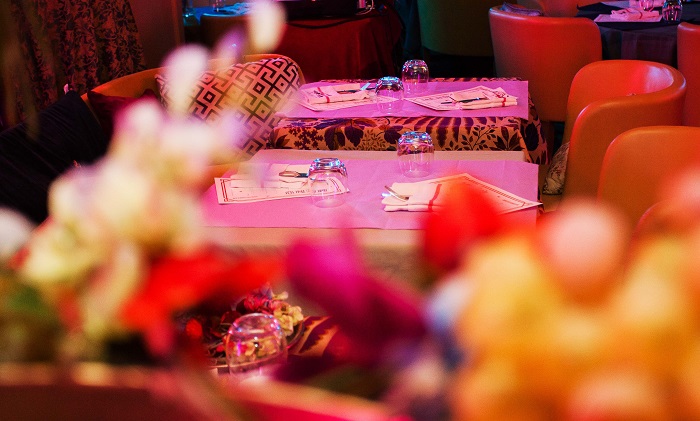 On arrival, we were presented a delightfully fragrant Bohemian Punch, made with gin and jasmine tea punch.  Served in a vintage-style cut glass coupe with a sprig of jasmine clipped to the side, the cocktail was refreshing, elegant and lightly perfumed – my ideal kind of drink.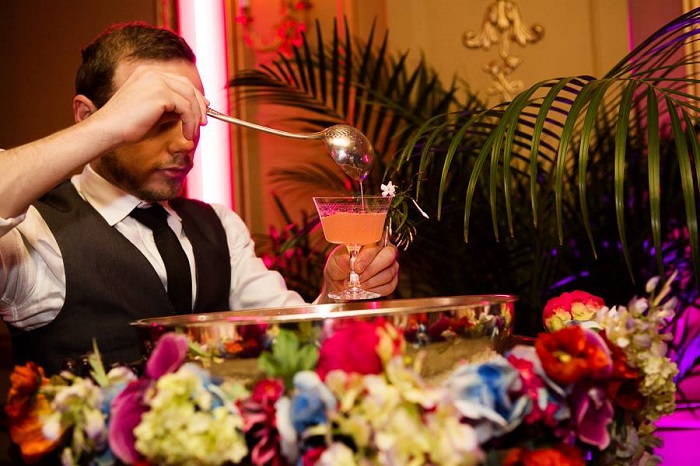 The drinks menu has been devised by Cafe Royal Bars Manager Tiziano Tasso and Dominic Jacobs of The Running Horse Mayfair and The Whip.  DJs Maxology provide a hip soundtrack alongside guest DJs and The Unit London has curated the intriguing artwork.
We started with a sharing plate of snacks with bites from all of the chefs.  Pea and Sorrel by Ryan Tate was a delicate orb filled with a lovely chilled pea soup.  It melts quickly, so should be scooped up with a spoon and devoured instantly.  Baltimore Crab with Pickled Ramps by Patti Jackson was a nice blend of sweet and tart.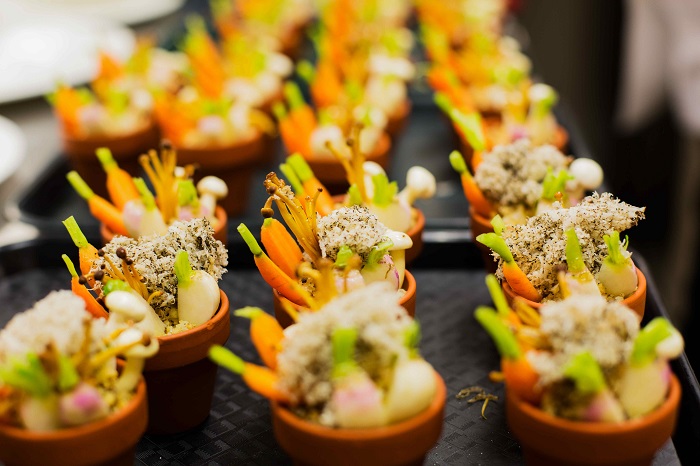 My favourite snack was Andrew Turner's Cheese and Truffle – velvety, cool, truffle-infused cheese packed inside a miniature plant pot, topped with enoki mushrooms, black sesame crumbs and a pesto crisp bread.  The snacks were accompanied by some rather lovely molecular olives that burst in the mouth, crispy cheese straws for dipping and Patti Jackson's tasty Dutchy Pretzels with Cafe Royal butter.
We started with a beautifully-presented Tuna Carpaccio with Gentleman's Relish by Andrew Turner.  The chilled, silky tuna carpaccio was  dotted with soy and ginger sauce and complemented by a quail's egg with caviar, thin slices of mooli, radishes, chunky cucumber and burnt-edge shallots wrapped around smooth gentleman's relish (sorry to ruin the mystery but it's a kind of anchovy paste).
I'm not a fan of cucumber, so some parts of this starter weren't so well suited to my palate, but it's certainly a fresh and interesting dish.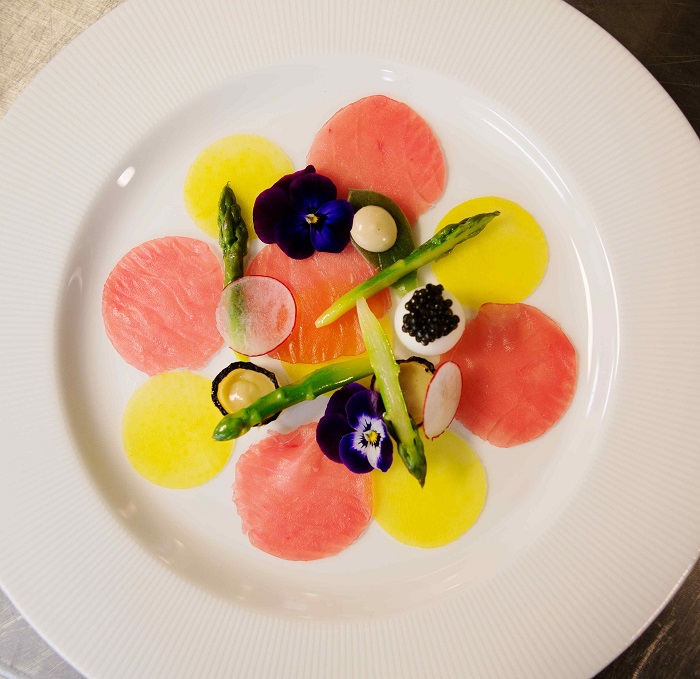 The main courses however were right up my street and happily there was a choice of two so we could have a taste of both.  I went for Patti Jackson's indulgent Duck with Celery Pecan Gratin and Rhubarb.  This was high end American comfort food at its very best and an absolute joy to eat.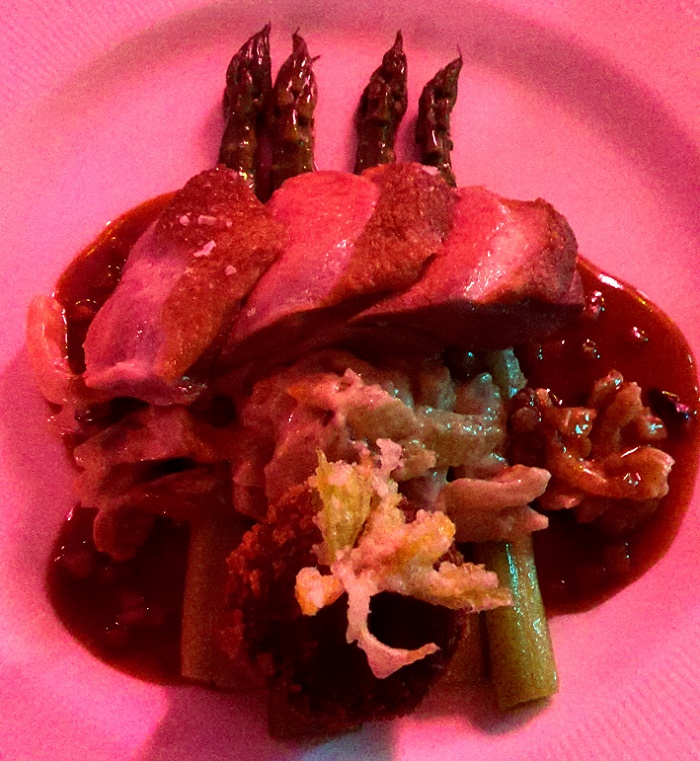 The tender, juicy duck was cooked perfectly medium and was elevated by duck confit coated in golden breadcrumbs with strong meat and herb flavours.  The celery pecan gratin was lightly creamy with a mature cheese flavour and the roasted rhubarb added a welcome touch of sharpness.  It was served with simple whole asparagus and finished with a rich duck jus.
Steven went for the lighter Seabass with Piquillo Pepper, Fennel and Dill by Andrew Turner.  The beautifully cooked fish was succulent and flaky with a lovely crispy skin.  It went very well with the dill-infused piquillo pepper puree and was punctuated with black olive crumble and olive pearls.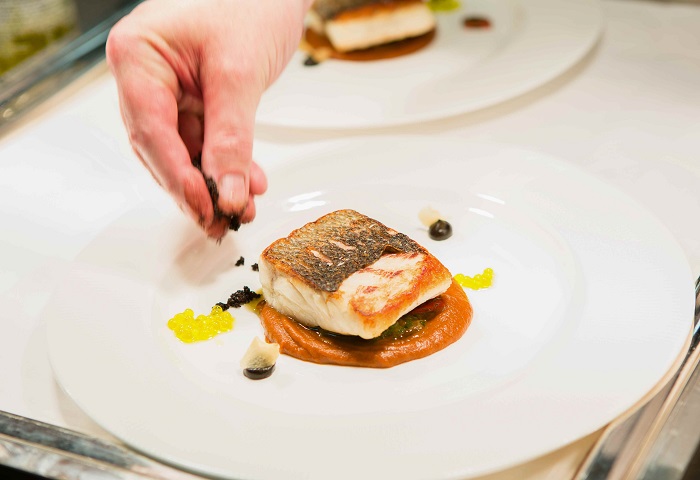 For dessert, we both enjoyed Ryan Tate's Strawberries, Maple Vacherin and Buttermilk. It was a pleasure to crack open the delicious maple-infused meringue to reveal the fresh sliced strawberries, airy vanilla cream and the slightly tart buttermilk sorbet.  I can't think of a more satisfying, sweet and refreshing dessert to finish the meal with – it was simply divine.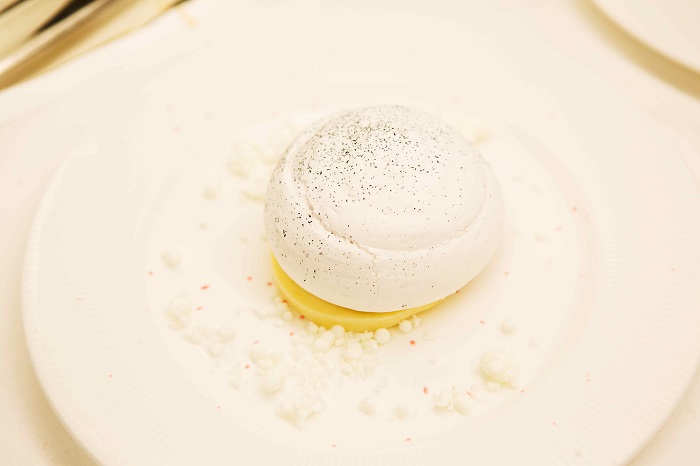 As if that sugar high wasn't enough, we were treated to a pot of fresh mint tea served with petit fours.  We grazed on a box full of bubblegum white chocolate truffles, cola pâtes de fruit, dark chocolate orange sticks and salted caramel popcorn in a miniature plant pot.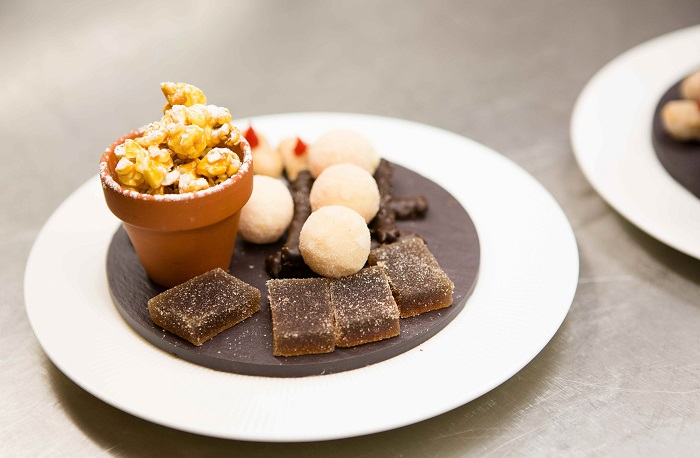 To walk off the splendid dinner, we took a stroll around to view the carefully-chosen artworks by Jake Wood-Evans and Ryan Hewett.  Look out for the striking John Lennon piece in the bar.
Not only is Pret a Diner a memorable sensory dining experience in a beautiful location, but it offers the chance to try signature dishes straight out of New York.  I recommend dining a little later than usual when the atmosphere becomes more lively and taking your time to really take in the experience.
Pret a Diner: The Bohemians runs until 23rd May at The Club at Cafe Royal Hotel. Priced at £75 per person, including a four-course menu, snack sharing plate from three different chefs, petit fours and coffee.  For more information, visit: www.pretadiner.com
Chérie City was a guest of Pret a Diner
Photos by Pret a Diner