A stay in Paris doesn't get much more romantic or magical than at Hotel du Petit Moulin in the stylish Haut-Marais.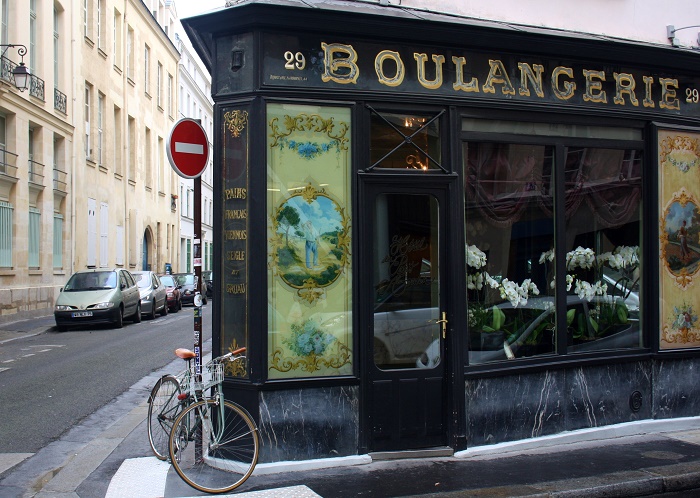 Housed in what was once one of the oldest boulangeries in Paris, Hotel du Petit Moulin is the very definition of a hidden gem.  Only a few clues give away its hotel status, so it has the intimate feel of a private residence.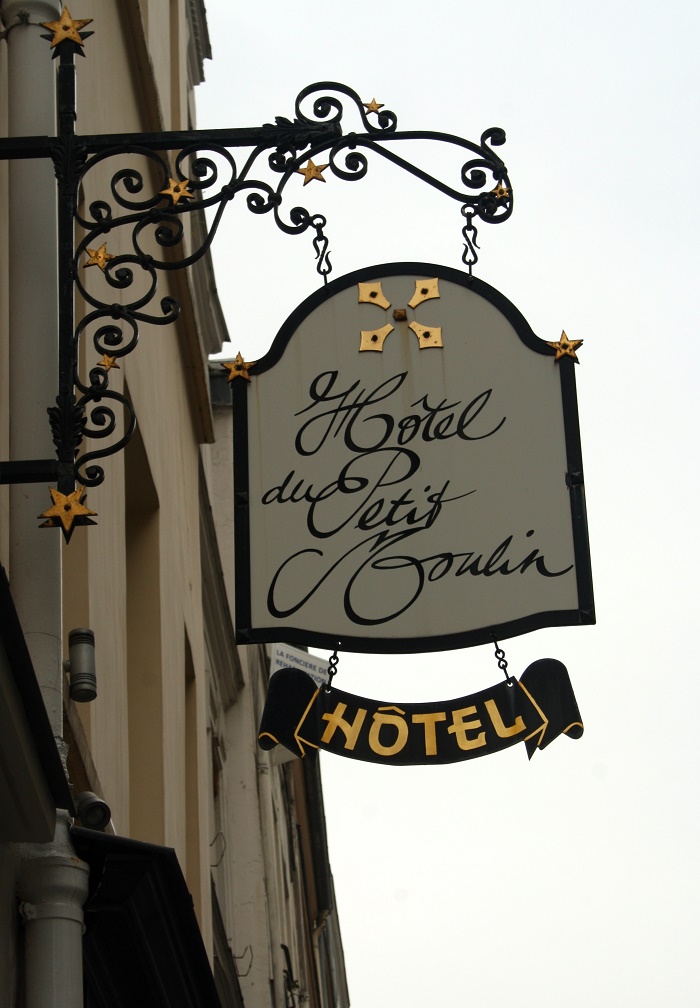 The hotel's charming, 17th-century Parisian architecture is brought to life with creative, otherworldly interiors by renowned couturier Christian Lacroix.  It has a petite, maze-like appearance with just 16 rooms and one junior suite all designed uniquely with bold digital prints, catwalk sketches and sumptuous fabrics.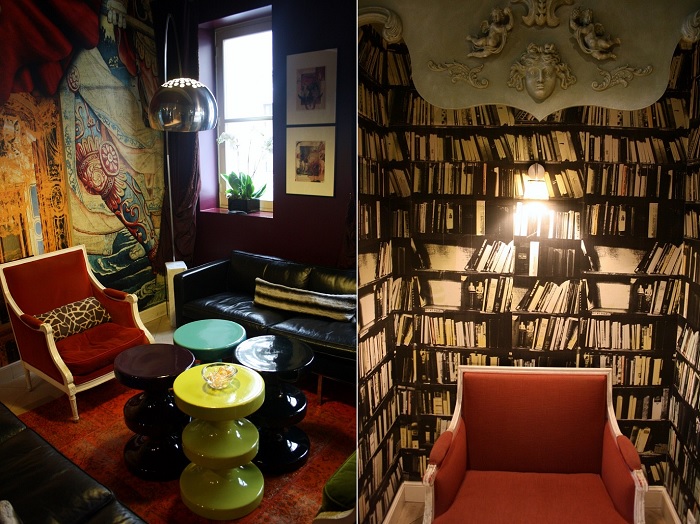 Hotel du Petit Moulin may seem like an independent hotel, however it has two stunning sister hotels that I've also had the pleasure of staying at – Pavillon de la Reine on the nearby Place des Vosges and Pavillon des Lettres.  A perk of this union is that guests are welcome to use the fantastic Spa de la Reine facilities – it's definitely worth stopping by for a spot of pampering.
Hotel du Petit Moulin has a beautifully-designed lounge with a cosy reading nook as well as an Honesty Bar where breakfast is served in the morning.  Even the corridors have cool design features such as a dress illustration next to our door and monochrome polka-dot carpet that made me think of Yayoi Kusami.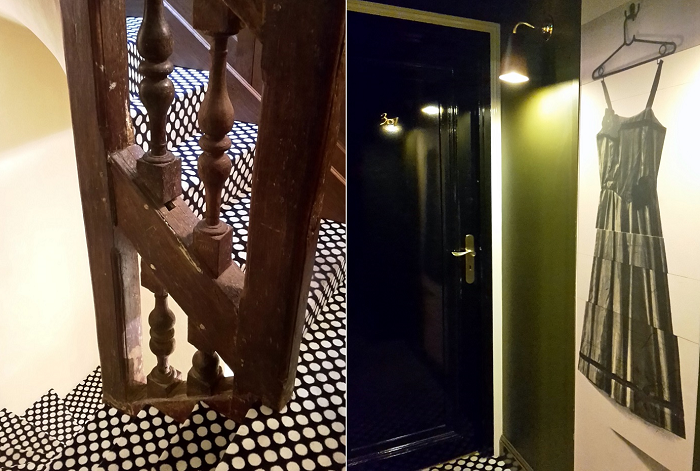 Our Deluxe Room on the third floor was truly atmospheric with an exquisite moon and stars digital print above the bed and soft gold walls.  The popular Moon and Stars Room is often requested by returning guests and I can see why they've fallen in love with it.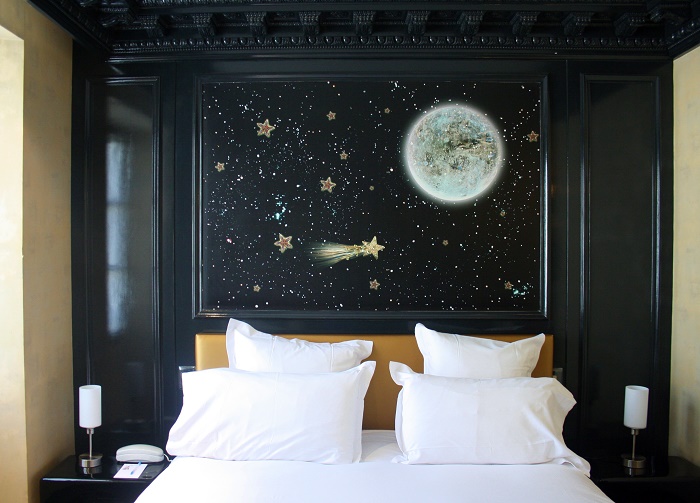 Room features include a comfy queen-size bed covered in sumptuous linen, large Samsung LCD TV, writing desk, Lacroix illustrated notepad, minibar, air-conditioning, a complimentary bottle of mineral water and free wifi.
The room is unexpectedly spacious with a living area covered entirely with black and white toile de Jouy fabric, offset with pop-style orange felt swivel chairs.  The open wardrobe with plenty of hanging and storage space can also be sectioned off with a curtain and even the light switches have the toile de Jouy pattern for that total immersion effect.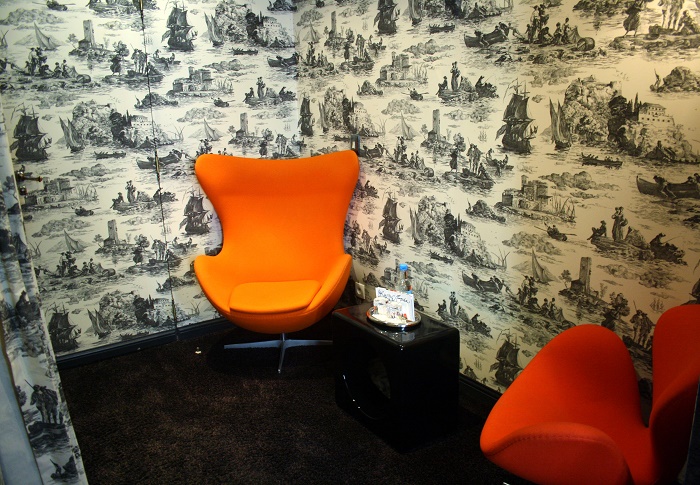 I also loved that some wall edges are covered in mirrors (I never imagined how handy they would be) and that the bedside lights have a sensor, so you simply give them a regal wave to dim or switch off the light, rather than scrambling for the switch.
Most Paris hotel rooms that I've stayed in usually feel very contemporary, so it was a real pleasure to look up at the ornate cornice above the bed and fling open the traditional windows to the sounds of the street below in the morning.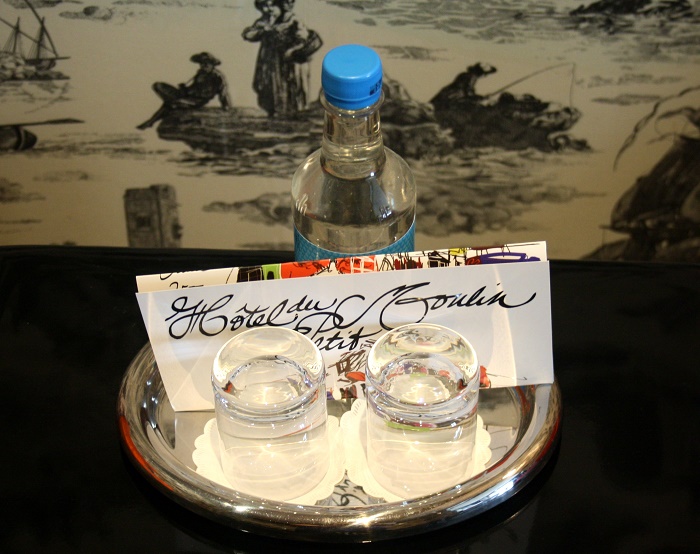 The large bathroom has an urban-country feel with cream painted wood-panelled walls, black slate tiles, a deep claw-foot bathtub with shower, extra-wide towels and face cloths, thick bathrobes, slippers and a set of Hermès Eau d'Orange Verte bathroom products.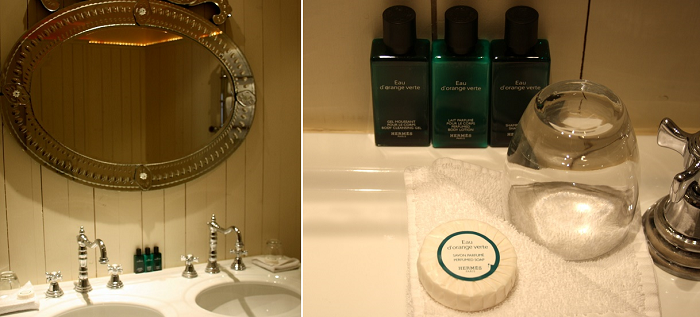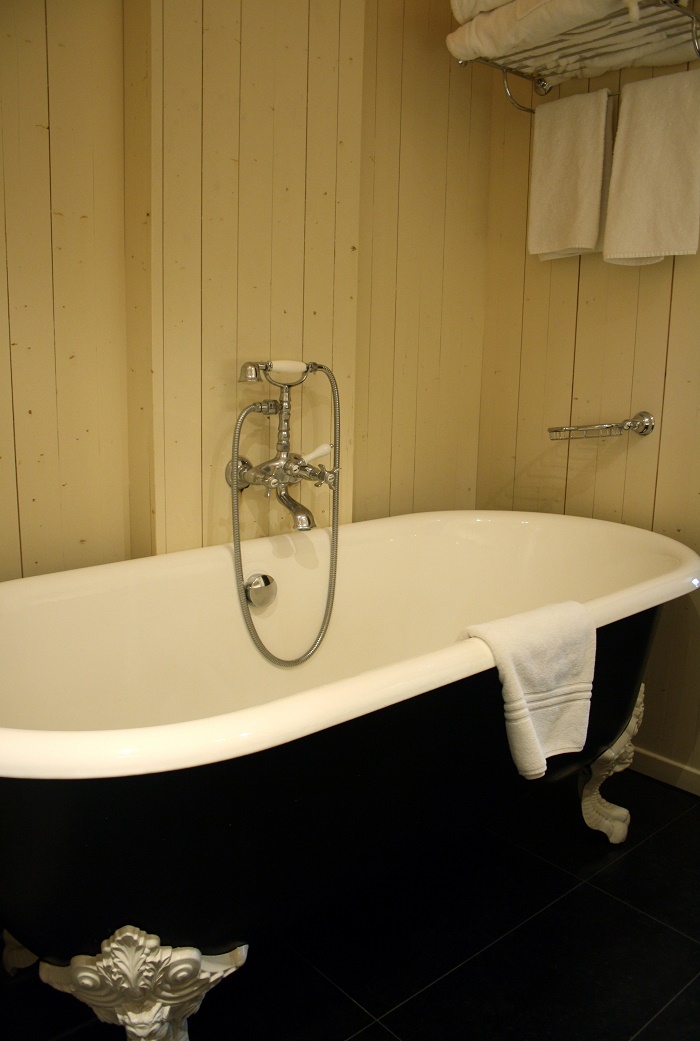 After a blissful night's sleep (and a glorious lie-in), we headed down the bar for a typically Parisian breakfast.  The colourful bar has a vintage French feel with a trompe l'oeil statement wall and a traditional zinc bar.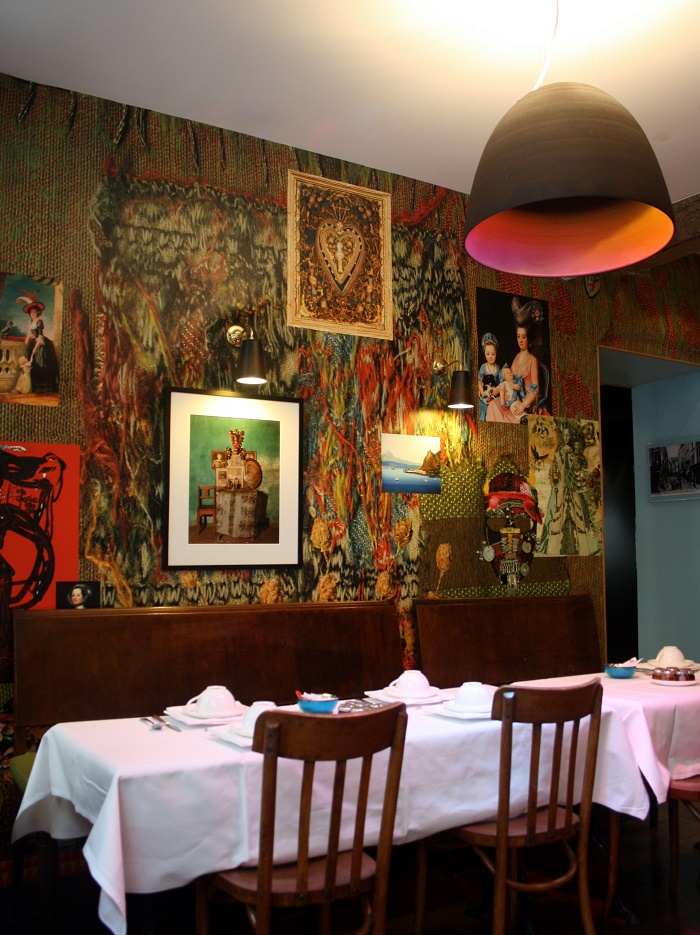 We were served a generous morning feast of fruit salad, French set yoghurt, artisan baguette with President butter and cheese and a basket full of exquisite pastries, with Mariage Frères Earl Grey tea and freshly-squeezed orange juice.
As if that wasn't enough, there's also a table with cereal, nuts and fresh fruits that you can help yourself to.  Breakfast is 16 Euros per person and is definitely worth ordering to start the day feeling happy and well-fed – it can also be taken in the comfort of your room.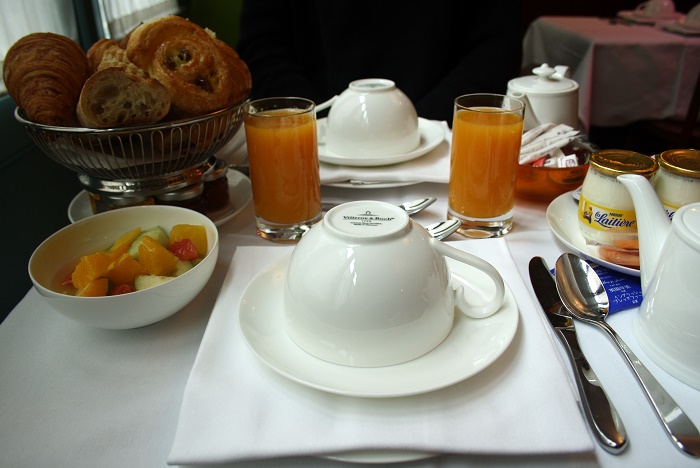 As Hotel du Petit Moulin is a small hotel, there's no restaurant, however you can indulge in room service with a menu of French classics such as onion soup and confit duck from a good neighbourhood bistro.
Of course, the Marais is a haven for foodies, so you don't need to stray too far for a memorable meal.  Nearby, you can find American neo-diner Rachel's (my Parisian friends rave about the cheesecake), merci's pizza restaurant Grazie, Le Mary-Celeste cocktail bar, historic foodie spot Le Marché des Enfants Rouge and my two new favourites Profiterole Chérie and Riviera-inspired tapas bar Les Nicois.
This hip part of the Marais is also home to some of the city's best art galleries, independent boutiques and discount stores for French designer brands such as Alaïa, Zadig & Voltaire and Sandro.  It's quickly become my favourite part of Paris to stay in for a romantic, relaxing break.
Hotel du Petit Moulin is the perfect urban bolthole that makes you feel immersed in Parisian life.  If you love the Marais, couture fashion and plenty of privacy, this is the place you should call home when in Paris.
Stays at Hotel du Petit Moulin from €195 per room per night, based on two sharing on a B&B basis.  www.hotelpetitmoulinparis.com: +33 1 42 74 10 10.
Chérie City was a guest of Hotel du Petit Moulin
All photos by Chérie City