When the week starts with weather as dismal as this, the most appealing mood elevator is gooey, melted cheese – and a lot of it!
Luckily, this craving can be indulged quickly and efficiently at Melt Room in Soho.  The petite grilled cheese sandwich shop brings the New York deli classic to London and believe me, it's more than just a posh toasty.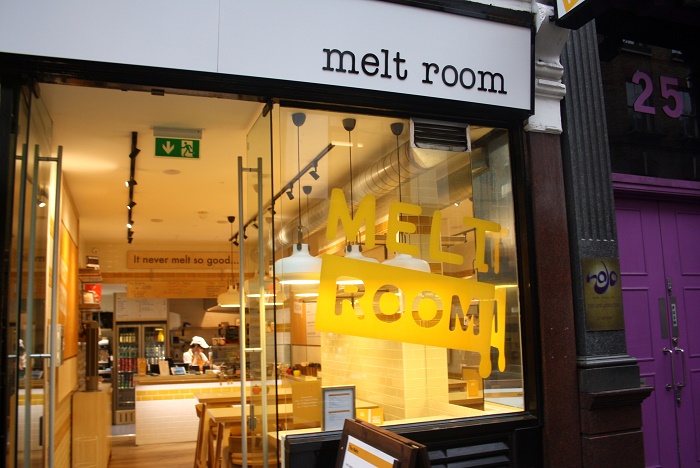 Melt Room has a seriously tempting menu of gourmet toasted sandwiches including Pastrami with porcini mushrooms, horseradish & sparkenhoe red Leicester and BBQ Chicken with red cabbage slaw and coastal cheddar.  Or, you can also keep it simple with the classic sandwich – a special cheese blend on sour dough bread, which I imagine would go well with the home-made vine tomato soup.
On my visit, I couldn't resist the Pulled Pork Shoulder with Pommery mustard, real ale and apple chutney & sharp cheddar (£5).  The sandwich was filled with a good amount of juicy, slow-cooked pork, which was perfectly complemented by the rich, oozing cheddar and the sweet, tangy chutney.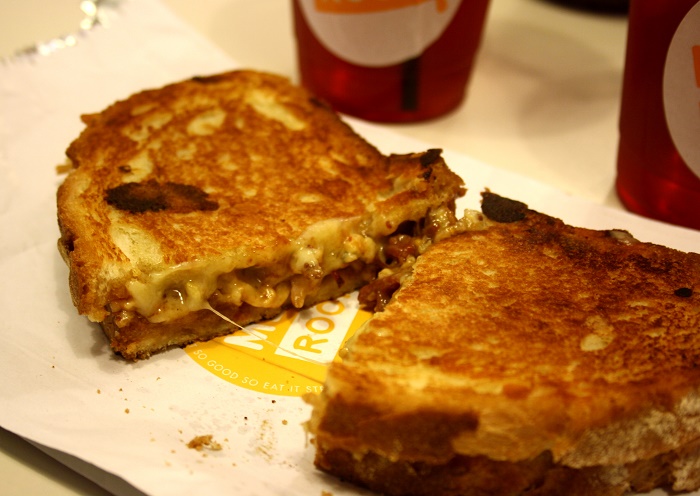 Another favourite was the Slow & Low Lamb Shoulder with Romaine lettuce, Pommery mustard & melted Swiss (£5).  The lamb was ever so tender and Swiss cheese was a well-considered choice, so the flavours weren't too overwhelming.
Of course it's all about the melts, but there's also a tempting daily special of mac and cheese as well as soups, salads and healthy breakfast dishes.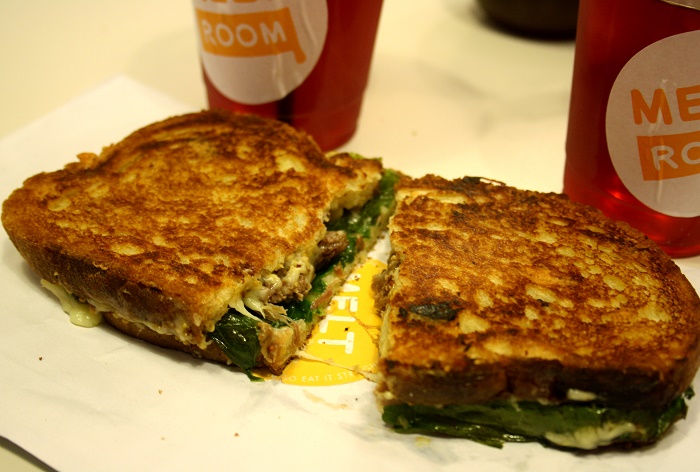 It's an absolute must to finish with a sweet Nutella & Mascarpone Melt (£3.50).  This combination of velvety chocolate, nuts and cream sandwiched between thin slices of milk bread is just heavenly.  It would also work well as a decadent breakfast or an afternoon treat, although I do believe Nutella is a good idea at any mealtime.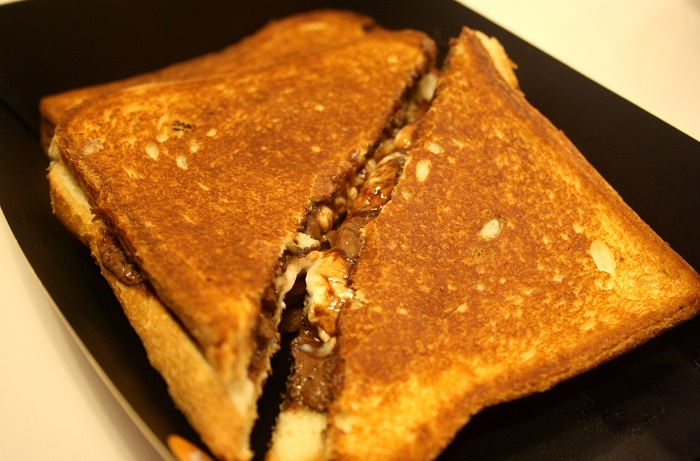 Melt Room is a fun addition to Soho and it definitely hits the spot for a yummy cheese fix at any time of the day (it's open until 9pm most nights).  It has a quick 'in and out' feel, but with decent prices (nothing is over a fiver) and good quality ingredients, I can see it becoming a local hit.
For more information and the menu, visit: www.meltroom.com
Chérie City was a guest of Melt Room
Photos by Chérie City