Last weekend, I took my mum on a luxury girls' trip to Dublin, filled with sightseeing, shopping and plenty of eating.
It was our first time in the Irish capital and we were both absolutely charmed by the city's culture, elegant architecture, friendliness and of course, the craic!
Our stylish base at The Westbury is well-located to see lots of the city, but there are still plenty of things on our list to bring us back.  Here are a few fun things to do on a weekend in Dublin…
Trinity College
Taking a stroll around Dublin's impressive Trinity College is an absolute must.  Founded in 1592, Trinity College is one of the seven ancient universities of Britain and Ireland (in good company with my alma mater, University of Glasgow).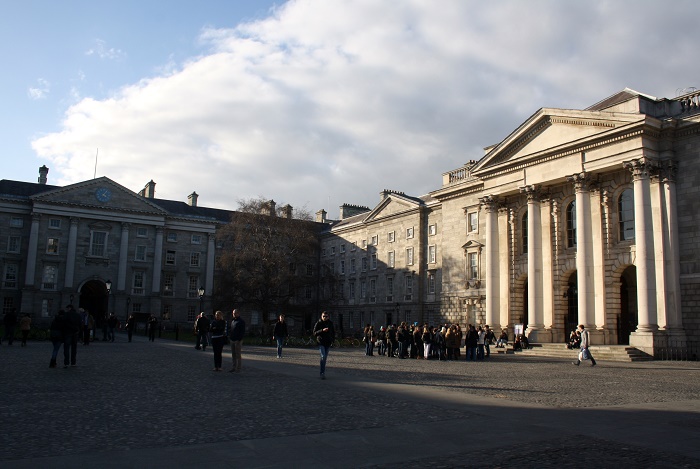 It's home to the Book of Kells in the beautiful, wood panelled Library of Trinity College and notable alumni include literary greats such as Oscar Wilde, Samuel Beckett, Bram Stoker and more recently actor Dominic West.
Ideally, visit on a Sunday afternoon when the students are away studying (or nursing hangovers) and absorb the history and atmosphere of the classical buildings in the open quadrangles, Parliament Square and Fellows' Square.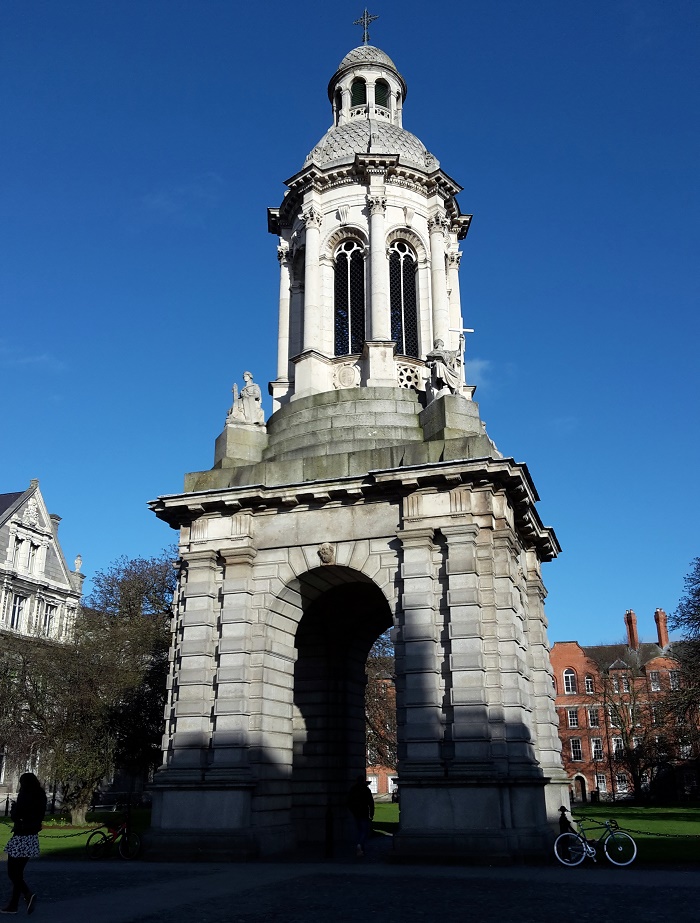 Drinks at The Temple Bar Pub
Temple Bar is a lively, historic part of town close to the River Liffey, known for its traditional Irish pubs.  On the weekend, it's cobbled streets are filled with revellers and buskers, and the sounds of live folk music can be heard from the pubs.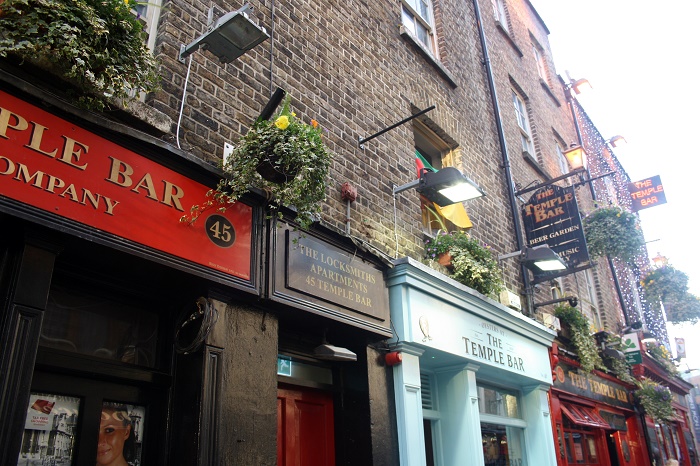 Before visiting Dublin, my mum told me that she rather enjoys Guinness.  I wanted to put this to the test, so we popped into the famous Temple Bar Pub for an aperitif before heading back to Balfes for dinner.  True to her word, my mum ordered half a pint of Guinness and I played it safe with a suitably Irish Baileys on ice.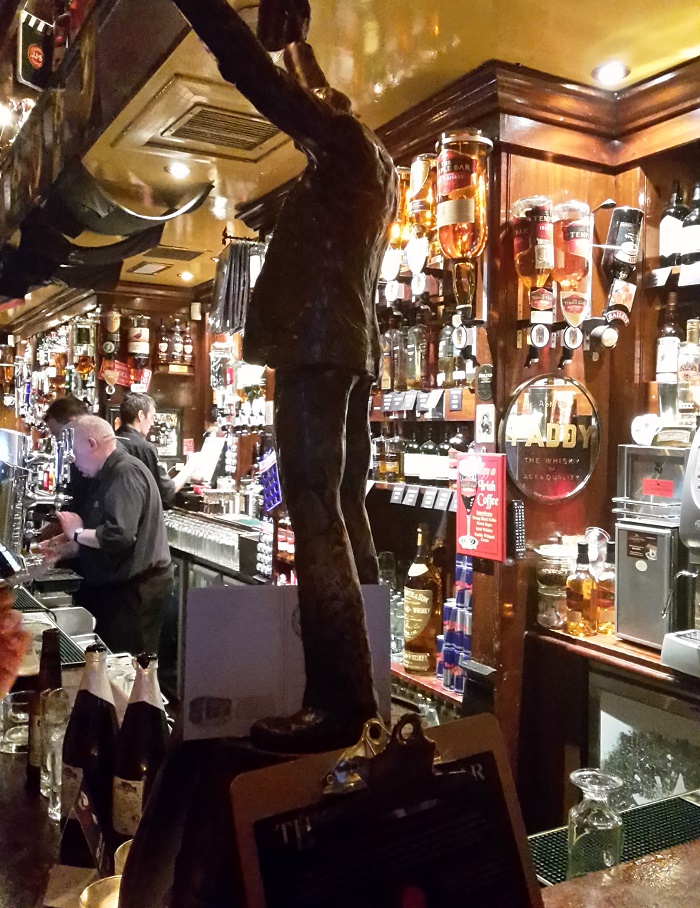 The Temple Bar was established in 1840 and named after Sir William Temple, the provost of Trinity College, whose house and gardens were built there in the early 17th century.  The pub has an extensive selection of rare and interesting whiskeys – you can even order a whiskey flight to taste three different kinds.
Shopping at Avoca
Avoca is a glorious lifestyle store with 11 outlets across Ireland only, so it's a real hotspot for shopping.  Avoca is Ireland's oldest handweaving mill, established in Avoca, Country Wicklow, back in 1723.  When the three Wynne sisters inherited the mill, they revolutionised weaving in Ireland by adding colour to their designs.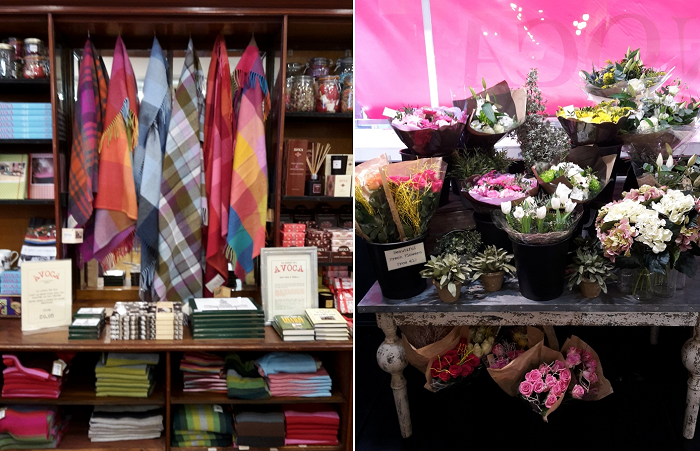 Today, the family-run business produces the most beautiful, striking throws and blankets alongside clothing, perfume, ceramics, glassware and gourmet food.  I discovered Avoca in Belfast and was delighted to find out that the 7-floor Suffolk Street Avoca store was just a short walk from our hotel.
At the top of the store is the Avoca Cafe with an all-day menu and vintage-chic interiors (it feels more like a restaurant than cafe) and there's also the more informal food hall on the lower ground level where we had lunch.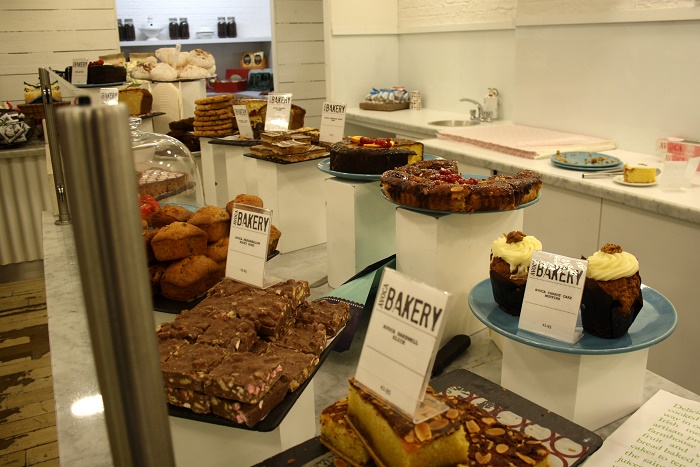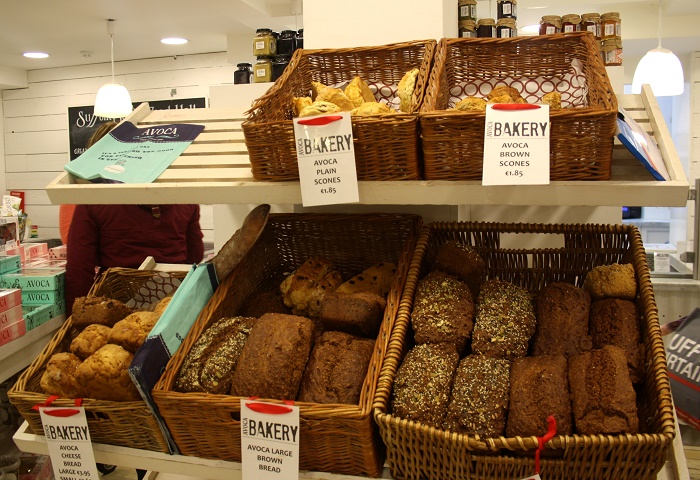 The food hall has a deli, salad bar and counter full of baked goods as well as a separate rotisserie.  I enjoyed a tasty chicken Caesar wrap and my mum went for a spicy chickpea and quinoa cake with carrot salad and antipasti from the salad bar.  For dessert, we couldn't resist sharing a slice of scrumptious lemon curd cake – one slice was more than enough for two.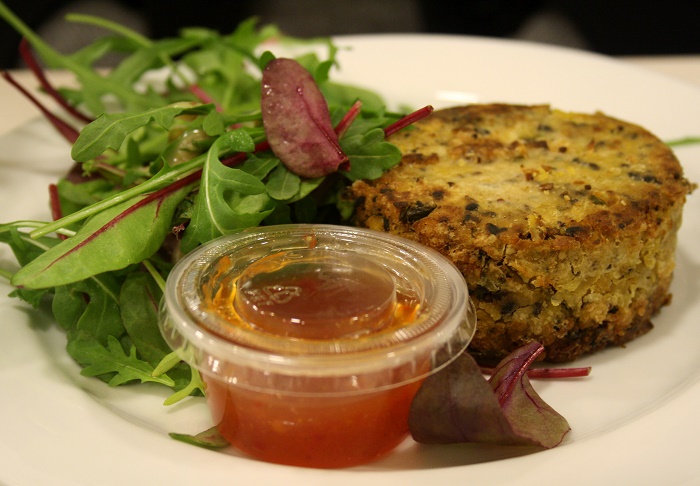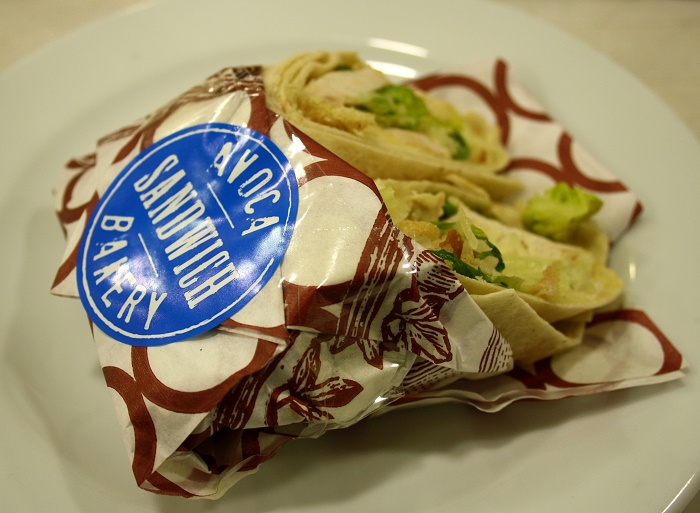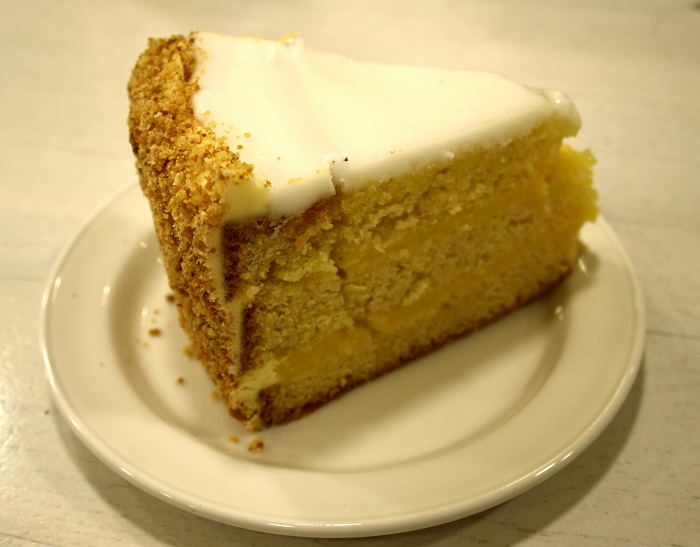 To bring a bit of Avoca back home (along with as many scones as we could carry), we picked out a stunning wool throw each – so pretty and so cosy.
South Georgian Area
The Georgian area at the bottom of Grafton Street on the South bank was my favourite part of Dublin.  This elegant, affluent part of the city is characterised by its rows of townhouses with handsome doors and tall windows.
It's home to Merrion Square, where artists sell their works on the railings on a Sunday and also the fantastic National Gallery of Ireland.  I fell in love with the ivy-covered Boston College on St. Stephen's Square and enjoyed strolling around the tranquil St. Stephen's Green with its duck pond and pretty gazebo.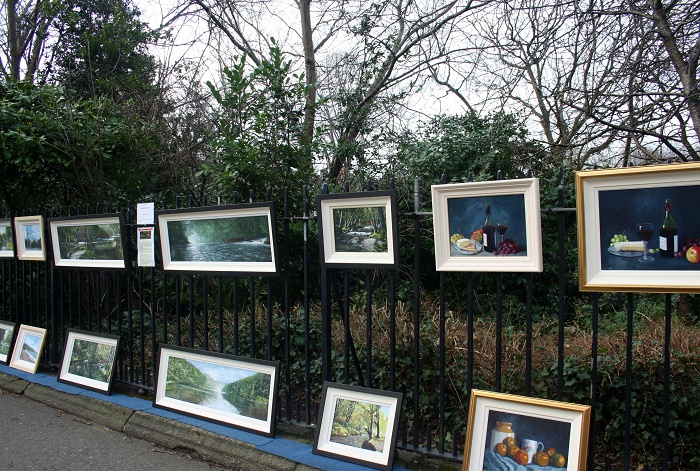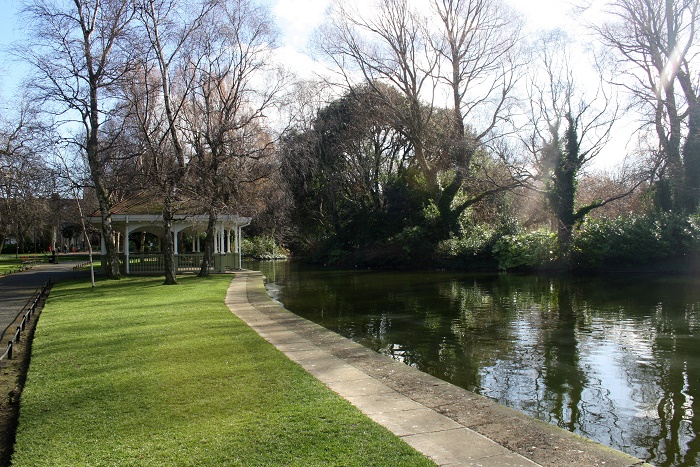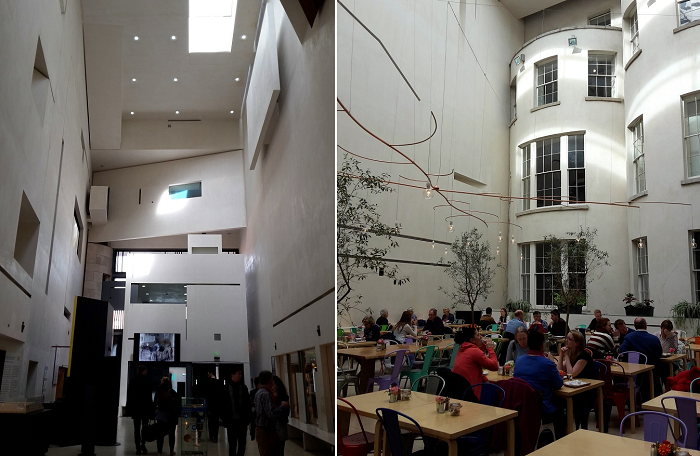 Lunch at Fallon & Byrne
Dublin is a real foodie city and Fallon & Byrne is a great place to find the best Irish produce, delicious meals and fine wines.  The top floor features a popular restaurant while the food hall has a small cafe for lighter bites.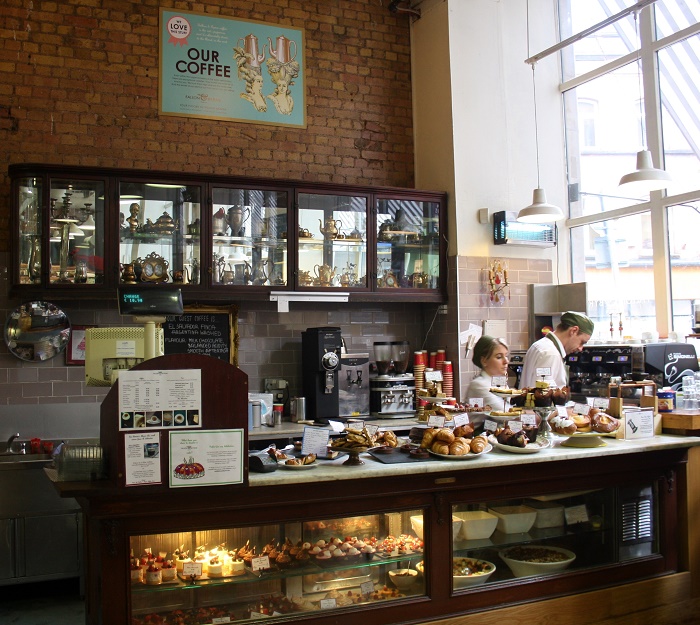 After a long walk in the cold, we were ready for a bowl of delicious carrot and coriander soup, served with thick slices of freshly-baked brown soda bread and butter.
You can also get meals, salads, cheese and cured meats from the deli to eat in at the cafe or do a spot of posh food shopping.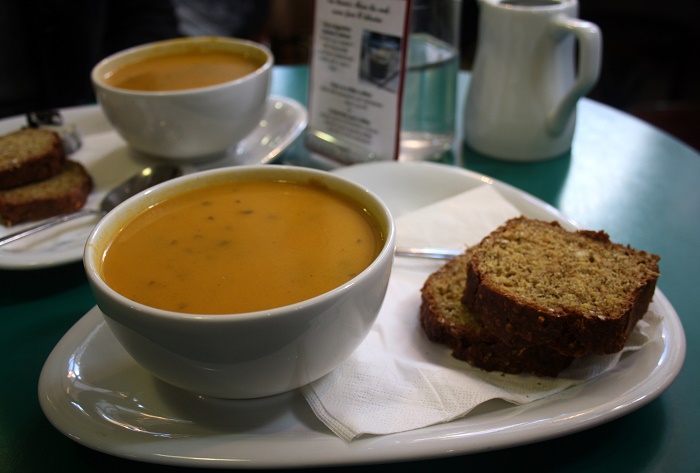 Have you visited Dublin?  Where are your favourites spots and things to do in the city?
All photos by Chérie City