When travelling, my itinerary is usually jam-packed, so my grooming routine needs to be efficient and fuss-free.
Having naturally curly hair, I would usually simply wash and go for a busy day out in Singapore, Valencia or at a festival – it's not worth even trying to fight the humidity.
Here are some of my care-free curl moments on my travels – as you can see, I'm at my happiest when keeping it low-maintenance and breezy.

However, for a night of dinner and cocktails in New York, Paris or right here in London, a more polished look is required.
I've always simply blow-dried my hair and made the ends wavy with ceramic curling tongs, but I've recently been introduced to the power of ghd with the original multi-award winning ghd IV Styler.  Since hotel hairdryers can rarely be relied on and luggage space can be limited, ghd hair straighteners can be a beauty life-saver.
Even if an inferior hotel hairdryer does little to tame my tresses, I've found that the ghd IV Styler can add the smoothness needed for a straight-hair look.  Most importantly, the straighteners can shave vital time off hair styling and I can often go from curly to straight in less than 20 minutes if I'm in a rush.
So far, I've used my ghd IV Styler on trips to Paris, Dublin and two cruises – now I can't quite imagine travelling without it.
So, what makes ghd straighteners so special?  Firstly, it's suitable for all hair types and can create not only poker-straight locks but also loose curls and waves.
The aluminium plates covered with a thin layer of ceramic coating and are are fully heated in less than 30 seconds.  Also, the round barrel and swivel cord make it easy to really work on the hair and style it with ease.
Another bonus is that they're very slim, light-weight and very sturdy, so they don't take up much suitcase room and travel well.

Here are the results of my express ghd hair straightening.  I could go further with a more sleek, smooth look but I like it when the natural curl adds a soft wave and a touch of volume.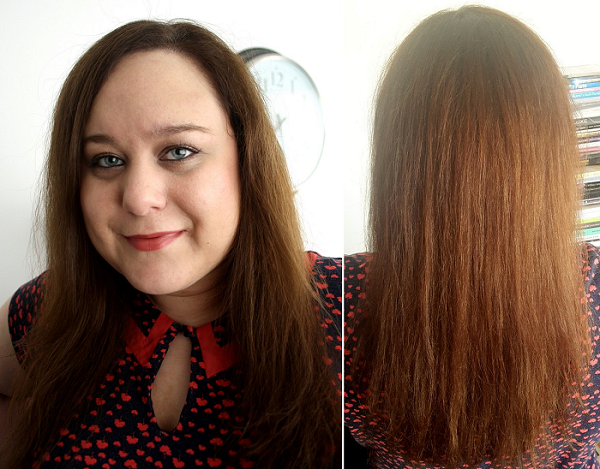 I'm really impressed with my ghd hair straighteners and now know why my friends have always stayed loyal to the brand.  I'm tempted to start a mini ghd collection and invest in a ghd professional hairdryer (to improve my blow-dry skills) and perhaps a creative curl wand to refresh my curls when going natural.
Have you tried ghd hair straighteners?  What are your tips for a quick and chic style on the go?
The ghd IV Styler is priced at £99 and is available to buy online here: www.ghdhair.com
Sample