The highlight of my summer, without a doubt, was exploring beautiful Provence over a long weekend.  It was a jam-packed solo trip full of sun, culture and delicious food, in celebration of the new Eurostar direct route to the south of France.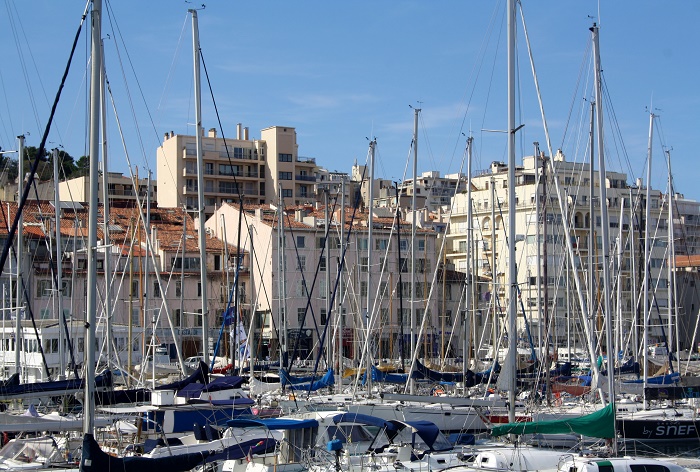 As a massive fan of Eurostar, I was thrilled at the idea of hopping on a train at Kings Cross and arriving in Marseille around six hours later.
Sure, the journey time may be more than a flight, but its big advantages are arriving and departing in the heart of the city, a smooth journey with great views of the French countryside, generous baggage allowance and no liquid restrictions, so you can bring back as much rosé as you like.
Travelling in Standard Premier one way was an extra special treat, as I enjoyed a tasty French meal of stuffed roast chicken and vegetables, a decadent tarte au citron and wine, plus a very comfortable solo seat and a choice of glossy magazines – sheer travel bliss!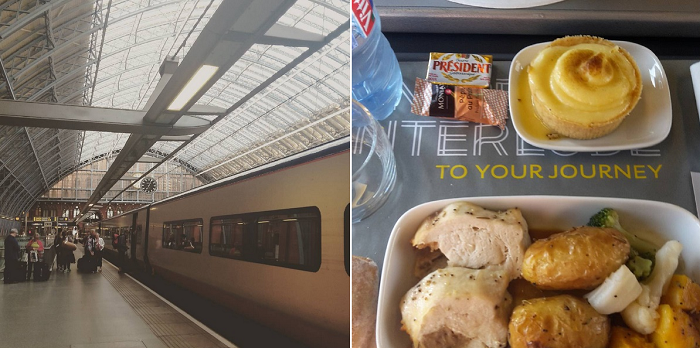 The hours flew by as the train passed through Lyon and Avignon with its picturesque sunflower fields and I arrived to glorious blue skies in Marseille.  The European City of Culture 2013 is very cosmopolitan yet charming with its own enduring identity complimented by Mediterranean and North African influences.  It's also perfectly located to explore the Provence region, close to Cassis, Vitrolles and Aix-en-Provence, where I spent the second half of my weekend.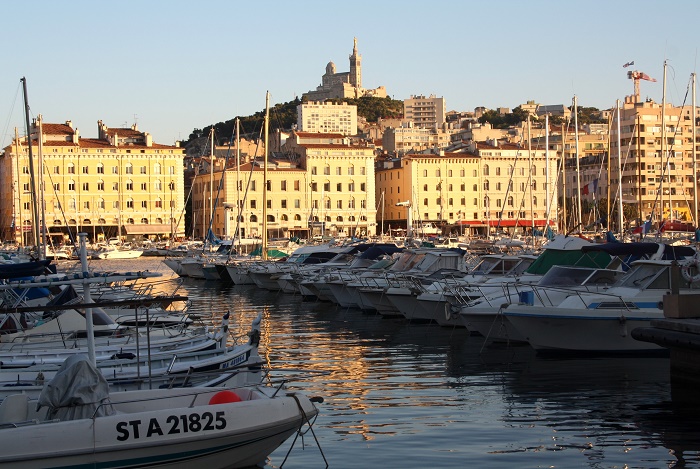 My base for two nights was Hôtel Résidence du Vieux Port, a cool design hotel with arguably the best location in Marseille, nestled on the old port and at the foot of historic district Le Panier.  I really loved this friendly independent hotel and will tell you all about it very soon…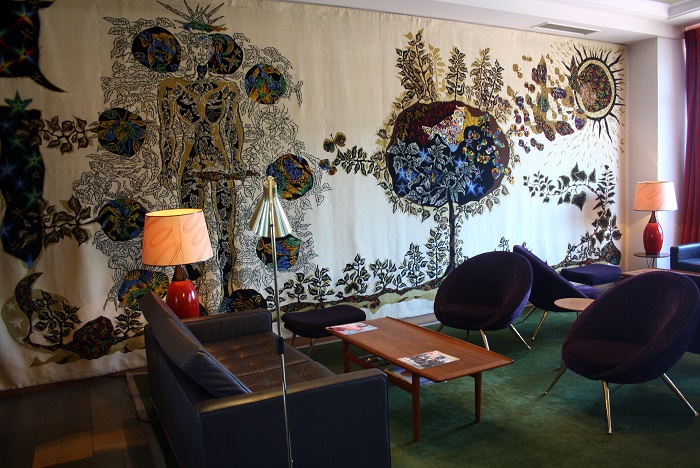 For a breezy trip start to my trip, I met up with fashion blogger Julie Vandal for a drink on the terrace in bobo hilltop neighbourhood Le Cours Julien.  Julie then took me on a tour of good shopping addresses where local artisans produce stunning clothes, jewellery and homewares in their studio-boutiques.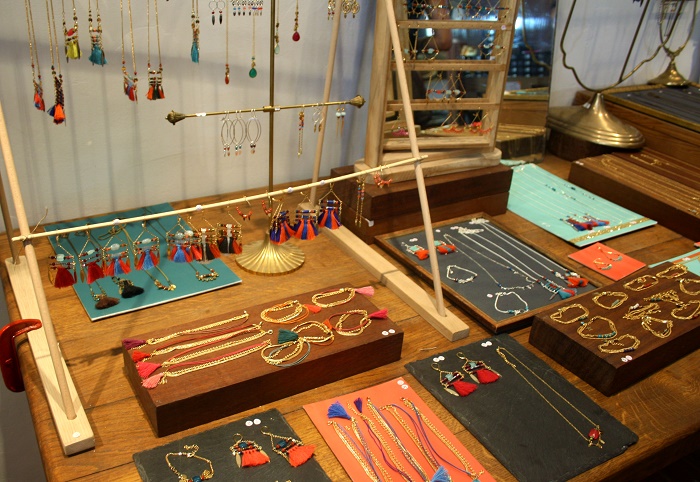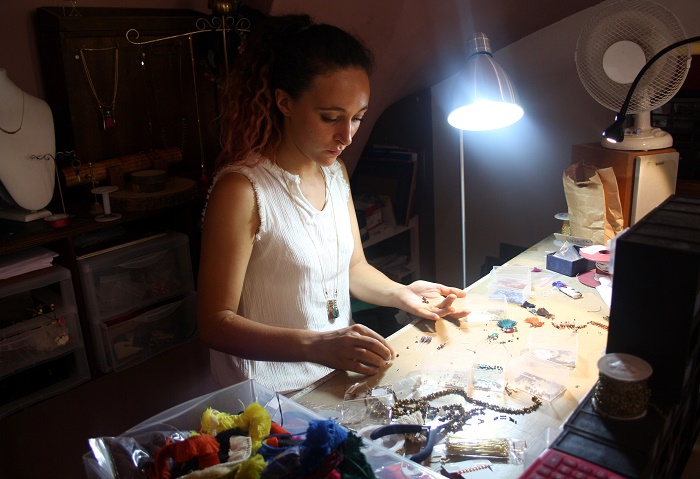 Some of my favourites spots were Cherry Bones for delicate, colourful jewellery, Monstro Diva for beach-luxe accessories, Allika for stylish hand-made leather bags and Provencal homewares store L'Entrepot.
Le Cours Julien is also home to some of Marseille's best street art.  Atelier Juxtapoz works with local shopkeepers to allow graffiti artists to beautify their shop fronts with creative murals – there's even an annual Street Art Festival to celebrate the area's creativity.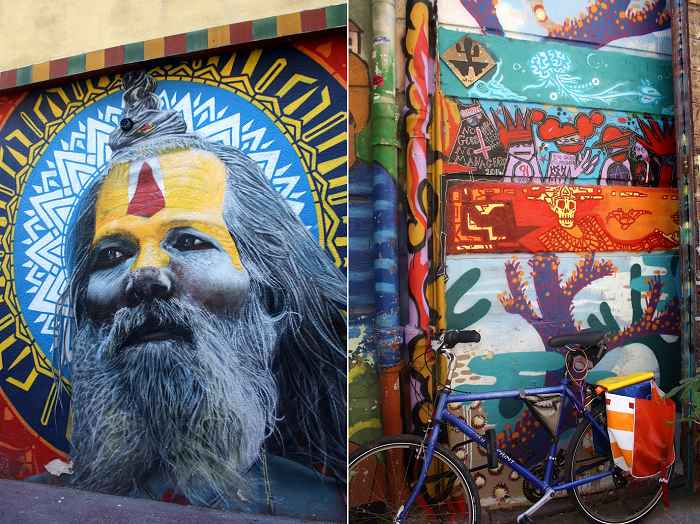 Look out for images of the bonne mère de Marseille and the poignant tribute to Charlie Hebdo cartoonist Cabu by local street artist JUIS.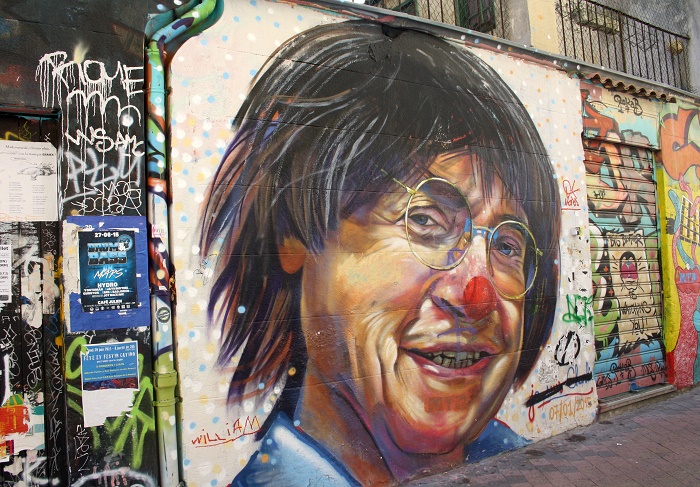 A highlight of a trip to Marseille is the exquisite local produce, but you need to venture a little beyond the Old Port to sample these delicacies.  I enjoyed a gourmet tour with lovely guide Alexandra Blanc-Vea, who really knows Marseille inside out.
We started at Les Navettes des Accoules, a charming bakery in Le Panier that is said to offer the best navettes in Marseille (after tasting them, I truly believe it).  Shaped like traditional boats, navettes are fragrant, slightly sweet biscuits made with orange blossom water – perfect with a cup of tea.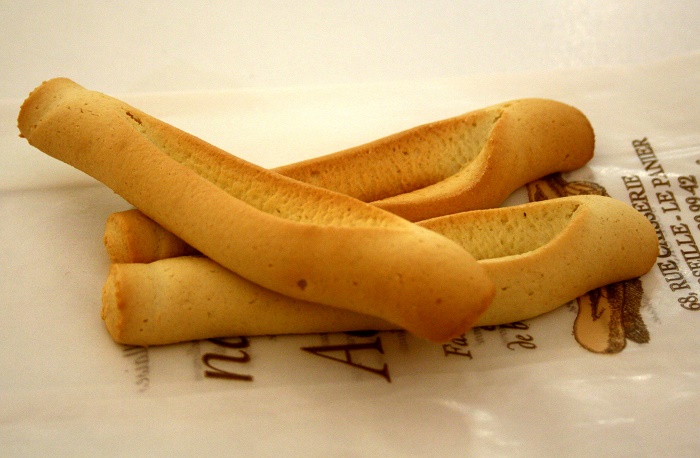 The next stop was Le Glacier du Roi, another Marseille institution, where we were treated to a sharing plate of mouthwatering ice cream.  The signature navette flavour was out of this world and I also loved the tart, refreshing lemon sorbet.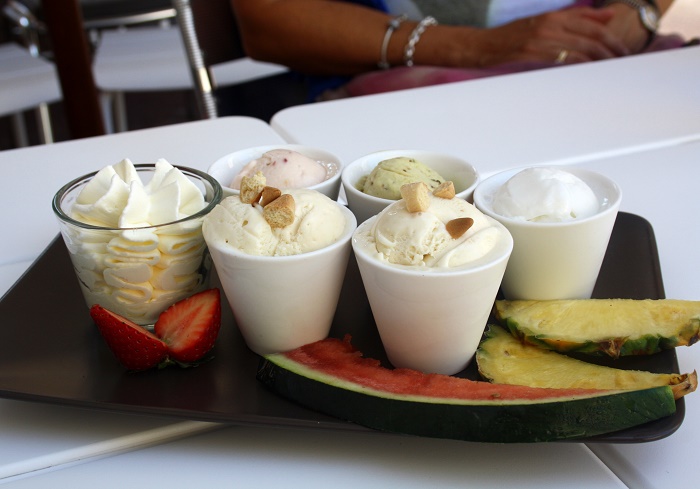 Other foodie moments included fine wines and local cheeses at La Descente des Accoules, a tour of indoor market-restaurant Les Halles de Major and a tasting of fresh green olive tapenade in the courtyard cafe of La Vieille Charité.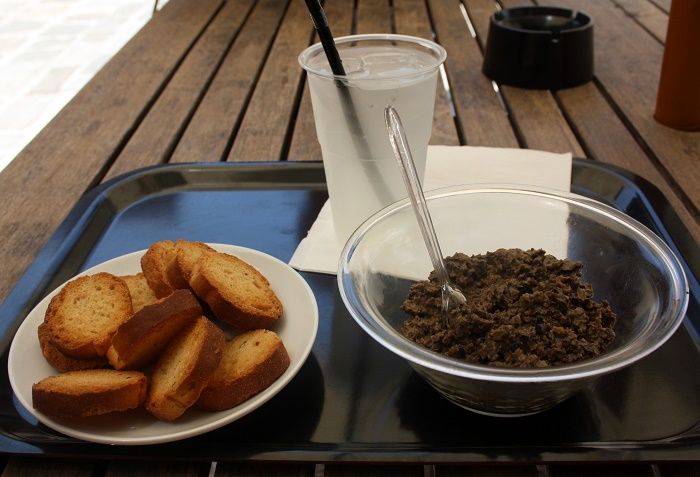 A must-have souvenir is Marseille's famous soap, hand-made with a high percentage of olive oil to moisturise the skin.  I picked up a few cubes of high quality soap at La Savonnerie Marseillaise, a stylish shop in Le Panier that offers soaps in every scent you can imagine.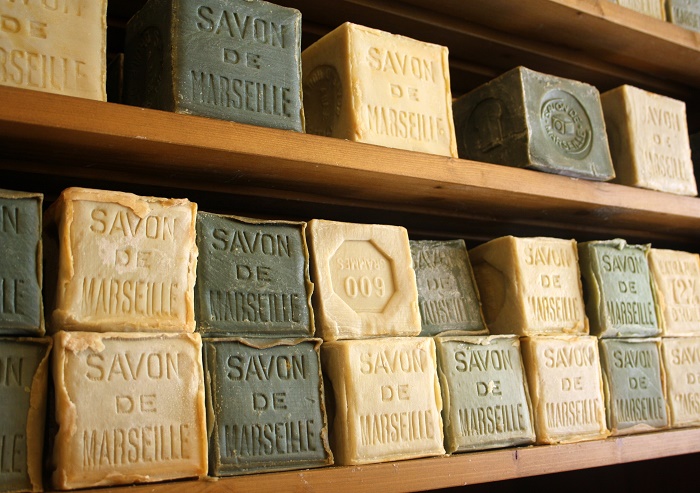 Another fantastic shop in Le Panier is Maison Empereur – an upmarket quincaillerie (hardware store) that sells classic, nostalgic French lifestyle goods such as espadrilles, Breton tops, traditional tableware, Papier d'Arménie candles and Pierrot Gourmand lollipops.  I could have easily filled a basket with French knick-knacks here, but there was still so much to see and do.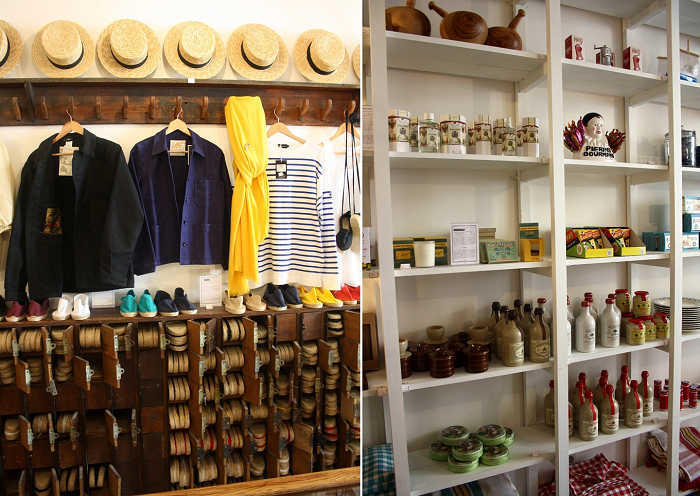 A real highlight of my time in Marseille was a private tour of this summer's must-see Aux Tableaux exhibition with Elodie Gaillard, press manager at Atelier Juxtapoz.  The former Saint Thomas d'Aquin School (closed in 2012) has been transformed into a creative wonderland by prominent and emerging artists from Marseille and across Europe.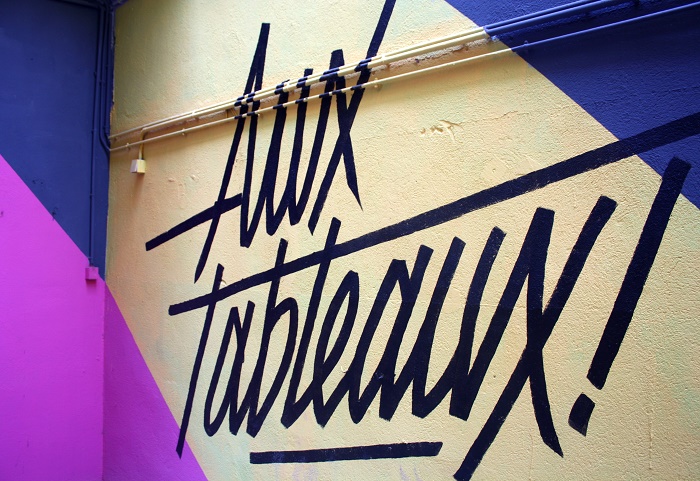 The artists took residence for four months in the desolate institution, which included kindergarten, primary school and high school on the same premises.  Each room has been redesigned by an artist, taking inspiration from their own memories of childhood and themes of school days gone by.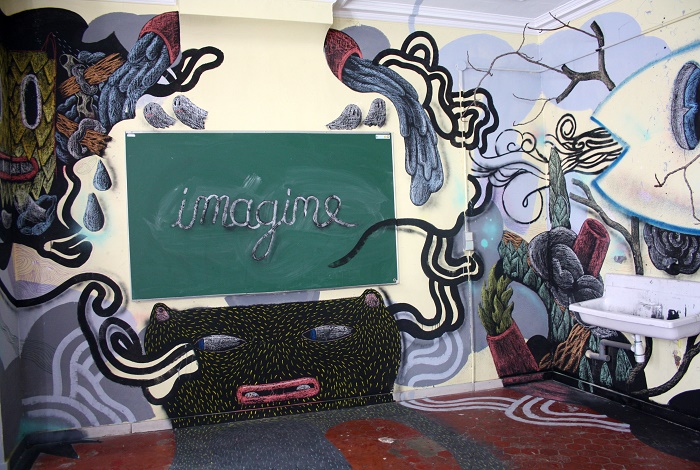 Some rooms are whimsical, nostalgic and otherworldly while the high school rooms explore teenage rebellion, rock 'n' roll and sex.  Allow a few hours to fully explore the rooms by artists including Remi Rough, Stephane Moscato, Lilli B, Veenom and Neurone.
There's also a peaceful courtyard where you can reflect on the installations over an ice cold drink, or visit on Wednesday night party with live DJs.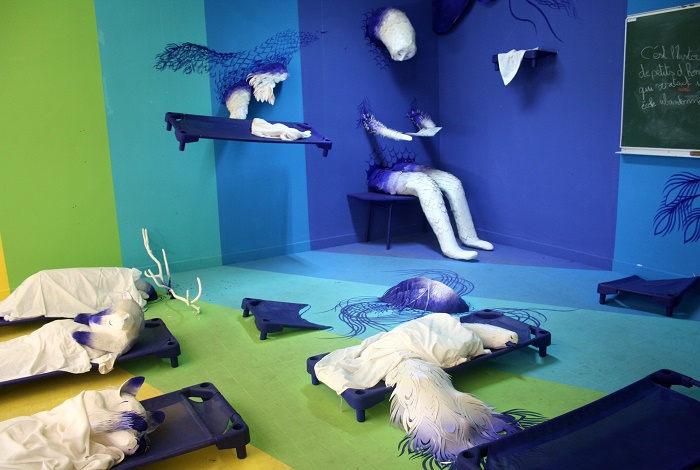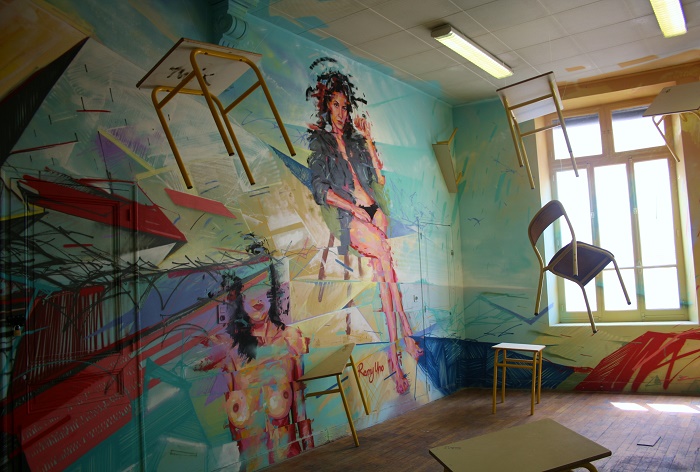 One of my evenings in Marseille was spent strolling around the Old Port, enjoying the balmy weather and street market stalls, then stopping to watch an impromptu Arabic music concert that drew quite a crowd.  I could even absorb the promenade's buzzing, frenetic atmosphere from the comfort of my own balcony.
I grabbed a light dinner of sushi and miso soup, but for something more romantic, you can enjoy fresh seafood at famous seafront restaurant Le Miramar or tapas and live music at Bar Manolo in Le Panier.  Of course, I couldn't pass up a rose-shaped gelato cone from Amorino for a sweet fix and a spot of people watching.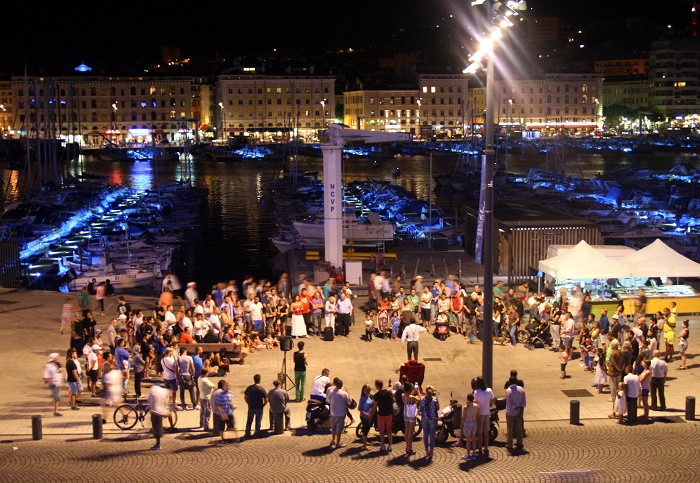 The next night, I checked out the restaurant at Mama Shelter Marseille near the Cours Julien.  The interiors are signature Philippe Starck, however the atmosphere was more subdued than at the lively Mama Shelter Paris – perhaps because it was a quiet Sunday evening.
The menu by chefs Jerome Banctel and Matthieu Devaux was full of tempting dishes and I really enjoyed my French-Asian Half roast chicken, caramelised soya sauce, coriander, mesclun salad and mushrooms.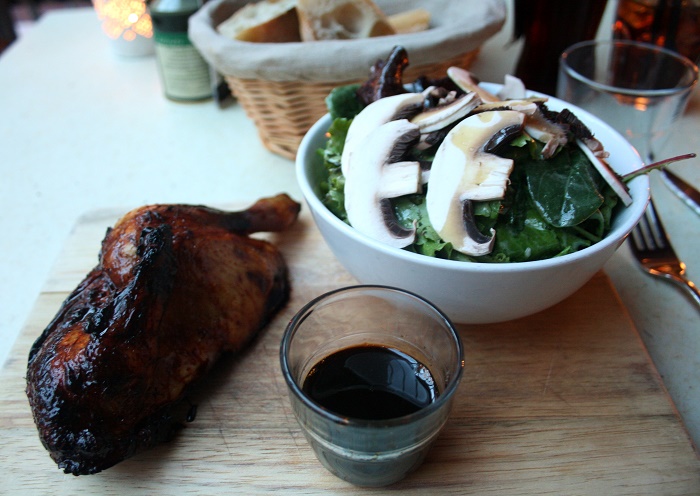 My time in Marseille ended with an idyllic three hour cruise of the calanques, along the coast towards Cassis and back.  The scenery was breathtaking and unspoilt with tranquil bays and crystal blue waters.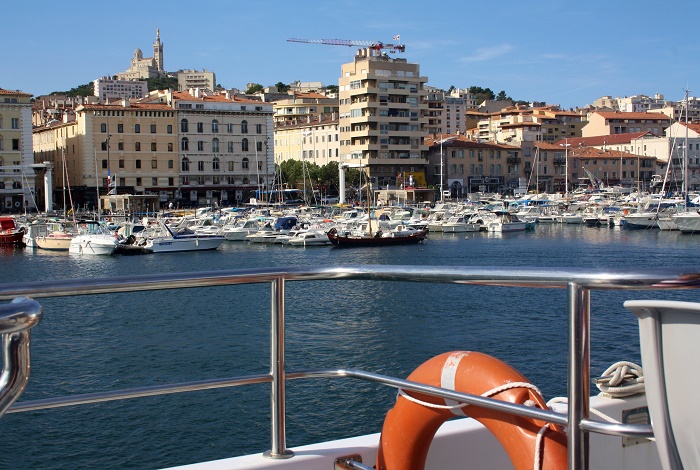 Leaving the port, we had great views of the Basilique Notre-Dame de la Garde, MuCEM, Palais du Pharo and Fort St Jean.  The waters can be rather choppy at times, so take precautions if you're prone to seasickness, then simply relax and enjoy the ride.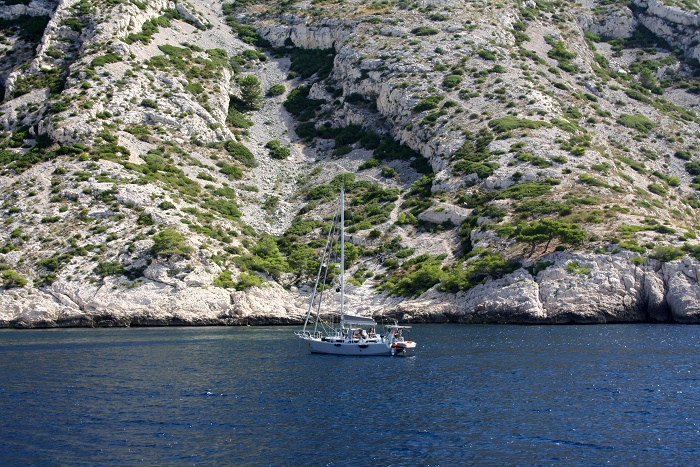 Marseille is a wonderful destination for a south of France city break, whether you're exploring the winding cobbled streets of Le Panier, watching the world go by at hip Cours Julien or indulging in fresh moules frites on the terraces of the Old Port.  With such a convenient Eurostar route from London, Provence is almost impossible to resist.
Explore Marseille with City Pass, offering benefits such as free access to the city's museum, a visit to the Chateau d'If, tourist train to Notre-Dame de la Garde or Le Panier, free access to subways and buses, free tastings and 10% discount at certified boutiques.  City Pass is valid for 24hrs, 48hrs or 72hrs and is priced from 24 Euros. 
Eurostar fares start at £99 for Marseille (from £199 in Standard Premier).  For more information and booking, visit: www.eurostar.com
Chérie City was a guest of Eurostar and Bouches-du-Rhône Tourist Board
All photos by Chérie City