Dim sum at Duddell's was a big highlight of my foodie trip to Hong Kong, so I was beyond excited when it opened a second restaurant in London just a few months ago.
The Hong Kong original, in Central's Shanghai Tang building, boasts two Michelin stars, a members' library, lush rooftop terrace and an art programme with regular exhibitions. Duddell's London feels more like a straight-forward restaurant than an 'art house', but is equally stylish, breathing new life into the former St. Thomas Church at London Bridge.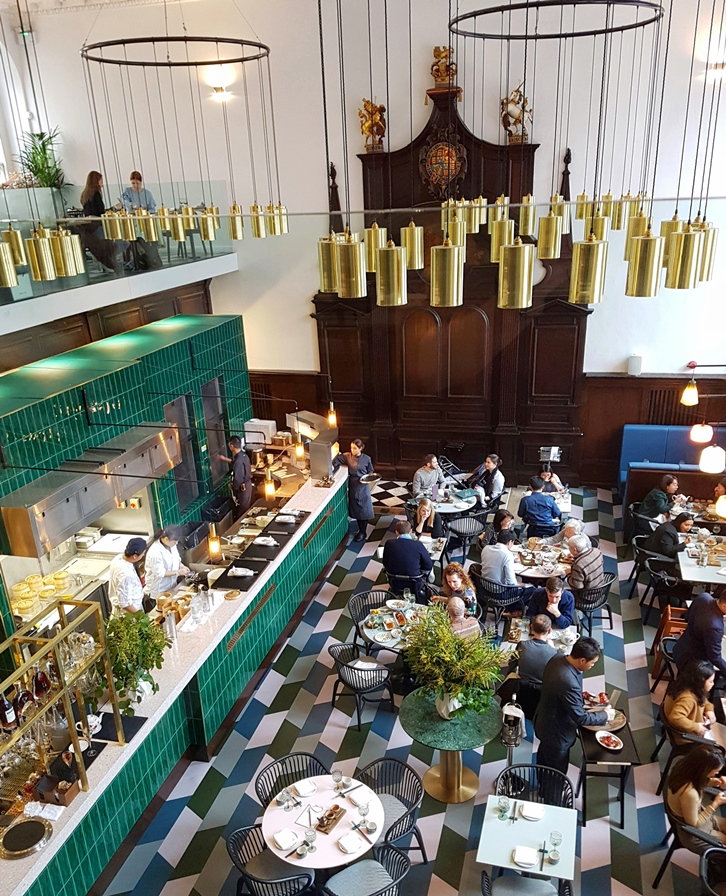 Set across two levels, the dining room is bathed in daylight and the church's historic dark wood features are popped with striking green tiles, a graphic patterned floor and statement brass chandeliers.
Arriving at Duddell's, we were warmly welcomed and shown to a prime front row table on the mezzanine overlooking the theatre of the restaurant and kitchen below.  Happily, I spotted a few similarities to the Hong Kong restaurant, from the beautiful custom-made china and glasses to the cool artwork on the menus.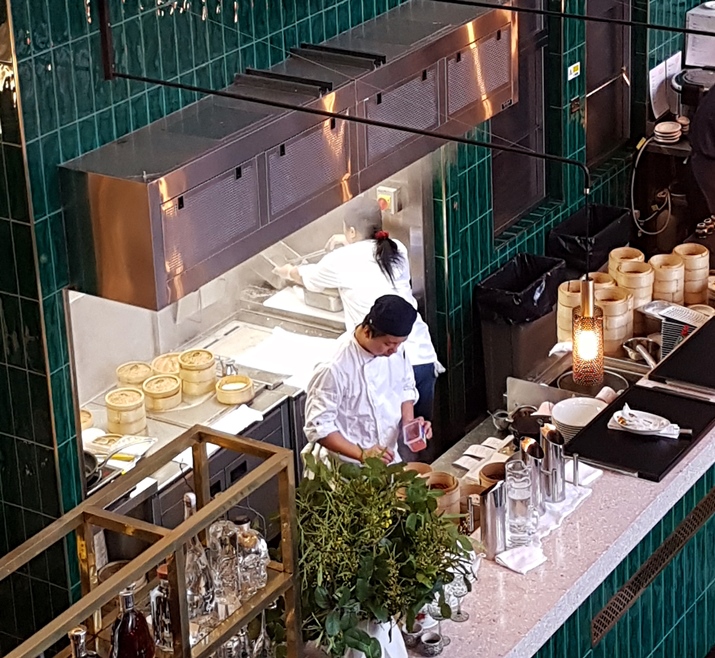 Chef Daren Liew (previously at Hakkasan) has created a menu of classic Cantonese dishes with a contemporary twist using luxurious ingredients like abalone, lobster, black cod and truffle.  Our Saturday lunch was all about the dim sum, which is ordered by ticking boxes on a notepad, however you can also mix it up with a few à la carte dishes.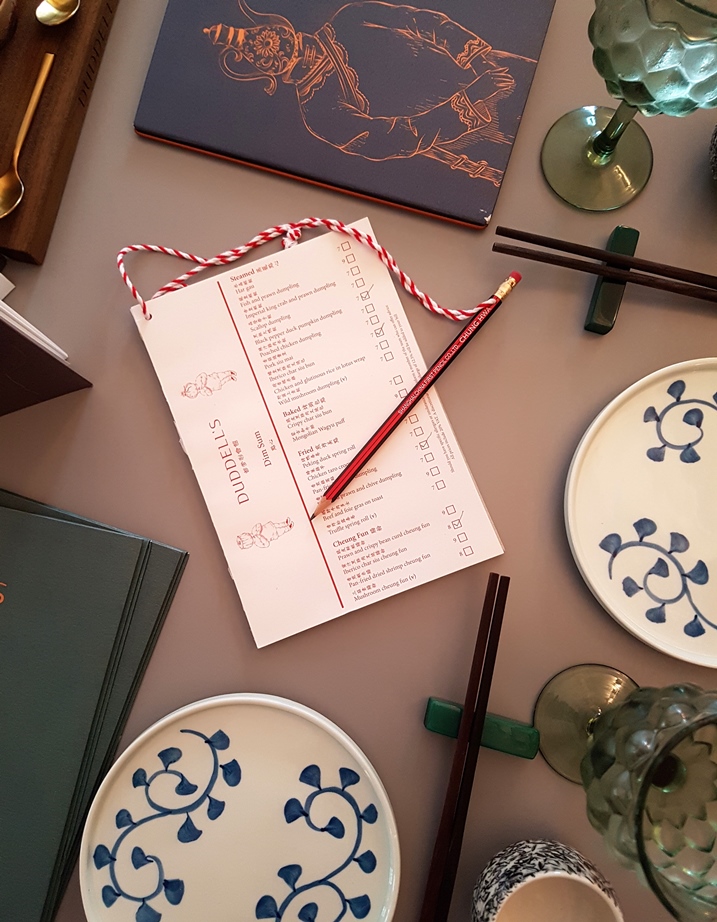 We started with a pot of the most exquisite Premium jasmine pearls tea, which was continually topped up throughout our meal.  Our waitress kindly advised when ordering that the large teapots are refilled with hot water twice, so one to share is more than enough.
The Cantonese dim sum symphony has quickly become an Instagram hit with colourful goldfish-shaped dumplings and visually, they didn't disappoint.  In fact, we were pleasantly surprised at how big they were, since they often look so dainty on photos.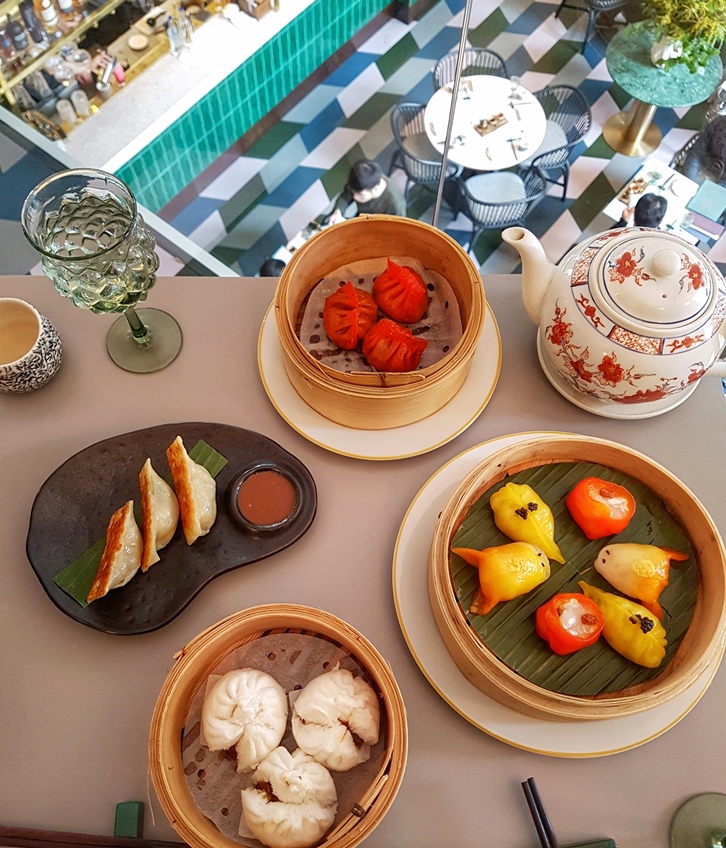 The trio of dumplings were plump and packed full of prawn, jade-leaf king crab and scallop and prawn, finished with crunchy tobiko, a brush of goldleaf or a goji berry in broth.
They were substantial and meaty without any filler and tasted ever so luxurious and fresh.  However, the dumplings don't have strongly-contrasting flavours, so try and eat them near the beginning of the meal when your palette can detect the subtle differences more easily.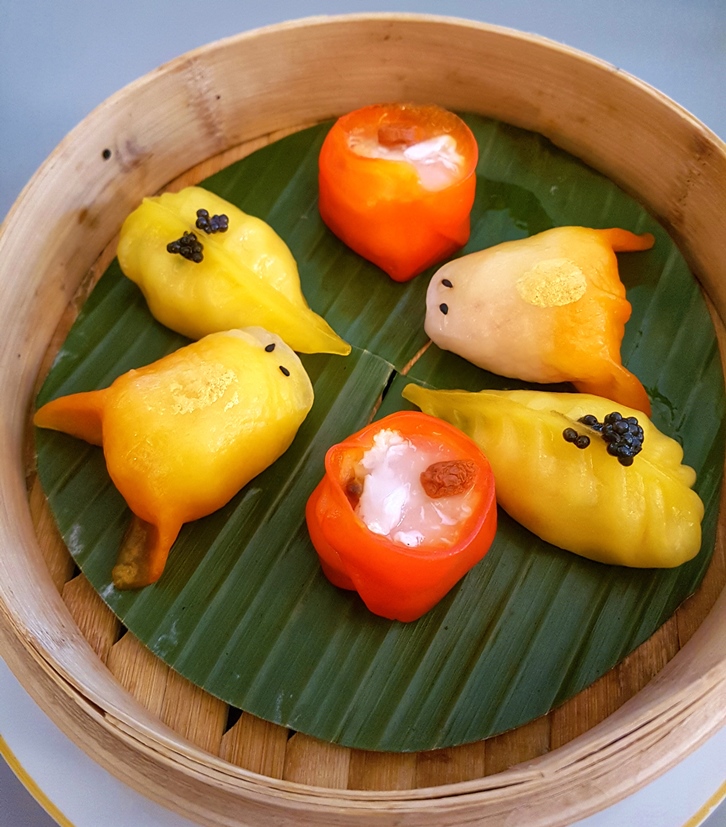 We were also tempted by Iberico char siu cheung fun and actually watched the chef preparing it in the kitchen.  Small pieces of succulent, slow-roasted char siu pork were marinated in a rich honey-soy sauce and wrapped in silky, glutinous rice noodle roll – absolute food heaven.  It's worth noting that if you're after that crunchy layer inside, you have to order the Prawn and crispy bean curd cheung fun.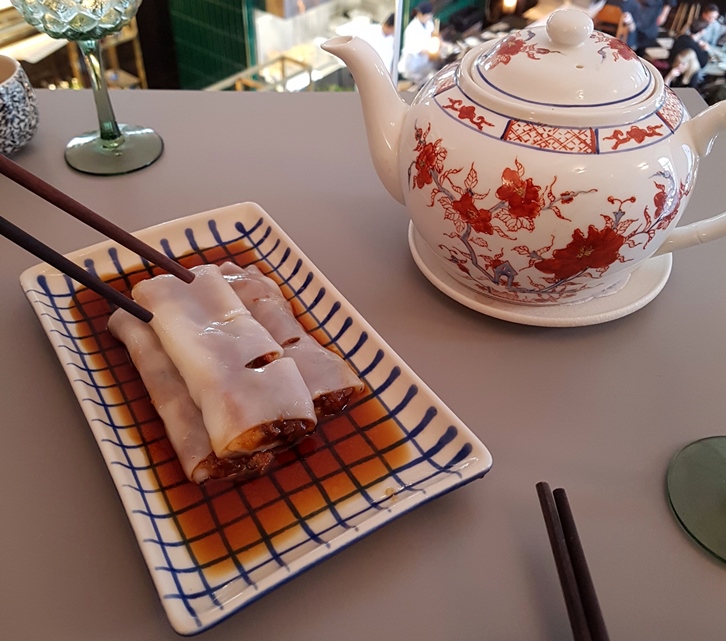 Pan-fried chicken dumplings were incredibly moreish with finely-chopped chicken (rather than minced) mixed with fresh leeks inside a lightly golden flat dumpling.
Iberico char siu buns were fluffy and cloud-like, filled with a generous amount of that yummy char siu.  There is also a Crispy char siu bun on the menu, if you want to try both the steamed and baked texture.
Black pepper duck pumpkin dumplings were punchy with tender, well-seasoned duck and a brightly-coloured skin.  With so many rich and sweet flavours at play, it was refreshing to try something a little more piquant.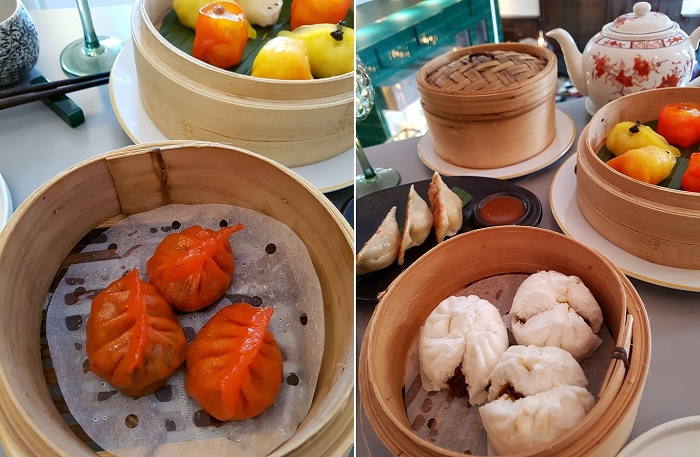 We went in to Duddell's thinking we could graze on basket after basket of dim sum, but in fact, we ended up too full for dessert (a rarity for me).  Those innocent-looking dumplings are deceptively hearty and extravagant, so be sure to pace yourself.  Next time, we might balance them out with some of the signature Peking duck, Cantonese soya chicken or Truffle and scallop rice.
Our dim sum lunch at Duddell's London was flawless and lived up to my huge expectations.  The friendly, immaculately-dressed staff commanded the room perfectly and everything was well-curated, from the cool soundtrack to the exquisite tablewear.  While London has no shortage of good contemporary Cantonese restaurants, Duddell's feels rather special and is likely to become even more of a scene spot once its art programme launches later in the year.
For more information and booking, visit: www.duddells.co
All photos by Chérie City