Afternoon tea is always a treat, but it feels even more magical during the festive season, amid twinkling lights and dazzling Christmas trees.  It's also a time when you can really savour it over a few leisurely hours with friends or family.
I've always wanted to visit the elegant and timeless Palm Court at The Langham London and a new Festive Afternoon Tea was the perfect occasion.  This exquisite restaurant has been serving afternoon tea since 1865 and is said to be the birthplace of the quintessentially British tradition.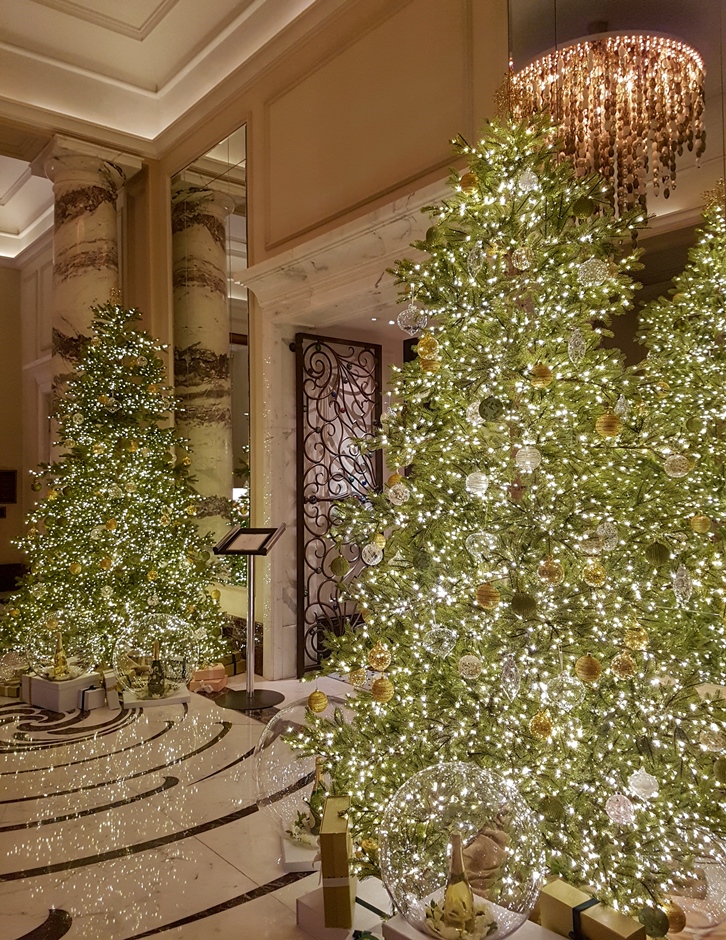 Walking through the whimsical iron gate covered with glass gems, Palm Court instantly feels like a dream world with dusky rose jewelled walls, plush furnishings and an elaborate hand-blown sculpture surrounded with copious bottles of Perrier-Jouët Champagne.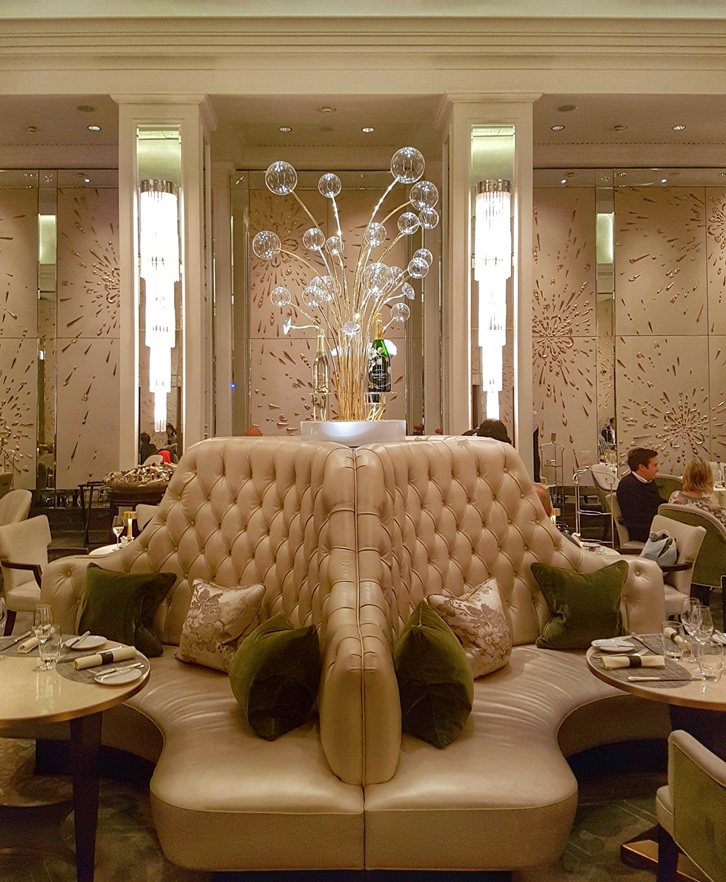 We were seated at the circular leather banquette, which afforded us a prime position to watch the live pianist, who performed jazz favourites and show tunes throughout the afternoon.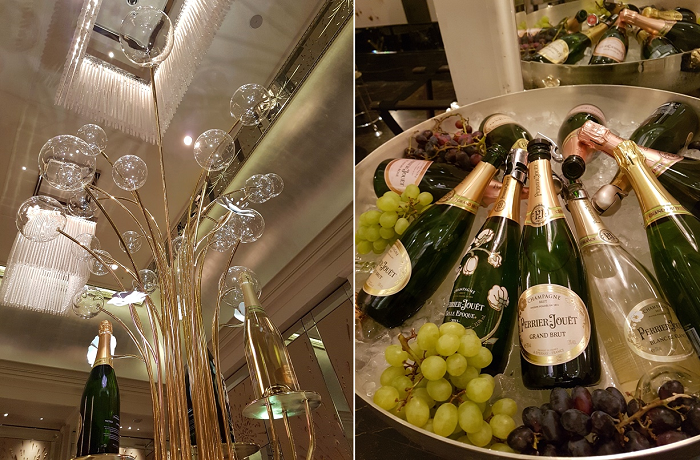 After selecting our preferred teas and champagne, we were presented with little cups of orange pekoe tea infused with fresh ginger – a lovely, warming welcome drink.
We tried a few different teas and a real highlight was the 1865 Langham Anniversary blend – a delicately spiced infusion of black, green and white tea with no less than 150 ingredients, created specially to celebrate the hotel's landmark anniversary this year.  Another hit was the rich and fragrant Langham blend, which was the perfect match for afternoon tea.
First to arrive, on the most beautiful Wedgwood china, were the festive sandwiches along with an elegant canapé of Smoked salmon with horseradish cream and Lilliput capers.  Smoked turkey with marjoram stuffing and watercress on cranberry bread was a delightful taste of Christmas and I loved the creamy, nutty and indulgent Farmhouse Stilton with red onion and port relish on walnut bread.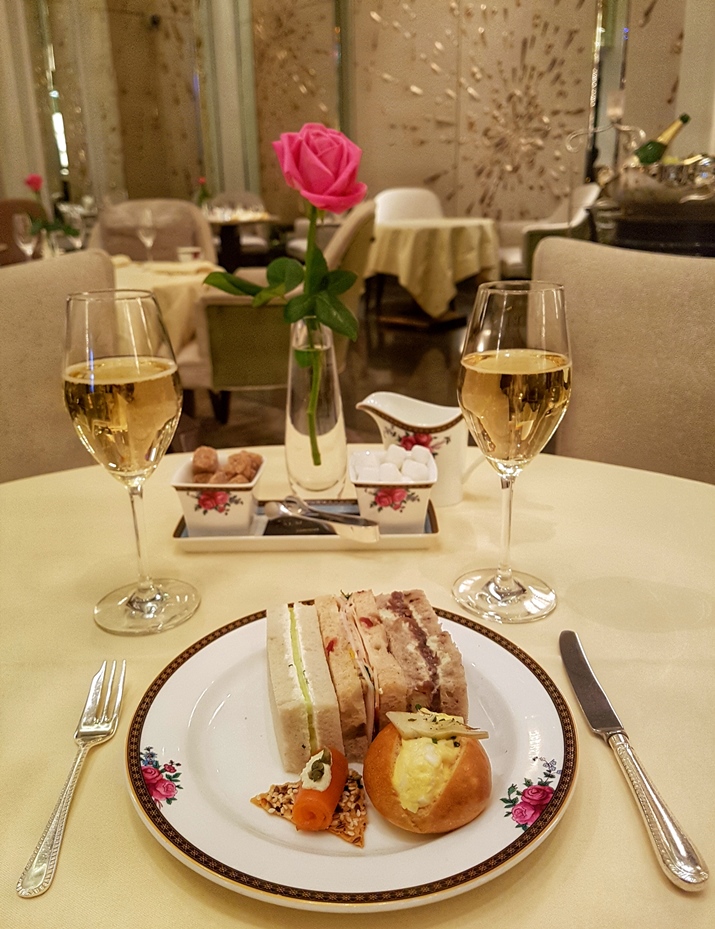 Cucumber with cream cheese and chives was a classic for tea traditionalists and Duck egg brioche with black truffle mayonnaise and artichoke had an intense hit of truffle.
Warm scones are of course an afternoon tea essential and they don't come much better than Palm Court's fluffy, buttery classic and raisin scones served with sumptuous strawberry jam and cool clotted cream.  They were perfectly complemented by a chilled, crisp glass of Perrier-Jouët Champagne.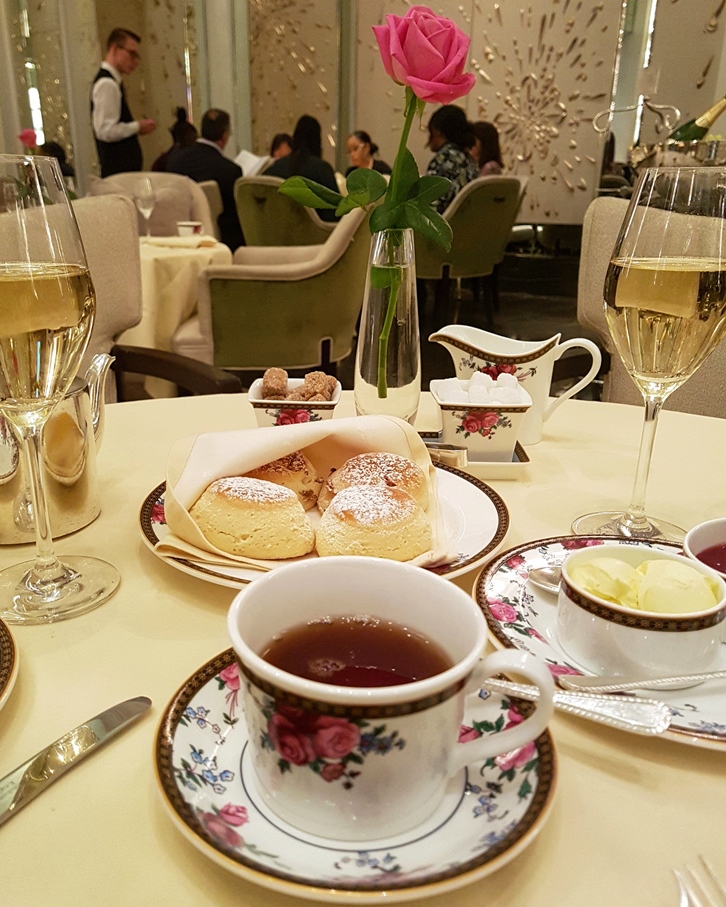 We were generously offered additional plates of sandwiches and scones, but tried to resist and pace ourselves for the sweets yet to come (ok, I'll admit that I couldn't say no to one more of those wonderful scones).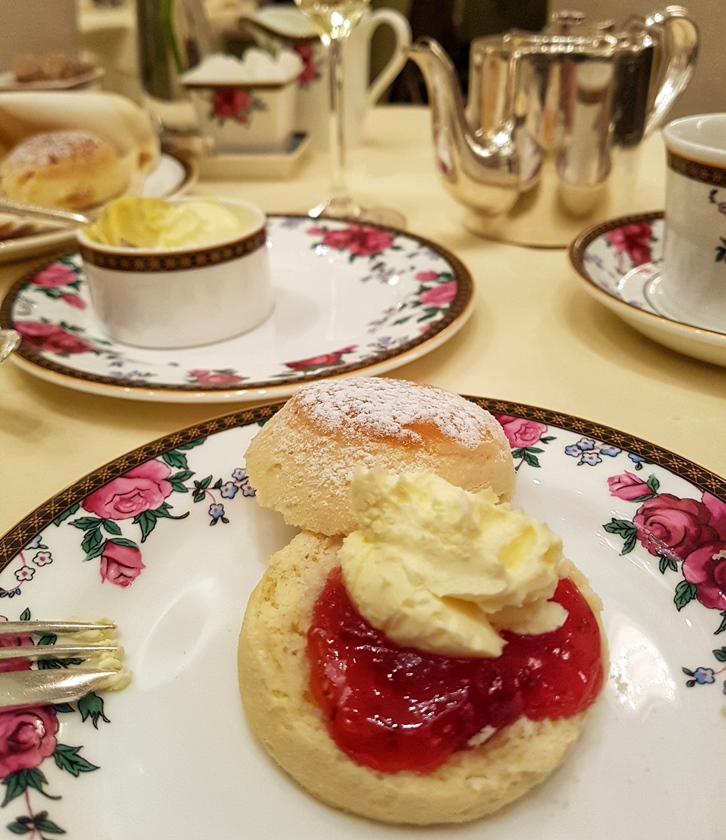 The Langham's pastry chefs are renowned for their creative patisserie and this year's festive collection is not only visually pleasing but also very well balanced.  All of the sweets were delightfully bite-size and had a good range of chocolate, fruit and caramel flavours.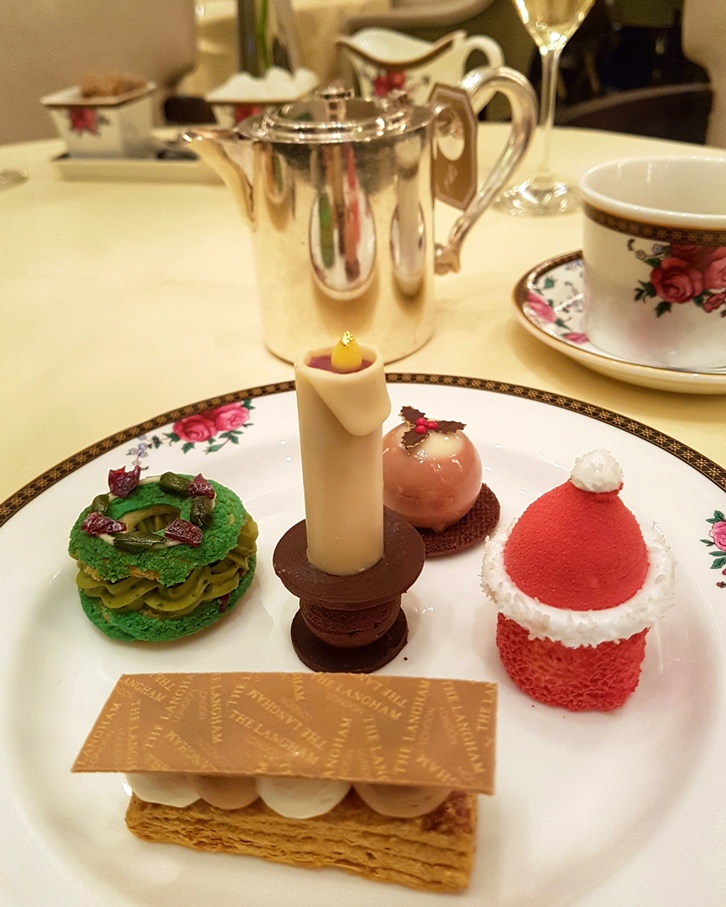 St Nicholas was a dainty Santa hat with fruity Passion fruit rolled in a light red sponge with a fun coconut marshmallow trim.  Another light pastry was the green-hued Eternally Pistachio – a mini wreath-inspired 'Paris Brest' with velvety pistachio cream, cranberry jelly and crunchy choux.
It's Christmas was the most festive in flavour – a silky Jivara and mandarin sphere with cinnamon cream (chocolate orange heaven).  As you'd expect from the name, Gold, frankincense and myrrh was the most decadent with exemplary caramelised puff pastry, smooth salted caramel and vanilla and a Langham-branded shard of milk chocolate.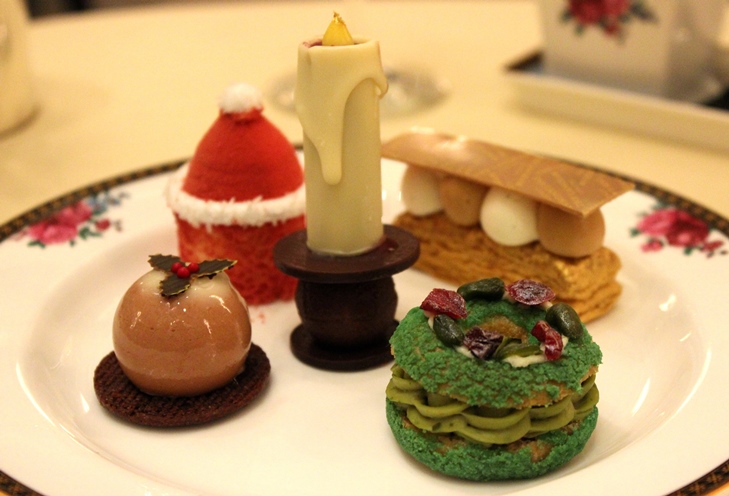 It's hard to pick a favourite, but we were both wowed by the Light of the world – a traditional white and dark chocolate candle filled with smooth chestnut cream, blackcurrant and spice.
The Festive Afternoon Tea at Palm Court was imaginative, beautifully-presented and ever so delicious.  Service was as refined as you'd expect yet friendly and listening to the sounds of an accomplished pianist while grazing on delectable bites in a stunning setting made for a truly memorable experience.  For a special Christmas treat, afternoon tea at The Langham London is unbeatable.
For more information and booking, visit: www.langhamhotels.com
Chérie City was a guest of The Langham London
All photos by Chérie City