Christmas is a time of indulgence, so who better to be buying for than a fine food fanatic!  Gift the gourmand in your life with exquisite chocolates, an authentic Milanese Panettone or carefully-chosen Christmas tipple to get the festive season off to a sparkling start…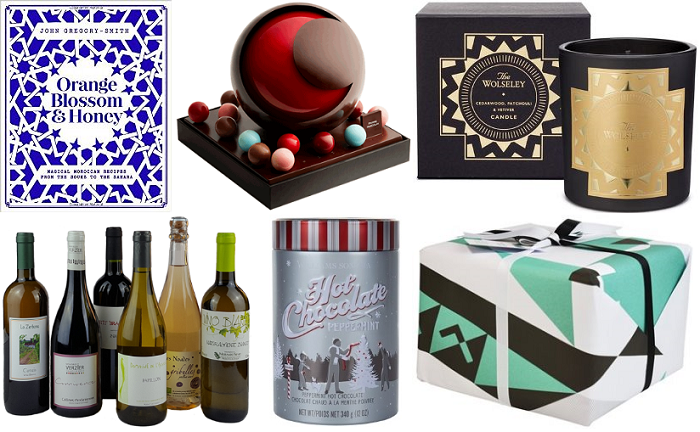 Orange Blossom and Honey by John Gregory-Smith, £13.59, Amazon
Make good use of the Christmas holidays and add a touch of Moroccan magic to your kitchen with this heavenly cookbook.  Let spice king John Gregory-Smith take you on a culinary journey through the souks of Marrakesh to the Sahara desert, stopping for stuffed Berber breads, fragrant tagines and rosewater desserts.
The Eclipse, £80, Pierre Marcolini
Belgian chocolatier Pierre Marcolini's Christmas collection is truly interstellar, taking inspiration from the moon, stars and solar system.  The Eclipse is pure chocolate indulgence with a white and dark chocolate orb filled with praline 'planet' balls.  Well, if you can't go 'all out' at Christmas, then when can you?
The Wolseley Candle, £49, The Wolseley
Had a memorable meal at The Wolseley? You can now recreate the atmosphere at home with The Wolseley's first scented soy wax candle, made by artisan perfumers with seductive notes of cedarwood, patchouli and vetiver.
The Christmas Discovery Case, £105, Borough Wines
Leave yourself in the capable hands of Borough Wines for the festive season with The Christmas Discovery Case.  Whether you're treating a connoisseur or simply require some impressive reds, whites and fizz to get through to the New Year, this should do the trick quite nicely.
Williams Sonoma Peppermint Hot Chocolate, £18 Harrods
For a festive taste of America, warm up with this rich and velvety Williams Sonoma peppermint hot chocolate made with custom-blended Guitard chocolate shavings.
Traditional Panettone (1kg), £22.95, Lina Stores
My Christmas morning always begins with Panettone and fresh-baked croissants, so buying a Panettone has become quite a ritual.  This traditional Milanese Panettone from Soho's Lina Stores looks the part with its new Italian Futurism-inspired print and is packed full of Madagascan vanilla, candied citrus and juicy raisins.
What are your favourite foodie Christmas gifts?