The Boy Downstairs is one of many films I've seen at this year's BFI London Film Festival that feels like a love letter to New York life and all its complications.
Director Sophie Brooks' debut romantic comedy is a bittersweet journey through a relationship, chronicling its beginnings, demise and future possibilities through a series of perfectly-woven flashbacks.
Diana (Zosia Mamet) arrives back in New York from living in London and starts working in a bridal boutique while establishing her writing career.  She's ambitious yet unsure of herself, with a few social eccentricities that are familiar to us millennial city girls.
With a little help from her friend Gabby (Diana Irvine), she manages to score an enviable apartment in a brownstone rented out by recently widowed Amy (Deirdre O'Connell).  The pair instantly connect, as Amy likes to surround herself with young, creative tenants and they develop a touching friendship.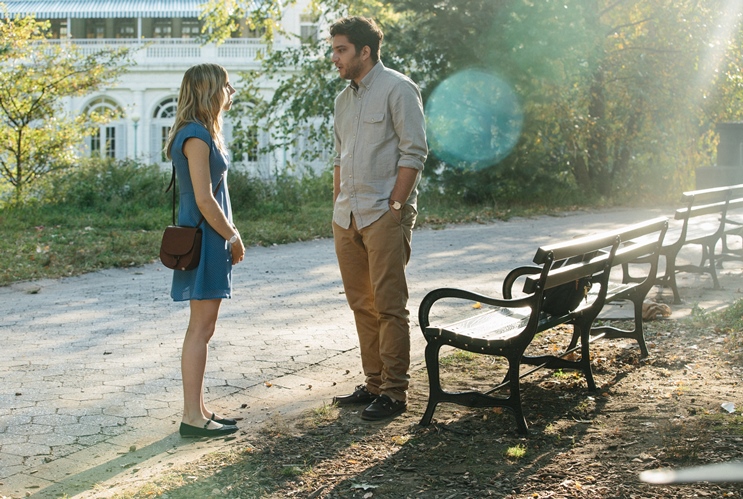 Awaiting a furniture delivery on the front steps, Diana discovers that her downstairs neighbour is none other than her ex-boyfriend Ben (Matthew Shears), who she broke up with just before leaving for London.  He's shocked and not exactly pleased to see her and to make matters worse, he's dating Meg (Sarah Ramos), the prim and uptight girl who initially showed her around the building.
Plenty of awkward moments follow, as Diana attempts to befriend Ben under the suspicious gaze of his girlfriend and ends up losing focus of her writing and sense of self.  Meanwhile, her friend Gabby realises at a Halloween party that the guy she's been sleeping with has no interest in dating her exclusively and is pretty much treating her as a booty call.
No one seems to be lucky in love at this point, as Ben and his girlfriend break up, leading to a moment of romantic crossed wires with Diana after a friendly dinner.  Ben then moves out of the building and Diana begins to think that she might still be in love with him and pursues him, only to be rebuffed.  Of course, this isn't the last time they see each other and a 'will they, won't they' situation ensues.  Exhausting, right?
In between the romantic meanderings are some hilarious moments, like when Diana gets drunks and knocks on Ben's door on Halloween and dealing with a demanding mother-daughter duo trying on wedding dresses.  There's also Diana's fab winter wardrobe to lust after (I left the cinema craving a new red coat), as well as some hipster hot spots to add to your address book (no struggling writer's lifestyle there).
Nice guy Ben's character is rather undeveloped and two-dimensional, but as Sophie Brooks emphasised in the Q&A after the screening, the film is from Diana's point of view and she preferred to focus on the great female friendships in the film.
The Boy Downstairs take a little while to warm up, but Sophie Brooks really captures the impact of your first love and the fear of not fulfilling your potential as a twenty-something living in the big city.
The Boy Downstairs is showing on Sunday 15th October as part of BFI London Film Festival 2017.