A new Noah Baumbach film is always exciting, but his latest film, The Meyerowitz Stories (New and Selected) is surprising and a real game-changer.  I don't think I was the only one who left the cinema thinking that while this film is his most mainstream and accessible, it's also his most triumphant.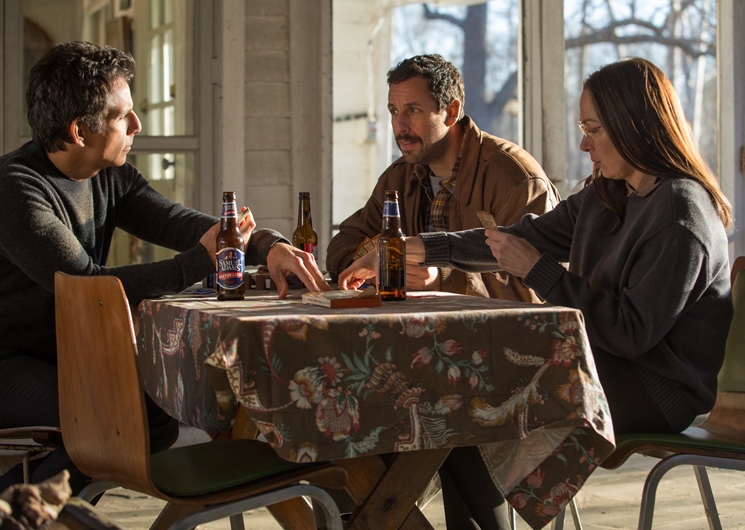 The unlikely casting of Adam Sandler in an indie film seems perplexing and risky, however it's a smart move since he's known to be such a big draw for the film's producer Netflix.  Any scoffs are quickly silenced as he adeptly sheds his popular comedy image, driving and swearing his way around Manhattan in the opening scene.
Sandler plays Danny, the underachieving yet musically-gifted son of New York artist Harold Meyerowitz (Dustin Hoffman).  Following the break-up of his marriage, he come to stay with his overbearing father and scatty, bohemian alcoholic step-mother Maureen (Emma Thompson).  With little to do, Danny relives memories of his happy but fractured childhood with his kooky sister Jean (Elizabeth Marvel) and tries to be a good father to his blossoming film student daughter Eliza (Grace Van Patten).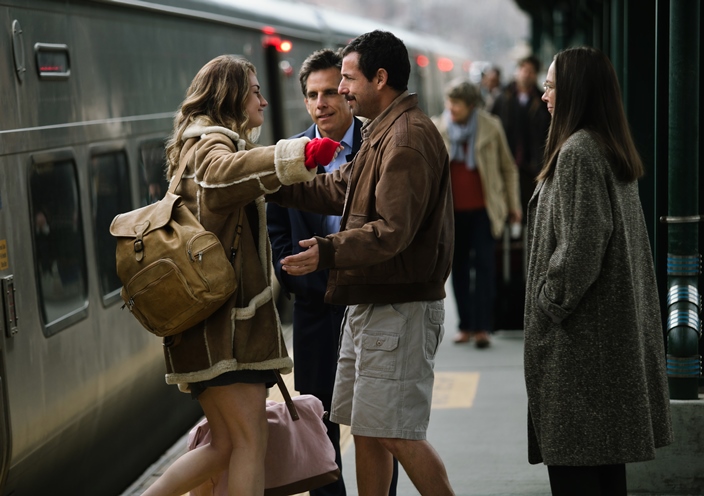 Danny's step-brother Matthew jets in from LA soon after to encourage his father to sell the family home and his artwork while the market is favourable.  Unlike Danny and Jean, Matthew's relationship with his father is fractious and they have an explosive argument over Harold's perceived distaste for Matthew's soulless corporate life and financial success.
Harold then takes ill and is bedridden in hospital for months.  The three children devote themselves to caring for their father and attending the art opening celebrating his work that never quite achieved the industry recognition he thought they deserved.  The tensions between the siblings inevitably come to a head with some hilarious scenes and bitter conversations.
The family's candid talks about disappointment, inadequacy and desire for approval are sure to resonate and Baumbach approaches them with such insight and poignancy.  I found myself unexpectedly shedding a tear, such were the raw emotions towards the end.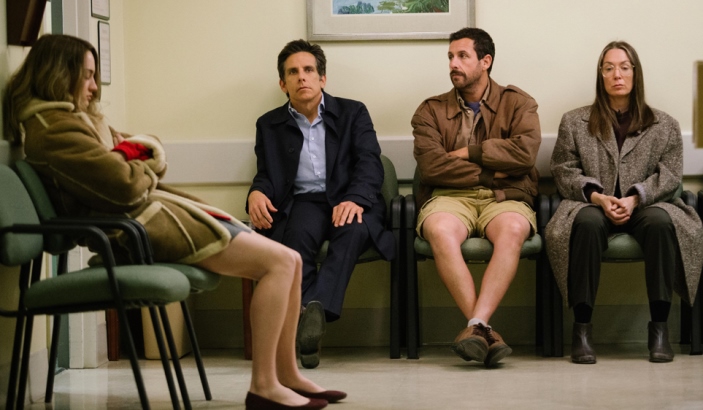 However, the film is far from a downer – it starts as a love letter to the bohemian New York of the Meyerowitz family with their rousing piano ditties, old video tapes and fondness for houmous.  There is also a drama-filled private view at MoMA, a disastrous lunch at a downtown hipster restaurant and some great cameos from Adam Driver, Candice Bergen and Sigourney Weaver (as herself).
The Meyerowitz Stories is a beautifully-crafted snapshot of a dysfunctional family trying to resolve their issues before it's too late.  Its focus on the influence of parents is more mature than the ingénue narrative of Mistress America and Frances Ha but it still has Baumbach's 'auteur' signatures and typical warmth.  With a memorable performance from Dustin Hoffman and Adam Sandler's surprising suitability for the role, it's a real must-see!
The Meyerowitz Stories (New and Selected) is showing on Friday 6th, Saturday 7th and Thursday 12th October as part of BFI London Film Festival 2017.