With the summer holidays approaching, it's time to plan your beachside sun care routine.  On our honeymoon in Montauk last year, I tested out a selection of products by Ultrasun against the blazing Hamptons sun.
Created by Swiss sun care experts, Ultrasun's revolutionary technology allows a safe once-a-day application.  While other brands require regular top-ups, Ultrasun bonds to the skin and is completely water-resistant, providing all-day protection against UVA and UVB rays (up to eight hours).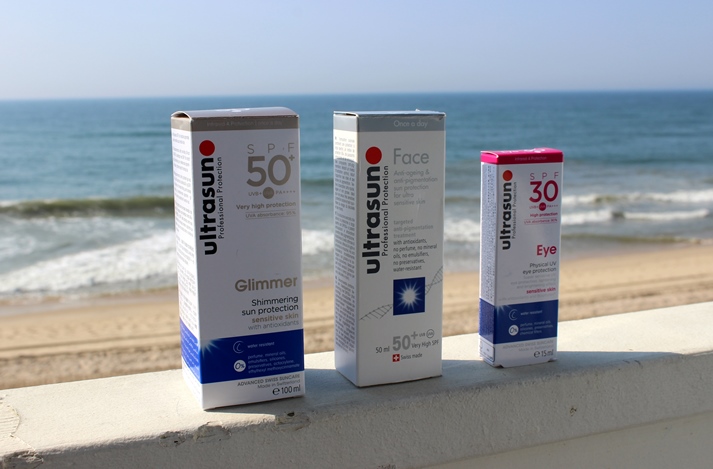 It's super-simple to use, however, in order to be fully effective, it needs to be applied properly.  Just stick to the three rules:
Apply sun cream to cool, dry skin 30 minutes before going outside.
Use one teaspoon for the face and at least one teaspoon for each part of the body.
Pick your protection to suit your skin tone and environment – 50+ in extreme conditions or Face 30 for a bright February morning walk.
A common sun care myth is that you have to go red before you can go brown.  Ultrasun UK Sun Expert Abi Cleeve advises that "a 'trauma tan' from inadequate protection that occurs too fast only ensures that the skin burns and sheds, leaving the skin tanless in days.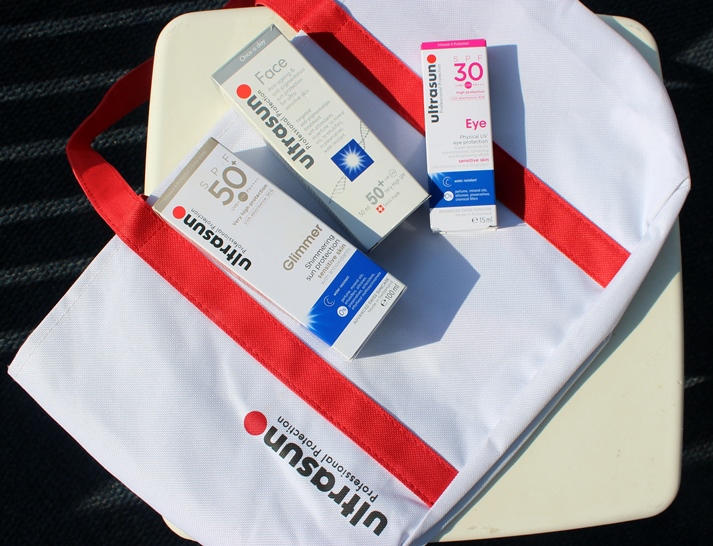 One of Ultrasun's best-selling new products is the Glimmer Shimmering Sun Protection SPF50+ and it's easy to see why.  The cooling, frangrance-free cream has a slightly irridescent sheen and leaves the skin glowing (no sparkly disco legs, don't worry).  It's suitable for sensitive skin and is packed full of anti-oxidants to keep your skin nourished.
Face 50+ is a real hero product, whether you're on the beach or sweltering in the city.  I found this face cream really helpful in preventing sun-caused pigmentation, which can flare up in the warmer months.  Its light, non-comedogenic formula also means that it won't clog your pore, cause break-outs or make your foundation slip.
As I've learned from past experiences of red eyes, sunglasses simply aren't enough to keep your delicate peepers protected.  Eye SPF 30 offers great protection against sun exposure in the area where we show photo ageing the most.  The opaque fluid can feel a little intense at first and just a small amount should be applied carefully around the eye area, but it does make the difference.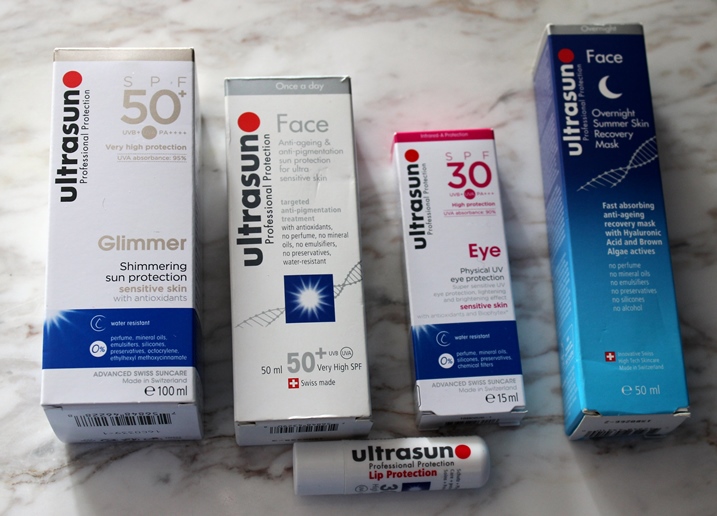 Lips can often be forgotten in a suncare routine, but Ultrasun Lip SPF 30 is one of my favourites and I tend to just use it all year-round, especially on the plane to avoid dehydration.  It's a rich, velvety lip protector enriched with blackcurrant seed oil to moisturise and reduce inflammation and chapping.  Perfect for both hot and cold climates, so you could take it to the slopes too.
Even if your skin is protected against harmful rays, your skin needs some after care to combat the drying effects of the heat, sweat and chemicals from the swimming pool.  I was super impressed with the Overnight Summer Skin Recover Mask.  The luxurious gel mask contains hyaluronic acid and brown algae to soothe and hydrate the skin.  It has a light-weight texture and is easily absorbed, plus like all Ultrasun products, you can use it for up to two years after opening, making it more than just a holiday indulgence.
Have you tried Ultrasun products?  What are your top tips for staying protected from the sun?
All Ultrasun products tested were samples