Berlin is one of my favourite destinations for a weekend city break and I was thrilled to be invited back to the wonderful Chamaeleon Theater to discover the latest show, Scotch & Soda.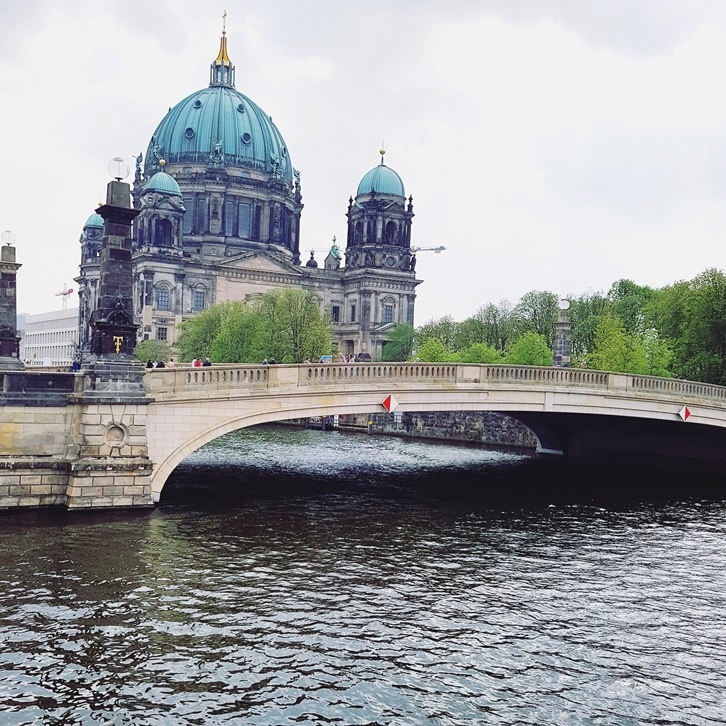 I was blown away by the theatre's previous show UNDERART by Swedish company Cirkus Cirkör and really fell in love with contemporary circus, so I knew I was in for a treat.
Chamaeleon Theater is a rare gem, tucked away in Berlin's historic Hackesche Höfe – a large complex with eight curious interconnecting courtyards.  Berlin may be famed for its cabaret shows, however Chamaeleon Theater is all about contemporary circus, presenting the very best shows by leading companies around the world.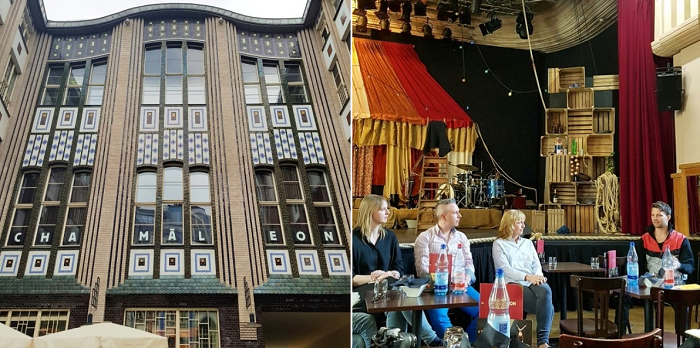 Currently in residence is Australia's super-talented Company 2 with their magnificent show, Scotch & Soda.  It's also part of Australia Now Germany 2017 – a year-long programme to showcase Australian culture in Germany.
Scotch & Soda is a raucous, booze-soaked soirée that makes you feel like you're at the best party of your life. As the name suggests, the show is an intoxicating blend of circus and jazz created by two groups of artists and friends – Company 2 led by David Carberry and Chelsea McGuffin and The Uncanny Carnival Band.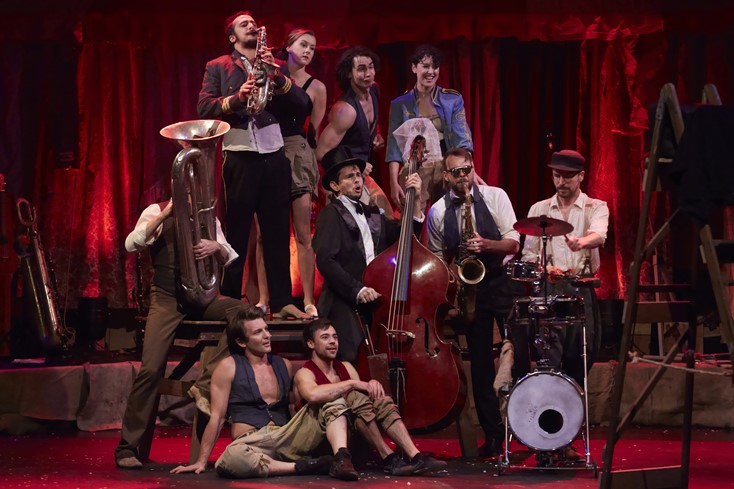 Set inside a bohemian spiegeltent, the show opens with plenty of energy and chutzpah as the group get merry, balancing on Champagne bottles and having drunken fights.  James Kingsford Smith steals the moment as an incoherent, rowdy Scotsman and yes, you do see what's under his kilt!
However, it's not all just larking around as the mesmerising acrobatics make your jaw quickly hit the floor, where it's likely to stay for the rest of the evening.  Skip Walker-Milne balances atop a number of precariously-stacked suitcases while sisters Alice and Kate Muntz perform a captivating balancing routine and gang up on David Carberry, sending him hurtling down a flight of steps.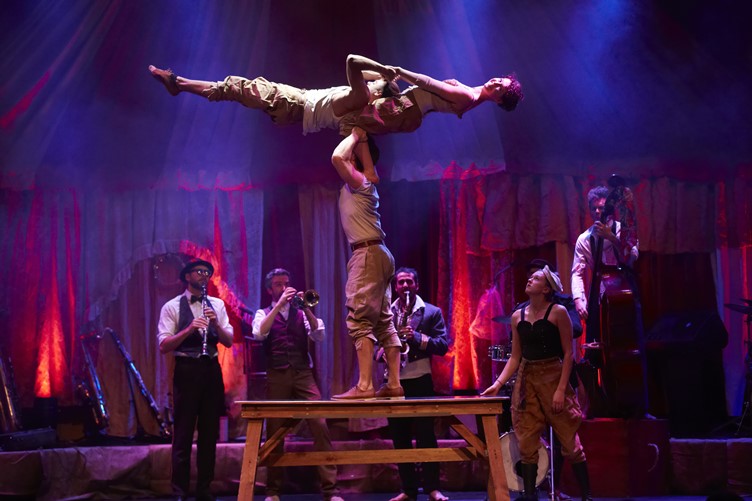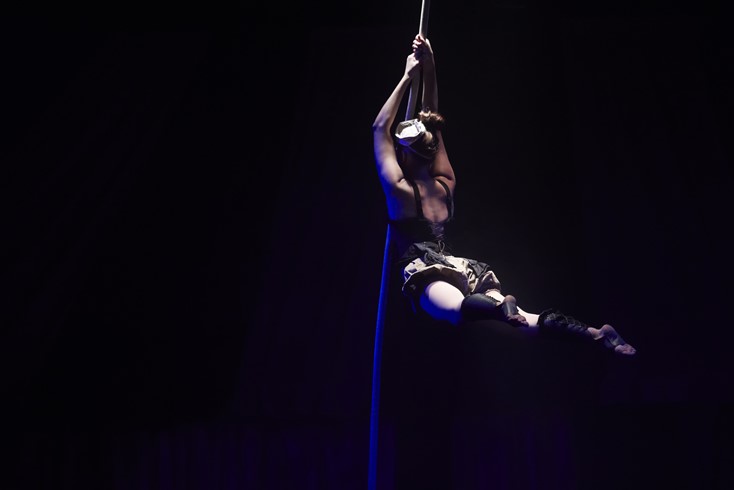 Other highlights include the 'morning after the night before' aerial straps act performed by a hungover James Kingsford Smith, Matthew Ottignon being given a comical bathtub wash and the spectacular finale that surely breaks records for how many people can ride just one bicycle.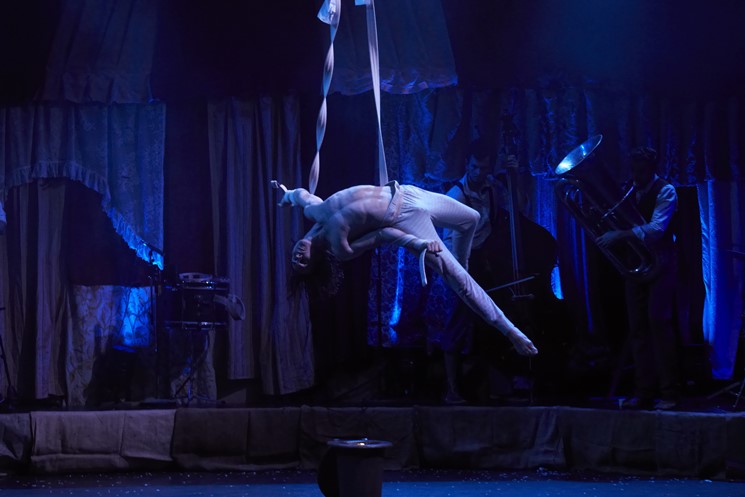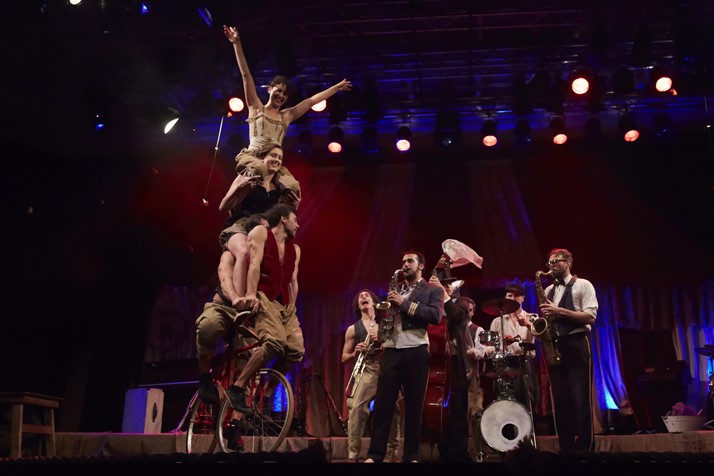 Live jazz is also at the heart of Scotch & Soda and composer Lucian McGuiness' original score is just so uplifting, infectious and at times poignant.  The musicians also have their own sketches in the show, from Lucian's eyebrow-raising ukele-playing to Eden Ottignon 'marrying' his double bass.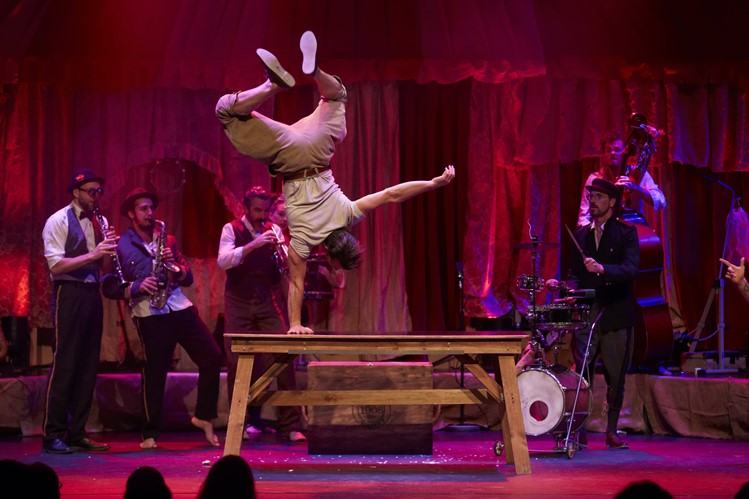 Scotch & Soda is so joyful and awe-inspiring that I really didn't want it to end and was literally on the edge of my front-row seat the whole time.
Following the show, we had a chance to meet some of the performers before they headed out to play an impromptu gig at a nearby bar.  They're such a friendly, tight-knit group and Chamaeleon Theater really invests in their wellbeing and happiness while living in Berlin.
Afterwards, we were treated to a lovely, relaxed dinner at Hackescher Höfe just next door to the theatre.  It's a classic Berlin restaurant in style with a large dining room and the cuisine is a good mix of German favourites and international dishes.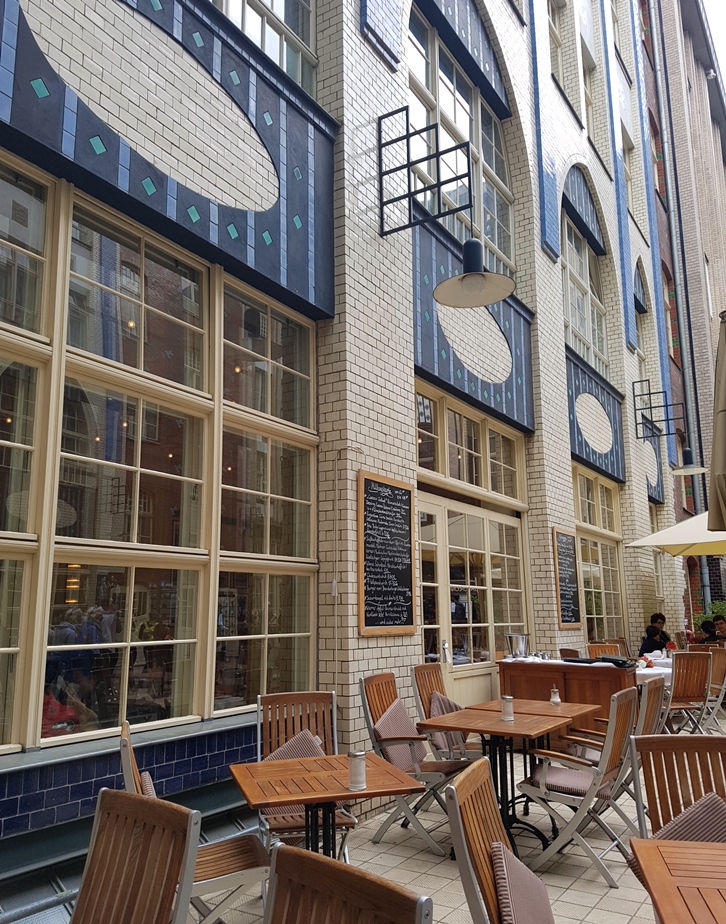 I started with a delicious Caesar salad and followed with the most enormous steak with lashings of tangy Béarnaise sauce and a super-indulgent, buttery potato gratin.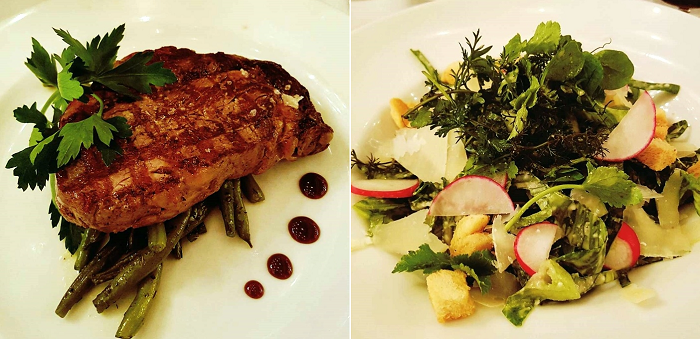 For dessert, it just had to be a traditional warm apple strudel with vanilla sauce – what better way to finish a meal when you're in Berlin?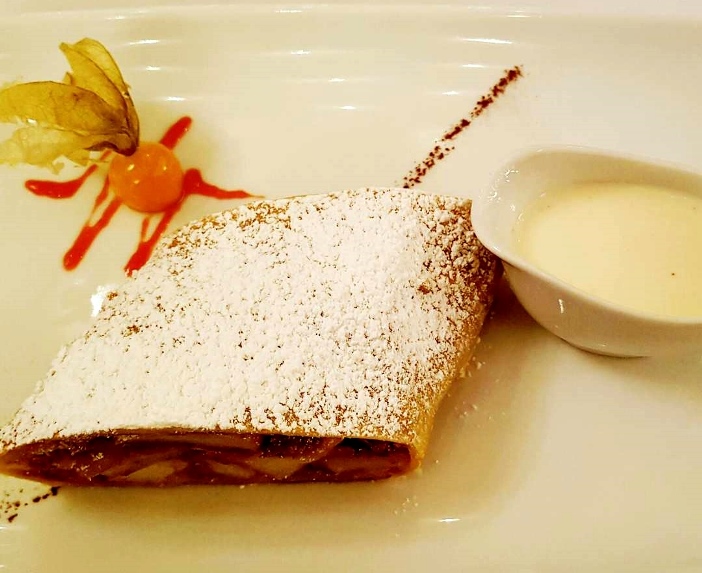 The food at Hackescher Höfe was perfectly-cooked and so hearty and generous.  It's a great spot for a post-theatre treat, especially in the warmer months where you can dine on the terrace under the parasols.
Our base for the trip was the stylish and contemporary Hotel NH Collection Berlin Mitte Friedrichstrasse.  It was the first time I'd experienced the NH Hotels brand and there were so many things that I liked about this stylish and comfortable hotel.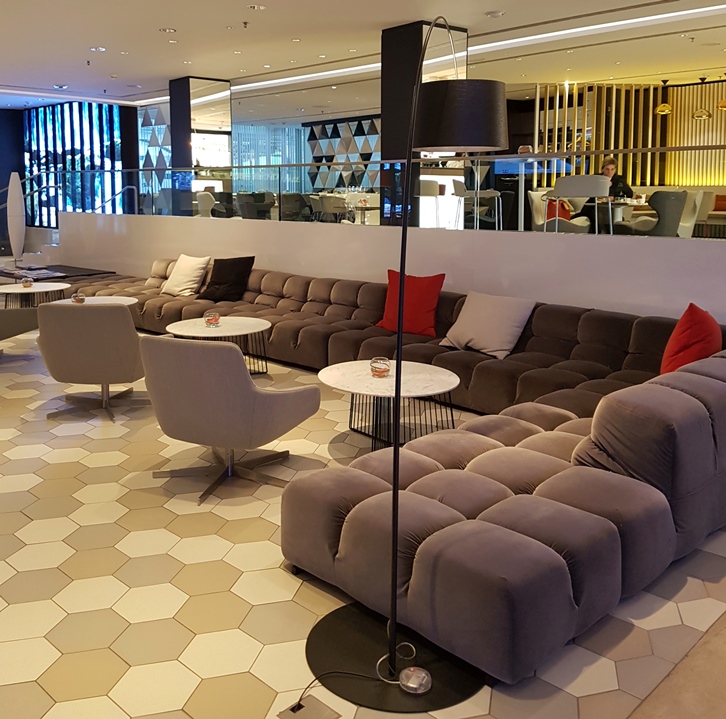 Firstly, it's in a great position for visiting Chamaeleon Theater, as it's just 7 minutes away by tram (the stop is literally on the hotel's doorstep), or a pleasant 15-minute walk over the river and through Monbijoupark. Then there's the sleek, minimalist design and the feeling of zen throughout the hotel.
We each had a fabulous Terrace Room on the eight floor, which has its own dedicated penthouse elevator. My room was bright and spacious with thoughtful touches such as a Nespresso machine and plush bathrobes and a real highlight was the large terrace with views over the city.  I was also kindly welcomed with handmade chocolates and strawberries and a bottle of San Pellegrino.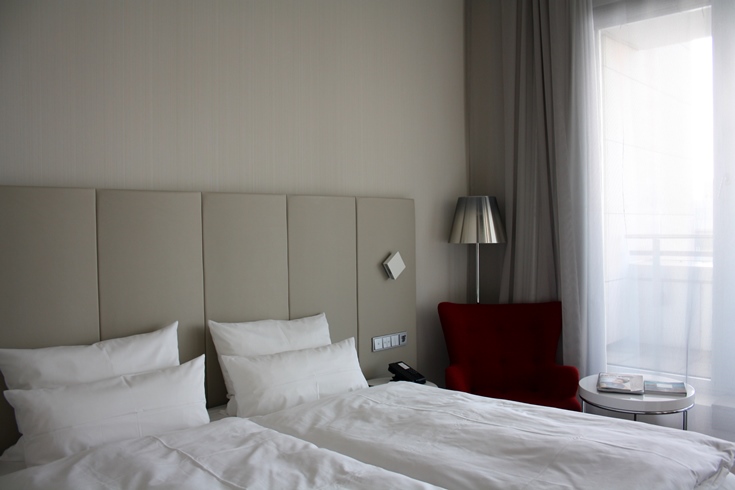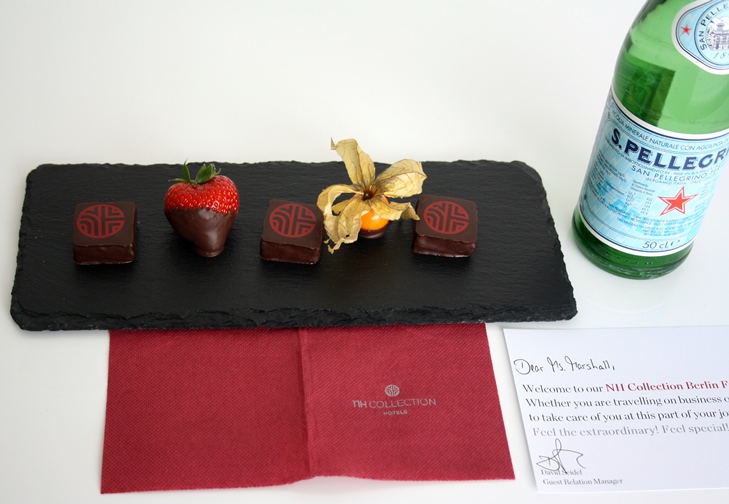 The hotel is located in a busy shopping area so there are useful things nearby and I was really pleased to find dean&david in the same building.  It's a cool healthy fast food place that Berliners love for its aromatic Thai curries, cold-pressed juices and gourmet salads with meat or seafood grilled to order.  I ordered my favourite salad combo and enjoyed a peaceful lunch on my terrace in the sunshine.
Another perk of staying at this hotel is the excellent breakfast, which is served in an enormous, futuristic atrium – it's just so impressive!  Among the usual breakfast items was a chef station for fresh egg dishes, an overwhelming choice of breads, macarons and an exciting selection of loose leaf teas to start the morning nicely.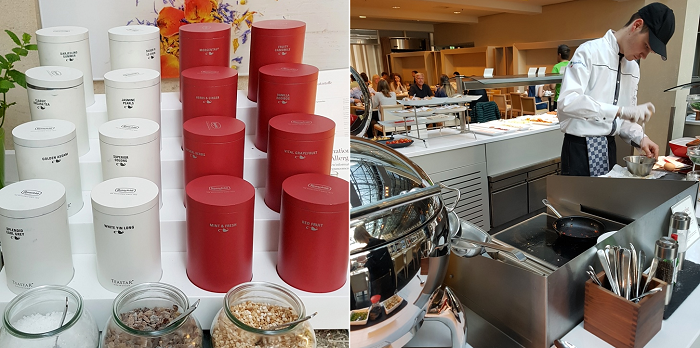 The hotel also features a sauna and steam room, complimentary sweets and juices in the lobby and if you stay on the weekend, a special Lazy Sunday offering with breakfast served until noon and a late check-out of 5pm.
Before heading back to London, we had some time to explore Berlin.  I took a stroll around the Hackescher Markt, along the River Spree and over to Alexanderplatz, enjoying the bright and sunny day.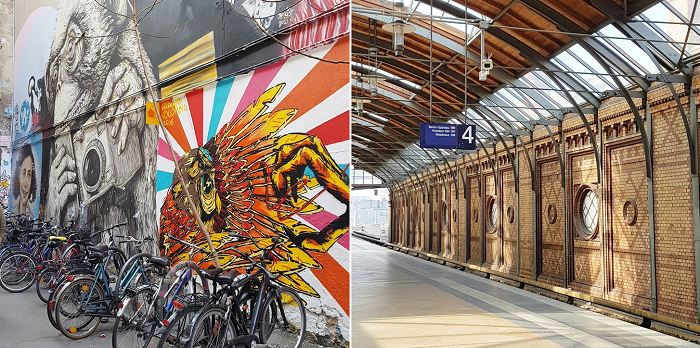 There's always something new to see in the hip Mitte neighbourhood and one of my favourite new discoveries was Zeit für Brot, an artisan bakery with cinnamon buns in lots of flavours.  I also loved shopping at CRUBA, Paper & Tea and Record Store Berlin.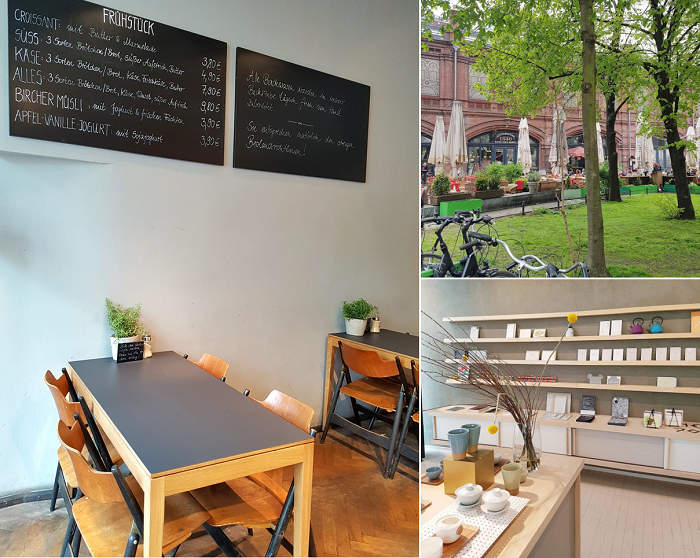 I had such a wonderful weekend in Berlin and cannot stress enough just how memorable Scotch & Soda at Chamaeleon Theater really is.  Berlin is beautiful at this time of year and there's still plenty of time to see the show – book a flight immediately!
Scotch & Soda runs until 20th August at Chamaeleon Theater.  For more information and booking, visit: www.chamaeleonberlin.com
Thanks to Chamaeleon Theater, NH Hotels, Hackescher Höfe and Berlin Card for a wonderful Berlin trip.
Photos by Chérie City (Scotch & Soda images by Andy Phillipson)