Maeve O'Lynn discovers the luxurious new Thermal Spa Village at the award-winning Galgorm Resort and Spa in Northern Ireland…
Despite only being an hour from Belfast, Galgorm Resort and Spa feels like another world entirely. The drive up takes you along winding, tree-lined roads until you reach the elegant swooping driveway to the hotel, situated right on the banks of the River Maine.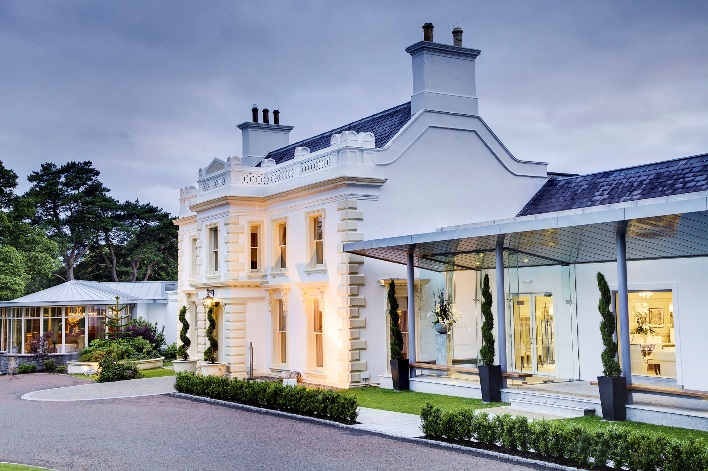 We were greeted on arrival by a natty gent in a tweed suit who ushered us into a decorously appointed lobby with high ceilings. Light poured in through the windows, while couples lounged on opulent sofas by an open fire; a team of concierge staff were on hand to fetch our luggage from the car.
As we were staying in a Deluxe Riverview Room, we got to take advantage of the VIP Deluxe Reception down the hall, which not only made the whole experience quick but totally seamless. The cucumber water and canapés on arrival were a classy touch.
We arrived early in the afternoon, so our room was not quite ready but this posed no issue to the staff who were genuinely warm, professional and welcoming in every respect. Bags were whisked away, and we were straight off to the spa downstairs.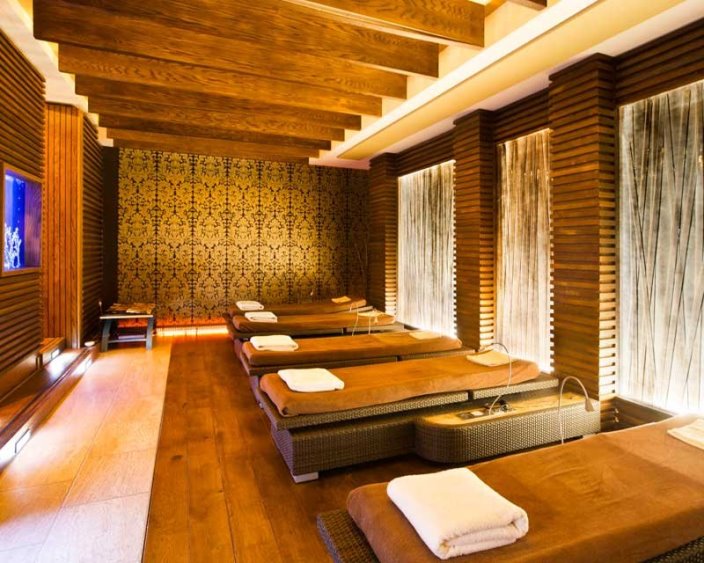 The Spa and Thermal Village are the ultimate in luxury and serenity, but with a laid-back feel, best encapsulated by the staff member with whom we booked in for the Celtic Sauna Ritual. On being told where to rendez-vous with our sauna master ahead of the commencement of the Ritual, I asked if one was to address him as "Master". Without batting an eyelid, I was informed that I could certainly try…but I may find it difficult to keep a straight face, as he would be wearing a sarong.
I should mention, however, that this Celtic Sauna ritual takes place in a beautiful log cabin sauna with a stunning river view, it does indeed involve a sarong and a mindfulness meditation and it comes highly recommended by me.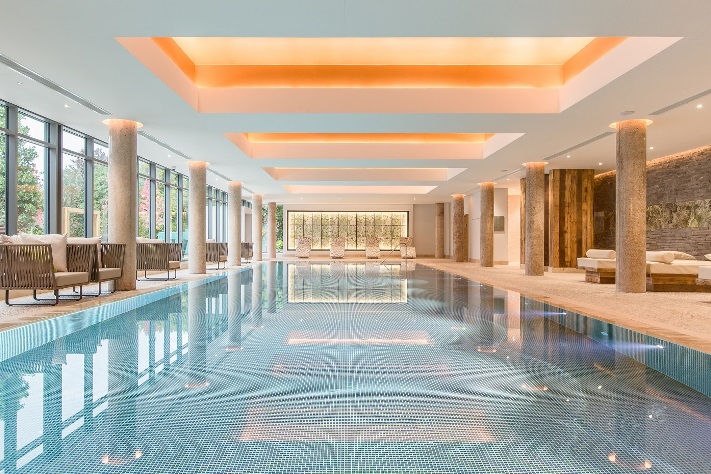 Elsewhere in the stunning riverside Thermal Village, you can find numerous outdoor jacuzzis, hot tubs, a fire pit, elegantly appointed sculptures, a hydrotherapy pool, steam room, aroma grotto, laconium, heated loungers and Snow Cabin.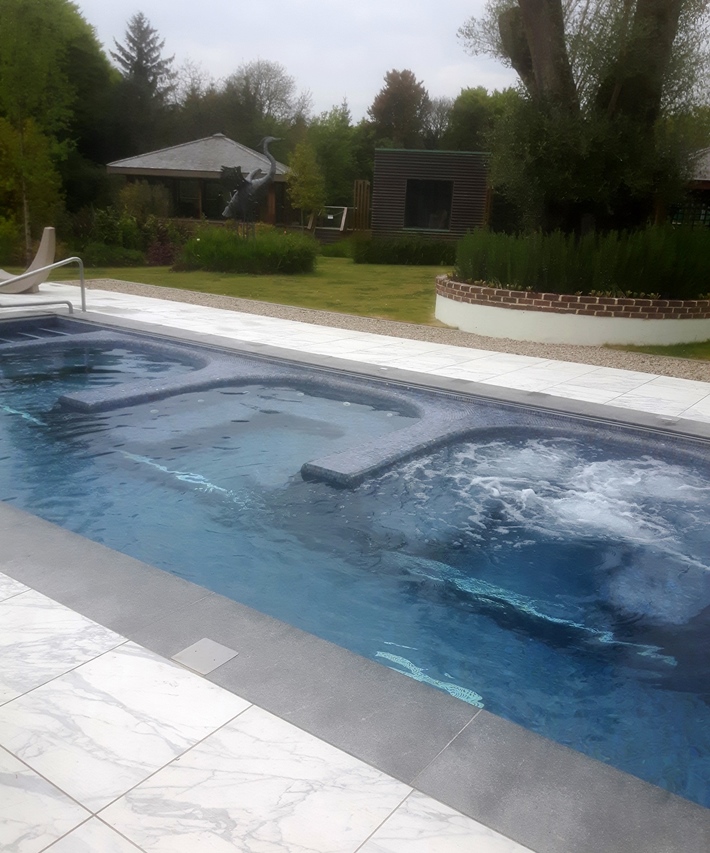 You could (and we did) easily spend a full day just enjoying the different thermal experiences, reading on the loungers, taking in the view of the river and refreshing in the sumptuous, newly-opened Orangerie space, which serves up delicious light lunch items and drinks to spa guests. There's also a gym with personal training services, golf and tennis for those more actively inclined.
The Spa, adjacent to the Thermal Village, offers a wide programme of treatments, from massage therapy and a full beauty menu to packages for couples. I opted for the Quartz Bed signature treatment, a new addition to the Spa line-up, and the only MLX Quartz Treatment Bed to the island of Ireland. From Moroccan tea and truffles on arrival, to a full walk-through of the treatment by my therapist, and finishing with a glass of Prosecco, the whole experience was a cocoon of bliss.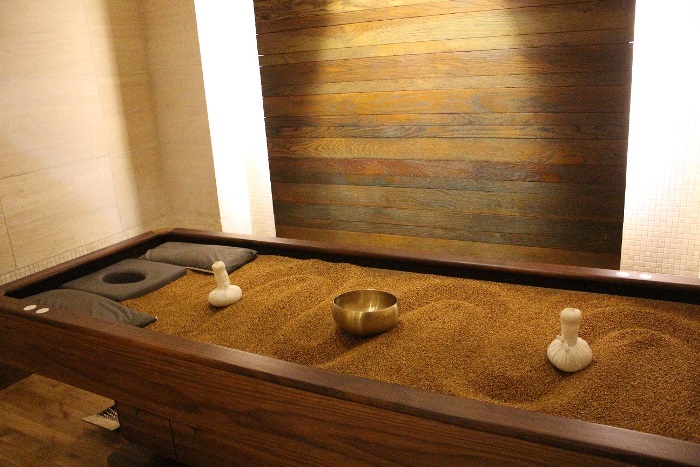 After an afternoon of pampering, we were then able to go directly up to our room in our robes and take the lift straight up, which deposited us in a spacious, light and classically stylish space.
The room design is under-stated but every possible desire has been catered too – Aromatherapy Associates products in the bathroom, a lavish walk in shower, low level LED lighting in the bathroom and a fully-stocked complimentary mini bar with everything from Galgorm's own malt beer (Steamin' Stag!) and soft drinks to oat biscuits and artisan crisps. We had a juliette balcony overlooking the river and thermal village, a huge TV with access to a music library, free WiFi and glossy magazines.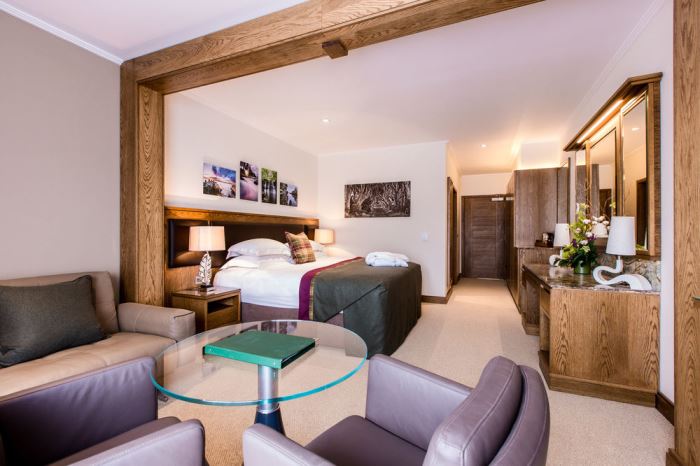 I was almost overwhelmed and considered just eating crisps for dinner overlooking the river, but the promise of the Gin Library in the Conservatory downstairs eventually lured me from my reveries. They have such an extensive variety of gin and corresponding tonics that there are, apparently, 8000 different combinations on offer. I couldn't try them all in one evening but I did visit the library (it's an actual room!) to verify their existence. I never wanted to leave!
But first we adjourned to dinner in Gillies, the bar and restaurant at the heart of the resort. Fine dining is available in The River Room and Fratellis offers Italian fare, but Gillies seems to be the most popular spot both with hotel guests and many locals who seemed to be there to celebrate family events and birthdays too, so it was a lively and fun spot.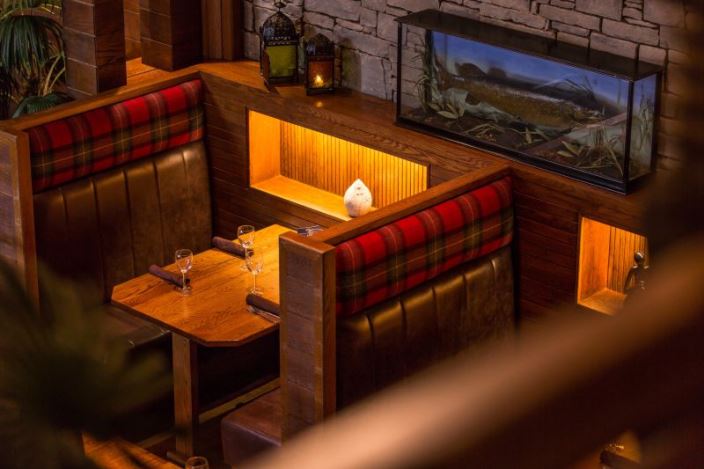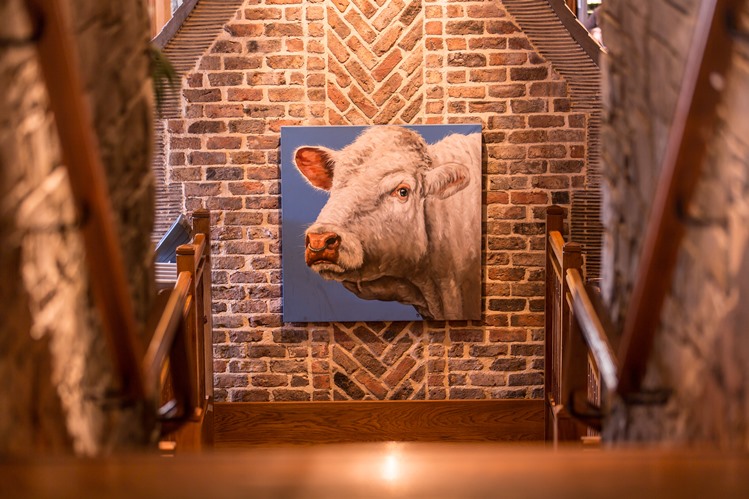 The menu is varied with sections dedicated to the Wok, the Pan and the Grill and we ordered a broad selection of choices to taste them all to be thorough! I can report back that the Potted Duck was sublime: salty, sweet, rich and tangy.
Equally impressive was a seared Rib Eye, perfectly cooked and tender enough to dispense with the need for a steak knife, served up with a piquant Sriracha butter. We were also quite taken with their Monkfish curry, which was filled with fresh produce and an excellent, subtly spiced sauce.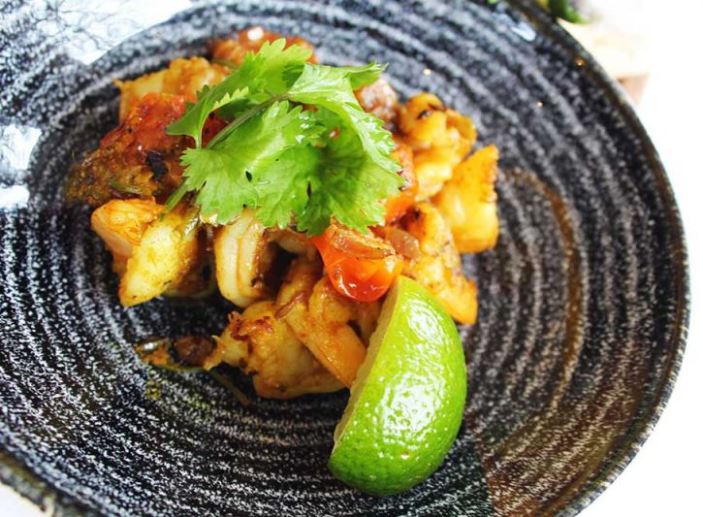 We rounded off the evening in The Conservatory, checking out a few botanical-filled volumes from the Gin Library and enjoying the live entertainment.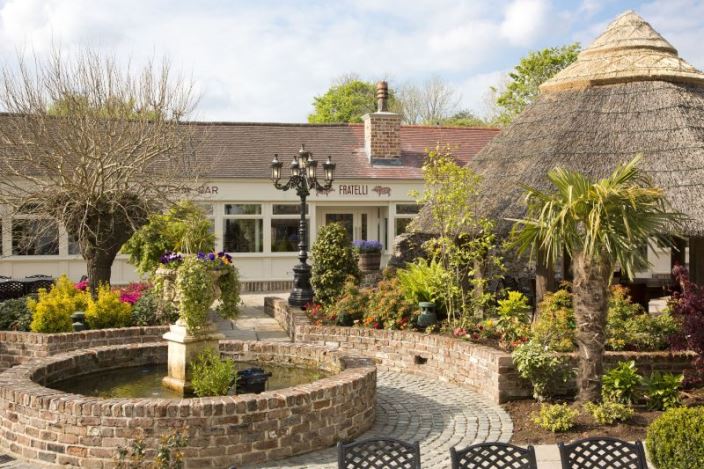 Having fallen asleep on the largest king-size bed I have ever laid eyes upon to the sound of the river outside, the morning was equally tranquil with a delectable breakfast in the The River Room. Coffee came in a cafetiere, the orange juice was smooth but freshly squeezed, pastries were buttery and light and the choice of hot breakfast items extended from Eggs Benedict, to more adventurous fish dishes and the traditional River Grill. I can't go past a sausage I am afraid to say, and these certainly did not disappoint.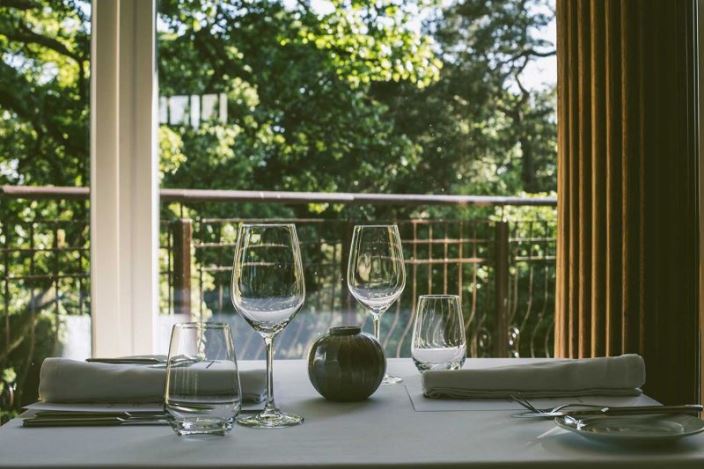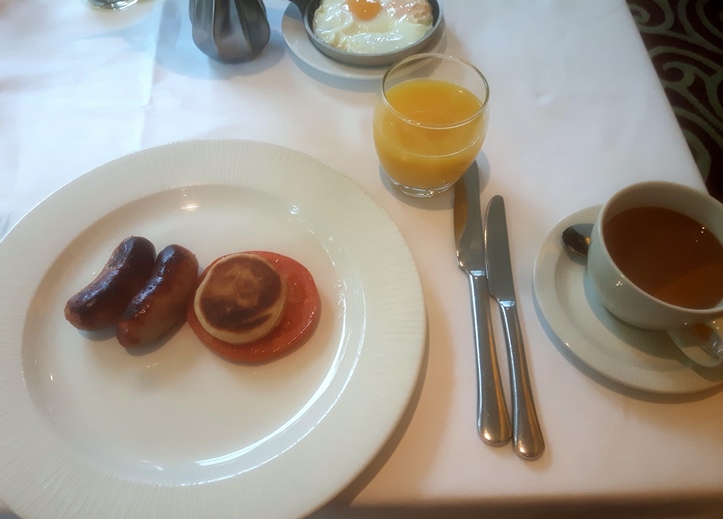 The early morning sunlight on the river was a beguiling sight to enjoy and it was difficult to leave, but, as with arrival, reception and concierge staff made this saddest of tasks utterly seamless and relaxing, even driving our car round to meet us at the front door. The resort staff at every level deserve so much credit for the multitudinous ways in which they make each guest feel welcome and ensure you are relaxed.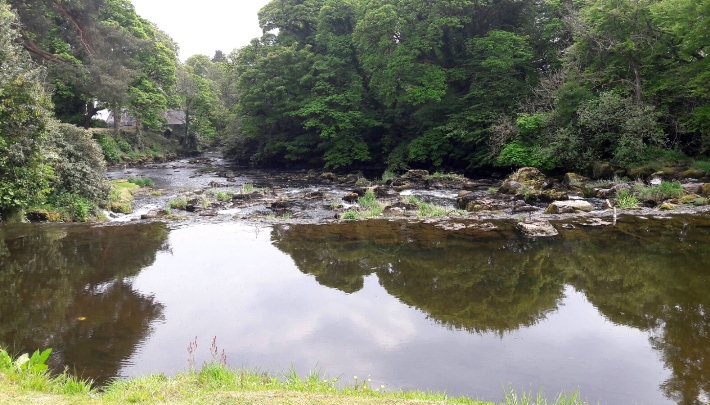 Twenty-four hours in Galgorm does not feel like long enough to fully discover every aspect of the resort but it somehow conspires to bend time to make you feel as relaxed as if you had been away for a fortnight.
For more information and booking, visit: www.galgorm.com
Maeve O'Lynn was a guest of Galgorm Resort and Spa
Photos by Galgorm Resort and Spa and Maeve O'Lynn