Chi Kitchen, the contemporary Pan-Asian restaurant by MasterChef winner Ping Coombes has been on my 'must try' list for a while.  Described as a 'journey through South East Asia, I was pretty excited to try a diverse selection of cuisines all in one meal – what could be better than that!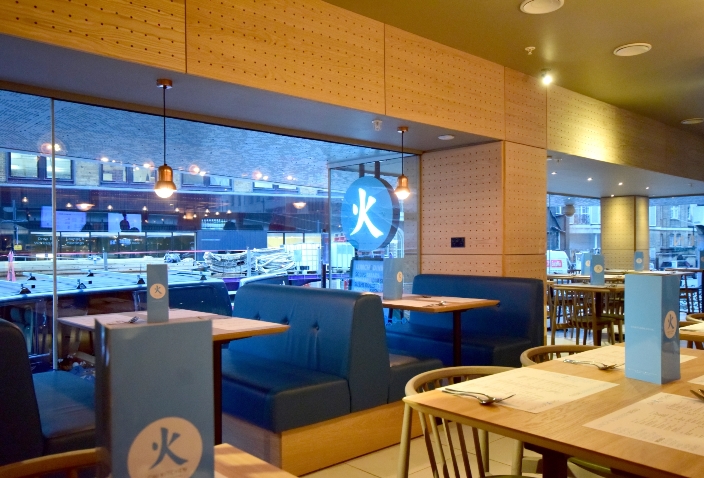 The restaurant was created specially for Debenhams Oxford Street, however Chi Kitchen has its own street entrance and feels slightly removed from the ebb and flow of the busy department store.  It's a slick affair with calming interiors inspired by the five elements, complete with cosy leather booths, an open sushi kitchen and a champagne bar.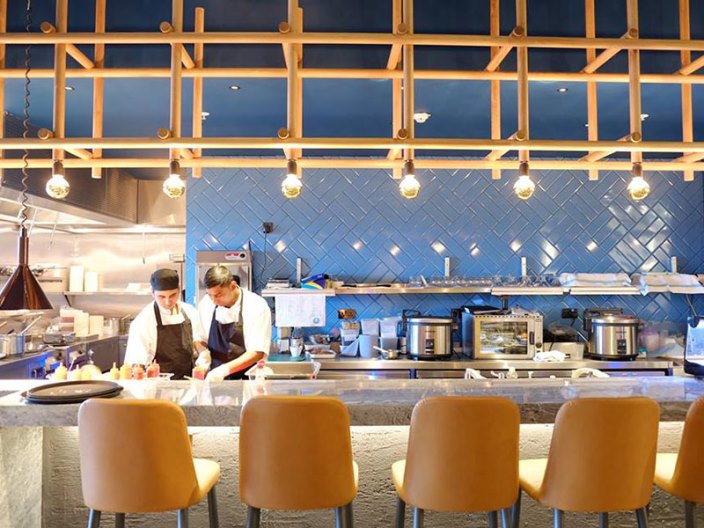 The menu features signature dishes that are the size of main courses, however to try more dishes you can graze on smaller bites such as sushi, dim sum and robata barbecued meat and grilled fish.  Dishes tend to arrive as they are cooked and the friendly staff are on hand for you to order more as you go – it's a casual affair.
We started with the most wonderful Spider soft-shell crab maki roll.  It was a harmonious mix of crunchy tempura soft-shell crab and tender asparagus, rolled in vibrant wasabi tobiko and finished with creamy Japanese mayo, pickled ginger and punchy wasabi.  The maki rolls were so moreish and fresh with really high quality ingredients.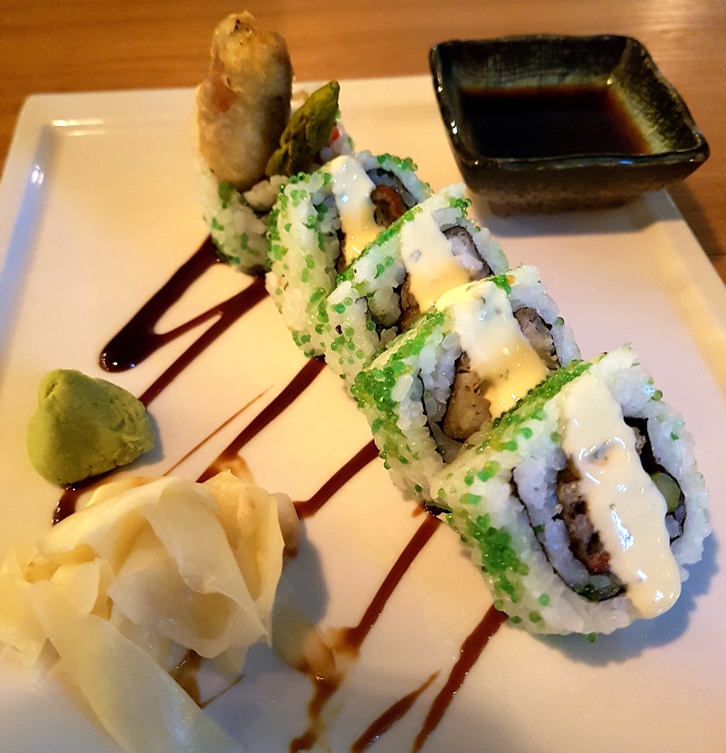 Chicken Yakitori was a real treat with three perfectly grilled skewers of chicken thigh in a deliciously sticky and rich marinade.  Once again, I could happily indulge in plate after plate of them.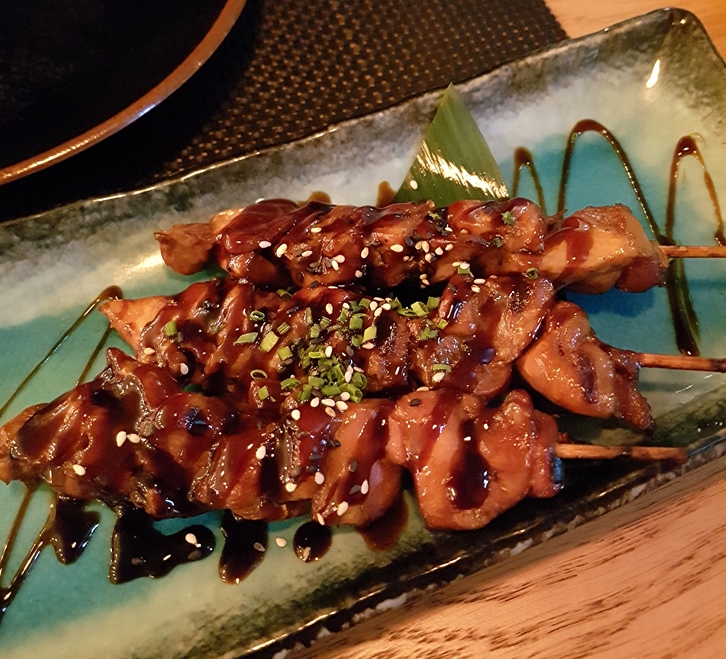 Wagyu beef siu mai were tasty but the marbled fat in this expensive speciality meat made the dumplings a little too oily.  I think this excess juiciness also affected the presentation of the dish, so perhaps a more lean type of beef might work better.
I couldn't resist ordering Aromatic crispy duck pancakes, as they are a childhood favourite that always feel so decadent.  These ones were exemplary with a generous amount of succulent and well-seasoned shredded crispy duck, plenty of thin steamed pancakes and garnishes of julienne cucumber and spring onion. What really gave them that luxury edge, though, was the tangy hoi sin and the mouthwatering garlic truffle sauce – a winning combination.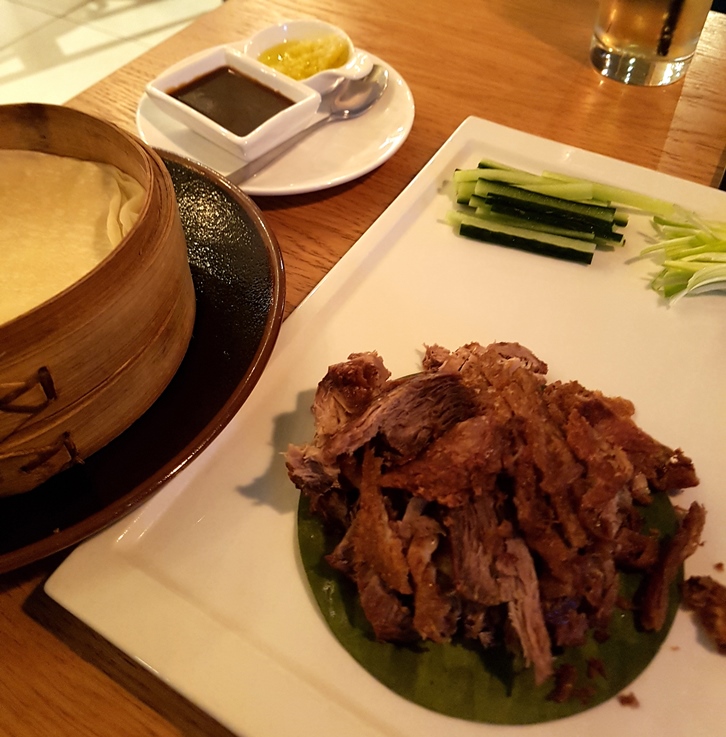 With a little bit of room left, we tried Prawn Cha Keow Teow – tiger prawns stir-fried with asparagus, spring onion, topped with deep fried shallots.  This noodle dish was hearty and surprisingly piquant with pillowy rice noodles, but I couldn't help finding it a little too oily and one-note.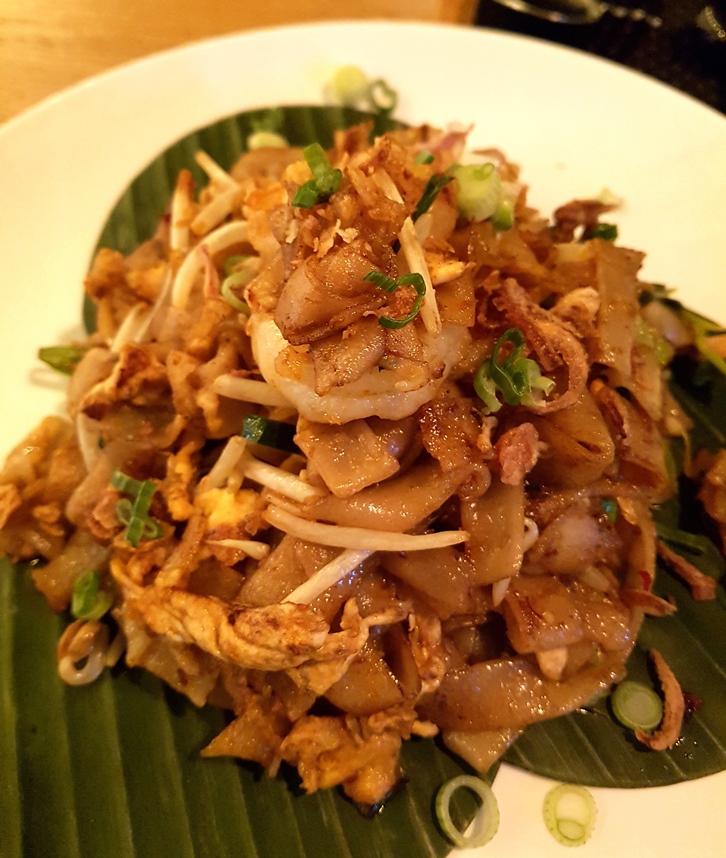 It's worth saving some room for dessert, as they are seriously tempting.  The Baked green tea Alaska was magnificent with creamy, aromatic matcha ice cream on a delicate joconde sponge and encased in airy, meticulously-scorched meringue.  I can definitely see myself popping by for a quick matcha fix with a pot of jasmine tea to escape the chaos of Oxford Street.
Mango Crème Brûlée with mango ice cream was luscious, fruity and intense – a perfectly refreshing dessert for the warmer months.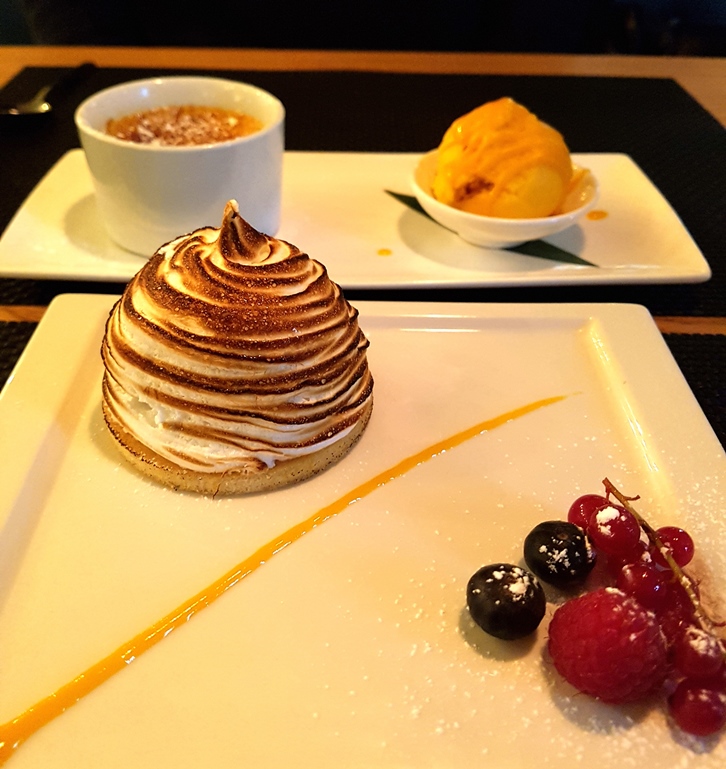 Chi Kitchen is a great spot for some Pan-Asian bites in a stylish setting and it's certainly authentic with some solid cooking.  Some of the dishes are priced quite highly, particularly for the style of restaurant, but you can avoid that by ordering wisely.  I will definitely give it another try for a quick refuel when I'm out shopping in central London to try more of Ping Coombes' dishes.
For more information and booking, visit: www.chikitchen.co.uk
Chérie City was a guest of Chi Kitchen
Photos by Chérie City and Chi Kitchen